Sally Hansen is the latest to jump on the 3D nail trend, and has just launched eight dreamy magnetic polish shades. If you aren't familiar with magnetic polish, here's the spiel: the polish bottle has a magnet built into the cap, and you simply hold it over your nails after a two coats of polish in order to create a magical 3D design. We are literally lusting over all of the these new Sally Hansen Magnetic Polish Shades ($9.99 each):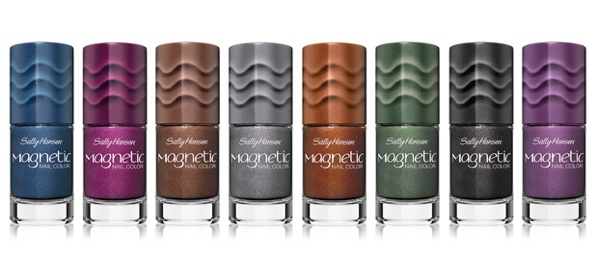 (L to R, $9.99 each): Ionic Indigo, Red-y Response, Golden Conduct, Silver Elements, Kinetic Copper, Electric Emerald, Polar Purple and Graphite Gravity.
Stay in the know with the latest nail trends by checking out the latest Designer Nail Art, White Chocolate Polish Remover and Snow White & The Huntsman polish set now.