We all know the perfect shoe for the colder months is a pair of boots (right, Kate Moss?). But between leather, fur, and suede – we just don't know which to pick. So why not get them all? Here's 5 suede boots, all under $100, letting you splurge on completing your boot collection before winter. You're welcome.
Follow the foldover boot trend with these Steve Madden Carlsen Cuff Boots ($89). Available in this olive and a black, these babies are ideal for the office.
The high heeled boot has yet to go out of style – so grab yourself a pair of these Charlotte Russe Slouchy Faux Suede Boot ($35.50). Drinks after work? You won't even have to stop home to get changed.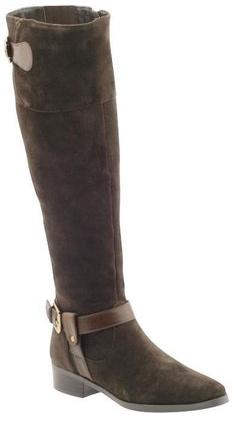 The equestrian flat riding boot is still one of the hottest fall trends around. We're drooling over the touch of leather and buckles on this pair of Unisa Ritchie Boots ($79.50, down from $99).
These Forever 21 Suede Booties ($24.80) are not only dirt cheap, but look great anywhere. And the best part, you can wear them all day without any discomfort.
The classic flat black boot doesn't get much more basic than these Steven Madden Bonaza Flat Cuffed Boots ($79). We guarantee these will become you're most reliable pair of boots yet.
Check out more of our fall fashion trends. Shop our guides to the best flat boots, the best booties, and the best high heeled boots. Sign up for SHEFindsMail to receive exclusive fashion updates in your e-mail.