This coming Sunday (April 22), we celebrate Earth Day and thank this lovely planet for all its provided us, as well as take action in maintaining it (that is, unless, the world ends this year—so we might as well be reeeally grateful). So for starters, we can appreciate our dear Mother Earth with a cute outfit that's eco-friendly and eco-fashionable. There's plenty of designers who create some pretty amazing apparel, accessories, and jewelry that wouldn't even come close to the typical first thought of what a "green" garment would be like (think itchy hemp and plain old cotton basics).
We compiled our top 10 eco-fashion labels below that you can shop now, which range from luxury jewelry and undergarments to swimwear and pastel-colored high heels: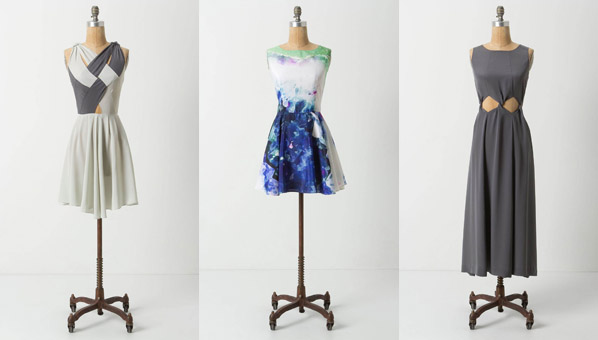 The Brooklyn-based designer has been making clothes with organic materials since 2006 while keeping the design process entirely local in NYC. Her designs have captured the hearts of stylish indie darlings, including Victoria Legrand from Beach House and Au Revoir Simone. Now, she's made an exclusive collection with Anthropologie, titled Treasure by Samantha Pleet, which includes draped and printed frocks and midi dresses.
This Brazilian footwear line prides itself on creating stylish and comfortable footwear—made of plastic. Yes, plastic. Sure, this is a different take on our usual collection of leather brogues and suede heels but these fashionable pairs promote the use of recycled and sustainable materials. Plus, the line's trademark composition molds to your feet and absorbs odor. A great selection is available on Yoox.com, which include ballet flats, open-toe heels, and sandals.
Who knew that eco-friendly jewelry could be look so beautiful? This NYC jewelry line By Natalie Frigo boasts handmade pieces whose stones are ethically sourced and conflict-free, this means that you can flaunt your bling without the worry if the stones were forcefully mined in unsafe or illegal conditions. The metalwork and details are also recycled or reclaimed.
The Brit-eccentric designer Vivienne Westwood creates her second collaboration in partnership with the International Trade Centre's Ethical Fashion Program of the United Nation, which support rural African villages. Her collection boasts rucksacks, totes, and shoulder bags handmade in Kenya and made of recycled materials and organic cotton canvas. We like how the designs are so original and almost give off a vintage vibe. Thanks, Viv!
Our favorite from this NYC-made clothing line is the Night Shirt (above, middle, $75), which is totally in line with this season's pajama-style trend. Other underpinnings include delicate-like panties, chemises, pants, tanks, and cardigans—all made from 100% organic cotton, which means that these super soft threads (imported from Peru) will help you rest easy at night for more reason than just comfiness.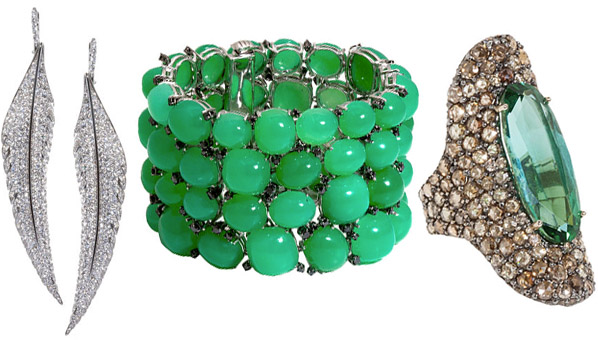 This family-run, luxury jewelry line is a favorite from the iconically fashion-foward Olsen twins (the girls love the cuffs!). So it makes us happy to know that the collection of earrings, rings, necklaces, and bracelets are not only so in style that they caught the eye of an Olsen, but the pieces that make up these beautiful items are responsibly-sourced and proceeds benefit organizations who help support the arts in American and better the lives of children and young adults, such as the Child Mind Institute.
The process behind this sustainable accessories-and-home line takes place both in New York and Madagascar, where the products' natural materials are sourced from the island's forests. Artists in New York design the collection, followed by artisans in Madagascar crafting these beach-friendly handbags above through proper living wages provided by Mar Y Sol. Following this type of unique business model allows families in Madagascar to be financially independent as well as boost the island's economy.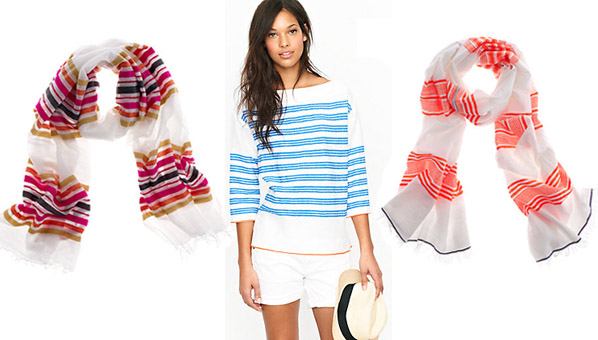 Liya Kebede (whose resume also includes actress, model, and former World Health Organisation's Goodwill Ambassador for Maternal, Newborn and Child Health) provides her hometown Addis Ababa in Ethiopia, with work opportunities to handcraft her collection apparel and accessories, which so far has pleased the buyers of J. Crew, one of Lemlem's retailers. These brightly colored and preppy-style items help preserve the art of weaving (a tedious craft), as well as increase employment and economic independence in her native land.
The London-based designer is inspired by her global travels while designing her eponymous, eco-friendly, and luxe swimwear collection. Produced in a small atelier in Brazil, where all of the swimsuits' materials, from fabrics to trims, are locally sourced. Her signature label tags are also recyclable and reusable, which are hung onto the bathing suits with a traditional "wish bracelet" from Bahia's Salvador. Her ethical designs have attracted a celebrity clientele, including Sienna Miller, Natalia Vodianova, and Kate Moss.
The classic American designer has supported the organization Millennium Promise and the Millennium Villages Project since 2009. This year, Hilfiger created an African-inspired collection, which includes a Millenium Promise Wrap Skirt ($118), Millennium Promise Short Sleeve Top ($78), and Millenium Promise Patchwork Dress ($158), where 100% of its proceeds help benefit African communities. The campaign is fronted by Katie Holmes (whose celebrity style has turned heads with her floral jeans and nautical top), which, in our opinion, is a perfect match. We'd love to see Suri sporting some of these geo-printed garments!
Read more fashion and beauty news: DVF x Current/Elliot, MAC's nautical nail polish, and Liberty London x Doc Martens.