Finding Alexander McQueen pieces since the designer's death is not an easy feat. Housing Works (an NYC charity organization) comes to the rescue with an online auction of 53 mint condition McQueen pieces they gathered from their regular donations. Get a piece of a legend without scouring through hundreds of vintage stores. Right now the prices are pretty low, but the auction doesn't end until April 11. Here are four pieces from the auction that are really worth tracking:
This gold brocade Alexander McQueen jacket (currently $44) includes McQueen's genius button details– perfect for when you want to stand out at a special event.
This Alexander McQueen chiffon dress (currently $263.50) includes a signature McQueen print that will be recognizable for years to come.
This Alexander McQueen Shantun jacket ($84.03) is a classic–a sure heirloom in the making– it will  never go out of style.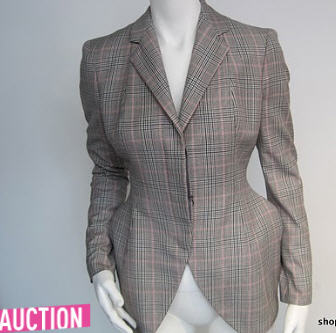 Alexander McQueen is known for his tailored fits, and this Alexander McQueen riding jacket (currently $90) will be in heavy rotation in your closet. Imagine it with thigh high boots this fall.
Check out our Alexander McQueen tribute, and then see how you can get designer items for less in our sales and deals section. Then check out our guide to the best blazers, and the best black dresses.