SHEfinds received a sample of the product(s) reviewed in this post but was not compensated to write this post. SHEfinds receives commissions for purchases made through the links in this post.
I wear liquid foundation every day to work and on the weekends if I go out. I consider my skin tone to be uneven and I like the way liquid foundation smooths everything out. Plus, the full coverage is a bonus, especially when there's a breakout on my face. Although I love my foundation, I've been wanting to try a BB/CC cream for the days that I don't feel like wearing "heavy" makeup.
I honestly know nothing about BB/CC creams so when the bareMinerals Complexion Rescue Tinted Hydrating Gel Cream ($29) was up for grabs in our office, I quickly snatched it up.
I trust bareMinerals as a brand so there was no doubt in my mind that I wouldn't like this product. This hydrating gel cream is a combination of a BB and a CC cream, plus a tinted moisturizer. It contains SPF 30 so it's perfect for the daytime and it's lightweight consistency means it'll be my go-to product for the warmer weather.
Complexion Rescue is a cream that will help you achieve a more even tone while moisturizing and protecting your skin. It contains ingredients from coconuts, olives and marine botanicals that nourish and condition the skin.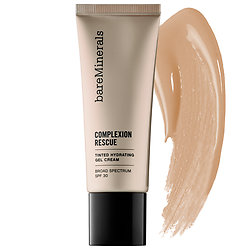 bareMinerals Complexion Rescue Tinted Hydrating Gel Cream ($29)
If you're looking for full coverage, this isn't the cream for you. Its sheer-to-medium coverage gives your skin a natural, radiant glow that will help you look energized and fresh. The first time I used it, I was a little skeptical because I'm so used to full coverage from liquid foundation. However, I like that you can build the product, meaning if you want more coverage you can apply a little more. It also doesn't require the use of a makeup brush, which is a nice change. Simply apply it on clean skin with your fingertips.
It goes on really smooth and also slightly mattifies, which is good for oily skin. I love this product for the weekends when I'm running errands because it essentially feels like I'm not wearing any makeup at all. Try it out for yourself!
Don't miss how to apply eyeshadow and the best face primer!
[Photo: Sephora]