April 22nd is Earth Day, but if you ask me, every day should be Earth Day. Shouldn't we always be doing our part to take care of the world around us? The answer is yes, but let's get back to Earth Day. Each year, there are hundreds of events that take place worldwide on this day to support environmental causes and raise awareness. This year, there are even some fashion brands stepping up to do their part.
Senreve, a luxury handbag company that creates versatile, everyday pieces, will be honoring Earth Day in an extra-special way this year. They just announced that for the first time ever, shoppers will be able to purchase gently handled handbags (like a purse used for a photoshoot!) for up to 60% off. Given that Senreve never discounts their bags, this is major!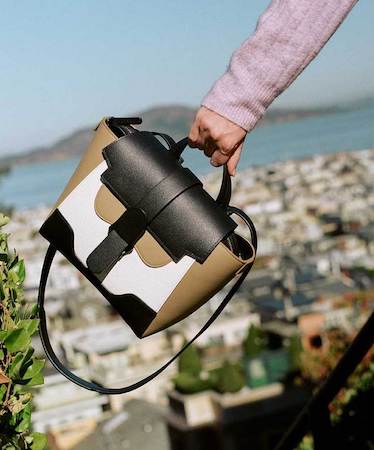 So why did Senreve decide to do this? To reduce waste and protect the environment. It's no secret that many traditional luxury brands burn their excess merchandise. Rather than put their items on sale to get rid of the inventory, they destroy clothes, handbags and even perfume all to keep their 'prestige' image. To put this in perspective, we're talking millions of dollars worth of items that are just destroyed. This practice not only highlights massive waste, but the act of burning the items is extremely harmful to the environment.
So Senreve is aiming to set a better example in the fashion industry. Instead of destroying the products, Senreve wants to give their handbags a new life, even if that means marking them down just this once. Snaps to that, right?!
Of course as a shopper, you'll feel doubly good. Not only are you helping reduce waste and environmental harm, but you'll also end up with a new (to you!) high-end bag for a fraction of the price. Now that's something to feel good about!
SheFinds receives commissions for purchases made through the links in this post.
The editors at SheFinds wrote this post on behalf of Senreve and received compensation as part of our agreement.