Sephora Is Changing The Polish Game With These One-Time Use Pods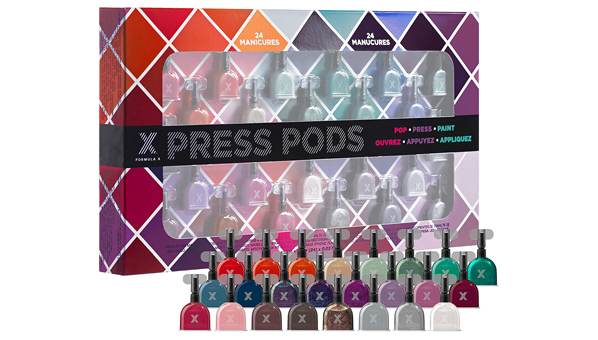 I'll admit it, I'm a nail polish addict. There's something satisfying about adding a new polishes to my current and never-ending polish collection (we're talking boxes and boxes here). The sad news? Most of them only get used once, if at all. But thanks to the affordable and awesome Formula X line at Sephora, that's all about to change. Come April, you'll be able to get ahold of their Press Pod Collection ($39), which will contain 24 best-selling shades that are good for one-time use. "We know our guests love to experiment with new nail shades, and this allows them to preview our 24 bestselling Formula X shades before committing to a full-sized bottle," Kristin Walcott, Vice President of Formula X, told Women's Wear Daily.
Each pod contains exactly enough polish to coat 10 fingers or 10 toes twice, and has a specialized built-in brush that allows the polish to go perfectly on each nail. "You pop off the top of the pod, roll the brush between your fingers and a dot of nail polish will appear from the middle of the brush. Apply it in the center of the nail, and brush," relayed Walcott. Pretty genius, right? And just think about all the room you'll free up in your makeup drawers.
Don't forget to check out: these quilted Chanel headphones, deets on Kourtney Kardashian and Scott Disick's engagement, and how to kill it on St. Patrick's Day