Whether she's attending an official gala or laid back charity event, Kate Middleton always has amazing style. Even throughout her two pregnancies (and now during her third), her looks have been no less flawless. To maintain her title as reigning fashion icon, the expecting Duchess relies on her favorite maternity brand, Seraphine.
Founded by French-born designer Cecile Reinaud, Seraphine is dedicated to providing beautiful maternity wear to pregnant women – rather than simply reducing them to nine months of sweatpants and baggy tops. Made to fit into all aspects of a woman's life, the selection includes everything from stylish maxi dresses and work wear to sexy lingerie and evening gowns. Heck, the brand even offers wedding dresses for pregnant brides! All apparel ranges from $29 to $500, so the line fits into every budget. You'll also be able to choose from a range of affordable accessories to round out your stunning look, as well as practical additions like stretch mark cream and diaper bags for all your post-pregnancy needs.
Some of Kate's favorite pieces? Worn over a classic floral or monochrome frock, the Duchess has sported the Natasha Cashmere Blend Maternity Coat ($299) on multiple occasions. And during her visit to the Norwegian Royals on Feb. 1, Kate looked absolutely glowing in the Marlene Maternity Cocktail Dress ($255). Can she ever get it wrong?
Being based in London, the brand is a convenient choice for Kate. However, Seraphine has locations in every fashion capital of the world: Paris, Dubai, Hong Kong, and, lucky for us, New York City. But even if you're not located in the Big Apple, the brand also ships worldwide.
With its international appeal, it's no wonder Hollywood stars like Gwen Stefani, Julia Stiles, and Anne Hathaway have come to follow Kate's lead and fall in love with the label. Hathaway is a huge fan of the Cici Faux Leather Maternity Leggings ($75), while Stiles once rocked the sleek Woven Black Maternity Dress ($99) on the red carpet. Even Shakira has jumped on the Seraphine bandwagon – the powerhouse singer was seen wearing the Black Wool & Cashmere Maternity Coat ($229) to a T while running errands.
Naturally, all you mamas-to-be are probably now eager to browse the A-list-approved brand. Before you head over to the site, find some of our favorite selections below. Happy shopping!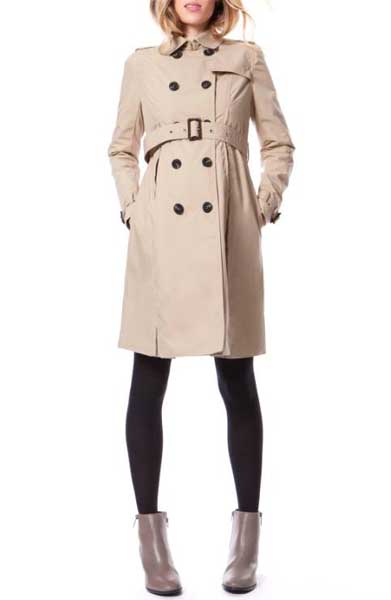 Alina Maternity Trench Coat ($199)
Taking a note from Kate's style book, this classic trench is super figure-flattering. Wear it with a pair of ankle booties or low pumps for a royal-worthy look.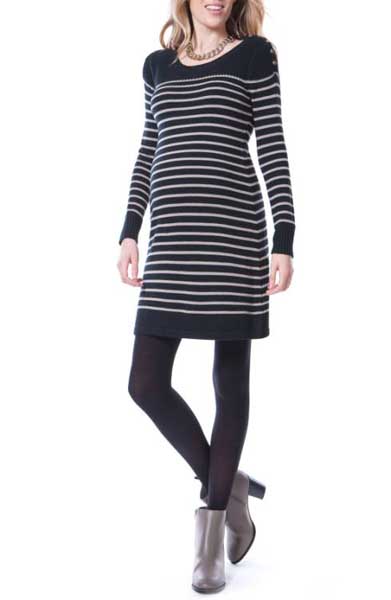 Hayden Stripe Maternity/Nursing Dress ($99)
A perfect transitional piece between the seasons, this chic striped dress can easily take you from work to a classy soiree with friends (no wine for you, of course).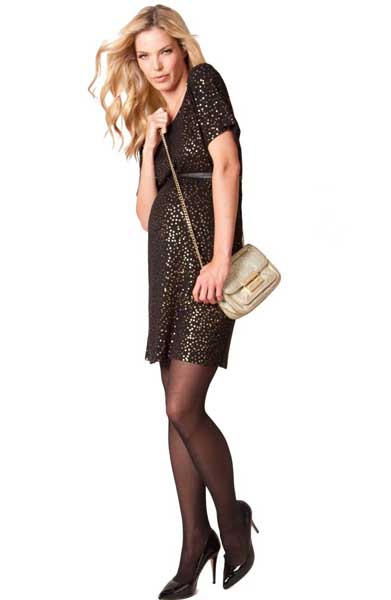 'Luella Luxe' Jersey Maternity Dress ($139)
Featuring festive sequins, this glam number will make you the talk of the town – and not just because of your growing bump!
For even more maternity wear inspiration, check out 7 Questions With Ingrid, The Designer Whose Stylish Maternity Collection Just Hit Target and See Kate Middleton Re-Wearing All Her Maternity Clothes.
[Photos: Splash]