Today SHEfinds.com was featured on Better TV, showing everyone the 4 best fall trends under $100. Ready?
1. Crossbody bags: Gone are the days of digging in big bulky bags. Wear these across your body to your hip. The minimalist trend forces you to be more organized and carry less.
This sporty Gap crossbody bag ($39.99, from $49.50) is perfect for casual days or the gym. Lightweight, it has a ton of pockets so you can keep everything together easily.
For evening, keep your ID and money close to your body with this beautiful Italian leather Banana Republic crossbody bag ($89.50).
A trendy choice, this LOGO by Lori Goldstein crossbody bag ($46.82, from $75) incorporates the chain strap and a wider bucket bag shape so you can still carry all of your prized possessions with you.
2. Printed Blouses: Layer them under cardigans and jackets, and over leggings or skinny jeans, printed blouses will be a great way to add some color to your look for fall.
Try a colorful sleeveless tie neck blouse from Gap ($44.99, from $56.90). It's long enough to wear over leggings.
This watercolor printed blouse by Banana Republic ($69.50) is soft and pretty–perfect to wear to work or out on the town.
In an autumnal shade, J.Crew's ruffled floral blouse ($98) is a great way to dress up the plain old button-down for fall.
3. Clogs: When Karl Lagerfeld showed Chanel clogs last Fashion week, everyone followed suit. A throwback to the '70s, the high heeled versions are back in style this year.
These Lauren by Ralph Lauren clogs ($98.50) have vintage stud details and come in black or brown suede with a buckle.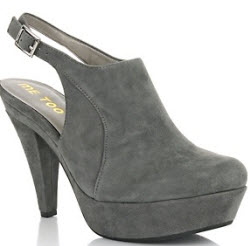 Worried about falling? Me Too's suede gray clogs ($99) with an ankle strap are adorable and comfortable (we tried 'em, trust us.)
4. Jeggings: Jeans are getting skinnier every season. Jeggings are the answer: they've got stretch. The darker the wash, the better. The thicker the material, the more forgiving they'll look.
Try these AG Adriano Goldschmied jeggings ($59.97) which have real pockets in back.
For a cheaper version, go with Charlotte Russe's Faux Pocket Denim leggings ($29.50), with lightweight denim and in a black color which hides your imperfections.
Love Banana Republic? They've got a great pair of jeggings ($89.50) with high back coverage so your pants don't fall down–plus a zip fly so they feel like actual jeans.
See all of our sales and deals, plus our guides to skinny jeans and more clogs to try.