Withings Smart Body Analyzer ($149.95) The Withings Smart Body Analyzer might look like a regular scale, but it's much, much more. This device tracks your weight and body composition. It also tracks your heart rate and allows you to monitor the quality of the air in your home. Keeping all your data in one place helps you make more successful lifestyle chances.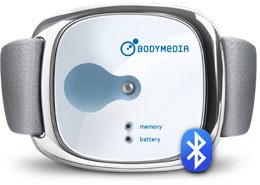 BodyMedia Wireless LINK Armband ($119) The BodyMedia armband monitors your calories, activity and sleep throughout the day and night. The two stainless steel pads on the back of the device help provide the most accurate read on the data they track: calorie burn, steps, sleep, physical activity. The device links to your mobile device and/or computer, helping you make behavioral changes to help control weight and promote an active lifestyle. BodyMedia is the same technology used on The Biggest Loser, so you know it gets major results.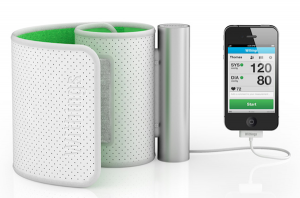 Withings Blood Pressure Monitor ($129.95) This blood pressure monitor from Withings provides easy and precise self-measurement of your blood pressure with your iPhone, iPad or iPod touch. Your results are saved automatically on your iOS device.
Melon (Kickstarter) Melon is a headband and mobile app duo that tracks and helps you improve your focus in relation to your activity, your environment, your emotions, and more. The headband is a wireless brain-sensing device that uses EEG (electroencephalography) to measure your brain activity. From this activity, Melon gives personalized feedback on how to improve. Note: Melon doesn't send electromagnetic waves to your brain, as said in the segment. Instead, the headband tracks your brain activity which allows you to gain insight into how your mind works by tracking your focus during your daily activities.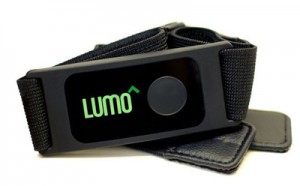 LUMOback Posture Sensor ($149.95) LUMOback is worn on your lower back and provides a gentle vibration when you slouch to remind you to sit or stand straight. The sensor also connects wirelessly to your smartphone to track all of your daily activities like steps taken, time spent sitting, calories burned, and even your sleep habits.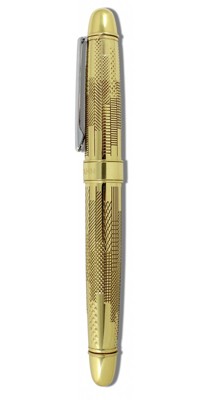 Hatch Etched Roller Ball by ACME ($104) This is far from your ordinary pen. The Hatch Roller Ball by ACME is made of brass, which has the ability to self sterilize. Any bacteria or microorganism that comes in contact with the pen dies within a few hours. The antiseptic quality of the pen makes it perfect for avoiding germs during flu season.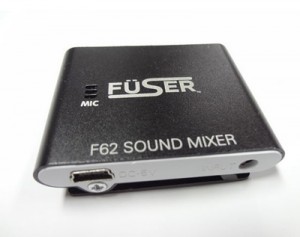 Fuser Sound Mixer ($29.95, down from $49.95) The Fuser Sound Mixer uses a built-in microphone to "mix" the music in your headphones with the sounds of the outside world. This allows you to enjoy your music while still being aware of the important sounds around you. This device is perfect for jogging and biking because it increases your awareness of traffic around you while you are exercising outside.
Mind Booster PSiO 1.1 ($399.99, down from $499.99) The PSIO is a pair of audio visual stimulation glasses. This relaxation device utilizes sound and colored rhythmic lights to enable your mind to let go and focus. Audiovisual stimulation is known as an alternative therapy for many issues such as ADD/ADHD, depression, sleep disorders, stress, anxiety, weight loss and more.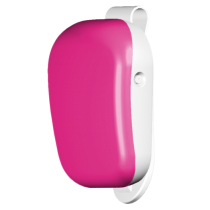 iBitz PowerKey for Kids ($34.99) This physical activity tracker and app duo is designed specifically for kids. Children can power "virtual pet" through it's world, giving it power using physical activity, as well as keeping it healthy by watering it and giving it the right foods.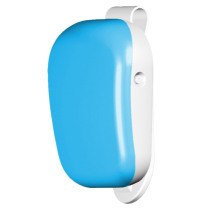 iBitz Unity for Adults ($49.99) Similar to the iBitz PowerKey for Kids, this physical activity tracker and app duo tracks the whole family's fitness activity by syncing to the Unity app. The device tracks daily steps, distance, calories burned, weight as well as historical views of activities by day, week and month.
SkinnyMe Bangles Black (pair $34.99) The cute painted bangles weigh .5 pound each and help you tone and strengthen your arms throughout the day. Wear these everyday and you'll have the First Lady's toned arms in no time.
JoeyBra Sport ($39.99) The JoeyBra Sport features two water-resistant, zippered pockets designed to keep your valuables safe (yet accessible) while you are working out. The bra gives you the support you need while running and easily fits your ID, phone, key and credit card.
UV Skinz Women's Water Jacket ($48.95) UV Skinz is a line of sun protective clothes that carry a UPF rating of 50+, which blocks out over 98% of the sun's harmful rays. The clothes protect skin from damaging sunburns while you are exercising outside or spending the day at the beach.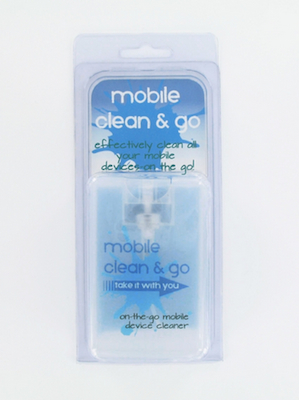 Mobile Clean & Go Starter Kit ($12.99)
Did you know that cell phones carry tons of bacteria? These germs can transfer to your face and lead to breakouts and infections. Mobile Clean & Go is a portable screen cleaning system for your mobile electronics that allows you to easily and effectively clean you devices, keeping you healthy and germ-free.
Bobble Sport Water Bottle ($9.99)
This genius water bottle has a replaceable carbon filter which removes chlorine and organic contaminants from municipal tap water. The bottle features a cap with an easy to carry handle, making it the perfect gym companion.