Newsflash: You can get store and designer exclusives online. Mindblowing. Thank you Wall Street Journal for this online shopping insight. (Check out the April 1 Shopping feature.) We're all internet shoppers, it's not news that web shopping is exploding. What we didn't know (but aren't surprised): Saks.com is the company's fourth largest store. There's a entirely separate buying team and catalog just for Saks Fifth Avenue's e-tailing. Check out the Spring A-List at saks.com.
Neiman Marcus offers certain designer styles and more variety (colors) online, especially when it comes to handbags- one of the easiest fashion items to buy online. One size fits all.
Marc Jacob's fan? Me too, that's why I'm always linking you to Nordstrom.com
where you'll find more pieces- especially shoes- than you'll find at the store.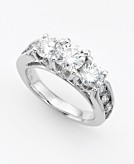 Macy's
is always having online sales and promotions that are separate from in-store deals. They often test luxury products
online before stocking in stores. Special offers and exclusive jewelry
pieces are a bonus for online shoppers.
Isaac Mizrahi
for Target has an entire online only collection: Essentials

Target.com
also carries furniture, gifts, and designer-specific merchandise that you won't find in store. But we already knew that, right?
Petite sizes are now only on gap.com.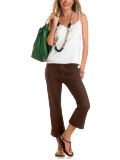 Size is a big deal maker when it comes to online versus in-store shopping preferences.

Gap.com leads the pack in size selection online. That hot green
Bamboo Satchel is online only too. Of course, as the Wall Street Journal article pointed out, there can be hassles as stores offer more and more online exclusives. Some retailers won't accept online returns in-store if the item isn't on the shelves. But with so many companies offering free returns, I don't think web exclusivity is going to hurt the consumer. And you know you can always count on the trend-spotters at SheFinds to keep you in the know.