LOFT announced earlier this month that they would be launching a first-ever curvy fashion line, LOFT Plus. The collection offered the brand's easy-to-wear day dresses and work-appropriate separates available in expanded sizes. And now finally the day has come–LOFT Plus is here!
If you're a curvy girl, we've answered all your burning questions about the new line here–plus included our editors' picks so you can shop them now:
What is the size range?
LOFT Plus comes in women's sizes 16-26. In addition to the core line, petite, tall and maternity, LOFT's expanded sizes above size 16 means that more women–ie. the curvy and fabulous ones–can shop the brand than ever before. We love it! It really is a full-service fashion line now. We might be biased, but we think every clothing company of note should offer this category. Right??
How are the prices?
The best part of the LOFT Plus line, in my humble opinion, is the fact that the prices are flat–meaning that you won't pay more for the LOFT Plus than you would pay for the previous sizes! This is so important, and definitely a curvy girl's fashion pet peeves–why should it cost more to shop when you're curvy? It's rude! The entire LOFT Plus line is priced $19.50 for a tank to $108 for a utility jacket.
Additionally, the site is giving 40% off select styles right now–no code needed!–so the prices are REALLY good. See below! Also–there's free shipping and free returns on LOFT Plus. Yay.
What does it look like?
The LOFT Plus collection is not an exclusive collection, meaning it's the same fashion-forward pieces from the core line, but in expanded sizing.
You can expect the true lifestyle pieces of LOFT, with their typical emphasis on versatility being key: easy-to-wear blouses and dresses, the perfect jean, work-appropriate separates, etc.
The spring collection, which just hit online at noon today, emphasizes seasonal colors and prints–you'll find florals, stripes, polka dots and more. And the line isn't trying to make curvy girls look straight–the smoothing waistbands, breathable fabrics and silhouettes are designed to work with a woman's curves, not against. For example, you'll find the perfect pair of stretch jeans in the line.
"Our mission is to provide women with great fashion to live confidently," President and CEO of Ascena brands, LOFT's parent company, Gary Muto said in a statement. "Adding Plus to our overall offering is a natural evolution for LOFT." Snaps!
Shop LOFT Plus now:
LOFT Plus Distressed Denim Jacket ($79.50)
LOFT Plus Polka Dot Wrap Midi Dress ($89.50)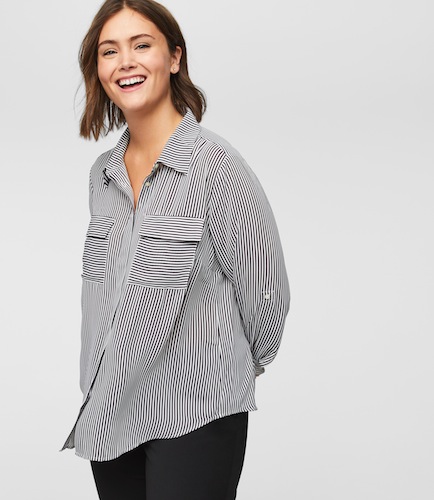 LOFT Plus Striped Utility Blouse ($59.50)
LOFT Plus Tie Waist Pocket Skirt ($69.50)
LOFT Plus Peony Fluid Shift Dress ($53.70, down from $89.50)
LOFT Plus Slim Tie Waist Pants ($79.50)
SheFinds receives commissions for purchases made through the links in this post.