Did you see Mindy Kaling's Super Bowl commercial for Nationwide Insurance? And by that I mean, did you SEE that stunning printed pencil skirt she had on? I'm of the personal belief that Mindy can pull off just about anything, but this Dolce & Gabbana skirt ($856.65, down from $1,223.79) seriously takes the cake. I want it, I need it, and, luckily, I can have it—and so can you! Snag the skirt quick before it sells out.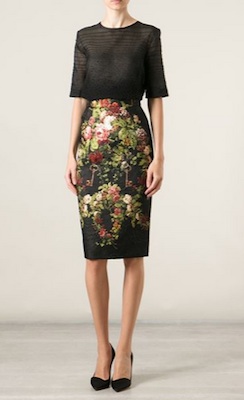 Dolce & Gabbana Floral Brocade Skirt ($856.65)
Want more celebrity style? Check out Shay Mitchell's printed dress, Kristen Stewart's cropped sweater and celebrity winter style under $100.