Ever tried wearing Spanx under a pair of jeans? It's pretty uncomfortable. Now more brands are incorporating shapewear into their jeans, so it's not necessary to add on the extra layers. We have already raved about CJ by Cookie Johnson jeans, but here are four more pairs that don't require those extra lunges:
1. Miraclebody Jeans: Miraclebody jeans, which launched in fall 2009, come from body shaping swimsuit line Miraclesuit (check out Spanx's new line of swimwear). The jeans have twice the amount of spandex that's in the average pair of jeans and Miratex fiber to make you look ten pounds lighter.
These Miraclebody Jeans by Miraclesuit Skinny Mid-rise Jeans ($110) will keep everything in place. The high waistline prevents that pesky butt cleavage.
2. AG Adriano Goldschmied: AG Adriano Goldschmied is a ten-year-old denim brand known for their vintage-like washes and incredible fits. While not all of their jeans include stretch, the popular Angel boot cut jean's slimming power could compete with your favorite pair of Spanx.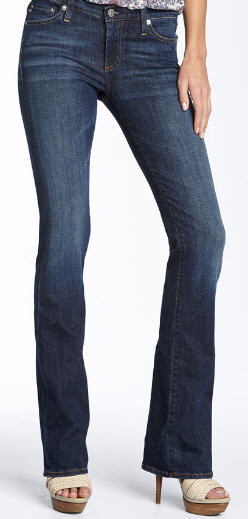 Whiskering details and lighter washes usually don't make the leg look slimmer, but these AG Adriano Goldschmied Angel Jeans ($148) are made of cotton and elastane which hugs the body and maintains the jean's shape throughout the day.
3. Not Your Daughter's Jeans: We talked about Not Your Daughter's Jeans when the brand started in 2007, but anything that will make your tummy flatter is worth revisiting. These jeans are still hot items with their lift and tuck technology that can make you look a size smaller.
White jeans can be hard, but these Not Your Daughter's Jeans® Tummy Tuck® 'Sarah' Bootcut Stretch Jeans ($98) will flatten your tummy, lift your butt, and make you look spring ready.
4. Curve Appeal: Although this denim line won't be available until this fall, it's worth keeping on your radar. These jeans will have a patented design that includes panels that slim and lift the leg. They will retail between $88 and $98 with former super model Kim Alexis heading their campaign.
Get your denim fix with our guide to the best celebrity jeans, the best white jeans, and the best denim for your shape.