No-Makeup Makeup
: You can't show up completely bare faced, but with a strong foundation, mascara and shades of nude blush and eye shadow, you can look ultra-natural. [
Style Me Pretty
]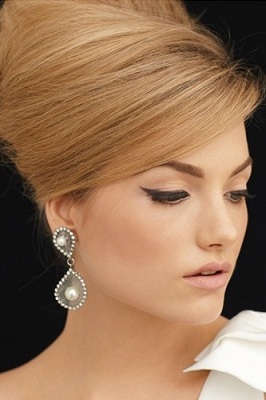 Cat Eye: Sultry cat eyes are easily achieved with liquid liner. Works for both day and evening looks. [Pinterest]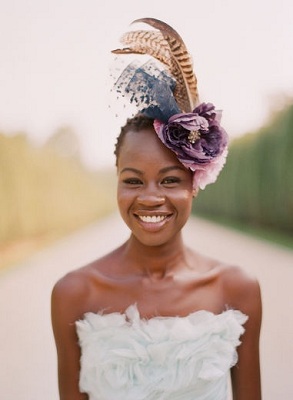 Dewy: Show off your bridal glow with a dewy look created with liquid and cream-based products. [Essence]
Orange Blush: Instant glow comes in the way of an orange or coral cheek. It's a good choice if you want to look natural, but still made up.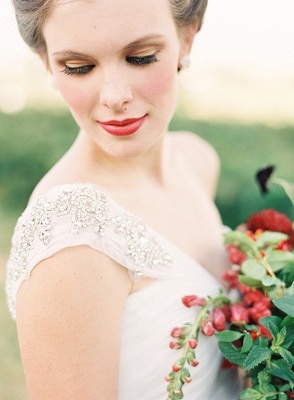 Gold Eye Shadow: Metallics are huge right now and gold eye shadow creates a dramatic and modern look. [Style Me Pretty]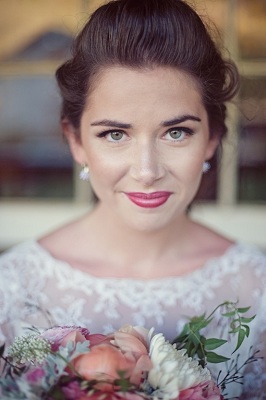 Plum Lips: A twist on a bright lip is trying a lipstick in a shade of plum. Brunettes, take note! [Bridal Musings]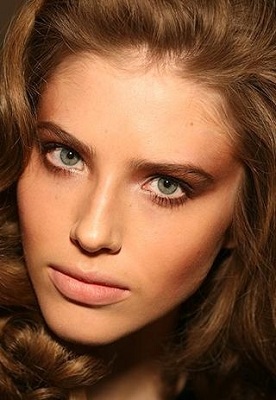 Eye Shadow From Lash To Brow: Take that eye color all the way to your eyebrow, without looking like an 80s relic. [Pinterest]
Pink Lip With Bronzer: Contrast your tan with a bright lip in pink. It's a great way to show off your glow.
[Ruffled]
Faux Eye Lashes: All eyes will be on you, so give the people something to look at. Faux eye lashes are the fastest way to create eyes your groom won't be able to stop staring into. [British Vogue]
Smokey Eyes: Few make up looks are as dramatic as a smokey eye. Shades of grey are just one option when it comes to this look. Mauves, greens and browns can also be blended to achieve it. [Trent Bailey]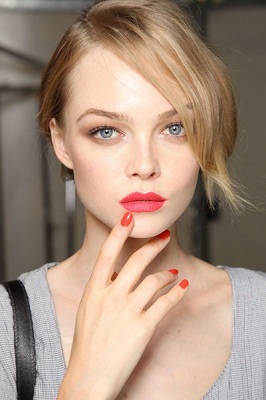 Red Lips With Red Nails: You'll never be matchy-matchy with red nails and red lips. It's bold, it's modern and a great bridal look. [Style Bistro]
Purple Eye Shadow: Purple eye shadow looks great on pretty much anyone. It can be subtle like a neutral or turned up bright. So many possibilities. [Love Lip Gloss And Pumps]
Pink Blush: Even if you get married in the dead of winter pink blush will give you an instant lift. [Rhapsodic Musings]
Natural: Let your beauty shine through -- especially for a daytime wedding -- with natural make up based in browns and other neutral hues. [Style Me Pretty]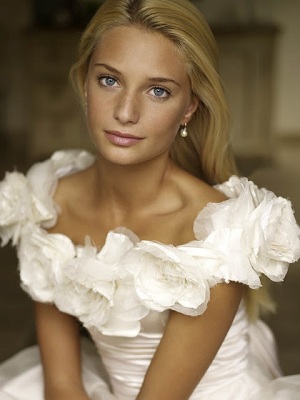 Sunkissed: If the sun is your friend then play up your tan with light make up and defined eyes. Against your white dress, it will glow. [Pinterest]
Red Lips: Anyone can wear red lips, you just have to find the right shade. Perfect for a retro look or if you just want a pop of glam. [Style Me Pretty]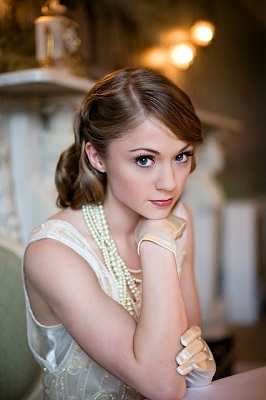 Retro But Natural: Create a vintage look without a heavy hand. Faux eyelashes and pale cheeks will keep your look authentic without bright colors. [The Bijou Bride]