This morning, Rachel Zoe's blasted her gazillions of newsletter subscribers with a 'Zoe Report' on this Current/Elliott Leopard Print Cropped Jacket ($268), which she punnily called "the cat's meow." Everything that skinny bitch touches turns to gold, so if you love this cropped denim number — which is perfect over a white tank and black jeans — then get one asap.
If you're strapped for cash, guess what. Forever21 has a version of the coat for $24: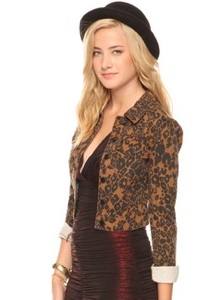 This Crop Leopard Denim Jacket ($24.80) costs about one tenth of the Current/Elliot version.
Shop our guides to the best push up bra, sweater dresses, and sexy bras.