The fashion world has been obsessed with Alexa Chung for some time now–somehow she blends her classic tomboyish style with high fashion every day. Her collection for Madewell 1937 (J.Crew's little sister line), unveiled last night at New York's incredible Bowery Hotel, featured models posing on mini stages, wearing Alexa's signature style–nautical stripes, lots of tiny tailored shorts, and long flowy hair epitomized Alexa Chung.
It's on: we're now lusting for everything in Madewell's upcoming collection, in stores this spring. We're really inspired to pair our chunky wool socks with thick strappy sandals–it looks super cool, like you're not trying too hard. Now we're going to show you some of the best pieces we can't wait to buy, and how to get the look:
Talk about transitional dressing: layers of slouchy tees and blazers paired with shorts and knit socks with open toed shoes seems like the antithesis of dressing-and that's why it's so cool.
Expect cropped pants, velvet, desert boots, overalls and belted prairie dresses with clogs.
Try pairing these little gems together for a downtown cool look:
This Victoria's Secret blazer balances out the rest of the look easily, and incorporates classic khaki–so you know you'll wear it for ages.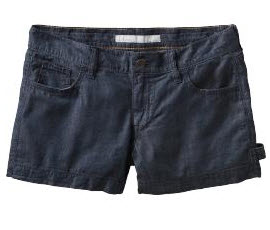 Get the tailored shorts look with a little bit of slouch with these Old Navy chambray shorts ($19.50).
Kors Michael Kors Victoria platform wedge sandals ($295) paired with thick multi-colored wool socks keeps your feet warm, but more importantly, is fashion forward. Be the first to try it.
Check out our guide to celebrity denim for even more ideas, and check out a plethora of tees for your shape, blazers and shoes to get your look started.