Eugenia Kim designs hats for A-listers like Jennifer Lopez, Nicole Richie and Madonna that cost up to $300, but the milliner is bringing her high fashion designs to Target with a Cuban-inspired line of hats priced between $14.99 and $19.99. Nitrolicious has a full look of the collection, available April 18 in stores and online, that is cute enough to make you want to have a bad hair day–do you remember how great Reese Witherspoon looked in her straw fedora?
The teal color and black and white striped ribbon on this straw fedora (left) is a quirky take on a classic fedora. The shades of black on this straw cloche (right) looks modern and unexpected–in a good way.
You don't have to be a granny gardener to wear this wide brimmed straw hat with blue ribbon detail (left). This sunflower print hat is perfect for the beach or running around on the weekends.
Here are some  Eugenia Kim hats you can buy now:
Eugenia Kim Max Panama Fedora ($320)
Eugenia Kim Laura Floppy Sunhat ($176)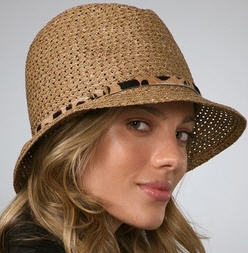 Eugenia Kim Max Fedora with Leopard Trim ($265)
Check out Cynthia Vincent's shoes for Target that will be released the same day (April 18), and then check our guide to the best spring fashion trends, and the best summer hats.