We all know that celebrities get clued into the coolest trends way before any of us. Luckly, SheFinds stalks well-dressed celebs, which is why you, dear reader, are always the next to know what's going on in Tinsletown. So, celeb trend update: the latest style spotted on Hollywood's fashionable boulevards is the (feared? hated? perplexing?)…colored jeans. Check out Ashlee Simpson, Fergie, and Rachel Bilson trying out some light and lively colors:
I think it looks great. I especially love Bilson's brown and purple combo. Because, really, why should jeans be monochromatic? It's spring–let's lighten up a little! It's not hard to do: the only trick to wearing colored jeans well is to get a pair that really fits–and keep the rest of your outfit pretty low-key (be especially aware of color combination, as you would with a skirt. Black and yellow should be avoided, as well as green and red and any other colors that make you look like a holiday poster child).
Cop Fergie's look with these Jaggy red jeans ($94)–they're perfectly bright and sexy for summer. They also come in light purple and grass green.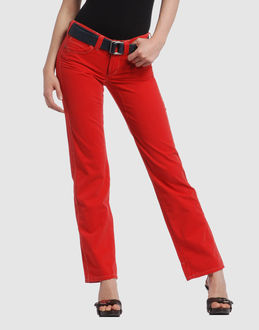 Shopbop voted these Rich & Skinny green jeans ($157) "most likely to cause a celebrity stampede".
Levi's sells this pinky-purply version (a steal at $44.98), which will be a Memorial Day weekend winner when paired with a frilly white top and sandals.