It's not just Santa who loves cookies during the holidays. And the season isn't complete without the scent of freshly baked cookies in the kitchen. So if you want to spice things up this year, swap out your old gingerbread man cookie cutter for one of these funny Christmas cookie cutters.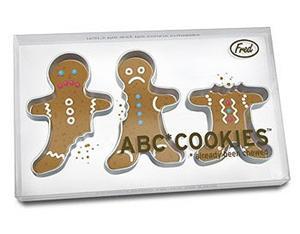 I can't decide which one I like more, the hilarious ABC (Already Been Chewed) Gingerbread Cookie Cutters ($10) or the awesome flying-side-kicking Ninjabread Men Cookie Cutters ($10).  What about you?  Which one do you prefer?
Sign up for our newsletter for even more finds delivered right to your inbox.
Click here to email Farah, the author of this post.