Spanx tights are right up there with bras and underwear when it comes to shapewear undergarments that more and more women consider modern essentials. You may not wear Spanx every day, or even on every formal occasion, but knowing you have a pair in your drawer when you feel like you could use a little extra nip, tuck, and tightening beneath an unforgiving dress is like having a security blanket at your disposal.
But why stop at your legs?
Spanx for arms are the latest undergarment craze — one that has been generating lots of talk and interest since its September 25 debut. Realizing the desire to look and feel our best extends past our legs and midsections to encompass other areas of our bodies, Spanx creator Sara Blakely wisely designed an entire line of shapewear that includes hosiery, tanks, leggings, girl shorts, bodysuits  — and now arm Spanx. These long-sleeved tops may look like tights, but they're so much more — and they make arms look tighter and more toned in seconds.
Here's everything you need to know about Spanx for arms.
1) The Spanx Tops Have Been 5 Years In The Making
Don't think Blakely and her team threw together any old long-sleeved top to appease Spanx fans. This innovative undergarment has been in the making for five years and only hit the market after hundreds of prototypes were put out first.
2) They're Lightweight, Seamless, And Perfect For Layering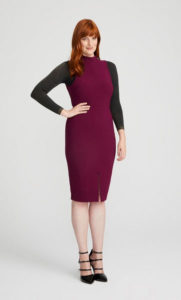 Each Spanx top has long sleeves and a cropped design that cuts off below the chest. Despite featuring technology that conceals flaws on the arms and actually helps contour them, these tops are lightweight enough to be layered beneath outfits like shift dresses and tank tops and can even help you make a smoother transition between summer and autumn clothing.
In an interview with Vogue, Blakely explained her motivation for designing Spanx for arms: "We wear tights on our legs to transition skirts and dresses into the fall and winter seasons, but why not on our arms?" It's basically a crop top made out of tights. We made it cropped for less bulk under clothes and the arms are completely seamless too."
3) They Come In 11 Colors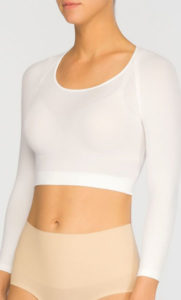 While black and white Spanx arms tops may fast become wardrobe staples because they go with nearly everything, Blakely wants you to have as many options as possible. Arm tights come in 11 different shades, including Hi-Pink, Hi-Yellow, and Cobalt Blue.
4) Check Out Spanx's Instagram Account For Great Ideas On How To Wear Arm Tights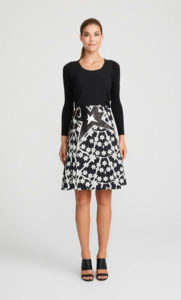 If you're searching for great ways to wear your new arm tights, look no further than the hastag #armyourwardrobe, which is a creative tribute to the latest Spanx fashion for arms. Check out how stylish women incorporate arm tights into their office wardrobes (so cute with a suede corduroy skirt), workout clothing, athleisure gear, and even formal dresses. You'll be surprised at the versatility of this piece — not only will it help make your arms look their best, it will breathe new life into your wardrobe.