Remember when a video camera took two hands (and a fair amount of brute strength) to handle? Meet the Kodak PlayFull Waterproof Video Camera. This lightweight and durable video camera is roughly the size of a credit card. This uber portable little gadget has a "Share Button" that lets you tag photos and video as you take them, so you can instantly upload your pics and videos to Facebook, twitter, your blog, YouTube, Kodak Gallery, or even email, SIMULTANEOUSLY, as soon as you connect the device to your computer.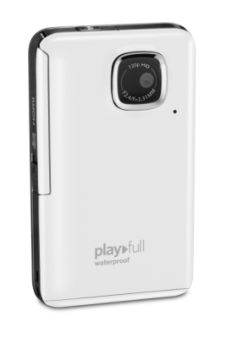 Here's why we demand Santa toss Kodak PlayFull Waterproof Video Camera in every stocking: it captures video in 720p HD, it's waterproof up to 10 feet, drop proof up to 5 feet, dust proof – and it basically fits in your wallet.
Whether you're going scuba diving during a tropical vacay or just enjoying another fast-paced evening on the town with friends – the Kodak PlayFull Waterproof Video Camera can be there to help you document and share all of your greatest exploits.