Sponsored Post: Are You Destined For Fame? Here's Your Chance to Be The Next Britney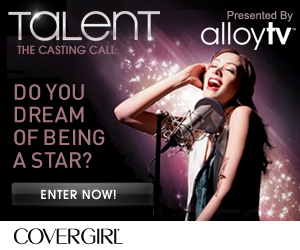 We take a lot of style cues from pop stars – the best, most daringly dressed ones provide some serious fashion inspiration. Thus, we're excited to announce a new talent search – Alloy Entertainment and Jive Records have joined forces to find the next singing sensation. This could be you.
The industry titans behind The Vampire Diaries and Jordin Sparks are providing contestants with a chance to win a lead role in Alloy's new web series, Talent, and receive a recording contract with Jive Records (think Usher, Britney Spears, and P!nk).
Here are the details:
1. Young women between the ages of 16 and 24 can upload their singing audition on www.thetalentshow.com now through September 28 for a chance to be considered for Talent: The Casting Call.
2. Throughout the contest, people all over the world can rate the auditions. This means even if you aren't picked to be in Talent: The Casting Call, you'll still get your 15 seconds of fame!
3. Then, ready for this … On October 6th, 20 semi-finalists will be announced. They will then vie for six exclusive spots to participate in Talent: The Casting Call. The six finalists will sing and act for their lives, competing to become Alloy Entertainment and Jive Records' top Talent.
The winner will head to Hollywood for a lead role in Talent, which airs in early 2011, and will receive a recording contract with Jive Records. This is the stuff of dreams, people.
Enter now at www.thetalentshow.com. You can also follow the action on Facebook, Twitter, and MySpace. Don't forget to create that hot look for your big audition with diva-worthy essentials from COVERGIRL, Olay, Pantene, Venus and Secret.
This post is sponsored by P&G.