You want to make sure everyone at your family gathering has a present under the tree – but that doesn't mean you have to stretch your budget to its breaking point. We've found five gifts for five family members that all fall under $40.
Sign up for Bank Of America's Add It Up online shopping program, and you'll get even more mileage out of your holiday budget: Just shop the retailers below (plus over 400 more) through the Add It Up website, and you'll see up to 20% cash back appear on your statement.
See how much cash you could get back if you bought the gifts below.
For Mom: Give mom a much-deserved coffee break with this spill-proof (read: kid-proof) French press; the bright colors look cheery on the countertop, and it won't spill or leak if it's knocked over.
Price: $30

Cash back (9%): $2.70
For Dad: You can't go wrong with a comfy half-zip sweater, and this one from Calvin Klein is affordable and timelessly stylish.
Price: $30

Cash back (4%): $1.40
For Grandma: Pamper grandma with two of L'Occitane's best-selling products, luxurious shea butter hand cream and a packable shea butter tin.
Price: $19

Cash back (9%): $1.71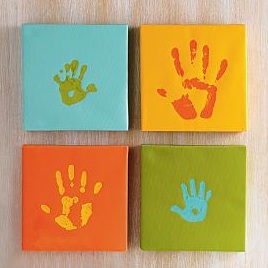 For the kids: An adorable gift for a pair of young siblings, this handprint canvas kit lets them make personal, original art that Mom and Dad will be proud to hang in the kitchen.
Price: $39.95

Cash back (14%): $5.59
For the cousins: Teen girls will love getting two magazines in the mailbox every month – Vogue to feel like a grown-up, and Teen Vogue to keep up with the latest New Moon heartthrob.
Price: $28

Cash back (40%): $11.20
Michelle Madhok is a paid Bank of America spokesperson.