Do you have a super sexy, skin-tight dress in your closet that still has its tags? Yeah, we've been there – when the right occasion comes around, you want to wear the darn thing, but you don't want to go out with an unsightly panty line.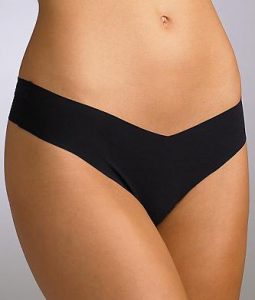 Solution? Bare Necessities' seamless, stretchy Commando Thong. This is the sleekest pair of undies ever – it features laser-cut edges so you won't be plagued by annoying trim or elastic.
We recommend getting a whole pack of these babies so you'll be ready to take on the town.
Five of them are now conveniently boxed together like a gift – yes, hello, stocking stuffer. You'll get one in each color: peony, black, true nude, white and pansy. And at $89 for all five (down from $20 a piece), the price is right.
If you order by 11/30, you can take advantage of Bare Necessities' Black Friday sale too – $10 off of a $75 purchase.
Thanks, Bare Necessities, for saving the day again.