Over here at SheFinds, one of our very favorite ladies – in fact, one who we think would fit right in with the smart, independent, but still-sort-of-just-like-us women in A Woman's World – is our bare-biceped First Lady Michelle Obama.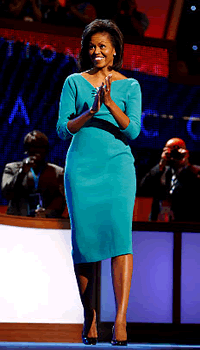 There are a dozen reasons we admire her style, but it all starts with knowing what looks good on one's own gorgeous body and seeking out those silhouettes time and again. Trends be damned (unless, of course, they look good on you).
To get the First Lady's modernized classic look, we suggest mixing tailored pieces – namely fitted dresses and belted jackets – with pops of personality, which Michelle incorporates in the form of brooches and bold colors.
Because if the clothes make the woman, this is one look we'd definitely love to try on.
This post was sponsored by Only In A Woman's World.