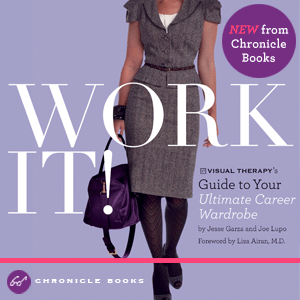 At long last, sound advice on what to wear to work.
In the new book Work It!, Jesse Garza and Joe Lupo, stylists to the stars, reveal their tried and true secrets to looking professional and chic. With questionnaires, hundreds of photos, color swatches, and before-and-after shots, they make it easy for any woman to determine her specific "worksonality." Then they tackle the tricky questions: How much skin is too much skin? Is what I'm wearing to work preventing me from getting the position that I want and deserve? Are shorts ever acceptable in the office? (Spoiler alert: they're not.)
New grads, women re-entering the workforce, and those growing their careers will find Jesse and Joe's advice indispensable, no matter where they work—they'll learn how to project confidence, dress their best, and make that wardrobe work!