BEST. WEEKEND. EVER. It might've involved skydiving, a European getaway, horseback rides on the beach, all too many fabulous cocktails, or a bevy of activities that can't be mentioned in polite company. You might not even remember what exactly made it so awesome any more, but all you need to jog your memory is one photo.
Your best weekend ever might've been epic – but just wait until it wins you a $1,000 shopping spree at Call It Spring! All you have to do is upload a pic from your best weekend ever to the Call It Spring facebook page – make sure to use their special contest tab in the sidebar. If you're lucky, you could be one of 5 winners to receive a $1000 Call It Spring gift card to spend on a grand's worth of trendy duds for men and women, handbags, shoes, and more!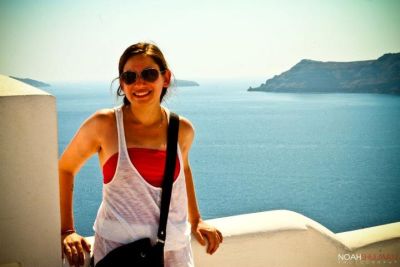 Here's a pic from my own best weekend ever. That's me chilling by the Aegean Sea during my fabulous trip to the Greek Isles! Did I have a grand's worth of good times? Absolutely – and probably also a grand's worth of tzatziki. Now I just have to bounce on over to Call It Spring and decide how spend all that fabulous cash…(SPOILER: There will be a lot of BOOTS involved). Think your BWE trumps mine? Then head on over to Call It Spring's FB page and prove it!