I have to admit, America Ferrera is one of my all-time favorite celebrities. She's naturally gorgeous, super friendly and always dresses in great style that I actually want to sport myself. To my surprise I caught her on the streets during the Sundance in some fabulous winter boots that she snagged from Timberland, the official footwear and outerwear sponsor of Sundance 2011. Normally the stuff given away to celebrities at swag suites is not available to the public, or is some type of limited edition that I drool over but can't ever get. This time it was different – The Timberland Retreat was open for everyone to check out and I found out her boots pictured above are available NOW: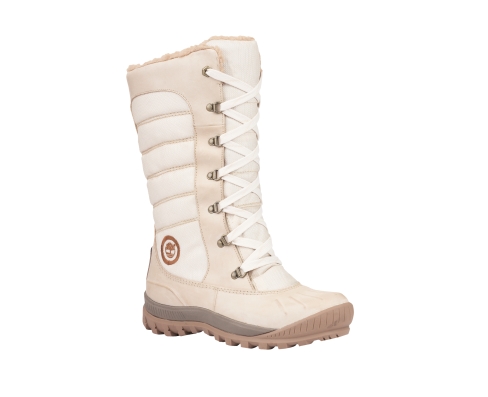 And here they are, the Timberland Earthkeepers Mount Holly Lace Duck Boot ($139.99, from $150). They're extremely comfy and made of premium waterproof leather so you can replace them with your boring black rain boots. My advice – scoop up a pair of these while you can. Obviously if America Ferrera loves them they must be pretty awesome. Need more sizes? Zappos has them.
Check out our guides to stylish rain boots and winter boots, and then check out our spring trends and shop our guides to the best platforms and the best wedges. Subscribe to SHEFindsMail for exclusive updates.