Orange paraded down the runways at Spring 2011 shows of Vena Cava (above) and many other designers this week at New York Fashion Week, which can only mean one thing: if you didn't love the color before, you'll probably feel differently come April.
Mulberry, Proenza Schouler, Tory Burch (above, from left to right) also showed the vibrant, bold color at in their Spring 2011 shows at New York Fashion Week.
Here are 5 great orange pieces- 3 on sale!- that you can buy now, and be ahead of the trends. You can thank us later.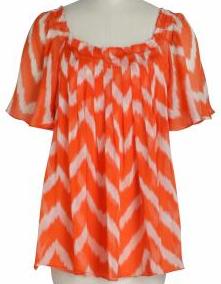 This Milly Pleated Silk Top ($143.99, from $288) might look summery if paired with shorts, but paired with black skinny jeans and a scarf, it's instantly autumnal.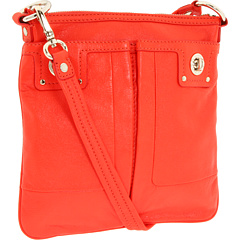 Marc by Marc Jacobs's Totally Turnlock Sia Bag ($206.40, from $258) adds just the right amount of neon orange to what otherwise might just be any old outfit.
Delia's Logan Solid Peacoat ($39.99, from $89.50) is more than half off, but the best part might just be the detachable faux-fur trim hood, which will carry the coat from fall to winter.
This Elie Tahari Emory Dress ($368) might not be on sale, but it's definitely one investment that will pay off. From the boardroom to the bar, this blood orange shift dress might be the most stylish piece you'll buy this season–and  it'll still be  perfect next spring, too.
Still orange-wary? Toe the waters by trying some orange nail polish, like POP Beauty Nail Glam in Ablaze ($14). With jeans and a white tee and blazer, deep orange nails are the perfect splash of color.
And for more orange items for less, make sure to browse the sales at ShopStyle. Want even more style inspiration? Make sure to check out the best sheath dresses, fall trends, and designer bags.