Spring is the season to bust out all your colored denim and it looks like newly-engaged actress Olivia Wilde got the memo. She recently took her fluffy pooch for a walk in these TWO by Vince Camuto 5 Pkt Jean ($89) and her look is casual, yet cute and spring-y.
But can we discuss the fact that Olivia's jeans are just $89? As in, under $100. It's rare that we see celebrity in something other than designer, let alone something so affordable. And judging by how good Olivia looks in the jeans, we say these are a downright steal.
Now if you're bummed because green isn't your color, the jeans come in 13 different hues–take your pick! Shop the jeans below.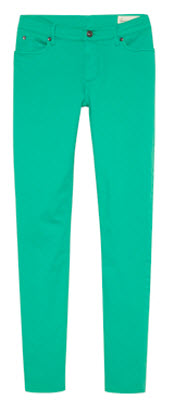 TWO by Vince Camuto 5 Pkt Jean in Mint Polyester ($89)
[Photo Credit: Splash News]
Does spring have you itching for a wardrobe makeover? Inspiration, right this way, with looks like Kristin Cavallari's maxi dress, Rihanna's denim look, and Kourtney Kardashian's chevron dress.