Spring's Drippy Trend Is Melting Like An Ice Cream Cone In July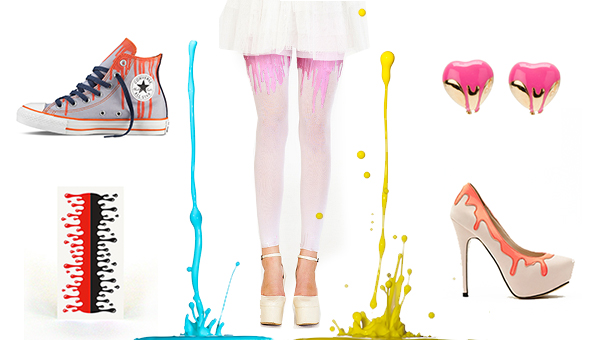 We not exactly sure what to even call this trend: dripping paint pattern? Drippy designs? Melting print? Whatever you want call it, it seems like everything is getting the drip-dry paint treatment. First there were these bizarre melting tights. Then, Nasty Gal came out with these painted platform pumps ($78) that look like they wore accidentally worn on a construction site. But the trend doesn't stop there. Converse just released their new Graphic Edition, a new collection of limited edition prints available through the Design Your Own option on converse.com. And guess what it features? A dripping paint design. We think the trend was inspired by street artists like Craig Costello, who just collaborated with Coach to create graffitied handbags and accessories. We don't mind the trend when it is in small doses. These melting heart earrings by ME&ZENA ($52) are really cute and we love these whimsical drippy tattoo nail wraps. What do you think of the melting trend?
For more trends, check out cut-out flats, tapered trousers and pineapple prints.