The fight against breast cancer is nothing less than the epitome of strength, and the toll that this process leaves for many women is heartbreakingly defeating. Many women feel less feminine after the results of what they had undergone through their mastectomies, and that is what Stella McCartney, daughter of Paul McCartney, wants to change. She wants breast cancer fighters and survivors to not only feel feminine again but to feel beautiful again.
McCartney lost her mother in 1998 from breast cancer. She would later go on to realize that the typical post-mastectomy bras currently available were focused more on being practical than attractive, and she wanted to change that. She wanted post-surgery to look as stunning as it takes to overcome such a daunting experience. So, she created a mastectomy bra-line dedicated to making these breast cancer victims and survivors feel gorgeous inside and out.
Her new Listening Louise Bra is named after her mother's middle name. It is the essence of feminine with its pastel pink and cream-white lace detail.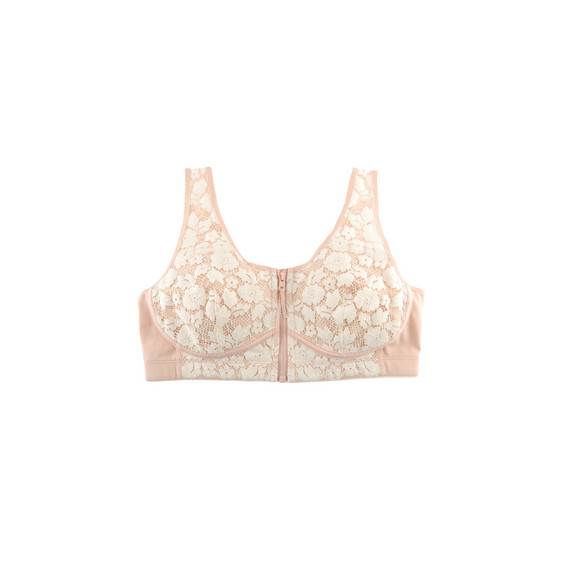 Louise Listening Bra ($125)
However, making women feel beautiful again is not the only goal behind this new bra-line. McCartney wants to use this bra-line as a platform to spread awareness and gain funds by donating proceeds from the bra-line to the Hello Beautiful Foundation, which is an organization committed to building a breast cancer center in London. Also, they are starting a #nolessawoman hashtag to further to spread awareness of this heartbreaking life-threatening illness.
We are so touched to see McCartney using her talents and resources to benefit to such a worthy cause that is so deep in her heart.
And don't forget to check out: Meet The People Behind Kim Kardashian's Entire Look, VIDEO: Lea Michele Proves She's A Scream Queen On Ellen, and 10 Hair Mistakes That Make You Look Older.
[Photo: Shutterstock, Stella McCartney]