You already know that we are head-over-heels for this spring's mint green trend (shop the entire pastel trend here) and you MAY know about our obsession with Pinterest, too, and so it should come as relatively no surprise that we're having a moment over this look from style blogger Tuula (above).
Not only did this stylista make us want to bathe in mint, but she also incorporated the mullet dress trend, which we've been dying to try, but didn't know how. Here's where it get's good: you can get Tuula's exact mint skirt on ASOS now: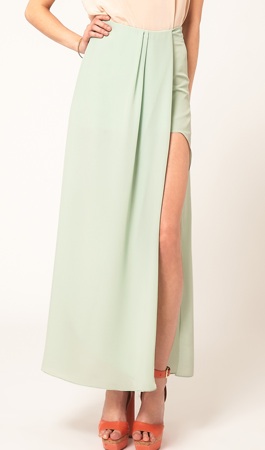 Get it: ASOS Maxi Skirt In High Low Hem ($80.57)
This ASOS Maxi skirt, (loved, repinned, and added to many a boards on pinterest) is definitely an item worth investing in. Pair with some cork wedges and a pastel top and you're ready to be a street style icon. Prepare to be pinned (the ultimate goal!).
[Photo Credit: Tuula]
Shop our Spring 2012 trend report for more on pastels, neons, florals, and polka dots.