Whoa, this is major. We just found a new bridal site, Nearly Newlywed, that blows all of the other cookie cutter sites out of the water. Know how you come across tons of inspiration on Pinterest yet don't have the time to track all of it down? This site has a Pinterest personal shopper feature. Show their experts your wedding inspiration board, and they'll show you which of their wedding gowns would best suit your unique style. Genius, right? Oh, but that's not all.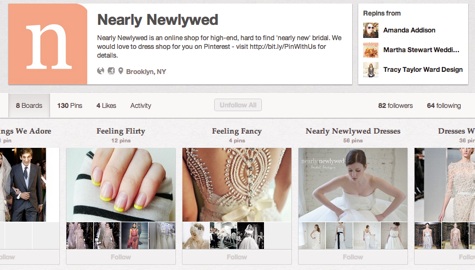 Want a personal dress shopper? Step 1: follow them on Pinterest.
Buying a designer dress pre-owned is a fabulous way to save some scratch (we recently recommended this cost-saving suggestion in this popular post) – but there are only a few legit places to source your gently used dream dress. Luckily for designer-loving brides everywhere, the site is now also a fabulous new option for sourcing pre-owned wedding dresses, bridesmaid dresses, and more.
Nearly Newlywed will also not only sell you a "nearly new" designer dress for a fraction of the retail cost and they'll even buy it back from you (or allow you to consign it with them). Plus, they've got a selection of designer names we absolutely adore – Marchesa, Oscar de la Renta, Monique Lhullier, and Vera Wang. Do yourself a favor and give this site some love.
Shop our guides to the best simple wedding dresses, designer wedding shoes, and bridal hair accessories!