Style Me Pretty founder and lifestyle guru Abby Larson has partnered up with HomeGoods to show how you can make your home uniquely yours. We chatted with Abby recently about the collaboration, and got some inspiration and tips for doing just that. You'll want to read the rules she lives by (so good!):
1. Invest in great structural pieces. I think that you should invest in pieces you know you'll never get tired of. A great sofa, a beautiful chest, a rug that makes your home a home. I love antique pieces that sit easily beside clean lines. Neutral structural pieces can anchor a room while you change accessories, pillows, and accents for an entirely different look should the mood strike you!
2. Swap out accessories with the seasons to build on your timeless pieces. Sprinkle on inexpensive trendy pieces, like quality décor accents from HomeGoods, so that you can change them out as the seasons pass or as your tastes and style changes. We can't ever expect to love the same décor for the rest of our lives. Financial changes happen, children grow older and stop smearing chocolate on everything, we become more casual or more formal or more whimsical. Give yourself permission to change by saving money on moments that you might not love forever and your home will always be beautiful.
3. Take inspiration from everywhere. For this tablescape (below), I was inspired by the perfect blushy pink sunset that we can see from our backyard at a specific time of day in the cooler fall months. Paired with wood accents, modern golds and rose golds, you can create a warm and homey, but still chic tablescape that echoes fall without using the season's typical color palate.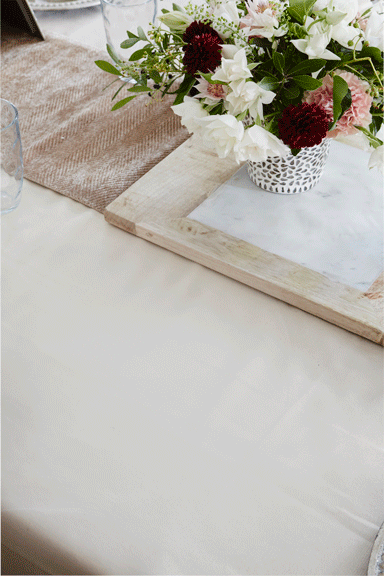 4. Design your home to fit your lifestyle. To maintain a unique style while still ensuring your home is kid-friendly, I will never buy something that my children can't use. I am always thinking about the kids, but never decorating around them. Great baskets hide the toys that sprinkle our living room floor, cute bar stools boost them up to the counter so that we can share a cookie and a chat, and walls are painted in a finish that can be wiped clean. While my stomach drops a little every time I see a stain or something that isn't holding up as well as I had hoped, I remind myself that we are living our lives with gusto and with love.
5. Use what you already have. A little creativity and a little DIY can go a long way. Swap existing pieces from one room to another for a fresh new look on a used treasure. Take leaves from outside and spray paint them for fall-themed accents that match what you already have.
6. Take your time! We just moved into a new house that has been my dream home for years. I told the previous owners that if they ever wanted to sell it, to please call us first. Once we got that call, the rest was history. So we are taking our time decorating, honoring the incredible detail that went into the space. The staircase alone is line art, so we're slowly making design choices that allow the house to be one complete masterpiece.