We couldn't help but notice all the cute sheer shirt options this spring. From Equipment to MINKPINK, tons of designers are cranking out see-through styles but we couldn't help but wonder how do you actually wear one? With a tank underneath? That seems lame. Braless? You can't actually do that in real life, can you?
So as we often do when we're presented fashion conundrum, we turned to the experts–the street style experts, that is. We scoured tons of images of women wearing sheer shirts and one thing was clear–it's all about the bra. Sure, you may think your shirt is the statement piece, but it's nothing without a good, complementary bra underneath. The three street stylers below are rocking the hell out of their sheer shirts, so all you have to do to pull one off this season is copy their sheer shirt + perfect bra formula.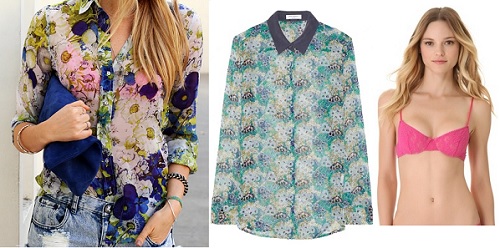 Wear a bright bra. First up is one of our street style faves, Shea from Peace Love Shea. She's got the ballsiest look, pairing her floral print sheer shirt with a neon pink bra underneath. The key to this look? Choosing a sheer shirt with a print so it's a little less see-through and pairing it with a bra in bright contrasting color so you can actually see it.
Shop our look: EQUIPMENT Earl floral-print silk-chiffon shirt ($80), ONLY HEARTS Stretch Lace Underwire Bra ($55)
Wear a black bra. Next, we're loving this sheer shirt look from Lee Oliveira. The black on black combo tones down the sexiness of the sheer shirt. Follow in this street styler's footsteps and wear something with a high waist on bottom or throw on a blazer for added coverage.
Shop our look: Woven Sheer Sweat Top ($64), COSABELLA Marni Strapless Bra ($80)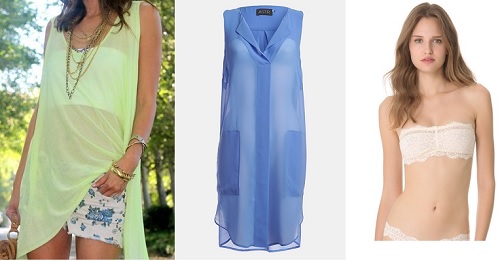 Wear a bandeau. Lastly, for all you boho babes out there, you can't go wrong with a flowy sheer tunic paired with a bandeau underneath a la Frankie Hearts Fashion. The look is perfect for a festival or for any casual weekend plans.
Shop our look: ASTR Sheer Tunic ($58), EBERJEY Esther Bandeau Bra ($40)
But wait, you also need to learn how to wear silk shorts, tapered pants and overalls.
[Photo: Peace Love Shea]