Isabel Marant's wedge sneakers may be losing their fashion cred, but her boots definitely aren't. It's not even officially fall yet and celebs are already clamoring for her cult booties. Case in point: Victoria's Secret model Lily Aldridge who was recently snapped wearing the  Isabel Marant Dicker Suede Boots ($650). And Lily's not alone– Taylor Swift, Kate Hudson, and Nikki Greene all own a pair, too.  So if you needed a reason to splurge this fall, here is your chance. Classic and comfortable, these boots will take you through all the seasons and pretty much any outfit. Get yours below.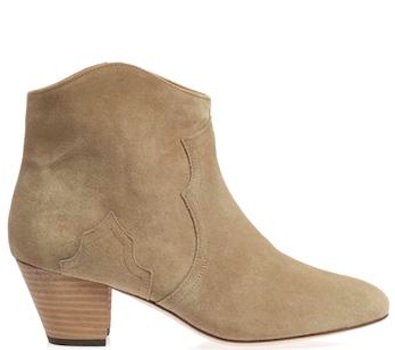 Isabel Marant Dicker Suede Boots ($650)
Don't miss out on more great A-list finds such as Cara Delevingne's Tee, Jessica Alba's leather track pants, Rihanna's hot pink dress and Beyonce's best under-$100 clothes.
[Photo: Splash News]