Sweet Gift Idea: Dogeared's Gold 'Bridesmaid' Heart Necklaces (They're Inexpensive, Too)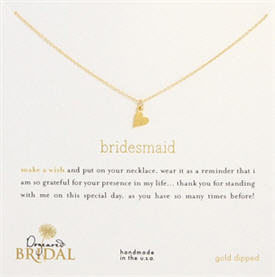 Bridesmaid gifts can be tough – you don't want to spend too much (or too little), and you want something sweet and memorable that your girls will actually use. If you're feeling uninspired, check out this genius find: the Dogeared Jewels Bridesmaid Necklace ($57) is inscribed with a sweet "Thank You" message and is a delicate piece of gold jewelry she'll actually want to wear. The fact that it's only $57 is the cherry on top.
Shop our guides to the best wedding costume jewelry, black bridesmaid dresses, and simple wedding dresses.