You've been counting down the days 'til vacation until suddenly you realize you hate all of your old bathing suits.  Don't panic: it happens to us all.  Whether you're traveling with your extended family, significant other or your friends, we've found a swimsuit to fit whatever way you're looking to relax this spring.  Oh, and did we mention they're all under $200?  Well, they are. Happy Tuesday.
Trip With Your Girlfriends
If you and your girlfriends were luck enough to find time for a trip, the last thing you want to worry about is your drag swimsuit.  Polka dots and ruffles are great for an estrogen-charged vacay.  Try this bandeau two piece by Seafolly ($137).
Romantic Getaway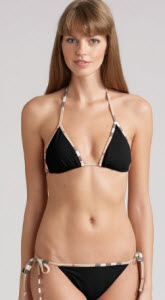 It's finally time to take that long anticipated romantic excursion. Try this black string bikini, like this classic by Burberry ($160- $90 top, $70 bottom sold separately).
Family Vacation
Don't dread being on the beach with your family–get excited for new new swimwear.  If you feel self-conscious about wearing an itty bitty bikini in from of your relatives, but don't want to sacrifice style, try a feminine tankini like this one by Juicy Couture ($139- $85 top, $54 bottom sold separately).
Looking To Cover Up?
That first time in a bathing suit since summer can be more than a little daunting.  Let Spanx help you ease into vacation season with their line of amazingly flattering swimwear.  One of our favorites is this asymmetrical one-piece ($178), and there are plenty of other styles to check out, including two-pieces.
Find more beach style with our guides to swim cover ups, cheap swimwear and Spanx swimwear. Think you're a fashion pro?  Try one of our taste tests and find out.