Psst! Here's How You Can Get A Gorgeous Leather Kate Spade Wallet For Less Than $50
Kate Spade collectors, drop everything! Your favorite brand is having the best end of season sale right now. All sale items are an additional 40% off, so now is the time to score a gorgeous, designer wallet for cheap. Get this: wallets that are usually$100 are on sale for just $42 right now. Even better, you can get a gorgeous Kate Spade bag for just $60! Just use the code EXTRATREAT at checkout to get these savings on top of savings. And don't wait--items are selling fast! Highland Drive Stacy ($42, down from $100) Daycation Bon Shopper ($62.40, down from $148) Burgess Court Stacy ($42, down from $100) Cameron Street Perforated Arielle ($60.60, down from $168) Hyde Lane Leopard-Print Stacy ($42, down from $100) SHOP MORE KATE SPADE WALLETS ASAP Be sure to check out this cozy Nordstrom sweater and this epic coat sale ASAP! [Photo: Kate Spade] SaveSave SaveSave SaveSave SaveSave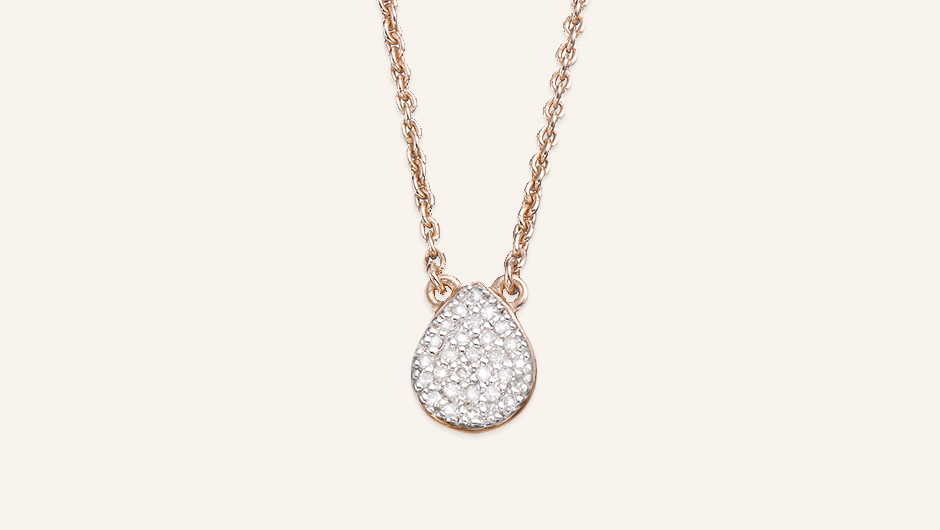 Monica Vinader Just Kicked Off Their Winter Sale And Gorgeous Bracelets, Earrings And More Are Up To 40% Off
Ladies, 'tis the season to treat yourself! Now that most holiday shipping deadlines have passed, you can finally focus on yourself. If your jewelry box could use a little  refresher, now is the time to restock. Monica Vinader just debuted their highly-anticipated winter sale and trust us: you do not want to miss this. If you aren't already familiar with Monica Vinader, prepare to fall in love instantly. Featuring contemporary fine jewelry items that are both stylish and timeless, this luxury brand will soon be your new go-to for quality pieces that you can wear everyday or on special occasions. Some of our favorite never-go-out-of-style Monica Vinader pieces? The Fiji Friendship Bracelet, which is great when stacked or own its own and these stunning Siren Stacking Rings. Best of all? Tons of the best MV styles are up to 40% off right now! Want to make shopping these gorgeous baubles even more special? Monica Vinader offers free engraving so you can personalize your new piece. Did I also mention they also offer free worldwide shipping options, too?! Our advice? Start shopping ASAP, but Monica Vinader only holds a few sales a year, so the best items will go fast. Not sure where to start? Here are a few of our faves to put in your cart ASAP: Siren Stacking Ring ($94.50, down from $135) Fiji Friendship Bracelet ($136.50, down from $195) Skinny Short Bar Bracelet ($237, down from $395) Alma Necklace ($276.50, down from $395) Skinny Curve Necklace ($417, down from $695) SHOP MORE GORGEOUS JEWELRY NOW [Photo: Monica Vinader]
Can You Believe These Gorgeous Backpacks Are Actually Diaper Bags?!
I thought diaper bags were pretty stylish when I was a new mama nine years ago, but then I came across these diaper bag backpacks from Skip Hop and wowza! I don't have a baby, but I'd totally carry this backpack! Millennial pink? Fringe tassels? Vegan leather? Yes, yes, yes! Skip Hop has always been a pioneering in the parenting space and these new diaper bag backpacks are just their game-changer. In addition to being super stylish, these diaper bags are also ridiculously functional. They feature a whopping nine pockets, stroller straps and a matching cushioned changing pad. Still need more? The changing pad pocket is big enough to fit a laptop! Best of all? This amazingly versatile bag will only set you back $100! Go ahead--treat yourself! Skip Hop Greenwich Simply Chic Backpack ($100) Skip Hop Greenwich Simply Chic Backpack ($100) Skip Hop Nolita Neoprene Diaper Backpacks ($80) Skip Hop Greenwich Simply Chic Backpack ($100) SHOP SKIP HOP'S DIAPER BACKPACKS NOW Don't miss our fun holiday gift finder. [Photo: Skip Hop]
These Are The Earrings You Need For This Year's Holiday Festivities
Looking for that perfect accessory that will complement any holiday look, be it a simple black dress or an attention-grabbing jumpsuit? We found it: these Ball Hook Earrings from Tiffany & Co. TIFFANY HARDWEAR Ball Hook Earrings ($300) TIFFANY HARDWEAR Ball Hook Earrings ($1,250) TIFFANY HARDWEAR Ball Hook Earrings ($850) Absolutely stunning, right? Available in sterling silver and 18K white, yellow and rose gold, these earrings couldn't be more gorgeous. Unlike some statement earrings that can feel too over-the-top with glitzy crystals and colorful embellishments, these danglers are eye-catching without being garish or gaudy. Even better, they're incredibly versatile. Yes, they'll work for your office holiday party or New Year's Eve with flawless makeup and a festive ensemble, but you can also wear them as your everyday earrings. Whether you're wearing a polished suit to work or jeans and a nice blouse to meet friends for brunch, these earrings really are ideal for any occasion. CLICK HERE TO SHOP THE COMPLETE TIFFANY HARDWEAR COLLECTION Be sure to check out our favorite beauty products. [Photo: Facebook]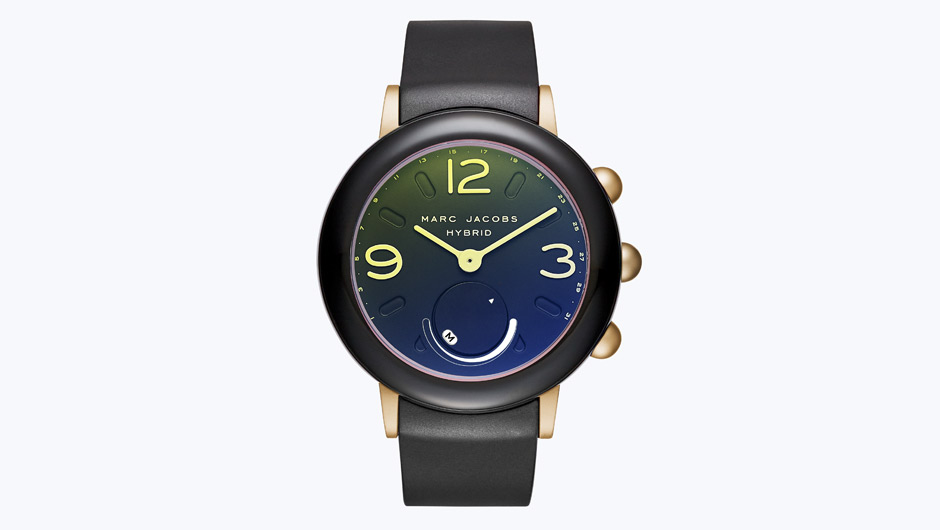 FYI, This Is The Designer Smartwatch You've Been Waiting For…
I'll admit that I was a little late to the smartwatch party; I didn't start tracking my steps until last year (gasp!). I found a smartwatch that I love, but there was one problem: the leather band I loved so much didn't stand up to my lifestyle as a working mom. Between washing dishes, helping my daughter with art projects and getting things spilled on me, it wasn't long before that beautiful tan leather watch band was gross and stained. I was initially resistant to getting a smartwatch with a rubber-y feeling black band, but when reality set in, I accepted that this was really the way to go. But an ugly smartwatch? No way, not me! The band might not be leather, but any watch that I'm wearing on a daily basis needs to have serious style. Enter the brand new Marc Jacobs Riley Smartwatch. Yes, it has a matte black rubber wrist strap, but the rest of the watch is so insanely cool that I don't even mind that. First, there's the face which has this super cool iridescent like sheen (see above!). There's also the goldtone hardware details that definitely elevate the look and make this watch totally "fashion" office-appropriate. Of course, the beauty of any smartwatch is the tech and this one has it all. Not only does it track my activity in an easy-to-navigate app, but it can also control my music and send me important notifications. Syncing the watch and accessing all my info is super easy. I just downloaded the Marc Jacobs Connected app from the App store and followed the setup instructions. I thought I would be most excited about tracking my steps, but I've actually found that I'm more in love with the sleep tracker; this is a feature my old smartwatch didn't have. I was initially resistant to the idea of sleeping with the watch on, but now I don't go to bed without it. I've found that monitoring how many hours of actual restful sleep I've had totally helps me prepare for the day. Add to this that I've worn this watch for almost a week straight and it looks just as beautiful and new as it did when I first took it out of the box. My lesson in all of this? Don't judge a watch by its band! SHOP THE MARC JACOBS SMARTWATCH NOW [Photo: Marc Jacobs] SHEfinds receives commissions for purchases made through the links in this post.
Psst! This Amazing Kate Spade Tote Bag Is Only $63 #YoureWelcome
If you're looking for a cute, durable, versatile everyday bag to carry for the next few months, we found it. Not only is this kate spade on purpose canvas tote the perfect fall hue, but it even feels a bit festive thanks to the pretty bow detail. Even better, it's made from a quality canvas material that can hold all your daily essentials, but doesn't add any extra weight or bulk. Best of all, though? With sale items an additional 30% off at Kate Spade right now, this bag is only $63! Seriously! You can basically never get an authentic Kate Spade bag for less than $100, so this is major! Just use code DELICIOUS at checkout to score this insane deal. kate spade on purpose canvas tote ($63, down from $128) PS: There are actually a few cute Kate Spade bags on sale for under $100 right now and they're all perfect for holiday party season. Treat yourself ASAP before they sell out! kate spade cameron street arielle ($66.50, down from $158) kate spade cameron street perforated arielle ($70.70, down from $168) kate spade cameron street perforated arielle ($70.70, down from $168) kate spade haring lane jeny ($69.30, down from $198) Be sure to check out these super popular $11 leggings. [Photo: Kate Spade]
Not Sure How To Wear Hair Accessories Without Looking Like A Toddler? These Hairstyle Ideas Will Help
Score A Gorgeous Leather Rebecca Minkoff Bag For Under $100 With Our Exclusive Promo Code
If your accessories collection is in desperate need of a refresh, now is the time to upgrade. For a limited time only, our friends at Forzieri are offering SHEfinds readers an exclusive discount: 20% off all things Rebecca Minkoff! Whether you're a crossbody kind of gal or more of a hobo type, this is your chance to treat yourself to a stunning new bag for the season. Just use code SHERM20 at checkout to take advantage of this exclusive discount. Need a nudge in the right direction? Don't miss the Avery Flap Leather Crossbody. Not only is it the perfect going out bag, but you'll get so much use out of it this holiday season. Even better? It's only $88 with our exclusive promo code! Avery Flap Leather Crossbody ($88, down from $180) Avery Flap Leather Crossbody ($88, down from $180) But if you're looking to invest in a newer Rebecca Minkoff style, check out some of these other amazing bags on sale ASAP! Sand Leather Mini Darren Messenger Bag ($168, down from $210) Black Chevron Quilted Leather Small Love Crossbody Bag ($204, down from $255) Almond Studded Midnighter Large Messenger Bag ($412, down from $515) SHOP REBECCA MINKOFF AT FORZIERI NOW Be sure to check out this amazing $38 sweater dress. [Photo: Forzieri]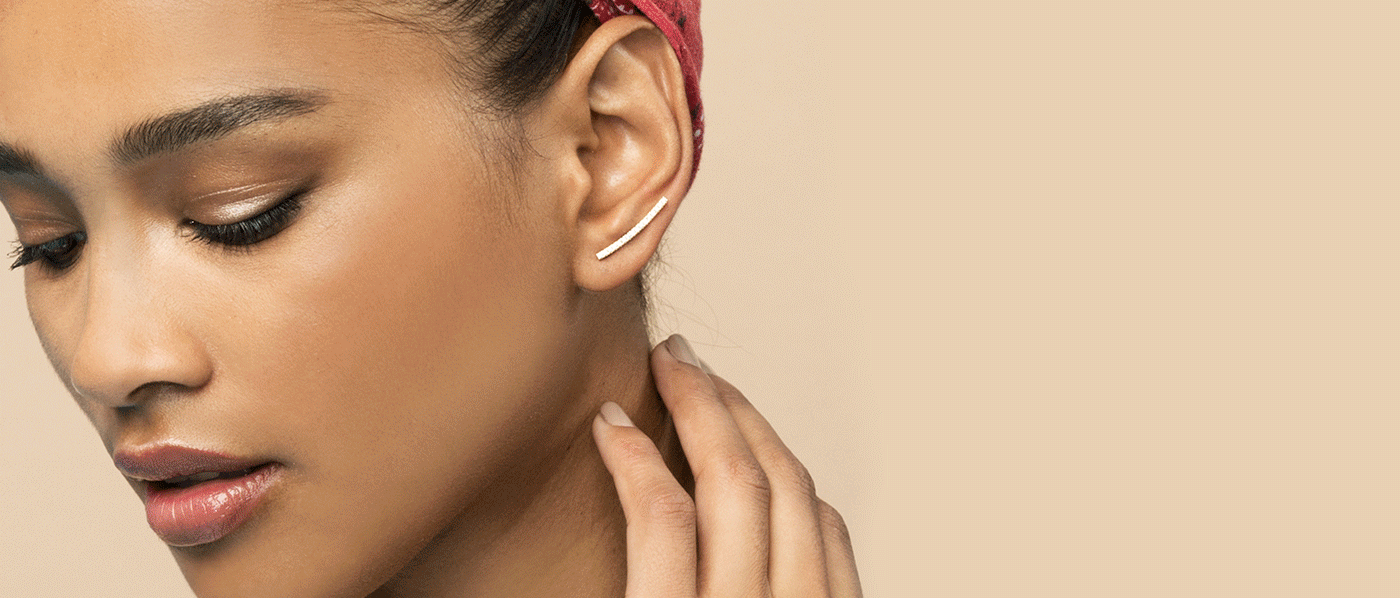 Meet Shelley Gibbs Sanders, The Pioneering Designer Behind Everyone's Current Jewelry Obsession, The Last Line
Chances are you've bore witness to one of The Last Line's amazing (or terrifying, depending on how squeamish you are) piercing parties in an Instagram story or two. That's how I came to know the brand and it didn't take long for me to fall in love with their amazing assortment of stunning earrings. Fast forward to now and The Last Line just upped the ante. In addition to gorgeous earrings, they now offer breathtakingly beautiful necklaces, bracelets and rings, too. The visionary behind the reasonably priced fine jewelry brand every fashion girl, celeb and influencer is loving these days? Shelley Gibbs Sanders. Get to know her and more about The Last Line below. SHEfinds: Tell us a little about The Last Line. Shelley Gibbs Sanders: As a designer, I tried to steer away from having the line be led too much by my own aesthetic. The core of the brand is quality, I wanted to create pieces that can be worn but not worried about. The inspiration behind the name of The Last Line is it is the last place you'll have need to look for fine jewelry and trust me, I plan to live up to our name. My goal was to design classics with a twist and honor the craftsmanship of pieces from the past. For me, it's how a woman mixes her jewelry collection that is cool. There are two parts to The Last Line: The Heart and The Soul, everything is designed in Los Angeles where I draw every piece of jewelry. The Heart pieces are the core of the brand and your jewelry box; they're the staples that (I hope!) you never want to take off and that make you feel instantly put together. The Soul pieces are the jaw-dropping, make your girlfriends ask "where did you get that," expertly crafted, special pieces you want to treat yourself to. I of course, believe you need both! When designing the line, I wanted to incorporate color and work with stones beyond the usual suspects of emeralds, rubies, and sapphires, so you will (soon!) see some lapis, tiger's eye, carnelian, and malachite. I love the idea or refreshing the classics with new colors and reviving jewelry techniques of the past to create modern heirlooms. Jewelry is classic, I wanted to honor that with a new lease, but stay true to the great styles and silhouettes. SF: What's your background? Have you always been in the fine jewelry business? SGS: I have been "in the industry" for over fifteen years, and have had the rare opportunity of being on both the design and production sides of the process, which was very helpful when we decided to launch The Last Line. And, in the end I am ultimately a consumer so basically it is the trifecta of intel. My career technically began in New York where I studied Fine Arts at Parsons School of Design before returning home to California to train with Master Jewelers in San Francisco. After learning the tricks of the trade, I returned to Los Angeles to begin my career as a jewelry designer. Over time (and companies!) my roles evolved and I became the head designer and creative director for dozens of celebrity jewelry brands and high-end jewelry houses, working with everything from costume jewelry, gold, diamonds, and precious stones. SF: What inspired you to start The Last Line? SGS: I had been designing jewelry for over fifteen years, with each job and project there was the thought in the back of my mind… if this was my line, how would I do this? In recent years, it was less of a daydream and more of a fixation. I felt like I had seen so much jewelry and somehow something was missing. So I decided to get serious and do some research and I found there were definite holes in the market: reasonably priced, not-so-great design or amazing design and quality, outrageous price with nothing in the middle, which I found so frustrating. From there, I began speaking about my theory with my girlfriends, family, etc. and confirmed, I was not alone in that feeling. Fast forward to July and voilà, The Last Line has launched with what I hope to be the perfect pieces for everyone (and there are options!) We chose to launch direct-to-consumer because fine jewelry shopping can be intimidating, a lot of which can be the result of pricing and I didn't want that to be the case with The Last Line. Because we are direct to consumer, we can present amazing, quality pieces without a retail mark-up so you are really getting the best diamond, gold, etc. for your money. SF: What's been the most exciting part about building this business? SGS: Truthfully, for me the best part is seeing people from all over the world buy my pieces. I think that's so cool and hope it only grows. Second, designing, I love design of all types and I love to create. I can't stop--it is an obsession. It's very challenging to think as a business woman and as a designer at once. That said, I'm starting to find out I enjoy the strategy side of the business almost as much as I do the creative. SF: The hardest? SGS: I find it's difficult to find balance. I'm a creative, I'm always thinking and wanting to create! You mind is always thinking on what more you could do, how you could change something, etc. but you have to just accept where it is and learn and keep going. Its hard to edit, I want it all and I want to just keep doing it, Its hard to say this is complete for the moment. If it were up to me I would design pieces every single day, all day. SF: Is there a quintessential "The Last Line" item? The one piece you feel every woman should own? SGS: I may be biased, but how can you chose just one? I think our flowers are so great and we recently launched charms for your hoops, which I love. My thought is jewelry is personal, it's self expression and should be personal. I wanted to present options, in each drop you will have classics with a twist and then some really fun special pieces. I think every woman should own a few pieces that can take her from day to night, it's not about quantity of pieces for me; it's about the versatility. Everyone should have a conversational piece, something that invite a dialogue and makes you feel really special. SF:  Who do you design jewelry for? SGS: Everyone! Myself, my girlfriends, fabulous women I've never met and maybe even some gentlemen with good taste. I am a designer and love to create, but I am ultimately a consumer, so it's the best of both worlds when it comes to designing pieces. SF: Any new exciting ventures jewelry lover should be on the lookout for? SGS: We have so much more to come, necklaces, bracelets, rings, more earrings! Stay tuned. SF: If you weren't running The Last Line, what would you be doing? SGS: In another life I'm a stay at home mom, but I'm not sure if that would stick. Or a lawyer--I'd be horrible--I'm much too emotional but I oddly enjoy those parts. The engineer in me likes figuring things out and solving problems, doesn't matter if they are design or people I guess. [Photo: The Last Line]
bkr Just Released A $185 Reusable Water Bottle Featuring 500 Swarovski Crystals And All Proceeds Go To Charity
I'm fully on board the resuable water bottle bandwagon; I have tons because not only are they pretty, but they actually do help me drink more water. But here's another reason to finally invest in one of those cute glass bkr water bottles you see everyone carrying: bkr teamed up with Swarovski on a limited edition bottle featuring 500 shimmering crystals. The best part? All proceeds will go to Water For People, plus every 500 bkr sold helps provide a full month's supply of clean water to a person in need. Pretty amazing, right? bkr is one of my favorite reusable water bottle brands because their bottles are glass, which means they don't ever alter the taste of water and are totally BPA free. The looped handle is also perfect for hooking onto my bag, so I never have to buy a plastic water bottle. The fact that they also give back to those in need? The icing on the cake! SHOP bkr's NEW CRYSTAL WATER BOTTLES NOW Be sure to check out my favorite candle for fall.
Add This Affordable Diamond Watch To Your Holiday Wish List ASAP
The height of luxury? A diamond watch, of course. Sadly, a timepiece with real diamonds seems unattainable for most people... until now, that is. Meet JACY, the affordable new diamond watch brand from the son of the MICHELE founder. Are you ready for this? A watch with a genuine leather band, a mother of pearl face and 76 diamonds can be yours for less than $1,000. Yes, really! JACY's direct to consumer approach allows them to deliver these seriously stunning timepieces at remarkable prices. Obviously, the timing couldn't be better. With the holidays right around the corner, this is the item that needs to be right at the top of your wish list. The ACE silver / black full grain ($795) The ACE silver / dark red full grain ($795) The ACE rose gold / sienna full grain ($795) Be sure to check out Stella & Dot's new clothing collection and cute boots under $50. [Photo: Jacy]
Your Fall Wardrobe Isn't Complete Without Burgundy–Shop Our Favorite Pieces Now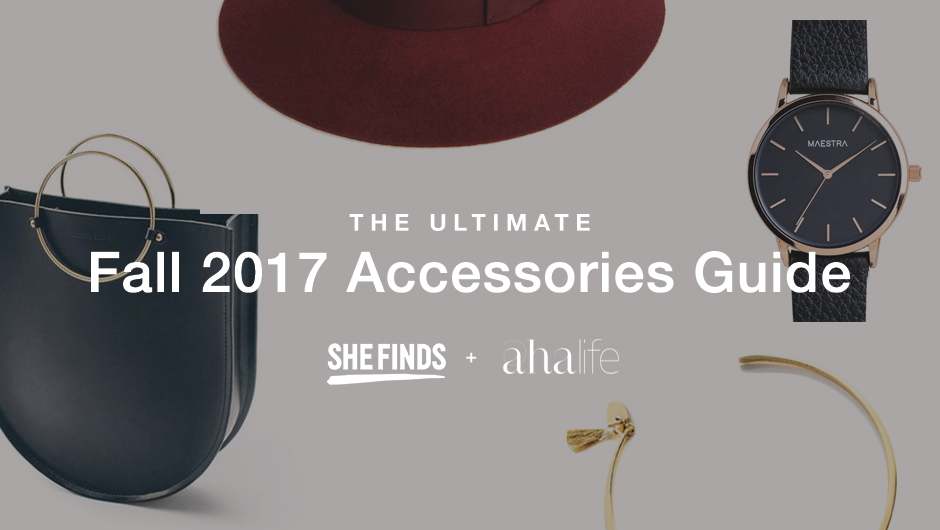 SHEfinds x AHALife: The Ultimate Fall 2017 Accessories Guide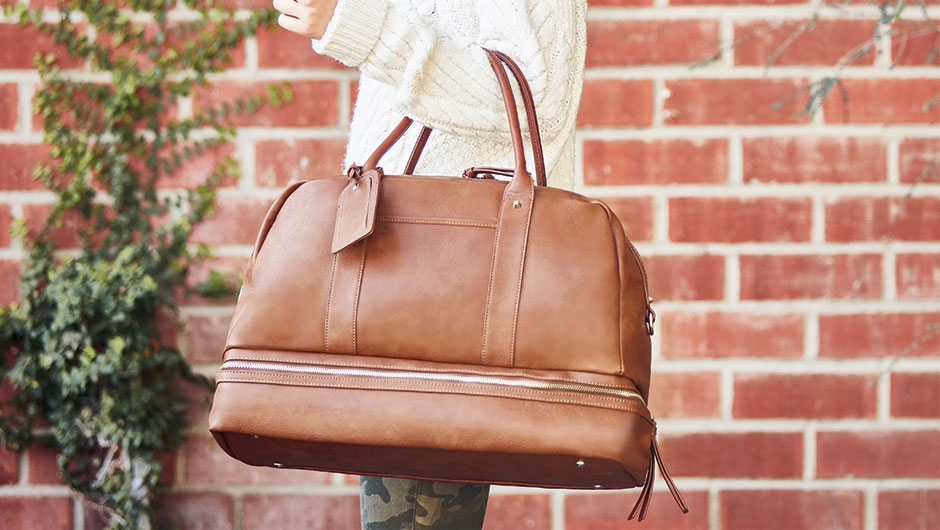 Going Away For A Long Weekend? You Need This Bag In Your Life
It's that time of year again. With the official start of fall just a few days away, the holiday travel season won't be far away. Rather than put unnecessary miles on wheeled luggage, here's a tip: invest in a gorgeous, durable weekender bag. Not only are these babies spacious enough to house 3 days worth of essentials, but they're easy to carry and look way better than a boring black rolling bag. Before you even think about using your oversized purse for your upcoming weekend getaway, don't. Please don't. Instead, treat yourself to a functional, fashionable travel bag from Sole Society. Yes, you read that right--Sole Society. They don't just make amazing shoes and boots, you know. Their bags are just as incredible and their weekenders are especially standout. First and foremost, they're perfectly sized for quick weekend trips. They're roomy enough to hold everything you'll need for a trip, but light enough to comfortably travel with it as the perfect carry-on. Even better, they're super high quality so they'll last you through many seasons of travel. The best part, though? These weekender bags are so affordable, so you won't have to break the bank on top of all those trips you have planned. Shop three of our favorite weekenders from Sole Society below: Sole Society Mason Vegan Travel Satchel ($79.95) Sole Society Lacie Vegan Weekender ($84.95) Sole Society Robin Vegan Color Block Weekender ($74.95) Sole Society Miah Structured Buckle Weekender ($79.95) SHOP MORE TRAVEL BAGS AT SOLE SOCIETY NOW [Photo: Sole Society] Return to fall footwear essentials guide >>
Psst! Here's Where To Get A Gorgeous Kate Spade Wallet For $39 Today
Attention, Kate Spade lovers! Kate Spade just unveiled a 25% off sale and this is your opportunity to get a gorgeous leather wallet for just $39. For real! The Eden Lane Stacy wallet is not only seriously gorgeous, but the color couldn't be more perfect for fall. Best of all, of course? It could be yours for less than $40! Eden Lane Stacy ($39, down from $148) Believe it or not, there are more amazing deals that you'll regret missing! From wristlets to clutches, add these steals to your cart while they're still in stock! Cameron Street Large Stacy ($39, down from $148) On Purpose Small Leather Wristlet ($38.25, down from $128) Confetti Dot Envelope iPhone 7 Wristlet ($45, down from $85) Cameron Street Tangier Floral Alfre ($44.25, down from $168) SHOP MORE KATE SPADE WALLETS NOW Be sure to check out this super flattering $27 tunic top and these amazing Sam Edelman rain boots. [Photo: Kate Spade]
Once And For All, How To Make Your Sticky Bra Sticky Again
'Tis the season for backless dresses and off-the-shoulder tops. We're all so excited to show some skin before cold fall weather takes over, so you know what that means… time to whip out the sticky bra! If you're like me, you probably have a love/hate relationship with this popular style of lingerie. Sticky boobs come in handy when I have an open-back top or dress, but it always becomes a guessing game of whether or not they'll stay attached and comfortably secure while I'm wearing them. The main downside is that sticky bras kind of lose their stickiness and start to feel gross after a wear or two. And few things are more embarrassing than having one pop off in public out of nowhere—we've all unfortunately fallen victim to this. So, what's the magic hack to making sticky bras, you know, stick again? The simple solution lies in your cleaning methods. Once and for all, here's how to clean a sticky bra and actually keep it sticky. So, what's the secret for getting back that sticky feeling? Just wash your sticky bra with soap and water! Yep, it's that easy. No towel or cloth necessary. After every use, rinse the bra cups with warm water and a few drops of hand soap to make sure all skin oils and residue come off. Also, scrub off any random bits that got caught in the adhesive. This tip should make your sticky bra usable for, well, ever! Also, who would have thought that adding water could make your bra way more adhesive again!? After the soap and water rinse, let the sticky bra cups dry overnight. Put them on a flat surface, like your dresser or a countertop, with the sticky side up. If yours came in a little plastic package when you bought it, you can even leave the packaging open and let the boob covers dry in there. You don't need to worry about wiping off any excess water or drying it with a towel, so resist the urge to pat them down. Like magic, the bra dries on its own and eventually returns to its former sticky glory. Your sticky boobs will be ready to wear with that backless dress you've been saving for GNO, and they're guaranteed to stay put during a night of dancing. It'll feel like a whole new bra. No more worrying about potential nip slips! If you haven't hopped on the sticky bra bandwagon yet (how??), or if you're in search of a new pair, check out some of our favorite picks. Ultra Light NuBra ($40) Aerie Backless Bare Bra ($21.90) Fashion Forms Women's Superlite Adhesive Strapless Backless Bra ($16.99) PINK by Victoria's Secret Backless Bra ($24.95) For more style news, make sure to check out these Pom Sandals, The Best Bras For Women With Small Boobs, The One Thing Millennial Moms Are Buying, Sticky Bras With String, 7 Bra Shopping Mistakes You Don't Know You're Making, and The One Color You Should Never Wear On A First Date. [Photo: NuBra]
Psst! Here's Where To Get A Gorgeous Leather Kate Spade Bag For Less Than $100
Attention bag lovers, everywhere! If you're looking to hit refresh on your fall purse game, Kate Spade has just done the best thing ever! They're having a super sale on some of their stylish purses--we're talking 50% off original prices. That means you can get steals like this Cameron Street Small Dody crossbody bag--which is a perfect pop of color to add to any outfit--for just $99, down from $198. (That's an $100 discount!) You seriously can't beat this sale, so don't wait to check out what's in stock because we guarantee that these bags will sell out fast. Hurry and get your perfect fall bag now! Cameron Street Small Dody  ($99, down from $198) Cameron Street Lane ($115, down from $228) Healy Lane Lilith ($119, down from $298) If you're getting a new bag, might as well get some pretty accessories to put inside of it, right? These wallets and card cases are all under $50. Add them to your cart, too! Cameron Street Tangier Floral Beca ($44, down from $88) Cameron Street Confetti Dot Card Holder ($35, down from $50) Cameron Street Card Holder ($35, down from $50) SHOP MORE KATE SPADE ON SALE NOW Be sure to check out the skinny jeans Nordstrom shoppers love and these wear anywhere ballet flats. [Photo: Kate Spade]
Treat Yourself To One Of These Gorgeous Suede Bags For Fall For Less Than $150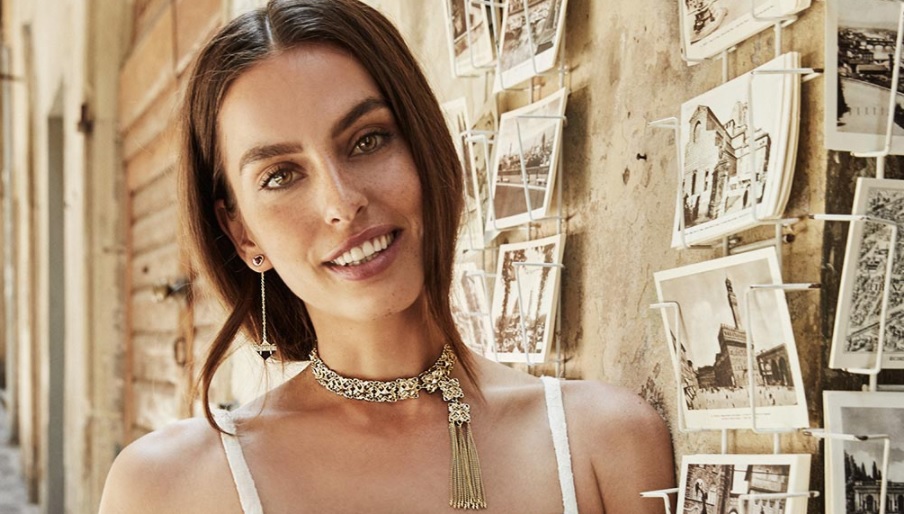 Kendra Scott's Fall Collection Just Dropped And You're Going To Want Everything
If a whole new wardrobe isn't in the cards for you this fall, why not upgrade items you already own with some sparkling new jewelry? Kendra Scott just released her fall 2017 collection and it is good. Featuring renaissance-inspired details in rich jewel tones like ruby red and emerald green, these are the perfect accents to breathe new life into the pretty fall sweaters and dresses in your closet. Shop our faves from the collection below: Annora Lariat Necklace In Green Ocean Jasper ($125) Gigi Ear Jackets In Bordeaux Tiger's Eye ($80) Heidi Choker Necklace In Brass ($150) Mary Caroline Bangle Bracelet In Gold ($45) SHOP KENDRA SCOTT'S NEW FALL COLLECTION NOW Be sure to check out our favorite shorts under $25. [Photo: Kendra Scott]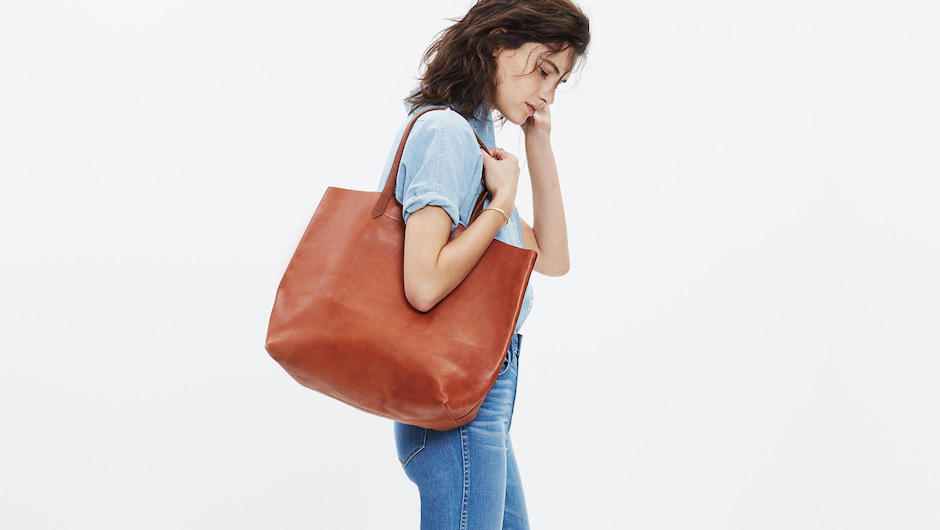 This Is The Best Everyday Leather Tote
I just got the best every day tote and I am so excited to tell you about it. The Madewell Transport Tote is a beloved cult favorite and after eyeing the bag for a long time, I finally splurged and bought one for myself. When it comes to the perfect tote, my checklist is fairly long. The bag needs to be sturdy and comfortably fit all of my every day necessities (including my laptop, which I lug almost everywhere). Obviously, it has to look good, too. To my surprise, the Madewell Transport Tote seriously has it all... and more! The leather is super high quality and it holds up extremely well. I can throw all of my must-haves in there with no problem at all fitting what I need to take along with me for a busy day. My favorite part is that even though I'm lugging around a super heavy bag, the strong, well-made handles take away from all the weight being on my shoulders and the bag looks so great with any outfit I have on. I bought mine in black, but the bonus is that there is a huge color selection to choose from, so no matter what your preference, there's a transport tote for you. Madewell Transport Tote ($168) Be sure to check out suede booties you need for fall and the perfect fall leggings at Nordstrom. [Photo: Nordstrom]
Drop Everything—Poker Visors Are A Thing Now & We Don't Know How To Feel
Shop Summer's Prettiest Moonstone Jewelry Starting At Just $38
The Perfect End-Of-Summer Splurge? Statement-Making Embellished Sunglasses
5 Tassel Accessories Every Woman Needs To Own This August
Zappos Is Having A Huge Sale Right Now And Coach Wallets Start At Just $34
In the market for a new wallet? Or just looking to give a super cute designer gift (to yourself)? Zappos is having a major sale right now and tons of cute Coach wallets are on sale for just $34. Yes, Coach leather wallets for under $50, people! If this isn't the easiest "treat yourself" of the week, I don't know what is. These wallets are not only super cute, but the quality is crazy good. Trust me, I have one and I'm constantly stuffing cards and money inside of mine, throwing it in and out of my bag and it looks as good as new! Get one for yourself below before they're all gone! Mini ID Skinny ($34.99, down from $49) Mini ID Skinny ($34.99, down from $49) Flat Card Case ($34.99, down from $49) Small Wristlet ($45.99, down from $65) Small Wristlet ($45.99, down from $65) Embossed Leather Card Case ($45.99, down from $65) Color Block Small Wristlet ($49.99, down from $75) Embossed Small Wristlet ($52.99, down from $75) Polished Pebbled Leather Small Wristlet ($67.99, down from $85) SHOP MORE COACH ON SALE AT ZAPPOS Be sure to check out Nordstrom's amazing sneaker sale and Old Navy's $12 leggings.
All Of These Cute Leather Crossbody Bags Are Under $100 #BelieveIt
These Leather BAGGU Handbags Are Total Game-Changers
Most people know BAGGU for their incredibly versatile resuable nylon and mesh bags. Whether for groceries or laundry, these bags are the bomb! What most women don't know is that BAGGU also makes gorgeous leather bags, too. From spacious totes to trendy bucket and circle styles, we are seriously impressed. The leather is crazy soft and smooth and these bags hold up to everyday use better than bags twice their price. To prove how amazing BAGGU's leather options are, we had three SHEfinds editors put them to the test. Get the scoop below: The Working Mom: In my fantasy life, I can walk out the house carrying only a small crossbody bag that weighs no more than five pounds. My real life, though? I'm always lugging around a massive bag stocked to the brim with solutions for any and every unexpected emergency. Band-aids, snacks, water, toys... and that's just the stuff I need for my little one. Add to that my daily necessities and you can imagine why I can't get enough of BAGGU's Oversize Tote. Obviously it's incredibly spacious--I sometimes even use this as an overnight bag!--but what really impresses me is how high-quality the leather is. It is like butter, but doesn't feel so delicate that I worry I am going to ruin it every time I use it. People often mistake this bag for a crazy pricey designer purse, so it makes me giddy to see their reaction when I reveal it's actually BAGGU! The Recent College Grad: I recently graduated from college and moved to New York City. I love living here, but let's be honest: it's not cheap! So when selecting a bag from Baggu, it was important that it was super versatile. Between the limited space in my apartment and my limited budget, choose multi-purpose items is pretty must-have. I've been carrying the drawstring purse in caramel and I love it. This bag is the perfect size to store all my daily essentials (wallet, metro card, keys and sunglasses) when I'm headed to work, but it's also a great going-out option, too. Whether brunching with friends or hanging at a bar on a Saturday, this bag is spacious, but not heavy. Even better, the long crossbody straps means I always have use of both hands. Also, the color is perfect because it's neutral and goes with just about everything. So many reasons to love this bag, right?! The Commuter/Intern: As a fashion student and intern, I'm almost never in one place. I'm constantly running back and forth between class and my internship, which is why I love the BAGGU Basic Tote. The tote is deep so it fits my laptop, water bottle, notebooks and wallet--basically everything I'm always lugging around. I also love that the strap is sturdy. I can jam pack this bag and even when it's super heavy, it still sits comfortably on my shoulder. I use this bag for school and work, but it's also stylish enough to take out after a busy day to meet my friends for dinner and drinks. The leather is crazy soft and durable and no matter how much I stuff in it or toss it around in, it still looks great. This really is the perfect everyday bag. Be sure to check out our favorite gingham print shoes and pretty floral skirts. [Photo: Shelby Rodriguez]
These Gray Handbags Will Look Good With Literally Any Outfit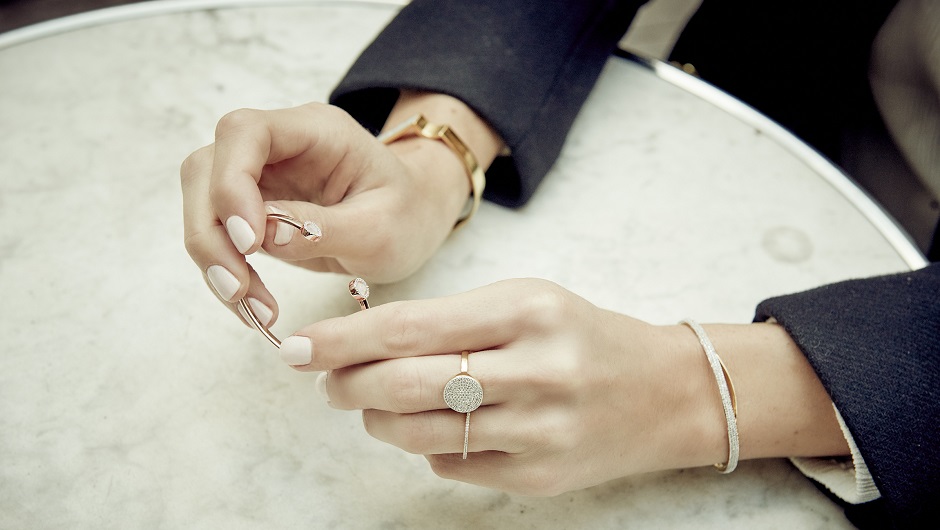 These Are The Five Pieces Every Woman Should Have In Her Jewelry Box
There comes a time in a woman's life when she's ready to stop chasing every passing jewelry trend and finally invest in timeless classics. These are the items that never go out of style; look good year after year, can be styled together or alone for a range of customizable looks and deliver the most justifiable cost per wear Ready to start building your perfect jewelry collection? We're here to help. Here are five pieces that are worth the treating yourself for. You need them in your jewelry box. 1. Diamond Eternity Ring Whether you're married or not, every woman deserves a versatile diamond ring. The eternity style is perfect for stacking, plus it's simple enough to be worn with statement rings on your other fingers or an elegant accent on its own. 2. Cuff Bracelet Cuff bracelets are adjustable, which makes them a great option if you're looking to invest in a piece that truly lasts a lifetime. Stack them with chains and bangles to change up the look and if you're really looking to treat yourself, find a style with some diamonds. 3. Stud Earrings Need a pair of earrings that will look good with any outfit? Understated studs are a no-brainer. Diamonds are classic, but consider having a little fun with studs in a unique shape, like these pebble style earrings or a non-traditional metal like rose gold. 4. Pendant Necklace The perfect everyday necklace, no jewelry box is complete without a simple pendant. This piece works whether you're headed to the office or just running errands on the weekend because it looks good with blouses, tees and activewear alike. 5. Cocktail Ring Cocktail rings are always a good way to accessorize for a formal occasion. They're timeless and a simple way to spice up any look. Whether for a wedding, cocktail party or a gala, every woman should have a stunning, attention-grabbing cocktail ring in her collection. Learn more about Monica Vinader here. [Photo: Monica Vinader]
Check Out All The Pretty Pieces You Can Have Engraved For Free At Monica Vinader
Most women love jewelry, but add some engraving and a nice piece instantly goes from special to spectacular. Whether you customize a bracelet with your name or necklace charm with your child's initials (or even their hand drawn illustration!), who can resist personalized jewelry, something that feels made especially for you? One of our favorite places for gorgeous jewelry that can be customized with engraving? Monica Vinader. Whether you're shopping for a sure-to-wow gift or just looking to treat yourself, they offer free engraving on over 240 of their styles. We're talking bracelets galore, necklace charms and even cufflinks that can be personalized to your liking. Monica Vinader's engravable friendship bracelets are wildly popular because they come in tons of fun colors, look great when stacked with other bracelets and can be personalized in so many cool ways. It's no wonder they're one of the brand's bestsellers. Here are a few more of the pretty pieces you can have engraved at Monica Vinader: FIJI FRIENDSHIP BRACELET ($195) SIGNATURE LARGE BANGLE ($425) NECKLACE PENDANTS (starting at $55) LINEAR FRIENDSHIP BRACELET ($160) SHOP MONICA VINADER ENGRAVING NOW Learn more about Monica Vinader here. [Photo: Monica Vinader]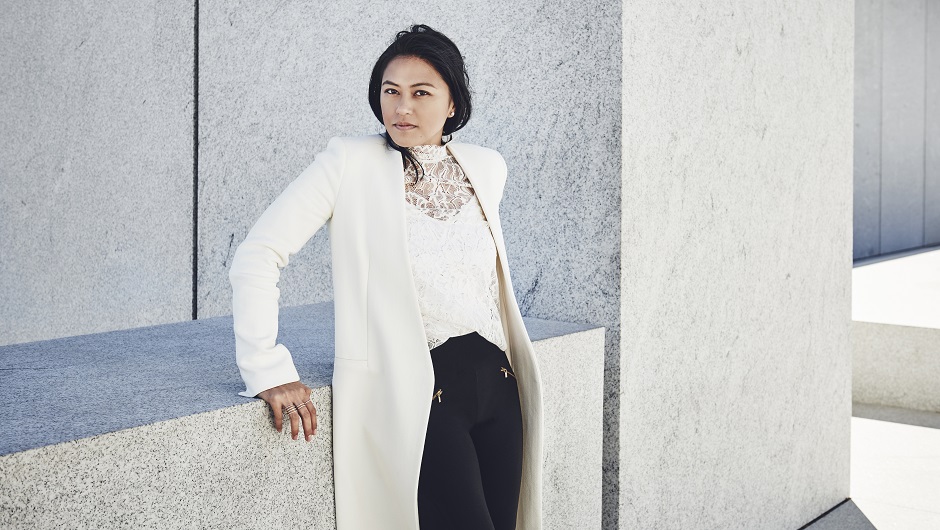 Learn How To Engrave, Stack And Style Like A Pro At Monica Vinader's New Shop-In-Shop
When it comes to styling jewelry, stacking never goes out of style. Whether you're mixing and matching bracelets or choosing charms for a necklace, the right accessories can totally elevate any look. If you haven't mastered the art of stacking and styling, jewelry designer Monica Vinader and her experts are here to help. Hot on the heels of their NYC store opening, the brand just debuted a shop-in-shop at the Nordstrom in South Coast Plaza, CA. When visiting either location, you can work with the MV team to create stunning layered looks. Yes, jewelry styling at your service! But that's not all; Monica Vinader also offers free engraving so you can personalize your look even further. From the brand's signature bangles to the perfect-for-stacking ID bracelets, you can choose to have tons of Monica Vinader pieces customized with your name, initials or anything else you'd like. If you're ready to update your jewelry box with a few new timeless treasures, Monica Vinader is the way to go. Beloved by trendsetters, style bloggers and celebrities alike, they make it so easy to engrave, stack and style–why not add a few items to your collection? Not in NYC or California? No worries! You can still shop Monica Vinader's gorgeous pieces online, plus get tons of stacking and styling tips from their blog and Instagram. Even better, engraving is free when your order online, too! SHOP MONICA VINADER JEWELRY NOW Learn more about Monica Vinader here. [Photo: Monica Vinader]
Store Tour! Take A Peek Inside Monica Vinader's First American Boutique
Anyone who's ever shopped for fine jewelry knows there is something special about visiting a boutique and finding that perfect piece in person. Don't get me wrong; I love online shopping as much as the next woman, but sometimes a computer screen just doesn't do a gorgeous ring, bracelet or necklace justice. That's why we're so thrilled that British jewelry designer Monica Vinader finally opened her first store here in the states. It's located in the Soho neighborhood in New York City and stunning doesn't even begin to do this space justice. Monica herself helped design the gorgeous space with the same architects behind her gorgeous European stores. Described as her "first home in New York," Monica Vinader's Soho boutique features cozy blue velvet sofas, a vintage Stilnovo chandelier and a breathtaking Harry Cory-wright photo of the Norfolk marshes that border Monica's UK home. This piece is actually straight from her personal collection! Decor aside, there's also all the amazing jewelry in the store. The pieces are housed in the brand's distinctive gold and glass jewelry cabinets, which are like works of art themselves. Whether you're shopping for Monica's iconic engravable bracelets (complimentary engraving is offered on the spot) or looking to splurge on a piece with shimmering diamonds, this is the place to treat yourself. If you live in NYC or are planning a visit soon, Monica Vinader's Soho store needs to be on your must-see list. It's located at 151 Spring Street and is sure to be one of the highlights of your NYC shopping experience. SHOP MONICA VINADER JEWELRY NOW Learn more about Monica Vinader here. [Photo: Monica Vinader]
Prices Start At Just $25 At This Super Secret Kate Spade Sale
Need a Monday pick-me-up? Kate Spade's got you covered. Today only, tons of pink styles from the Cameron Street collection are on sale starting at just under $50. Just use the code PINKLIGHT at checkout and you could get a card case for only $25, a wallet for just $39 or a crossbody bag for less than $100. These styles are already selling fast, so treat yourself right away before everything is gone. Cameron Street Card Holder ($25, down from $50) Cameron Street Mellody ($39, down from $88) Cameron Street Adalyn ($39, down from $88) Cameron Street Stacy ($49, down from $110) Cameron Street Lacey ($79, down from $188) Cameron Street Sima ($99, down from $198) SHOP THE KATE SPADE SECRET SALE NOW Be sure to check out this super cheap summer tee and the best black leggings under $35!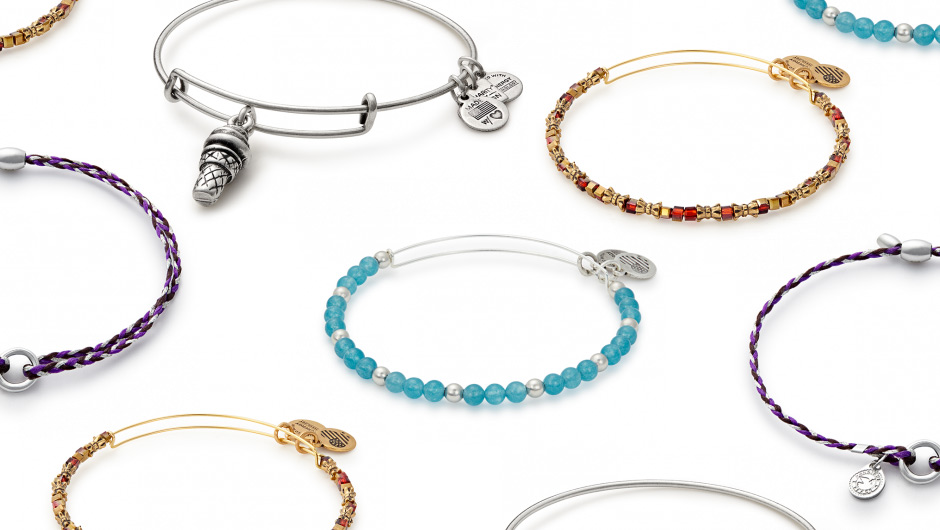 Take My Word For It: You've Never Seen Alex & Ani Jewelry On Sale Like This–These Prices Are Too Good To Miss
Major sale alert! Alex & Ani is having a major sale right now and bracelets, rings and charms start at just $9.99. No joke! Whether you like gold or silver, bangles or beaded, this is your chance to create the ultimate stack without killing your budget. Even better, all orders ship for free from now until July 24. That's right, no minimum spend required, so get to it! You don't want to miss these incredible prices. Sweet Treats Charm Bangle ($14.99, down from $28) Alex & Ani Kindred Cord Heart ($9.99, down from $21) Alex & Ani Life Preserver Charm Bangle ($14.99, down from $28) Peace Ring Wrap ($14.99, down from $28) Alex & Ani TURN UP PEACE Charm Bangle ($14.99, down from $28) Alex & Ani Breeze Beaded Bangle ($14.99, down from $28) Snake Ring Wrap ($14.99, down from $28) Alex & Ani Flora Beaded Bangle ($14.99, down from $28) Be sure to check out the perfect summer dress for $7 at H&M and get Alex & Ani bangle bracelets for $16. [Photo: Alex & Ani]
Say Hello To Your New Everyday Bag–The Simple, Spacious Tote
Psst! Here's Where To Get Alex & Ani Bangle Bracelets For Just $16
There's no denying how cute (and cult!) Alex & Ani bangle bracelets are. We love stacking them as much as the next jewelry lover, especially when we can score some cool ones on sale. If you're looking to add to your Alex & Ani collection, here's a tip: Spring has a ton of great bangles on sale starting at just $16. Whether you like the charm styles or the beaded styles, better snag a few while they're this cheap. Hurry! Alex & Ani Life Preserver Bangle ($16.80, down from $28) Alex & Ani Rhode Island Charm Bangle ($16.80, down from $28) Alex & Ani Aurelia Beaded Bangle ($19.60, down from $28) Alex & Ani Stardust Beaded Bangle ($19.60, down from $28) Alex & Ani Penguin Charm Bangle ($19.60, down from $28) Alex & Ani Sweet Treat Charm Bangle ($19.60, down from $28) Alex & Ani Wish Art Charm Bangle ($19.60, down from $28) Don't forget to check out TKEES flip flop sale and $23 Old Navy must-have maxi dress. [Photo: Spring]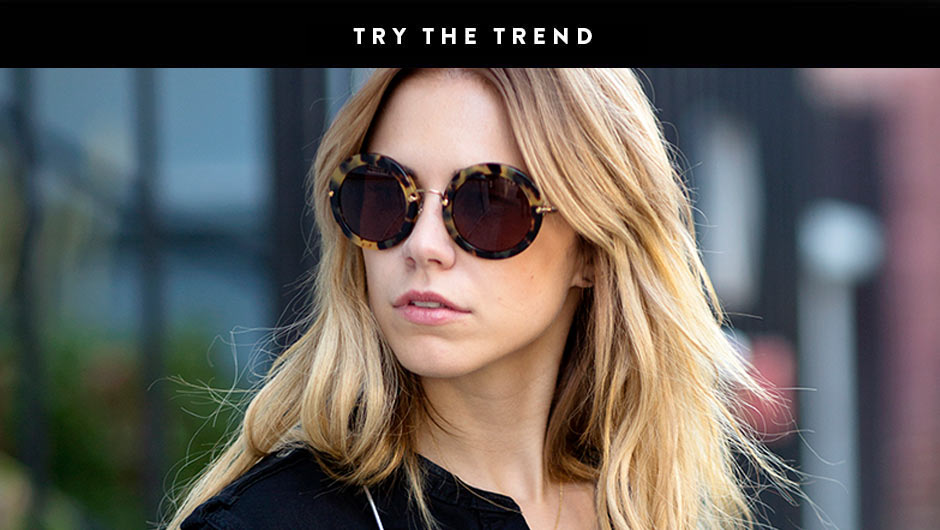 Tortoise Frame Sunglasses Never Go Out Of Style–Treat Yourself To A Pair For Summer Now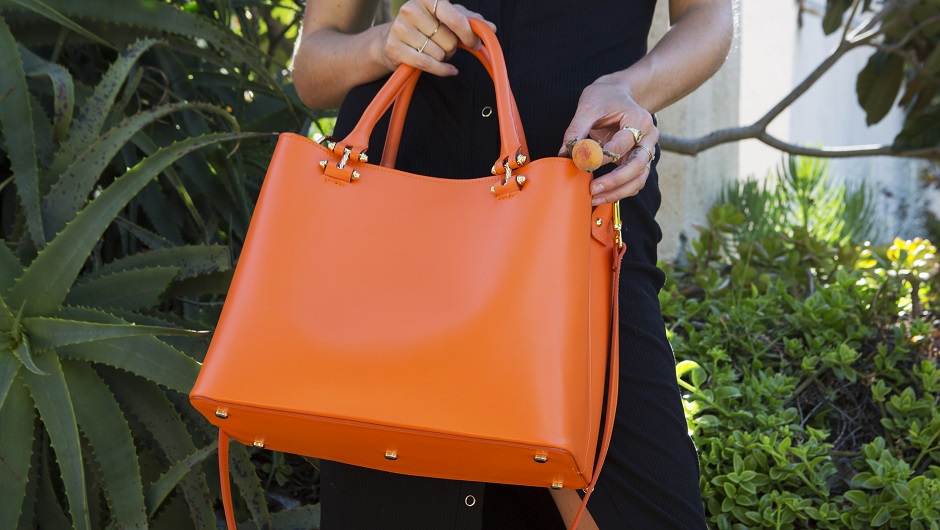 Walker + Olson Is Out To Make Luxury Leather Handbags Accessible To Every Woman–Here's How
I love a gorgeous designer handbag as much as the next person, but having to spend what equates to a month's rent on one? Not so much. So when I heard about Walker + Olson, a brand new handbag line committed to making luxury leather bags more accessible, I was immediately intrigued. Turns out the brand's founder, Kevin Walker, has deep roots in the fashion industry; he used to work at Calvin Klein. He saw firsthand the mark-up most brands charged when selling leather bags and decided it was time for change. With Walker + Olson, he's introducing a direct to consumer model that allows women like you and me to shop luxe Italian leather handbags for a fraction of what most designers charge. Pretty sweet, right?! Get to know Kevin and the story behind Walker + Olson below: SHEfinds: How is Walker + Olson is disrupting the luxury handbag industry? Kevin Walker: walker+olson is going to shake up and disrupt the handbag industry because we focus on top of line design and use old school Artisan craftsmanship in Italy to make sure quality is not compromised and with a new business model that allows us to eliminate all the middlemen in the supply chain and deliver our product direct-to-consumer at a fair price. We are using the old school design & quality methods while applying the latest software and technology to deliver an exceptional product to our customers. Let's be honest, walker+olson could could sell our handbags to all the luxury high-end department stores and charge $600 - $3,000 per bag but why? I want every woman to be able to afford a luxury handbag without the luxury price. A post shared by walker + olson (@walkerandolson) on Jun 20, 2017 at 10:01am PDT SF: What's your background? Have you alway been into handbags? KW: I went to school to study International Business & Economics with a minor in Japanese and received my MBA in Finance. I was fortunate enough to work oversees for a couple of years and traveled the world learning all the ins-and-outs of the leather operations business from logistics to customer service. Over the years I have always had a passion for the fashion industry, in particular handbags and shoes because of the design aspect and there is two things that make a woman's outfit, a great pair of shoes and beautiful handbag. I was fortunate enough to work for one of the most recognizable brands in the world Calvin Klein as their CFO & COO for one of their licensees. While there besides the operations side, I learned every aspect of the design process and this is when I saw the mark-ups that took place especially in the handbag segment. I learned quickly that these extreme mark-ups happen across all the luxury brands around the world. I knew I could come up with a business model that let's women have that same expensive handbag from the department store for much less. SF: How are you able to offer luxury bags at such a compelling price point? KW: We are able to offer high quality luxury handbags by first, cutting out all the layers of middlemen and selling direct-to-consumer. Second, with our software and logistical planning we are able to take another layer of cost out while being more efficient than all the well established luxury brands. By implementing these very important steps and leaving in the two most important qualities of a handbag, design and quality. Every women deserves a Luxury handbag without the Luxury price! SF: What challenges have you run into trying to launch Walker + Olson? KW: The biggest challenge was to find the right factory in Italy that understood my business model and what I wanted to accomplish. Italy is made up of many smaller family run factories but are use to the old way of producing for the department store business. After interviewing and meeting with almost 20 factory owners, I finally found the factory that understood my vision to deliver high quality handbags and deliver them directly to every customers front door. In this process I was extremely fortunate that their top Artisan turned out to be Paolo who came out of retirement to help train their up and coming Artisans. Paolo helped build one of the biggest brands in the world, Salvatore Ferragamo for more 20+ years. He is now in charge of walker+olson's quality process. A post shared by walker + olson (@walkerandolson) on Jun 11, 2017 at 3:36pm PDT SF: What's the one standout style women should be on the lookout for? KW: I think women are looking for that style from a brand that's unique, minimal and the feel of luxury at the same time. At walker+olson we design our handbags with unique high-end style hardware that is unique and adds that finishing touch to each handbag. We try to create our handbags with style and practicality in mind from our Savannah crossbody to our hobo bag, The "W". SF: Where do you see Walker + Olson in 5 years? KW: In 5 years I hope to grow the brand beyond the US and be known as the brand that continues to produces Luxury handbags without the Luxury price. A post shared by walker + olson (@walkerandolson) on Jun 1, 2017 at 1:01pm PDT SF: If you weren't running Walker + Olson what would you be doing? KW: This is one to ponder... If I weren't running walker+olson, I would probably be creating a similar company for women's high-end shoes without the high-en price tag. Be sure to check out . [Photo: Walker + Olson]
A Colorful Handbag Is An Absolute Summer Essential–Shop The Prettiest Of The Season Now
The Must-Have Accessory That's Actually Aging Your Skin
Why Not Cleaning Your Earrings Is Bad For You
It's probably been at least a decade or two since you got your ears pierced, and your cleaning solution for your earring holes most likely hit the bottom of your trash can long ago. Nowadays, you wear your favorite pair of hoops all day, take them out at night and put them back with your ever-growing bling collection, and repeat. This routine is so second nature that you don't even think twice about sanitizing your studs or drop earrings. Earring holes make up such a tiny part of our bodies that they can get overlooked easily. But not cleaning your earrings, even with fine jewelry, can turn those tiny little holes into gross, red, infected holes. And nobody wants that. If you think about it, you're literally sticking a piece of metal through you, so it makes sense that dirt and yucky earring germs could make their home in your earring holes and cause infections. Whether you're wearing fine jewelry or something from Target, you need to clean your most-worn pairs of earrings frequently. Doing so can also help get rid of any stanky odors your earrings and/or earring holes might have unpleasantly developed. Here's how: Wash your hands. You don't want any more germs to wander into your earring holes. Grab the pair of earrings you wear the most. If you're currently wearing them, take them out for the cleaning process. Pour rubbing alcohol or hydrogen peroxide on a cotton ball or swab. If you also still happen to have earring cleaning solution (throwback to when you first got your ears pierced), this is a safe cleaner, too. Wipe the front and back of the entire earring thoroughly with the solution. You should also wipe the solution on your earring holes while you're at it. This sounds super juvenile, but keeping your hole clean can help keep your earrings themselves clean and vice versa. Aaaaaand repeat this on all your favorite earring accessories. Use this process on new earrings, too. You never know how many times they might have been tried on in the store before you bought them..aka massive germs. For jewelry with gemstones, Burdeen's Jewelry advises staying away from hot water. They recommend mild dish soap and cool water for most gemstones. Stick your jewels right in the solution and let them soak for a little while. This works on most gemstones, with the major exception of pearls. Water can actually damage the pearls themselves, so stick to the previous method above. Burdeen's also suggests using microfiber cloths and lint-free towels to help clean and dry your precious gems, including pearls. If your earring hole itself starts to look infected after you clean your earrings, you might be allergic to the material of the earring itself. Opt for hypoallergenic or nickel-free jewelry. If the infection stubbornly persists, you might need to consult your local doc. Also, make you sure you take off your earrings in the shower and before you go to sleep to let your holes breathe. No matter how much you might love your diamond studs, you two need a little distance every night. [Photos: Shutterstuck]
Add These Tan Leather Accessories To Your Outfit Rotation ASAP–They Look Good With Everything
How To Make Your Wedding Shoes More Comfortable
SHEfinds Editors Reveal Their Favorite Shades In Honor Of #NationalSunglassesDay
The Coolest Way To Update Your Favorite Handbag For Spring? With A Colorful Guitar Strap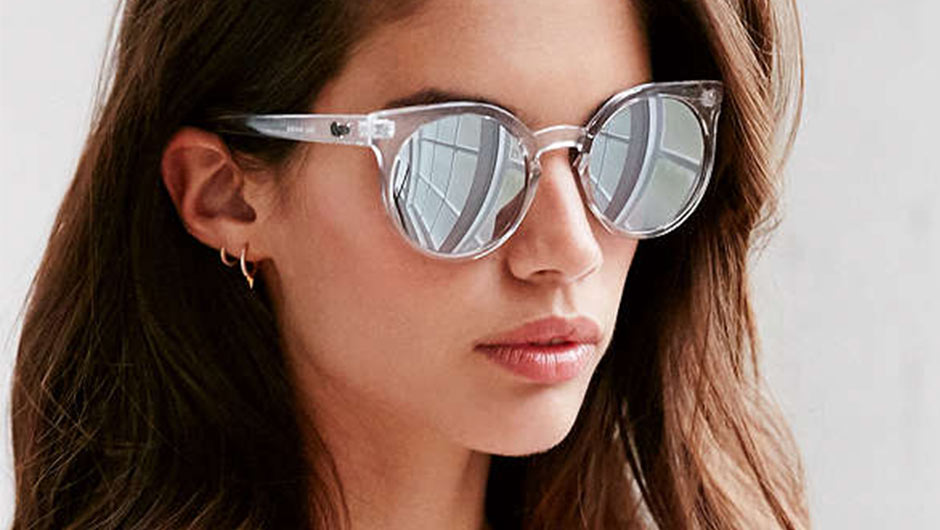 Clear Frame Sunglasses Look Good On Everyone–Get A Pair For Summer Now!
Step Your Beach Style Up With A Colorful Pom Pom Straw Tote
This Is The Best Kate Spade Surprise Sale Ever–Pretty Spring Handbags Are Just $59!
Good thing today is pay day because Kate Spade is having a surprise sale no one should miss. Whether you're a Kate Spade diehard or only buy the brand every now and then, you need to get over to this sale ASAP because the prices are unreal! There are loads of handbags under $100, jewelry starts at just $19 and small leather goods like wallets and passport holders are only $25! The catch? This epic sale ends tonight at 11:59pm, so you need to shop immediately. Go! the swing of things linear earrings ($29, down from $78) daycation bon shopper ($59, down from $148) grand street colorblock hayden crossbody ($89, down from $228) jones street reversible posey ($99, down from $298) raising the bar earrings ($19, down from $38) lily avenue smooth bennett ($109, down from $298) milton lane saffiano small lanie ($119, down from $328) daycation passport holder ($25, down from $58) tower court small daley ($109, down from $328) SHOP THE SURPRISE SALE NOW Be sure to check out our favorite flat slide sandals and pretty pastel dresses under $50. [Photo: Kate Spade]
These Colorful Bracelets Are Perfect For Stacking All Summer Long
We're So Into Laser Cut Handbags For Spring–Shop Our Faves Now