Snatch Up Kourtney Kardashian's Sexy Suede Skirt Set While It's On Sale
Kourtney Kardashian's red (er, blue) carpet look couldn't have come at a better time. Her Alice & Olivia Tru Suede Cropped Top ($297, down from $495) and matching Alice & Olivia Tani Suede Pencil Skirt ($538.80, down from $898) are on sale and ready for all the holiday festivities on your social calendar. Just hurry--both of these items are on super sale and sizes are already going quickly. Alice & Olivia Tru Suede Cropped Top ($297, down from $495)  Alice & Olivia Tani Suede Pencil Skirt ($538.80, down from $898) Don't miss out on more great celeb style finds such as Jessica Alba's $70 sneakersand Jennifer Garner's on-sale rag & bone look. [Photo: Splash News]
Hilary Duff's Embellished Jacket Will Add The Perfect Pop Of Color To Any Outfit
Hilary Duff stepped out in West Hollywood wearing a chic, yet edgy outfit that I'm totally jealous of. She completed her all-black ensemble with a cool, embellished jacket by Alice + Olivia. Its paisley pattern with red and gold accents really finished off her whole look. Shop Hilary's jacket below! Alice + Olivia Felisa Embellished Jacket ($998) Don't miss Saks OFF 5th's biannual Clearance Blowout Sale and save an extra 50% off on Bloomingdale's sale items! [Photo: Splash News]
If You Buy These Alice + Olivia Pants, You Need To Work Them Like Kate Hudson Did
I don't love a lot of female celebrities--the Kardashians drive me nuts and find a lot of the Hollywood actresses to be irritating (sorry, Anne Hathaway), but I actually really, really like Kate Hudson. She is so pretty and such a cool, free spirit--I just want to be her. And she has the sickest bod right now--shout out to her Fabletics line, which she just stepped out to promote in NYC, wearing these very cool, effortless Alice + Olivia low waist harem pants ($220). Dontcha just want a pair? Alice + Olivia low waist harem pants ($220)
Wondering How The Heck To Wear Wide Leg Pants? Allow Jessica Alba To Demonstrate
Jessica Alba was certainly not hiding from the paparazzi when she stepped out wearing these Alice + Olivia Pleated Wide Leg Trousers ($298) in bright coral, paired with a simple A.L.C. Dale Top ($325). Her flashy wide-leg trousers are a bold move for the natural mommy but we love the bright, flowy look - and we think you can totally pull them off. Keeping the top simple, whether it is Ms. Alba's $325 one or not, is key. Also, you will need some heels. Bold enough to try it out for yourself? Shop Jessica's pants below! Alice + Olivia Pleated Wide Leg Trousers ($298) Don't forget to shop Gigi Hadid's necklace, er, belt, Sofia Vergara's boyfriend jeans, and Jessica Biel's moto jacket. [Photo: Splash News]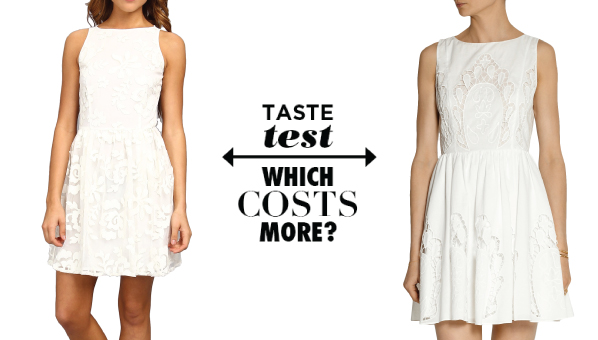 Can You Tell Which White Embroidered Dress Costs $300 More Than The Other?
A white dress is a staple for summer, an essential for your wardrobe besides the obvious bathing suit and flip flops. It only makes sense that every major clothing company would be designing little white dresses for the warm season. And while some may be designing, others are following their lead. Both of these dresses seem similar in their designs, with their high necks and delicate embroidery. But if you look close enough, the embroidery is different. Now, can you tell the difference between the two dresses? Answer: On the left side we have the BB Dakota Sibley Dress ($65.99), a very cheap price compared to the Alice + Olivia Vinny Embroidered Cotton-Poplin Mini Dress ($440). They look identical, right? Either way, both are great finds and a must-have for the summer season. Test yourself some more with this star print button down test, look-a-like Mara Hoffman dresses, and these polka dot cosmetic case.
Alice + Olivia Designed The Cutest Starbucks Mugs Ever
Earlier this week we told you that Alice + Olivia was collaborating with Starbucks, and now the collection is here! As we said, it includes the limited-edition Double Wall Ceramic Mug ($19.95) in Alice + Olivia's classic black and white stripes with a mini tutu around it. Totally adorbs. And if you thought things couldn't get cuter, you're wrong. The Gift Pack ($39.99) features the tumbler AND a Barista Bear. Yes, that is a teddy bear dressed as what we imagine would be a fancy Parisian Starbucks barista. This is totally the perfect gift for any gal, whether you're a coffee addict or love A+O. SHOP ALICE + OLIVIA X STARBUCKS NOW And don't forget to check out: the SHEfinds annual Going, Going, Gone Guide, Tina Fey's new show and real vs. faux fur taste test 
Alice + Olivia Dressed Up Tumblers In Tutus And Bowties For Its Starbucks Collab
Following designers like Rodarte, Charolette Ronson, and Jonathan Adler, Alice + Olivia by Stacey Bendet is the next brand to collaborate with Starbucks. The designer is creating a limited-edition line of ceramic tumblers, and a cute little teddy bear too (it's called a Barista bear). Bendet's idea was that when Moms ran into Starbucks to get a cup of coffee, there would be something there for the kids too. So sweet. And staying true to Alice + Olivia's style, the collection will have the brand's standard black and white stripes with a touch of gold. Oh yeah, there are some bow ties, tutus, and berets in the mix too. We're thinking they had a little Parisian influence when designing the collection. The barista bear totally looks like a gondolier. All the products will sell for $19.95 and you can get your very own at starbucksstore.com starting this Friday. Don't forget to check out Kate Spade's 75% off sale, Downtown Abbey wine, and Wildfox's new PJs
Trust Us: Monday Will Suck Less If You Shop Alice + Olivia's Friends & Family Sale
There's no better way to help a Monday move along a little bit faster than with a sale. And if that sale happens to be on amazing designer clothes and accessories, even better. So stop trying to kill time Facebook stalking and head over to Alice + Olivia instead. They just kicked off their friends and family sale, which means you'll get 25% off everything--yes, even sale items--and free shipping. The best part is that you don't even have to put in a coupon code--the discount is automatically applied at checkout so there's no way you could forget and end up paying full price. The sale ends October 25th, so don't wait. We rounded up some of our a+o faves in the slideshow below. SHOP THE ALICE + OLIVIA FRIENDS AND FAMILY SALE NOW Don't forget to check out Zoya's NFL-inspired nail polish trios, Kate Middleton's recycled look, and Coach's new clothing line.
Alice + Olivia x Pretty Polly Hosiery Is Here – Just In Time For Tights Season.
OK, so fashionable hosiery may be somewhat of an oxymoron, but that doesn't mean it doesn't exist (Hey, we can all agree that jumbo shrimp is delicious). Meet the long-awaited hosiery collab that is making keeping your legs warm under your winter skirts, shorts and even pants once the temperatures drop below 0 a lot more interesting: alice + olivia x Pretty Polly. With pieces that hit on fall trends like plaid and animal print, plus some classic black legwear with barely noticeable but definitely there floral detail, this collab combines all of the laid-back cool that is alice + olivia with the making-the-necessities-comfortable-since-1919 vibe of Pretty Polly. We've rounded up our favorite six pieces, but there are 11 in total and you shop them all here.
Can Katrina Bowden Convince You This Alice + Olivia Skirt Is Worth The Splurge?
Whether or not you are a fan of the maxi skirt, there is no denying that 30 Rock actress Katrina Bowden looks ethereal in her flowy red carpet ensemble. The recently married star wore the Alice + Olivia Shannon Floral Maxi Skirt ($484) with the Alice + Olivia Washed Silk Tank ($168) and we think it's a pretty winning combo. The maxi skirt is a great alternative to dresses this season since it allows you to mix and match and dress it up or down. We love that the print on this one is subtle, making it a perfect pick for a summer wedding or a day in the office. Convinced? Score Katrina's complete look below. Alice + Olivia Washed Silk Tank ($168) Alice + Olivia Shannon Floral Maxi Skirt ($484) Snag more celebrity style such as Reese Witherspoon's redemption worthy dress, Eva Longoria's bargain outfit, and Emma Stone's army jacket. [Photo: Splash News]
50% Off Floral Dresses, Printed Pants & More At The Alice + Olivia Sale
Over the past couple of weeks, we've been telling you about all of spring's latest trends: bustier dresses, floral prints and metallics. Well, it's your lucky day because now you can shop all of these trends--at a discount--on one website. Your favorite ultra-feminine clothing brand, Alice + Olivia, is having a huge sale. Get up to 50% on everything from girly dresses to metallic t-shirts. There are even bathing suits on sale ($58-$97). Click the link below to stock up on the perfect pieces for spring. SHOP THE ALICE + OLIVIA SALE For more shopping, check out pastel pants for any jean size, scalloped accessories and "My Other Bags" totes.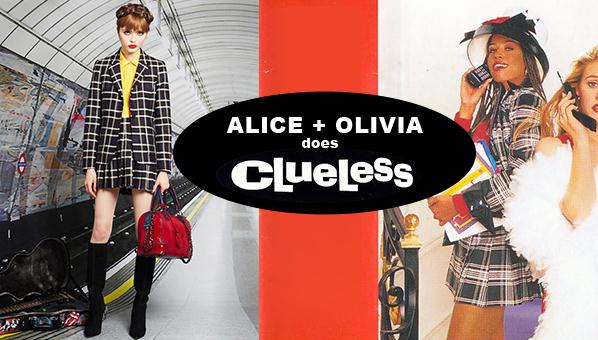 Alice + Olivia Want You To Be A Total Betty Next Fall In Their Clueless-Inspired Skirt Suit
It may be a little early to get excited about Pre-Fall 2013 collections, but what-ever. Alice + Olivia's new lookbook had us full of 90s nostalgia when we spotted this skirt suit that is like, so Dionne from Clueless. Stacey Bendet's newest outing may be said to reflect 60s-Era British mod with lots of stripes, boucle and schoolboy plaid—but this tartan-patterned look screams 1995 Noxzema ad played to the tune of "Kids in America." Though not all of us can have Cher's digitalized dream closet—which is still cool today, by the way—in a few months time, we will be able to snag one of her (and Dionne's) iconic looks. Until then, we'll just have to dig up our old Cranberries CD and wait patiently for the line to launch. Want more previews? Check out Kate Spade Saturday's pre-fall sneak peek, get excited about Victoria Beckham's e-commerce site and look through the Miss Wu lookbook.
Alice + Olivia Introduces A Range Of Handbags You'll Carry All Year 'Round
Alice + Olivia's Stacey Bendet may have crafted her spring 2013 collection with a 1950s picnic-going ingenue in mind, what with all the polka-dotted pedal pushers and ultra-feminine fit-and-flare frocks, but all we couldn't help but turn our attention to something a bit more subtly chic: the accessories. For the first time in her brand's 10-year history, Bendet is expanding her brand to include handbags, introducing three styles for day and two clutches for evening. Rejoice! "I like doing things one step at a time," Bendet told WWD, explaining that she wanted to perfect her craft before debuting a new category. "I'm a part of all of it. If we're too scattered, I can't give my full attention." As expected, each style encompasses Alice + Olivia's signature retro-girly aesthetic. The three handbag styles, named the Olivia, See and D, will come in five different colors and reptilian skins (like snake and lizard!) and start at $495, while the clutches, which look to be available in a multicolored floral, a flame orange-red, and a sequined emerald green (this time, as a pillbox style), will start at $220 — not bad for off-the-runway accessories! You can expect these to be in stores in early 2013, but we'll give you a heads up as soon as they arrive. Want more fashion news? Find out where you can pre-order Jason Wu's spring 2013 collection, get your hands on Kate Middleton's Prabal Gurung frock, or get in-the-know about Michelle Obama's new favorite up-and-coming designer!
You Can Pre-Order Dianna Agron's Van Gogh-Inspired Alice + Olivia Dress Now
Looks like Dianna Agron has quite the green thumb when it comes to picking out dresses. She wore an Alice + Olivia 'Reese' Pleated Frock ($495) for her appearance on The View that was covered in navy and yellow sunflowers, which kind of reminds us of Van Gogh's artworks. But this isn't the first time Agron has flaunted floral. Last time, she was seen wearing this Anthropologie x Tracy Reese frock bedecked in a garden-theme graphic that also hints at another classic artist. It also seems like the actress has a thing for vintage-like silhouettes, which we can't complain about (she looks adorable!). Perhaps she's holding on to the last bits of summer before the leaves turn and the flowers stop blooming. Debbie Downer moment, yes—but at least we can play make-believe through dressing up. Alice + Olivia 'Reese' Pleated Frock ($495) Shop more celebrity style finds: Natalie Portman's Dior sunglasses, Kate Middleton's Smythe blazer and dress, and Jennifer Aniston and Kate Bosworth's Tom Ford purse.
Serena, Er, Blake Lively Likes Her Tops Cropped & Her Pumps Embellished
The final season of Gossip Girl started taping this month, which means tons of "spotted" occasions of Blake Lively/Serena Van Der Woodsen. In a few months, you'll soon spot the starlet in an Alice + Olivia Mandy Chain Crop Top ($165, on sale from $330) and a pair of Christian Louboutin Bollywoody Suede Pump ($2,795), which boasts beads, sequins, and gems like it's nobody business. While the idea of each item put together as a whole can come off as "a lot of look," the entire ensemble goes perfectly together. Wear each piece separately to make a total statement. Alice + Olivia Mandy Chain Crop Top ($165, on sale from $330) Christian Louboutin Bollywoody Suede Pump ($2,795) We love how Lively paired her crazy-embellished top and shoes with a long and flowy printed maxi skirt—in prints, no less. Shop a similar style worn by the actress with a Haute Hippie Printed Silk-Chiffon Maxi Skirt ($425). Haute Hippie Printed Silk-Chiffon Maxi Skirt ($425) Shop more celebrity style finds: Miranda Kerr's dress and sunglasses, Jessica Alba's bikini, and Anna Paquin's dress.
Katy Perry's Entire Alice + Olivia Outfit Is On Sale
If you haven't seen Katy Perry's new flick Part of Me (extra points if you saw it in 3-D!), then at least you can dress like the pop star with an Alice + Olivia Black Sinclair Lace Blouse ($148, on sale from $295) and Alice + Olivia 5 Pocket Capri Pants ($123.20, on sale from $176). The two items were recently spotted on Perry, which boast a ton of trends, including Peter Pan colors, girly lace, and floral-printed pants. What's even better is that not one but both of these finds are on sale. So you can wear (and even mix and match) both pieces beyond said movie date and surely get your money's worth. Alice + Olivia Black Sinclair Lace Blouse ($148, on sale from $295)  Alice + Olivia 5 Pocket Capri Pants ($123.20, on sale from $176) Shop more celebrity style finds: Wildfox's star-studded sweater, the celebrity-favorite flat for fall, and Selma Blair's dress and sandals.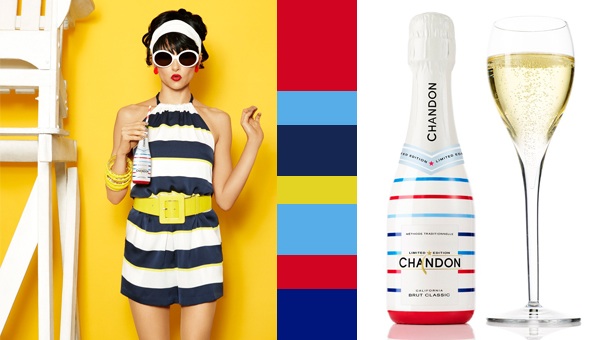 FIRST PHOTOS: Alice + Olivia And Chandon Make A Bubbly Collaboration
What do Chandon sparkling wine and Stacey Bendet of Alice + Olivia have in common? They're  both bubbly (just look at the adorable designer photographed above) and they look great in stripes. Which is why we love this sweet collaboration on the Alice + Olivia by Stacey Bendet for Chandon Limited Edition Romper available June 1. Designed to celebrate the American summer (thus the red, white and blue colors) and the launch of the Chandon Limited Edition American Summer Bottle, Chandon has teamed up with Bendet to create this flirty halter playsuit that we'll be wearing all summer long. (If we can get our hands on one, that is.) Call it patriotism if you will. You know that this will be a winning July 4th pairing, so mark your calendars and get the Alice + Olivia by Stacey Bendet Limited Edition Romper ($352) at select Alice + Olivia boutiques and the Chandon Limited Edition American Summer Bottle ($22 for 750 ml) at chandon.com. Happy summer! For more collaboration updates shop Lana del Rey's Mulberry bag and our favorite rompers.
We Loved Jessica Alba's Alice + Olivia Sweater So Much, We Made It Ourselves
Jessica Alba can do no wrong in our eyes. Putting all super moms to shame, she runs an organic baby line, stars in action-packed movies and makes regular appearances on our site for her celebrity style (can you blame us? Have you seen her collection of colored jeans?).  So it was no surprise to us when she blew up the Pinterest community last week after appearing in a Fall 2012 Alice + Olivia sequined tie sweater at the FABB conference in L.A. SEE our slideshow above for instructions on how to make your own sequined tie sweater No strangers to DIYs (have you seen our 5 DIYs You Can Do At Your Desk post?!), we have decided to recreate her look before it has even hit stores at just a fraction of the price (Alice + Olivia sweaters typically range between $200-$400). Try our 4-step guide to making Jessica Alba's Alice + Olivia sweater in just under 30 minutes. It's as close as we'll ever get to channeling Jess' style so effortlessly. For more of our DIY projects, check out our Marketing Director's DIY Caviar Nail Fail and shop our favorite sweaters guide.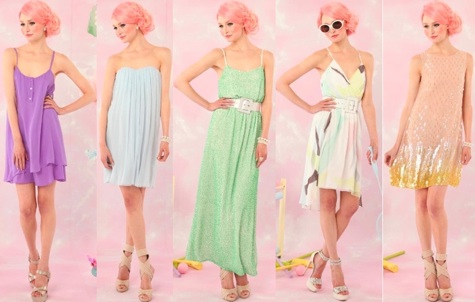 Thanks To Alice + Olivia, Everyone Will Look Like Nicki Minaj This Summer
Judging from their just-out Summer Lookbook, Alice + Olivia has a thing for Nicki Minaj. Or just awesome pink hair. Half of the 80+ looks in the collection (sorry, we got a hand cramp and quit slide-showing at 23) are modeled by a gorgeous, white-girl version of the pop singer. Feast your eyes on the pink-haired beauty, and the pretty summer collection, here: (more…)
Kristin Cavallari's Leather Mini: You Can Have The $400 Or $40 Version. Take Your Pick.
The Hills may be dead in its grave, but somehow star Kristin Cavallari has found life after the show, in the form of dating NFL players, doing DWTS, and most importantly, being photographed by the paparazzi in tres chic outfits. Her latest look involves this adorable Alice and Olivia Pleated Leather Skirt ($396) -- which is still available online (and on sale at Shopbop!). But don't worry, we also found an under-$50 option, too. (more…)
Kim Kardashian's Alice + Olivia Cocktail Dress: AKA What You're Wearing To Your Holiday Parties
The model kinda looks like a long lost Kardashian, right? It's never too early to start thinking about what to wear to holiday parties. This is festive attire at its best: a little tulle and classic black and white, which we all know is Kim Kardashian's thang. (more…)
Shop The Blog: 5 Exact Dresses From Your Favorite Wedding Features (100 Layer Cake & More)
We were recently perusing a few of our fave wedding blogs, and we were excited to see that a few of the most fashionable brides were rocking stylish gowns that can all be found at an (online) boutique near you! Allow us to introduce you to Kali, Molly, Mowgli, and Emily - four ladies with fabulous taste in bridal fashion. Want to snag their stylish duds? (more…)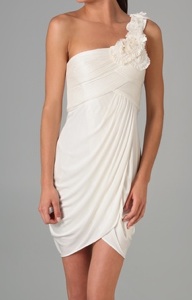 50% Off One-Shoulder Wedding Dresses At Shopbop (Marchesa, BCBG, More)
If your still on the lookout for your wedding gown or reception dress, look no further: Shopbop has 50%-off wedding dresses, including labels you love like Alice + Olivia, Notte by Marchesa, Thread, and more. Editors' pick: this BCBGMAXAZRIA One Shoulder Rosette Dress ($180.60, down from $258), which is the perfect reception dress. (more…)
Olivia Munn's Alice + Olivia Dress Is Perfect For All Seasons–Even With Labor Day Fast Approaching
Olivia Munn at InStyle's Summer Soirée, and her $330 Alice + Olivia dress Although Olivia Munn celebrated summer in a crisp Alice + Olivia Portia Puff Shoulder Dress, it's not to say you can't channel her white-ish look later this fall. In fact, you can't tell from pictures, but the dress is actually a shade of light grey---so for all of you who abide by the 'No White after Labor Day' myth belief, you won't feel like you're committing a fashion faux pas. Shop Olivia Munn's $330 Alice + Olivia Puff Shoulder Dress Now at Singer22. Not your style? Brush up on fall trends with our curated buying guides to fall shoe trends, leather jackets, and pleated skirts.
Up To 50% Off Bridesmaid Dresses At Shopbop — We're Talking Alice + Olivia, Rachel Pally, More
Shopbop's wedding boutique is our favorite place to shop designer wedding gowns and colorful on-trend b-maid dresses. The curated boutique includes some of our absolute favorites -- Alice + Olivia, Rachel Pally, Shoshanna, and more. Today, get 50% off these names -- and more. Editors' pick: this Alice + Olivia Kellye One Shoulder Dress ($207.90, down from $297). (more…)
Hooray For Summer Sales! Denise Richard's Exact Alice + Olivia Dress Is 50% Off At Shopbop
Denise Richards in her Alice + Olivia Gitana Dress ($165, down from $330) If you missed Shopbop's Flash Sale yesterday afternoon, fret not - we did a little hunting and found some great buys with or without that extra 20% off. Our favorite though is Denise Richard's Alice + Olivia Gitana button down dress ($165, down from $330). Throw it on over your swimsuit for a super glam beach look or style it chic with a pair of nude pumps. See our other Shopbop sale faves after the jump. (more…)
Shopbop's 1-Day Flash Sale: 80% Off Reception Dresses, Honeymoon Bikinis, More. No Joke.
Shopbop just put up a crazy, 1-day only, flash sale -- use code EXTRA20 to take an additional 20% off sale items. Among other things, a $600 Doo.Ri reception dress is now $140. What are you doing still reading this? Start shopping, dummy. (more…)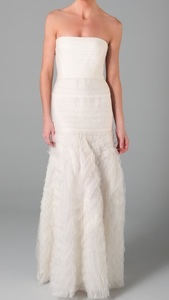 30% Off Designer Gowns At Shopbop: Halston Heritage, Catherine Deane, More
If you have champagne taste on a beer budget, as they say, but you shudder at the thought of wearing a non-designer wedding dress, have no fear: Shopbop has up to 70% off designer wedding gowns -- from Thakoon, Halston Heritage, Catherine Deane, Alive + Olivia and more. So you can have your cake -- like this BCBGMAXAZRIA Marisa Layered Bridal Gown ($733.60, down from $1,048) -- and eat it, too. (more…)
50% Off Rehearsal Dinner Dresses: Alice + Olivia, Rebecca Taylor, Shoshanna, More
If you're wedding is looming (!) or you're just an advanced planner, you'll need a gorgeous little dress for your rehearsal dinner. We'd recommend something designer and on-sale. Yes, it does exist: get up to 70% off designer dresses at Shopbop now. Editors' pick: Alice + Olivia Carmen One Shoulder Dress ($256.90, down from $367). (more…)
Don't Be Green With Envy: You Can Get Kelly Rutherford's Exact Alice + Olivia Maxi At Shopbop Now
Kelly Rutherford stuns in this Alice+Olivia Adalyn Pleated Maxi Dress ($367) at Shopbop We're obsessing over the Alice+Olivia Adalyn pleated maxi dress that Gossip Girl star Kelly Rutherford donned for NYC's "Bent on Learning" benefit earlier this spring. The vibrant kelly green shade is universally flattering, but it looks especially striking on those with fairer skin tones. I mean, did you see Miss California - now Miss USA - last night? She rocked that glam, green evening gown. So if you thought a vivid green was only appropriate for St.Patrick's Day, think again. It's more wearable than ever, perfect for summer, and we've rounded up our favorite green maxi (and mini) dresses just for you. See them all after the jump. (more…)
First Look: Prisoner Chic Takeover At Alice + Olivia Resort Collection 2011
From left: Alice + Olivia Resort 2011 striped shift dress, poncho, and coat Today we were lucky enough to attend alice +olivia's Resort 2011 & Footwear Press Preview. While color-blocking, bright florals, and neon all were prominent trends in the line, we couldn't help but notice these thick prisoner-style black & white stripes dominating some of our favorite pieces in the collection. From maxi dresses to ponchos, shorts to shifts, alice + olivia is telling us the stripes trend is here to say (thank God...). Also, check out these gorgeous platforms we're definitely purchasing when the entire line débuts in November: Luckily, alice + olivia have just enough striped items for sale in the current collection to tide us over until the above items hit stores. Check out some of our favorite striped picks from Stacey Bendet's alice + olivia line at Shopbop below: (more…)
Peplum Wedding Dresses: Why Wear Just 1 Skirt When You Can Have 2?
A ruffle here and there can do wonders for a bride's figure. Peplum dresses have been all over bridal runways (think everyone from Oscar de la Renta to Melissa Sweet), and for good reason - this versatile style can create, accent, or conceal curves, all depending on the placement of one little frill (or a few). (more…)
Can You Tell Which Floral Shorts Cost $137 More Than The Others?
Keep yourself guessing with all of our Taste Tests, and join our e-mail list for exclusive updates.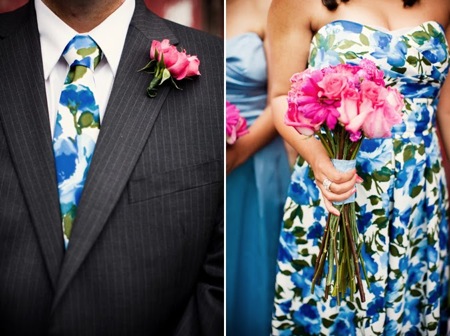 Dress Your Bridal Party In Florals — It's Not Just For Granny Or Tea Parties Anymore
With spring weather in full bloom, we're currently obsessed with all things floral (remember last week's floral decor post?)! Don't be afraid to go all out on your floral theme this spring - we've found everything from bridesmaid dresses to groomsmen pocket squares and more! (more…)
Hide Your Lovehandles Without Looking Like A Shapeless Blob, A La Reese Witherspoon & Diane Kruger
Not all of us have been hitting the gym regularly in preparation for spring and summer. But that's no reason to hide your body under some shapeless garbage-bag-type frock. Now with these pretty one shoulder draped dresses, we can prove that we're still in style, even if we can't seem to lose those extra 5 lbs. (more…)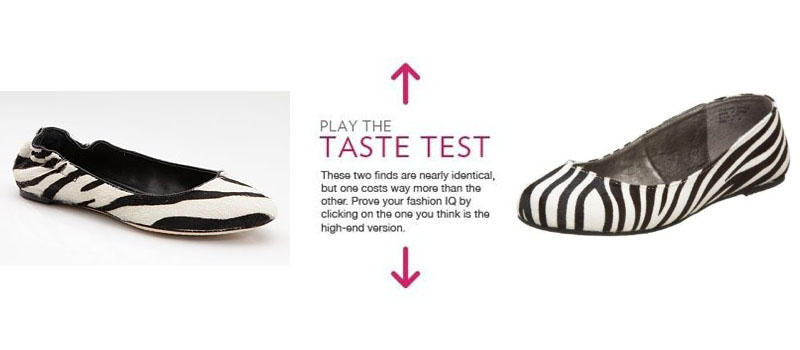 Can You Find Which Zebra Flats Cost $140 More Than The Others?
Test your fashion IQ with more of our favorite Taste Tests. Sign up for our fashion e-newsletter.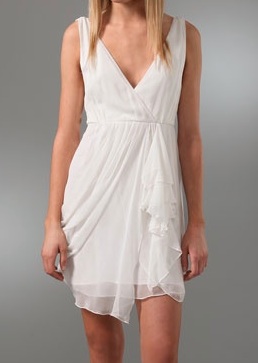 Going Going Gone: Only 1 More Alice + Olivia Drapey Reception Dress Left
If you're in the market for a slinky, chiffon reception dress to wow your guests with, make a move today on this Alice + Olivia Faux Wrap Drape Dress ($298), because there is only one left. With a deep-V neckline and cascading ruffle skirt, there is no wonder this feminine frock is in limited supply: everyone wants one. Not in your size? Don't worry, we have plenty of sexy reception wedding dresses, short wedding dresses and engagement party dresses to choose from.
Week In Review: Alice + Olivia Makes Shoes For Shopbop, Jane Birkin Donates Her Hermes Bag For Japan Relief, More
[youtube]http://www.youtube.com/watch?v=pNyfzlbMGiA[/youtube] Must Reads: Calling all shoe hoarders, Alice + Olivia for Shopbop's shoe collection has been released. Get a sneak peek at Net-A-Porter's newest collaboration with Issa for lace dresses and more. Miu Miu goes virtual with their newest introduction of an e-commerce site. Oh, thank heavens. In case you were worried about cleavage wrinkles (yes, they exist), try on this bra for some prevention. Donate to Japan and receive Jane Birkin's Hermes bag - sounds like a win-win situation to us. Celebrity Style: Sienna Miller has been rocking her tailored harem pants lately and we can't wait to get our hands on a pair. Take a lot at Zappos' newest product - inspired by Reese Witherspoon's newest movie. Celebrities have been toting their iPads around and we found some stylish designer cases for your electronics too. Ladies, rejoice. It's time we can wear white whenever we can, a la Gabrielle Union. Think Astrology is tacky? Think again with this Kim Kardashian t-shirt. Sales and Deals: Get Nicole Richie's House of Harlow 1960 Watches and Jewelry for 50% off. Kate Middleton's Aquatalia booties are on sale - grab them now before they sell out. Ready, set, go (!) with Shopbop's 70% off sale. Spring's essential printed silk mini dresses start at $31, only at Bloomingdale's. (more…)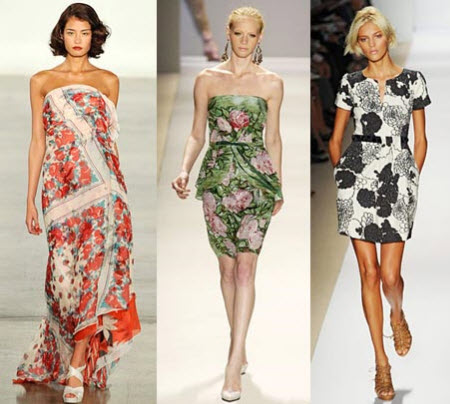 Prints Aren't Just For The Runway Anymore: Bridesmaids Can Rock Them, Too
Florals and prints are everywhere this season, and nothing could be springier and more festive. Don't underestimate the flower power...dress your girls in it for a pop of spring or summer all night long. They could all wear the same one or two, or each choose their own floral print for a bonafide wedding garden. The only hard part is deciding which print to choose. (more…)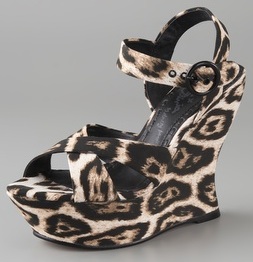 Alice + Olivia Launches Shoe Line For Shopbop Today, With An Adorable Video To Match
[youtube]http://www.youtube.com/watch?v=pNyfzlbMGiA[/youtube] Wedge heels, Shopbop, and ROYGBIV birthday cake? Sounds like a party I want to be invited to. The above video was created in honor of Alice + Olivia's debut spring footwear line for Shopbop, which launches today. Shop Stacey Bendet's newest collection on Shopbop.com, or check out our favorite styles from the video below: (more…)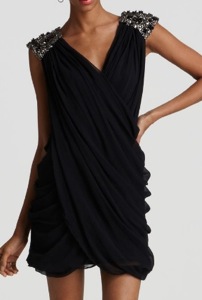 Bloomies Has 50% Off Engagement Party Dresses (Tibi, Alice + Olivia, More)
If you're planning an engagement soiree and want to look chic, on-trend and downright pretty - Bloomingdales has 50% off designer dresses from Tibi, Alice + Olivia, Milly, and more. The selection is huge, so shop our Editors' Picks first: (more…)
Katie Holmes Looks Like She's Dressed As Suri For Halloween
Isn't Katie Holmes a little old to be going out in Suri's dress up clothes? While Katie has admitted, in an interview with ELLE that Suri often picks out her clothes, we think this is a bit much. We're not saying  doesn't look good, but we're wondering why - in the middle of March, 5 months after Halloween- she's dressed as a fairy princess. Katie, you've got to put your foot down somewhere. Guess we know who wears the heels in this family. Read up on more celebrity oh-no's with all of our Red Carpet Re-Do posts. Subscribe to our newsletter list for exclusive updates, too.
Stop Drooling Over Diane Kruger's Hollywood Glam Look And Get It For Yourself
Diane Kruger kept warm at a Gucci party while looking glamorous as ever. With her Isabel Marant fur jacket and Gucci dress (and shoes), this is definitely an outfit to drool over. And as much as we want a matching Gucci dress and shoes, we just can't take out a loan for that. So here's how to steal Diane's embellished style on a budget: Check out more celebrity styles. Shop our guides to the best faux fur and the best black dresses. Join our e-mail list for exclusive SHEFinds updates.
Gwyneth Paltrow Takes Over Taylor Swift's Love Life, And Now Her Clothes
What's up with Gwyneth Paltrow and Taylor Swift lately? First, Gwynnie introduced Little Miss Swift to Jake Gyllenhaal (at a dinner party she threw), and now she looks like she's borrowing Taylor's look for her "Country Strong" role. Surely there are enough one shoulder dresses to go around, but we couldn't help but notice the resemblance. Since their breakup, Jennifer Aniston is now rumored to be Taylor's next dating mentor. Will she start dressing like Taylor too? Only time will tell. We think Gwyneth looks gorgeous with her Swift-like waves and black dress. Although the exact Alice + Olivia dress she's wearing is sold out, check out these others -- you don't have to be a country star to wear one: Read up on more celebrity style. Shop our guides to the best black dresses and the best party dresses. Join our e-mail list for exclusive updates.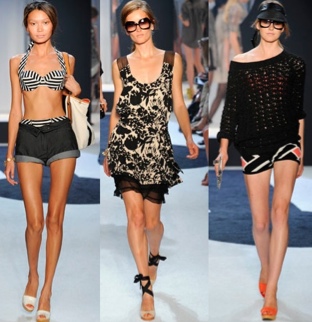 Resort 2011 Runway Report: Spring Break Essentials From Tory Burch, DVF, More
If you're going away at all this winter season, it's time to spruce up your dreary winter wardrobe. Whether you're going to Cabo or Calabasas, you're in luck, because the bright and colorful Resort 2011 pieces just became available online. Shop your favorite designers like Tory Burch, Diane Von Furstenberg, and Alice + Olivia straight off the runway. Here's how: Check out more of our favorite trends. Shop our guides to the best shorts and the best floral dresses. Subscribe to our e-mail list for exclusive updates.
Try Jennifer Aniston And Whitney Port's Knotted Mini Dress For Your Next Holiday Party
If you love the knotted front dress Jennifer Aniston wore on the red carpet earlier this year, you will love Whitney Port's ruched Topshop mini. The beige, tie-front mini dress look is one you'll love - especially for all those friggin' holiday parties. For more holiday must-haves, check our guides to the best cocktail rings, party dresses, earrings, party shoes. Follow the author of this post on Twitter @bridefinds.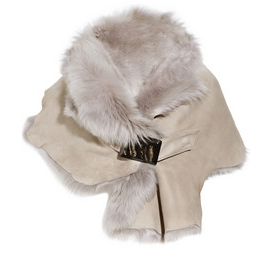 Bare Shoulders Are So Last Season: Top 5 Fur Shrugs For Winter Weddings
Whether you can't resist the appeal of an outdoor wedding (even in sub-zero temperatures!) or are planning the perfect getaway outfit, a sumptuous fur shrug is a must-have for winter weddings. We'd suggest opting for super soft ones that you can wear long after your wedding day. Imagine that! Wrap yourself in luxury with this leather Toscana Suede and Shearling Shrug by Karl Donoghue ($500). The shearling liner, paired with a luxe suede exterior, makes this designer shrug a statement piece everybody will be talking about. Nothing says "today is my day" like a little dose of cashmere draped over your shoulders. The N. Peal Cashmere Stole ($303.75) is trimmed with rabbit fur and made to tie perfectly over any neckline. If you love Alice + Olivia in your non-wedding life, you will flip for this Alice + Olivia Melody Faux Fur Capelet in White ($385). It's so soft and elegant - wear it to all those holiday parties, too. When your picture-perfect backdrop calls for snow, pick a shrug that's sure to make you glow like the ice princess you are. This faux fur cape is the ideal accessory for the romantic bride and, at only $99, the Faux Fur Capelet is easy on the wallet. Add a glimmer of Old Hollywood style to your classic dress with this elbow-length Kenna-T Faux Fur Shrug ($272). The hook-and-eye closure keeps the shrug just where you want it, while the curved hem streamlines your layered bridal look. For more great ways to dress up your gown, check out our guides to the best bridal hair accessories, wedding jewelry, and designer wedding shoes.
Dress Like A Pretty Young Thing; Celebrity-Favorite Alice + Olivia Is 60% Off Today
Alice + Olivia had a great year. The brand became a celebrity staple among Hollywood's pretty young things (AnnaLynne McCord and Lauren Conrad are fans) and their Alice + Olivia MAC makeup line was a huge hit. If you've been coveting the brand's sequin tops and party dresses, but haven't been able to afford them, don't fret: the Outnet has Alice + Olivia for 60% off today: The ultimate party dress, this Alice + Olivia Casey paillette-embellished silk dress ($220.50, down from $490) is 55% off and totally flirty for this Holiday season. This striped Alice + Olivia Sequin-embellished silk-blend top ($160, down from $400) is 60% off. Pair it with dark skinny jeans and black peep toe pumps for more casual holiday parties. This sexy, 60% off Alice + Olivia Amberly sequined tank ($160, down from $400) is perfect for a dressy occasion where you want to look cool and on-trend. If you have a cocktail party this month, turn heads in this Alice + Olivia Cara silk-blend cutout dress ($186, down from $465), which also happens to be 60% off. Check out our entire calendar of online sample sales. Shop our guides to the best earrings and the best bracelets. Join our e-mail list for exclusive fashion updates.
Alice + Olivia for MAC Makeup Selling Out in Hours; One Product Left
We've told you about celebrity favorite line Alice + Olivia, and now comes news that the hot brand's limited edition line for MAC is selling out like crazy online. The edgy line - which includes a bold nail lacquers, lipglosses and powder pigment chosen by the Alice + Olivia designer Stacey Bendet -  launched yesterday, and the nail lacquer and powder pigment are already gone. Check out what's left: Alice + Olivia's Dazzleglass Creme lipgloss ($18) is the only product left. It comes in this bold "I.Want.Candy" yellow. If you'd prefer a more traditional pink, Sparkalicious (above left) is a pretty, pale one. The gloss also comes in this bold If It's Pink - the perfect party color. For more great makeup finds, check out our guide to the best makeup and skin care products. Score yourself a flattering swimsuit with our swimwear guide; and don't forget to check our top-recommended self-tanners to get the perfect golden glow to go with it.
Daily Links: Alice + Olivia Makeup, Mary J. Blige's Charity Clothing, More
1. Mary J. Blige's charity, FFAWN, is introducing a new line of clothing with the help of Catharine Malandrino. Their first fashion show is taking place next week and the revenue from each ticket will be used to fund the college tuition of Bronx high school graduates. Interested in saving the world? See our guides to all things eco-friendly.  [WWD] 2. Since Apple keeps inventing new products, designers are making sure you have something cute to carry them in. In honor of the new iPhone 4, Dannijo created fun and funky cases for to keep your phone scratch free. Check out the iDress and iPad Gucci case to keep your iPad safe. [The Frisky] 3. Bright lipstick is all the rage these days (thank you, Tom Ford). Alice + Olivia have officially teamed up with M.A.C. Cosmetics for a special edition makeup line coming out on July 8th. We're so excited for the bright colors to spruce up our summer. [Refinery 29] 4. It's time to tan without worrying about wrinkles and saggy skin. French company, Orlane, has invented a new cream with SPF ($100) that prevents restructures and prevents sagging skin, moisturizes and softens, yet leaves us with a healthy, tanned glow. If you're still nervous about the sun, check out our favorite self-tanners. [Betty Confidential] Stay up to date with more of our daily links. Take a look at our guides to the best lip balms, the best hair removal products, and the best handbags under $250.