Vera Wang Is Seeing Red For Bridal (Plus, The 10 Most Memorable Gowns From Bridal Week)
Last season, she made waves with black wedding dresses, and for 2013 Vera Wang is seeing brides in an even more improbable bridal color: red! "Memorable" is what every new designer strives for, but is Vera taking it to the next level with these scarlet, rust and plum-colored gowns? Here's one argument: whether the style is a hit or a miss, if it's on people's minds, you're doing something right. We've rounded up the 10 most memorable gowns from this season's Bridal Market -- with Vera's entire show topping the list. (more…)
Wedding Sample Sale Scoop: Amsale & Angel Sanchez Gowns, Crane & Co. Stationery, More
Editor's Pick: Most Wanted Gowns at The Aisle New York (more…)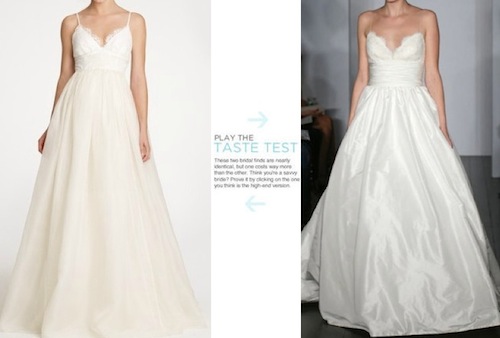 Can You Tell Which Of These Identical Gowns Costs $3K More Than The Other?
The J.Crew Principessa gown ($995) on the left costs $3,405 less than the Amsale 'Coco' gown (originally $4,400) on the right. Shop our guides to the best strapless wedding dresses, white wedding shoes, and inexpensive wedding dresses.
America Ferrera Just Got Married In A Tiered Christos Gown And There's Nothing 'Ugly' About It
America Ferrera got married last night, and the Ugly Betty was a beautiful bride in a dress by tiered gown by Christos (an Amsale label) and Fred Leighton earrings. This season, we've seen tiered wedding dresses on many gorgeous brides, including Michael Buble's wife Luisana. (more…)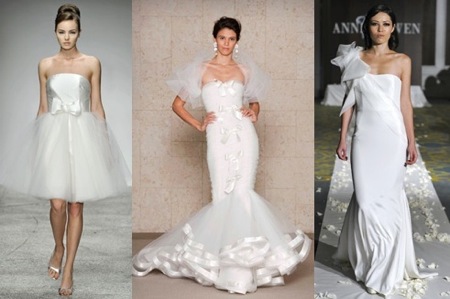 Wrap Yourself In Spring's Bow Trend: Dresses So Pretty You'll Feel Like An Actual Present
Prissy bows proved themselves pretty fierce on the spring 2011 Runway. If you can't afford fresh-off the runway designs from Amsale, Oscar de la Renta, or Anne Bowen (pictured above), we've found plenty that will satisfy you're stylish ego. (more…)
Trend Spotting: Would You Dare Wear Denim Shoes?
We all love (I mean, really love) our denim... for our legs. Denim on our shoes, however, is a new style we're still trying to wrap our heads around (along with denim handbags, but that's another story entirely). Leading the pack are the usual high-end icons Dolce & Gabbana, Chloe, Alexander McQueen, and Manolo Blahnik. But is this spring trend really wearable? We dug up some downright stylish shoes made of denim for your discerning taste to decide. If you have the cash to splurge on one pair of luxe denim shoes, these Yves Saint Laurent Tribute Denim Platform Sandals ($716) with their sophisticated dark denim and rich cognac stiletto heels should be your first choice. Channel your inner hipster with a pair of thrift store chic Fossil Pilar Flats ($88); the patchwork leather detailing plus the pointy toe make for a cool and comfy weekend shoe. If there's one pair that won't push your budget over the line, these well-priced Old Navy Ribbon-Trim Ballet Flats ($20) can help you dip your toe in the spring trend, since it likely won't last. These Joie Turn Me Loose Sandals ($263) are not technically made of denim (they are, in fact, leather), but they do mimic the look and feature some hardcore gold dome studs that add a tough yet chic look to your attire. So are you on board with this denim shoe trend or do you prefer these classic shoe trends? I'm still working the over-the-knee boots trend and loving my booties, but who knows what spring may bring.