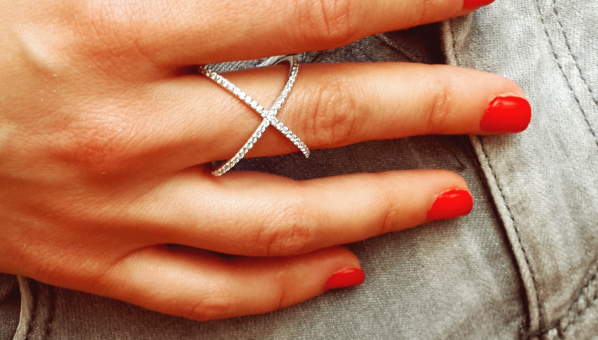 These Diamond X Rings Ain't For Brides-To-Be
When it comes to shopping for jewelry, there's always a struggle with finding a piece that lands right in the middle between a bold cocktail ring and something super simple--like a delicate midi ring. That's where the pave X ring comes in. It has a minimal but still unique shape and its diamond-covered surface is just the right amount of shine without attracting too much attention. The next task at hand is finding a pave X ring that's within your budget. And that's where we come in. Check out our slideshow of this stunning ring trend in a wide range of prices, from high-end to wallet-friendly. Don't forget to check out: choker necklaces, gladiator sandals, and mini skirts [Photo: Etsy]
Angelina Jolie's Charitable Jewelry Line Now On Display (By Invite-Only, Of Course)
Last year, a little birdie told us that Angelina Jolie was designing a line of jewelry for her charity, benefiting children in crisis. Well now, the Style of Jolie collection she co-designed with former Asprey CEO Robert Procop, is on display and available for purchase at Julien's Auction House in Beverly Hills.  The collection, which is displayed in a "museum-quality" setting, can be viewed by invitation only, but lucky for you, we got our hands on a preview: Be sure to check out more coverage on charitable causes, celebrity style, and collaborations.
Angelina Jolie Adds "Jewelry Designer" To Her Ten-Page Resume
Is there anything Angelina Jolie can't do? In addition to saving orphans, making pleas in Washington D.C. and raising six children (not to mention snagging Brad Pitt), Jolie has signed on to collaborate on a jewelry line with former Asprey CEO Robert Procop (above). Pieces will not be sold in stores, but through Procop's own clients, so get thee to your well-connected friends for access. Proceeds will go to Jolie's charity. The collaboration will include  a green beryl 353-carat  pendant, and a tablet-shape 12.02-carat emerald ring. According to WWD, Jolie's design for the emerald was inspired by "ancient tablet engravings." Read up on Jolie and Pitt's other jewelry collaboration, plus get more on upcoming collaborations, and see our guides to the best cocktail rings, necklaces, earrings and bracelets you can actually afford.