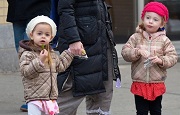 Spotted! Sarah Jessica Parker's Adorable Twins Rocking Mou Mini Eskimo Boots
They may only be toddlers, but Sarah Jessica Parker's twins Marion and Tabitha are quickly becoming little style mavens to watch. We've already covered their adorable Appaman peacoats and puffer jackets and now we're moving on to those adorable boots they're wearing in the pic above. (more…)
Could UGG Australia Have Hired a More Adorable Model? Check Out Jackson Theron Rocking The Cozy Boots
Look how big he's gotten! It's been a while since we last saw Charlize Theron and her baby boy, Jackson, and believe it or not he's gotten even more adorable. Just check out those cheeks. (more…)
Found! Suri Cruise's Navy Blue Puffer Coat
If you live in the Northeast, you know how cold it's been these last few days. Sure, we've experienced colder, but that doesn't mean it's not frigid out there. So what do you put on your kid to keep him/her warm? Well, if you're Katie Holmes you turn to J. Crew Crewcuts and they're super lightweight, yet warm puffer coats. That's what Suri is wearing in the pic above and despite the grimace she appears to be perfectly warm in her topper. (more…)
Score the Exact Dress Modern Family's Lily Wore to the 2012 Emmy's–on eBay!
Remember back in September when we posted about that adorable purple dress Aubrey Anderson-Emmons--better known as Lily from Modern Family--wore to the Emmy's? Well Tea Collection teamed up with eBay and they're auctioning off Lily's exact dress for an amazing cause! The custom Tea Collection dress that Aubrey wore is now up for grabs on eBay along with seasons 1-3 of Modern Family on DVD, plus a photo signed by Aubrey and another photo signed by all the other cast members of Modern Family. That's a pretty amazing price for the winner, but even better, it's all for an amazing cause. 100% of the proceeds from the auction will benefit the Global Fund for Children, an organization that Tea Collection has partnered with for over 8 years. The Global Fund for Children has invested $25 million to over 500 grassroots organizations in 78 countries, helping to transform the lives of more than 7 million of the world's most vulnerable children. There's still 1 day of bidding left, so don't let this one get away! Place your big at eBay.com. (more…)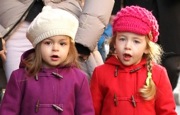 Another Day, Another Adorable Pic Of Tabitha & Marion Broderick Rocking Appaman
I mean, if you had to picture Sarah Jessica Parker's daughter, they'd totally look like this. They may only be toddlers, but can't you already tell Tabitha and Marion Broderick are already following in their mom's fashionable footsteps. They're adorable! (more…)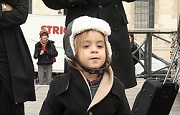 Leave It To Kourtney Kardashian To Find the Cutest Winter Hat Ever…
Talk about a picture perfect family. That's Kourtney Kardashian, Scott Disick and their son, Mason Disick, strolling in Paris earlier this month and they all look so amazing. (more…)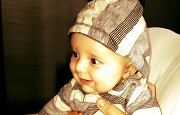 Look Who Else Loves Splendid Littles (Besides Us, That Is)
Seriously?! Could Guiliana Rancic's baby boy, Edward Duke, be any friggin' cuter? Guiliana shared this pic on Twitter recently and those cheeks are to die for. (more…)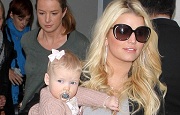 Score Maxwell Drew Johnson's Adorable Leopard Print UGG Boots
Jessica Simpson's baby girl, Maxwell Drew, is pretty darn adorable, but so are those little UGG boots she's wearing. Jessica and Maxwell were spotted at the airport earlier this week and while Maxwell's whole outfit is cute, those boots are definitely the highlight. Love them, too? Here's where you can get the exact same pair: (more…)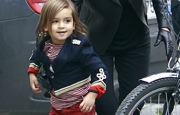 Steal Mason Disick's Adorable Parisian-Chic Style In 3 Easy Steps…
Kourtney Kardashian's son, Mason Disick, always looks adorable, but we think Kourtney outdid herself during a recent trip to Paris. That's Kourt and Mason in the pic above and his outfit is pretty friggin' adorable, right? (more…)
Found! Suri Cruise's Cute Crewcuts Boots (And They're Less Than $100!)
It's no secret Katie Holmes indulges Suri in the best of the best. From her $40,000 school tuition to her designer dress collection, Suri is living the life. But that doesn't mean that Katie doesn't occasionally treat her little girl to something the rest of us can afford. (more…)
Bundle Your Little Girl Up in the Same Appaman Coats Sarah Jessica Parker's Twin Daughters Wear…
Cold out there, huh? If your kid's winter coat just isn't cutting it, take a cue from Sarah Jessica Parker and buy the same parka she puts her twin daughters, Marion and Tabitha, in. They're wearing Appaman's Rivington coat in the pic above and we found the exact same one here: (more…)
Need Some Inspiration for the Holiday Card Photo? Just Check Out Flynn Bloom…
Could his sweater be any more festive? We love Miranda Kerr's baby boy, Flynn, on a regular day, but in a holiday sweater? He's irresistible! He also happens to be the perfect inspiration for the holiday card photo. His sweater is cute and festive without being an ugly Christmas sweater. Want to dress your kid in one, too? Check out these adorable holiday sweaters we found: (more…)
Prepare to Swoon… Rachel Zoe's Baby Boy, Skyler, Is As Cute As Can Be
Absolutely adorable, right? From his little outfit to his cheesy grin and sweet interlocked fingers, Skyler Berman is so stinkin' cute. (more…)
Spotted! Seraphina Affleck Rocking Cute, $27 Converse Sneakers
Isn't she adorable? All of Jennifer Garner and Ben Affleck's kids are cute, but Seraphina might just be the cutest. (more…)
Found! Those Colorful Hair Ponytail Holders Sarah Jessica Parker Ties In Her Twins' Hair
Okay, first things first: how stinkin' cute?? That's one of Sarah Jessica Parker's twins, Tabitha, strolling in NYC with her mama and we just can't get over her sweet little face. (more…)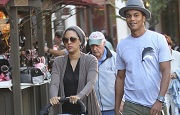 Tia Mowry Sure Knows How to Pick a Stroller… Check Out Her Top-Rated Baby Jogger City Mini Stroller
We love seeing pics of actress Tia Mowry and her adorable family. Obviously, her son Cree is a cutie, but so is her hubby! (more…)
Spotted! Gisele Bundchen Flaunts Her Baby Bump in an Animal Print Bikini
Supermodel Gisele Bundchen is pregnant with her second child, but that didn't stop her from strutting her stuff in a sexy animal print bikini in Miami over the weekend. The mom-to-be appears to be in her third trimester, but holy smokes she looks as good as ever! (more…)
New Mom Giuliana Rancic Shares a Super Cute Photo of Her Baby Boy, Edward Duke Rancic
Look at that little smirk. Could Giulana Rancic's baby boy, Edward Duke, be any more adorable? The new mom shared the pic above earlier this week on Twitter and we've been swooning ever since we saw it. (more…)
Looks Like Hilary Duff Is The Latest Star Mom to Fall In Love With the ERGObaby Baby Carrier…
Look at that little face! Could Hilary Duff's baby boy, Luca, be any cuter? He was snapped catching a ride with his mom in Cali earlier this week and we just can't get over how adorable he is. (more…)
Score Haven Warren's Adorable Monkeybar Buddies Diaper Cover for Just $12!
Hate the idea of an ugly diaper ruining your baby's cute outfit? Apparently, so does Jessica Alba, which is why she opted to cover her baby girl, Haven's diaper with an adorable Monkeybar Buddies diaper cover during a recent outing. (more…)
Satyana Denisof's Patchwork Tiny TOMS Are Almost As Adorable As She Is…
I mean, does it get any cuter? That's Alyson Hannigan's daughter, Satyana Denisof, and she is just the cutest. From that red hair to her sweet grin, how could you not fall in love with her? (more…)
Spotted! Caleb Followill, Lily Aldridge and Baby Dixie Pearl Take a City Stroll
How cute are they? That's Kings of Leon frontman Caleb Followill, along with his wife Victoria's Secret model Lily Aldridge and their adorable baby girl, Dixie Pearl. The trio was snapped walking in NYC recently and they make such a picture perfect family. (more…)
Score Your Girl a Burberry Coat Just Like Harper Seven Beckham's…
We just can't get enough of these two. Harper and Victoria Beckham make such a stylish duo. Over the weekend, we were swooning over Harper's adorable little Nike sneakers and today we're in love with that adorable Burberry cape she's wearing. (more…)
Suri Says: Pink Coats Are a Must-Have This Season…
This is the second time in a week we've seen Suri Cruise rocking a pink topper and that's all the confirmation we need--every little girl needs a pink coat this winter! (more…)
Sofia Strikes Again! Check Out The Latest Must-Have Maternity Dress She Wore on Modern Family
The new season of Modern Family may have just started, but we're already looking forward to Gloria's (aka Sofia Vergara) maternity fashion. We already hunted down the sexy blue wrap dress she wore while filming last week and today we found another. (more…)
Say What?! The Ralph Lauren Boots Rachel Zoe Trusts for Her Baby Boy, Skyler Berman, Are Now On Sale
Swear by the styling advice of Rachel Zoe? Well get yourself over to Ralph Lauren stat while the cue boots she recently put her baby boy in are still on sale. (more…)
Have $116 Handy? Score Your Daughter The Same Adorable Pink Swing Coat Suri Cruise Was Spotted Wearing
When I first saw this pic of Suri Cruise out and about in NYC, I immediately fell in love with her coat. It's something I'd totally wear myself, and for my daughter? No brainer. (more…)
Hurry! Score Luca Comrie's Adorable Splendid Littles Top Before It Sells Out
What a cutie! That's Hilary Duff and her baby boy, Luca, at the pumpkin patch this weekend and he is so scrumptious! From his little cuffed jeans to that cute striped top, looks like Hilary Duff will have a heartbreaker on her hands. (more…)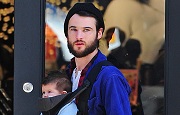 Whoa! Sienna Miller's Baby Girl, Marlowe, Looks Just Like Her Daddy…
Right?! That's Sienna Miller's baby girl, Marlowe, catching a ride from her dad, actor Tom Sturridge, and seeing them together just goes to show how much little Marlowe looks like Tom. From her eyes to that hair, she's like his spitting image! (more…)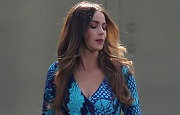 Score The Sexy Blue Maternity Dress Sofia Vergara Wore on Modern Family…
Actually, the episode hasn't aired yet and the dress isn't even maternity. But still! We got a sneak peek of an upcoming episode of Modern Family and we've got the scoop on where you can get that exact dress Sofia Vergara (who's pregnant!--on the show) is wearing. (more…)
Whoa! Check Out Penelope Disick's Amazing Shoe Collection
Last night Kim Kardashian shared this pic of Penelope Disick's adorable shoe closet on Instagram and we couldn't resist posting. From the looks of it, she's following in her big brother Mason's stylish footsteps with her own collection of Freshly Picked moccasins, but she also has some cute baby Bloch ballet flats, Gucci Kids sneakers, and a pair of sparkly baby Gap ballet flats. (more…)
Oh She Fancy! Jessica Alba Steps Out With the Brand New Orbit Baby Double Helix Stroller
If you thought Jessica Alba was only a trendsetter when it came to fashion, think again. The star mom was recently snapped out in New York City and she's the first celebrity mom to be spotted with the brand new Orbit Baby Double Helix stroller. (more…)
Spotted! Elsa Pataky & Chris Hemsworth's Baby Girl, India Rose, Plays Peekaboo in Her Baby Bjorn
How adorable! Actress Elsa Pataky was snapped in Paris with her baby girl, India Rose Hemsworth, and we can't get over how cute little India is with her eyes peeking up over her baby carrier. (more…)
Score the $20 Hand Cream Victoria Beckham Is Obsessed With…
You may not be able to score Victoria Beckham's hot husband or her amazing wardrobe, but there is one thing she loves that you can own, too... her hand cream! (more…)
Can't Afford Kourtney Kardashian's Baby Girl's Clothes? Try Her Baby Blanket Instead–It's Only $15!
Umm, first let's take a minute to talk about how amazing new mom Kourtney Kardashian looks. From the printed maxi dress to those fabulous Christian Louboutin shoes, she is working it. (more…)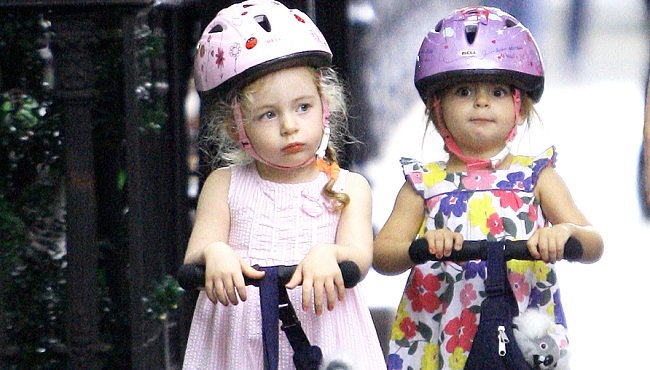 Found! Those Adorable Little Scooters Sarah Jessica Parker's Twins, Tabitha and Marion, Were Riding
They are so freakin' cute! We're in love with this adorable pic of Sarah Jessica Parker's twins, Marion and Tabitha, riding their scooters around NYC over the weekend. Their little helmets are so sweet and their facial expressions are precious. (more…)
Spotted! Ivanka Trump's Baby Girl, Arabella Rose, Can't Get Enough Playmobil
She's back and cuter than ever! Ivanka Trump shared a sweet pic of her daughter, Arabella Rose Kushner, over the weekend and it looks like the little one is the latest tot to be hooked on Playmobil. (more…)
New Mom Kristin Cavallari Taking Notes From Kourtney Kardashian?
We already tracked down new mom Kristin Cavallari's baby swing and now we know what baby stroller she uses. Kristin was recently spotted out and about in L.A. and she looked fab pushing her Orbit Baby G2 stroller. (more…)
A Peek Inside Penelope Scotland Disick's Already-Enviable Closet…
We loved Kourtney Kardashian's maternity style, so as you can imagine we've been waiting with bated breath to see all the cute things she dresses her newborn daughter, Penelope Scotland Disick, in. And it looks like we got our first peek! (more…)
You Asked, We Found… That Cool, Comfy Baby Swing Kristin Cavallari's Baby Boy, Camden Cutler, Is Sleeping In
Yesterday we shared the adorable pics new mom Kristin Cavallari posted of her baby boy, Camden Cutler, on Twitter. Everyone agreed Camden is beyond adorable, but one mom asked, "What is he sitting in? It looks like a 4moms but I can't find that pattern anywhere. Help?!" (more…)
Move Over Mason Disick! Alicia Keys' Son, Egypt Dean, Now Has the Coolest Kicks On the Block
When we saw Kourtney Kardashian's son, Mason Dash Disick, rocking those metallic gold Supra sneakers last year we thought it couldn't get any cooler. And then we saw this pic of Alicia Key's son, Egypt, wearing a yet-to-be-released pair of adidas x Jeremy Scott Originals JS Wings and we had to give him the title for coolest kicks. (more…)
Spotted! Sexy Mom-to-Be Amber Rose Shows Off Her Baby Bump in Black Lace
Yeah, we're kind of late, but we recently came across this pic of expectant mom Amber Rose from the 2012 MTV VMAs and we just had to share. Why? Because Amber looks amazing! (more…)
Looks Like Zuma Rossdale Is Already In the Halloween Spirit… Shop His Spiderman Get-Up Now!
Who says you have to wait until Halloween to bust out the costumes? Gwen Stefani's youngest son, Zuma, was recently snapped decked out in all Spiderman everything and he couldn't have been adorable. (more…)
Get the Look! Score Bethenny Frankel's Casual, Colorful N.Y.C. Ensemble
Love all things Bethenny Frankel? Us, too! And we especially love this outfit she was snapped wearing in New York City yesterday. So much so that we tracked down her exact top and lookalike pink skinny jeans so you could re-create the look. Here's what you'll need: (more…)
Looks Like Tia Mowry Couldn't Resist Either…
Couldn't resist what, you're wondering? A baby stroller that unfolds at the push of a button! That's Tia in the pic above along with her husband and their baby boy, Cree Hardrict, and Cree is riding around in a 4Moms Origami stroller. Tia is just the latest star mom to step out with the revolutionary stroller--Natalie Portman, Bethenny Frankel and Kourtney Kardashian all also own the Origami. (more…)
Saw the Modern Family Cast Win Their Emmy On Sunday? Score the Exact Tea Collection Dress 'Lily' Was Wearing Now!
It's not very often that us regular moms can put our children in the same clothes celebrity tots wear. And it's even more unlikely that we can score exact red carpet looks. But thanks to our friends at Tea Collection, we can do just that! If you tuned into the 2012 Emmys this past Sunday, then you saw Aubrey Anderson-Emmons, the actress who plays Lily on Modern Family, looking adorable in a little purple number. The dress was custom-made by the designers at Tea Collection and for a limited time they're making the exact same dress available to everyone! (more…)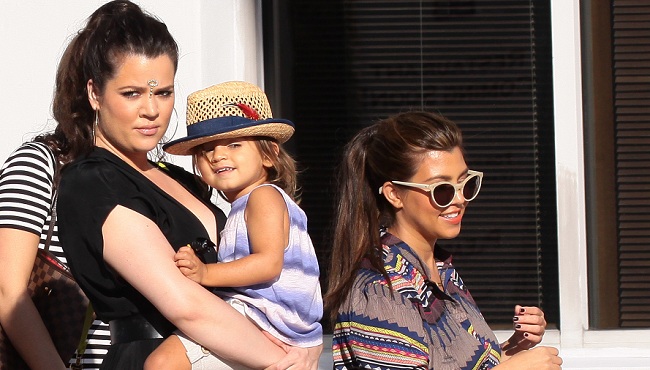 He Always Has the Best Shoes… Shop Mason Dash Disick's Latest Cute Kicks
From his gold Supra sneakers to his signature Venetinni loafers and Freshly Picked moccasins, Mason Dash Disick always wears the cutest shoes. He's a Kardashian so it goes without saying that he has great style and his latest kicks are no exception. (more…)
Okay, This Kinda Makes Us Forgive Gisele Bundchen for That Garbage Disposal Comment…
Remember right after Gisele had her first son, Benjamin Rein Brady, she said the secret to getting her body back was not treating it like a "garbage disposal" like some women? Yeah, ever since then she's been on our sh*t list. And then she claimed that her 6-month-old son was potty trained and didn't eat any unhealthy foods? Is it any wonder we find her so annoying? But Gisele may have just redeemed herself (a little). She was snapped out in NYC over the weekend and what do you know? She's wearing actual maternity clothes! (more…)
Reason #763 We Love Pink: Her BOB Jogging Stroller Is Only $399!
Pink is just one of those celeb moms we love. She's been honest about losing her baby weight, she breastfeeds without shame and um hello, she is freakin' awesome! But here's another reason we love Pink. While moms like Kourtney Kardashian are collecting $1,000 baby strollers, that stroller Pink is pushing in the pic above is just $399. (more…)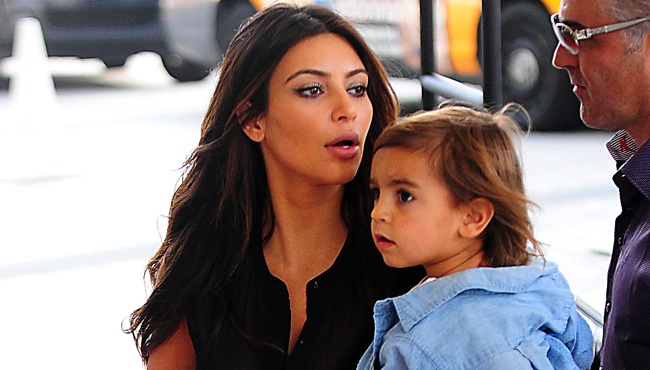 Move Over Kim Kardashian! Mason Dash Disick Is Definitely the Cutest Kardashian…
How adorable is little Mason? It's like the older he gets, the cuter he gets. Mason was snapped in Miami with his aunt, Kim Kardashian, his mom Kourtney and his little sister, Penelope. Kim and Kourtney are in the MIA to film their show, Kim & Kourtney Take Miami. (more…)