Here Are The Best Dressed Celebs At The 2017 American Music Awards
What Is Selena Gomez Wearing? She's Practically Naked!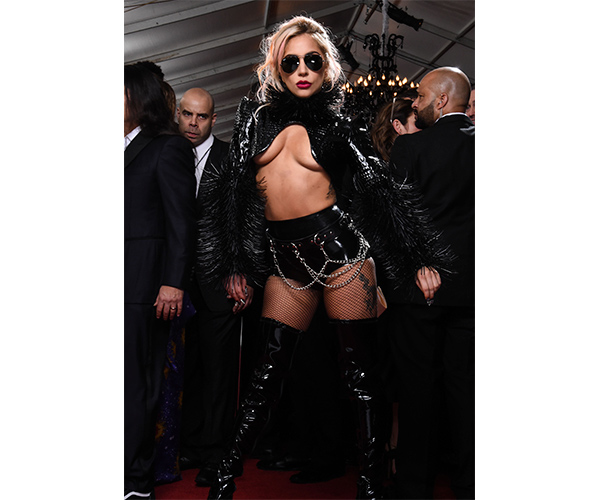 The Most Revealing Red Carpet Outfits EVER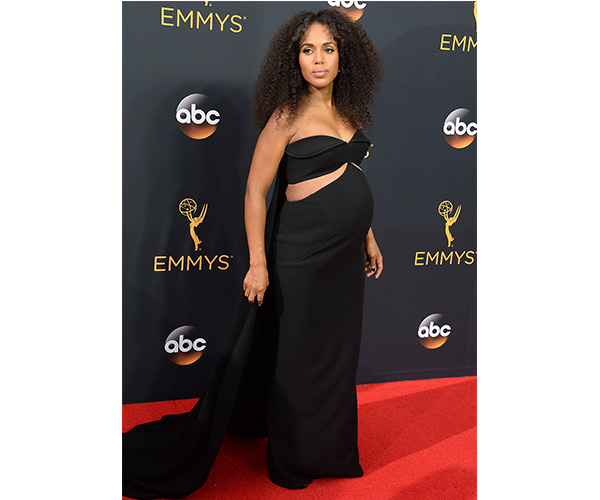 Here Are The Best-Dressed Celebs Of The 2016 Awards Season So Far
PHOTOS: The Best Grammy Moments That Were Only On Instagram
There were plenty of amazing moments at the 2016 Grammys, like Lady Gaga's David Bowie tribute and Tori Kelly's made-to-be-memed unimpressed face. However, between the intense pre-show prep and outrageous after parties, there are certain moments you can only see on Instagram. Like, Justin Bieber showing love to his adorable six-year-old half-brother, Taylor Swift and Selena Gomez's reaction to winning Best Music Video for "Bad Blood" and so much more: https://www.instagram.com/p/BB1QbQeAvtk/?taken-by=justinbieber https://www.instagram.com/p/BB0vNHXjvKz/ https://www.instagram.com/p/BB1o38llf2U/ https://www.instagram.com/p/BB1CrgaIZiS/?taken-by=tyrese https://www.instagram.com/p/BB0yb_PpFD_/ https://www.instagram.com/p/BB0lpc9Lu9Q/ https://www.instagram.com/p/BB2LV2Xky7W/ https://www.instagram.com/p/BB1ngriwk8P/ https://www.instagram.com/p/BB1ZgOGrpar/ https://www.instagram.com/p/BBzTh39SHuo/ https://www.instagram.com/p/BB1NNCnLsHR/ https://www.instagram.com/p/BB1BvHCIZgm/ https://www.instagram.com/p/BB04mdUSWUw/ Don't forget to check out: The best-dressed celebs at the Grammys and Paul McCartney denied entry to Tyga's Grammy party [Photo: Instagram]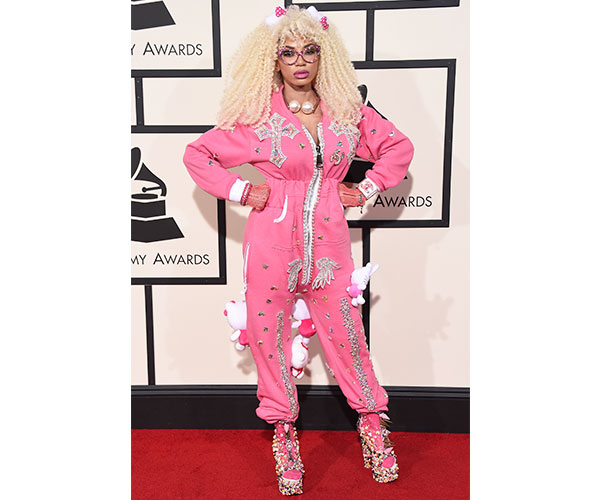 PHOTOS: Worst Dressed Celebs Of The 2016 Award Season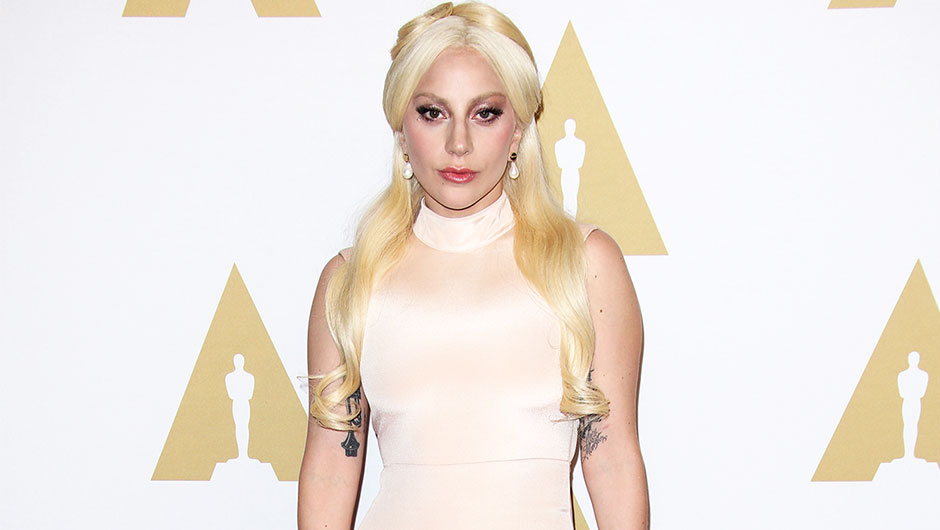 6 Reasons To Be Very Excited For The 2016 Grammy Awards
You guys, it's Grammy time! This is arguably the best award show of the season. There's crazy fashion, adorable kids and Taylor Swift dancing. This year's show promises to be a good time with performances by Adele, The Weeknd and Justin Bieber plus Kendrick Lamar and Carrie Underwood will be among the many, many stars in attendance. Here are 6 things to look out for at the 58th annual Grammy Awards, taking place Monday, February 15th at 8 pm EST on CBS! 1) Lady Gaga's David Bowie tribute Lady Gaga is set to perform a tribute to the late David Bowie. Not many details have been released about the performance. However, it will be directed by Nile Rodgers, a Bowie collaborator who produced that artist's best-selling album, Let's Dance. Also, Grammy producer Ken Ehlrich says the tribute will honor Bowie's musical contributions, as well as his "influence on fashion and pop culture in a broader way." 2) The T-Swift squad Love 'em or hate 'em, Taylor Swift's "squad" is likely to be in attendance since "Bad Blood" is nominated for Best Music Video. Selena Gomez is already confirmed to perform. We're placing bets that Gigi Hadid will also be there since you can't turn left without seeing her somewhere. 3) Gwen Stefani's live music video So, we're not really sure how this is going to work, but Gwen Stefani is filming a music video for her new song, "Make Me Like You," during the Grammys. According to Entertainment Weekly, the singer is "collaborating with Target to produce the first ever live music video during a commercial break from Monday's Grammy ceremony." So, we guess it won't air during the ceremony. However, fans will be able to follow along on Snapchat, Facebook and Periscope. The video will debut on Vevo late Monday night. We're sure more details on which specific accounts to follow will be announced during the show. 4) Earth, Wind & Fire and Run-DMC lifetime achievement award Two excellent musical acts are receiving lifetime achievement awards this year. Let's revisit some of their best songs: [youtube]https://www.youtube.com/watch?v=Gs069dndIYk[/youtube] [youtube]https://www.youtube.com/watch?v=4B_UYYPb-Gk[/youtube] 5) Rihanna performing 'Work' for the first time This is Rihanna's first performance from her new album ANTI, which was released last month! Ehlrich tells Entertainment Weekly, "There is certain news value to having an artist do something that's never been seen anywhere. You know, if I don't do Rihanna's new song, it'll be done 43 times before it comes up in the cue again next year. So, I'm open to things like that. This year there are a couple things that we are going do that do fit that mold." Smart move. Also, Drake is featured on this song. According to my Drake-sense (aka, after doing my daily catch-up on all things Drizzy), he is not expected to be at the Grammys. *Prays he will surprise us all* UPDATE: Rihanna cancelled her Grammys performance shortly before the show due to bronchitis. A rep for the singer told Us Weekly, "Based on Rihanna's examination, after Grammy rehearsal today, Rihanna's doctor put her on vocal rest for 48-hours because she was at risk of hemorrhaging her vocal chords." She was noticeably missing on the red carpet, and, as we all know, RiRi loves to make an entrance. We should've known something was up then. 6) The Hamilton cast appearance In case you live under a rock, the Broadway show Hamilton is a BFD. Tickets for the show are sold out through 2016. The cast is scheduled to perform the show's opening number live via satellite from the Richard Rodgers Theatre in New York City. If you have been living under a rock, the show features hip-hop music. Not what you expected, amirite? [Photo: Splash News]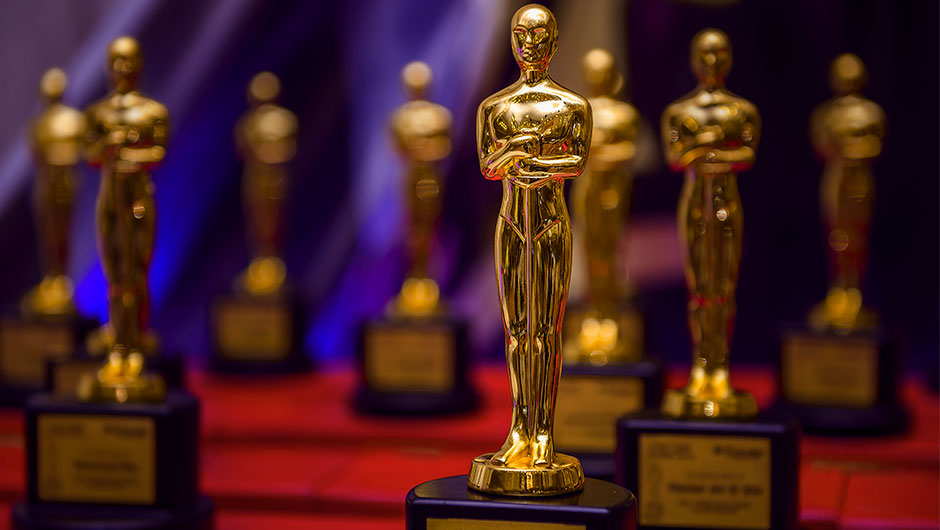 The 2016 Oscar Nominations Are In! Here's The Full List
The Oscar nominations have finally been announced! Guillermo del Toro, Ang Lee, John Krasinski and Academy president Cheryl Boone Isaacs revealed the 88th Annual Academy Award nominations this morning. Check out the full list below and be sure to mark your calendars for February 28 as Chris Rock hosts the biggest award show of the year! Best Motion Picture The Big Short Bridge of Spies Brooklyn Mad Max: Fury Road The Martian The Revenant Room Spotlight Best Actor Bryan Cranston, Trumbo Matt Damon, The Martian Leonardo DiCaprio, The Revenant Michael Fassbender, Steve Jobs Eddie Redmayne, The Danish Girl Best Actress Cate Blanchett, Carol Brie Larson, Room Jennifer Lawrence, Joy Charlotte Rampling, 45 Years Saoirse Ronan, Brooklyn Best Supporting Actor Christian Bale, The Big Short Tom Hardy, The Revenant Mark Ruffalo, Spotlight Mark Rylance, Bridge of Spies Sylvester Stallone, Creed Best Supporting Actress Jennifer Jason Leigh, The Hateful Eight Rooney Mara, Carol Rachel McAdams, Spotlight Alicia Vikander, The Danish Girl Kate Winslet, Steve Jobs Best Director Adam McKay, The Big Short George Miller, Mad Max: Fury Road Alejandro González Iñárritu, The Revenant Lenny Abrahamson, Room Tom McCarthy, Spotlight Best Adapted Screenplay The Big Short Brooklyn Carol The Martian Room Best Original Screenplay Bridge of Spies Ex Machina Inside Out Spotlight Straight Outta Compton Best Animated Feature Film Anomalisa Boy and the World Inside Out Shaun the Sheep Movie When Marnie Was There Best Cinematography Carol The Hateful Eight Mad Max: Fury Road The Revenant Sicario Best Documentary Feature Amy Cartel Land The Look of Silence What Happened, Miss Simone? Winter on Fire: Ukraine's Fight for Freedom Best Documentary Short Subject Body Team 12 Chau, Beyond the Lines Claude Lanzmann: Spectres of the Shoah A Girl in the River: The Price of Forgiveness Last Day of Freedom Best Film Editing The Big Short Mad Max: Fury Road The Revenant Spotlight Star Wars: The Force Awakens Best Foreign Language Film Embrace of the Serpent Mustang Son of Saul Theeb A War Best Makeup and Hairstyling Mad Max: Fury Road The 100-Year Old Man Who Climbed Out a Window and Disappeared The Revenant Best Original Score Bridge of Spies Carol The Hateful Eight Sicario Star Wars: The Force Awakens Best Original Song "Earned It" "Manta Ray" "Simple Song No. 3" "Till It Happens to You" "Writing's on the Wall" Best Production Design Bridge of Spies The Danish Girl Mad Max: Fury Road The Martian The Revenant Best Costume Design Carol Cinderella The Danish Girl Mad Max: Fury Road The Revenant Best Live Action Short Film Ave Maria Day One Everything Will Be Okay (Alles Wird Gut) Shok Stutterer Best Animated Short Film Bear Story Prologue Sanjay's Super Team We Can't Live Without Cosmos World of Tomorrow Best Visual Effects Ex Machina Mad Max: Fury Road The Martian The Revenant Star Wars: The Force Awakens Best Sound Editing Mad Max: Fury Road The Martian The Revenant Sicario Star Wars: The Force Awakens Best Sound Mixing Bridge of Spies Mad Max: Fury Road The Martian The Revenant Star Wars: The Force Awakens Will Leonardo DiCaprio finally take home an Oscar?! Don't miss where to buy Michelle Obama's SOTU dress and Nicky Hilton is pregnant! [Photo: Shutterstock]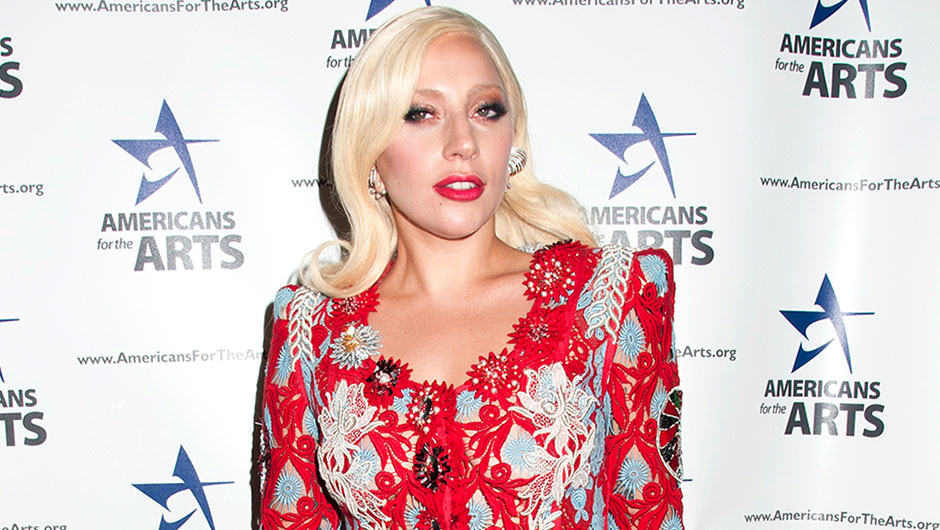 Here Are The Nominations For The 2016 Golden Globes!
This morning the nominations for the 2016 Golden Globe Awards were announced by America Ferrera, Chloe Grace Moretz, Angela Bassett and Dennis Quaid. The 73rd Golden Globe Awards will be held on January 10 at the Beverly Hilton Hotel and hosted by Ricky Gervais. Here are the 2016 nominees! BEST MOTION PICTURE, DRAMA Carol Mad Max: Fury Road The Revenant Room Spotlight BEST PERFORMANCE BY AN ACTRESS IN A MOTION PICTURE, DRAMA Cate Blanchett, Carol Brie Larson, Room Rooney Mara, Carol Saoirse Ronan, Brooklyn Alicia Vikander, The Danish Girl BEST PERFORMANCE BY AN ACTOR IN A MOTION PICTURE, DRAMA Bryan Cranston, Trumbo Leonardo DiCaprio, The Revenant Michael Fassbender, Steve Jobs Eddie Redmayne, The Danish Girl Will Smith, Concussion BEST MOTION PICTURE, MUSICAL, OR COMEDY The Big Short Joy The Martian Spy Trainwreck BEST PERFORMANCE BY AN ACTRESS IN A MOTION PICTURE, MUSICAL, OR COMEDY Jennifer Lawrence, Joy Melissa McCarthy, Spy Amy Schumer, Trainwreck Maggie Smith, The Lady in the Van Lily Tomlin, Grandma BEST PERFORMANCE BY AN ACTOR IN A MOTION PICTURE, MUSICAL, OR COMEDY Christian Bale, The Big Short Steve Carell, The Big Short Matt Damon, The Martian Al Pacino, Danny Collins Mark Ruffalo, Infinitely Polar Bear BEST ANIMATED FILM Anomalisa The Good Dinosaur Inside Out The Peanuts Movie Shaun the Sheep BEST FOREIGN LANGUAGE FILM The Brand New Testament The Club The Fencer Mustang Son of Saul BEST PERFORMANCE BY AN ACTRESS IN A SUPPORTING ROLE IN ANY MOTION PICTURE Jane Fonda, Youth Jennifer Jason Leigh, The Hateful Eight Helen Mirren, Trumbo Alicia Vikander, Ex Machina Kate Winslet, Steve Jobs BEST PERFORMANCE BY AN ACTOR IN A SUPPORTING ROLE IN ANY MOTION PICTURE Paul Dano, Love & Mercy Idris Elba, Beasts of No Nation Mark Rylance, Bridge of Spies Michael Shannon, 99 Homes Sylvester Stallone, Creed BEST DIRECTOR, MOTION PICTURE Todd Haynes, Carol Alejandro G. Iñárritu, The Revenant Tom McCarthy, Spotlight George Miller, Mad Max: Fury Road Ridley Scott, The Martian BEST SCREENPLAY, MOTION PICTURE Emma Donoghue, Room Tom McCarthy and Josh Singer, Spotlight Charles Randolph and Adam McKay, The Big Short Aaron Sorkin, Steve Jobs Quentin Tarantino, The Hateful Eight BEST ORIGINAL SCORE, MOTION PICTURE Carter Burwell, Carol Alexandre Desplat, The Danish Girl Ennio Morricone, The Hateful Eight Daniel Pemberton, Steve Jobs Ryuichi Sakamoto and Alva Noto, The Revenant BEST ORIGINAL SONG, MOTION PICTURE "Love Me Like You Do," Fifty Shades of Grey "One Kind of Love," Love & Mercy "See You Again," Furious 7 "Simple Song #3," Youth "Writing's on the Wall," Spectre BEST TELEVISION SERIES, DRAMA Empire Game of Thrones Mr. Robot Narcos Outlander BEST PERFORMANCE BY AN ACTRESS IN A TELEVISION SERIES, DRAMA Caitriona Balfe, Outlander Viola Davis, How to Get Away With Murder Eva Green, Penny Dreadful Taraji P. Henson, Empire Robin Wright, House of Cards BEST PERFORMANCE BY AN ACTOR IN A TELEVISION SERIES, DRAMA Jon Hamm, Mad Men Rami Malek, Mr. Robot Wagner Moura, Narcos Bob Odenkirk, Better Call Saul Liev Schreiber, Ray Donovan BEST TV SERIES, MUSICAL OR COMEDY Casual Mozart in the Jungle Orange Is the New Black Silicon Valley Transparent Veep BEST PERFORMANCE BY AN ACTRESS IN A TELEVISION SERIES, MUSICAL, OR COMEDY Rachel Bloom, Crazy Ex-Girlfriend Jamie Lee Curtis, Scream Queens Julia Louis-Dreyfus, Veep Gina Rodriguez, Jane the Virgin Lily Tomlin, Grace and Frankie BEST PERFORMANCE BY AN ACTOR IN A TELEVISION SERIES, MUSICAL, OR COMEDY Aziz Ansari, Master of None Gael Garcia Bernal, Mozart in the Jungle Rob Lowe, The Grinder Patrick Stewart, Blunt Talk Jeffrey Tambor, Transparent BEST TELEVISION LIMITED SERIES OR MOTION PICTURE MADE FOR TELEVISION American Crime American Horror Story: Hotel Fargo Flesh and Bone Wolf Hall BEST PERFORMANCE BY AN ACTRESS IN A LIMITED SERIES OR MOTION PICTURE MADE FOR TELEVISION Kirsten Dunst, Fargo Lady Gaga, American Horror Story: Hotel Sarah Hay, Flesh and Bone Felicity Huffman, American Crime Queen Latifah, Bessie BEST PERFORMANCE BY AN ACTOR IN A LIMITED SERIES OR MOTION PICTURE MADE FOR TELEVISION Idris Elba, Luther Oscar Isaac, Show Me a Hero David Oyelowo, Nightingale Mark Rylance, Wolf Hall Patrick Wilson, Fargo BEST SUPPORTING ACTRESS IN A SERIES, LIMITED SERIES, OR MOTION PICTURE MADE FOR TELEVISION Uzo Aduba, Orange Is the New Black Joanne Froggatt, Downton Abbey Regina King, American Crime Maura Tierney, The Affair Judith Light, Transparent BEST SUPPORTING ACTOR IN A SERIES, LIMITED SERIES, OR MOTION PICTURE MADE FOR TELEVISION Alan Cumming, The Good Wife Damian Lewis, Wolf Hall Ben Mendelsohn, Bloodline Tobias Menzies, Outlander Christian Slater, Mr. Robot Don't miss the 2016 Grammy nominations and Amy Schumer was named People's Most Intriguing Person of the Year! [Photo: Splash News]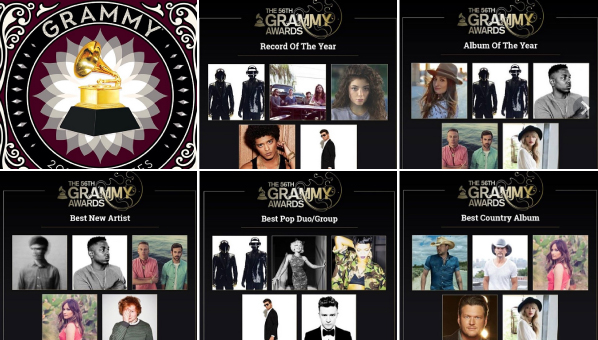 10 Things You Need To Watch Out For At The Grammys
When people think of the Grammys, they think of crazy red carpet outfits, ridiculous performances, and awards like record and album of the year. But did you know that there are actually 82 Grammy awards given in the night? Now we know we don't see all 82 of those awards handed out, but still, that's a lot of gold gramophones! Even though there are awards for classical and metal music (do people still listen to those genres?), artists like Taylor Swift, Justin Timberlake and Katy Perry rule the night.  But we don't mind because we get to see things that only happen at the Grammys. Things that we can only get once a year. Things that we live for once a year. So here they are... 10 things that you have to watch out for at tonight's Grammys: - Lady Gaga's Outfit: Everyone remembers when Lady Gaga rolled in as an egg, so who knows what she'll do this year? - Madonna's Performance: We're pretty sure that when Madonna's 100, she'll still be dancing around on stage in leotards. - LL Cool J Hosting: How did he get the honor for the third year in a row? We have no idea. - Anything Miley Cyrus: She'll  just be sitting in the audience and people will find a way to talk about her. - Kelly Clarkson's Baby Bump: We don't particularly love Kelly's style, so we're hoping her maternity wardrobe is a little better. - Blurred Lines Winning Record of the Year: This was basically the song of the summer, so we're hoping it gets some praise. - Jay Z and Beyonce On Stage: We're most excited for this performance, only because it NEVER happens. - If Taylor Swift Goes With The Fan Vote: Because Taylor just has so many hits, she asked her Twitter followers what they want her to play. The winner? "All To Well". - Will The Newbies Win?: Lorde and Macklemore & Ryan Lewis are all over the nominations board this year. Between the two, they're up for 11 awards. - Random Collabs: The Grammys always throws us something unexpected, and word on the street is that Daft Punk is performing with Stevie Wonder. Also make sure to check out non-romantic Valentine's Day gifts, 25 things that would make a 25-year-old's day, and Rita Ora's name plate necklace
9 Things You Better Watch Out For At Tonight's SAG Awards
Now that award season is in full swing, we're starting to see some trends here: Gravity made people lose their minds, 12 Years A Slave tore at everyone's heartstrings, and American Hustle inspired all women to go out and buy a low cut dress. Lupita Nyong'o is clearly the best-dressed actress to watch out for, Jared Leto has shown us a new hairstyle, and Zooey Deschanel always rocks the cutest manis. And now that the Golden Globes, the People's Choice Awards, and the Critics' Choice Awards are over, it's time to move on the the SAG Awards. Here are 9 things that you better watch out for: - Emma Thompson's Antics: Looks like Thompson will be a presenter again, and we hope she isn't a drunk mess. - Zooey Deschanel's Nail Art: She's just so adorable, and we always want to know what she puts on her nails. - Tina Fey Presenting: Will she try and steal the show? We hope so. - Morgan Freeman's Voice: He's presenting the SAG Life Achievement Award, and we know it's going to be captivating. - "Lee Daniels' The Butler": A lot of people have been complaining that this film didn't get any Oscar nods, so will this finally be the night where it's recognized? - Jennifer Lawrence in Dior: It seems to be a growing trend that J.Law wears Dior, so we're wondering if she'll keep it going? - Historical Celebration: It's the 20th award show, so we're expecting a history lesson or something. - Stunt Ensemble Award: The SAG Awards recognizes the best stunt ensembles in film and TV (wtf?), and we're pretty sure it's the only show to do so. - E! Online's Social Central Hub: E! is launching this new feature for the first time during the SAG Awards, and it promises to give you even MORE celeb coverage. Many people believe that the SAG Awards give the best predictions for who's going to win at the Oscars. Last year proved true with Best Picture, Best Actor and Actress, and Best Supporting Actress. Will the trend continue? Tune in tonight on TBS and TNT at 8pm EST to make your guesses. Also make sure to check out Olivia Palermo's leather skirt, American Apparel's pubic hair scandal, and the Oscar nominations [Photo: Instagram]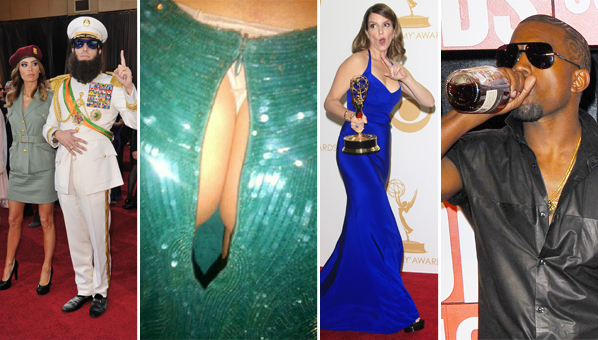 The Most Embarrassing Awards Show Moments In History
This awards season has already provided us with some memorable moments. Jacqueline Bisset's epic acceptance speech during Sunday's Golden Globes was just one of the several highlights of the show. And can we talk about Julia Louis-Dreyfus? The woman was the perfect accomplice to hosts Tina Fey and Amy Poehler's antics. But while Julia may look back on this year's Golden Globes and laugh, we think Ms. Bissett might be left feeling a little sheepish about her ramblings. But she's in good company! Awards shows are the perfect storm for embarrassing celebrity moments, and everyone from Tom Hanks to Taylor Swift has made a misstep of some sort during these nationally televised ceremonies. So, in honor of Jacqueline Bisset, here are 16 of the most embarrassing awards show moments ever. Hang in there, girl, we love you! Don't forget to check out the worst red carpet looks ever, this first look at Kelly Osbourne's collection for M.A.C., and 8 New Year's resolutions for every bride.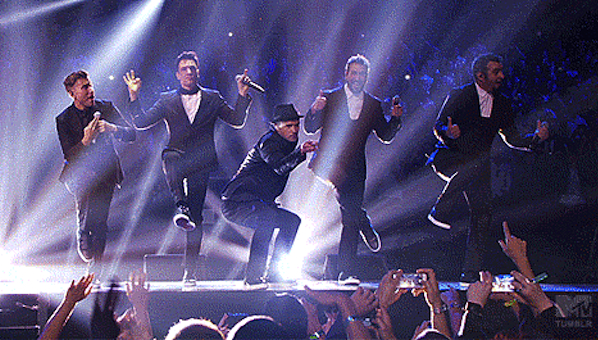 The 5 Best Reactions To The *NSYNC Reunion
As far as I am concerned, last night's VMAs could have been cut down to a mere 2 minutes because all I cared about was the first televised appearance of *NSYNC since 2003. The reunion made suffering through Miley butchering "Blurred Lines" worth it. It's not that performance itself was great, but I loved the novelty of see the boys back together. Unlike other boy bands (cough Backstreet Boys cough), *NSYNC hasn't been trying to capitalize on reunion. Seeing them on stage again was just like old times: Justin was always the star, JC tried to steal the show with a few solo notes, my mom gushed over how much she loved Joey and Chris Kirkpatrick tried to keep up. Oh, and there was Lance. I always forgot about him (and still do apparently). But I wasn't the only one that throughly enjoyed the performance. Click through to see other great reactions to *NSYNC's reunion from last night's VMAs. [Images: MTV]
The 10 NYFW Dresses We're Dying To See At Tonight's Emmy Awards (And Who We Want To Wear Them)
Christina Hendricks (left) wearing a gown from Zac Posen's 2011 resort line (right) to last year's Emmy Awards One of the best things about following NYFW is getting to see the gowns reappear on the Red Carpet on some of our favorite stars. Tonight's Emmy Awards come directly on the heels of spring 2012 New York Fashion Week, which included an equal mix of bright hues and blush tones---so we're expecting the Red Carpet to follow suite. Check out the 10 dresses we're hoping to see (and who we're hoping to see them on) below: (more…)
Week In Review: Juicy Couture Sues Over Fonts, Kim Kardashian Designs With House Of Harlow Guru, Target's New Dresses, More
Must Reads: Juicy Couture sues men's jacket company, Jesus Juice Couture, over stolen fonts and names, reported first on SHEFinds. Kim Kardashian borrowed Nicole Richie's jewelry designer in order to create Kim's new jewelry line, Belle Noel. Read up on our guide to Milan's Fashion Week, from the comfort of your home or office. We get a peek at Target's release of 34 dresses from 17 designers under $50 collection. (more…)
These Celebs Have No Alibis For Their Hideous Oscar Dresses
As we count down the days to this Sunday - the 83rd annual Oscar Awards - we can't help but reflect on some of the not-so-worthy Oscar dresses. So while Anne Hathaway and James Franco take charge, we'll just point and laugh at the ugly dresses of Oscars past. (more…)
Mila Kunis Proves Red Isn't Hard To Pull Off (Or Just For V-Day) After All
It looks like Alexander McQueen red dresses are hot and heavy this season as shown by Mila Kunis (and Michelle Obama, remember?) Mila looks sultry and sophisticated in this Alexander McQueen red printed chiffon gown. And the $300,000 worth of borrowed Cartier jewelry doesn't hurt her look either. Check out more of our favorite celebrity styles. Shop our guides to the best cocktail dresses and the best floral dresses. Join our e-mail list for exclusive updates.
February. Love, SHEFinds.
February isn't just the time to get romantic, it's also one of the most fashionable times of the year. See below. February 1st: Rachel Bilson's new movie, Waiting For Forever,  premieres this evening in Los Angeles. Oh, and a happy birthday to Miss Lauren Conrad as well. February 2nd: Happy Groundhog's Day (!) Our fingers are crossed for Spring to come early so we can wear neons and other spring trends. February 4th: If you haven't already picked up a Vivienne Westwood with the International Trade Centre Charity Bag - now is the time to do so before they sell out. February 10th-17th: It's that time of year again and the Mercedes Benz New York Fashion Week begins. Stay up to date with us as we blog about the best trends and designers of fashion week. February 11th: There are going to be no more lonely girls since Justin Bieber's film Never Say Never hits theaters today. Don't forget to rock your matching JB nail polish. February 11th: Jennifer Aniston's newest flick, Just Go With It, starring Brooklyn Decker and funnyman Adam Sandler opens today. February 13th: Keep your ears open for this year's 53rd annual Grammy Awards, on CBS . Expect to see stars like Taylor Swift and Christina Aguilera. February 14th: Pull out the red roses, Valentine's Day is here. We hope you followed our tips on getting ready for this romantic day. February 15th: Fashion Collaboration Alert (!) Kinder Aggugini, the UK designer, teams up with Macys for some exotic pieces that are bound to sell out. February 16th: Derek Lam shows his Spring collection, which shoppers can vote on in order to find out which looks will become a part of his eBay capsule collection. February 18th-20th: When the main Fashion Week ends, the Haute Couture Fashion Week begins taking place at none other than the Waldorf Astoria in NYC. February 18th-22nd: It might be raining, but that won't stop London's 2011 Fashion Week full of new designers and fresh looks that will maybe trickle into the US. February 20th: Both Rihanna and Cindy Crawford blow out the candles today as they both continue to wow us with their fashion choices. February 23rd: For those of you bride-to-bes, don't forget to watch CWTV's Shedding for the Wedding, a show where couples compete to lose the most weight before their weddings. For more wedding tips, check out BRIDEFinds.com. February 27th: The 83rd annual Oscars Award Show premieres tonight, hosted by Anne Hathaway and James Franco. We know we'll be hooked from the red carpet to the after parties. Don't miss a thing with all of our fashion news. Shop our guides to the best cheap workout gear and the best cocktail dresses. Subscribe to our e-mail list for exclusive updates.
Week In Review: Yikes – Vintage Golden Globes Pics, Prada's Paisley Collection, More
Must Reads: These stars weren't always so glamorous at the Golden Globes - check out our slideshow of hideous dress from years ago. Prada unveils their new capsule collection, too bad it looks like your aunt's window curtains. Oprah announces her 2011 must-haves. If Oprah needs them, so do we. Obsessed with Spanx swimwear? Us too...and their new line of cover-ups. Taste Tests: Can you tell which leopard print belt cost $39 more than the other? Which yoga pants are Old Navy and cost $67 less? Can you find which one shoulder dress costs $1,436 less than the other? Best Sales of the Week: Save 70% on ASOS' Maxi Dresses - perfect for every season. We're loving these 50% off Tucker blouses at Piperlime. Love eBay? Check out these super cheap YSL, Louboutin, and Dior shoes now. Celebrity Style: Celebrate Kate Moss' birthday with us by shopping her favorite trends. Michelle Williams looks like our grandma is this double-trouble lace dress. Separated at birth? Gwyneth Paltrow and Taylor Swift have more in common than just country music. Dance the night away in these Black Swan-inspired trends. Going, Going, Gone: Grade this gorgeous suede Kate Spade pumps - before they're all gone. Beauty: We found out what's in those Golden Globes gift bags. You'll be in shock. Wonder woman isn't just a skanky Halloween costume, she's inspiration for a new makeup line.
The Bad & The Downright Ugly: Revisiting The Worst Of Golden Globes Dresses Past
As the 68th Annual Golden Globes approach us - yes, it is that time of year - we've decided to put together a phenomenal collection of beyond hideous dresses (or pantsuits, a la Julia) of previous years. So click through, reminisce on the good old days, and of course...laugh your ass off. Secretly love when celebs mess up? So do we - check out more red carpet re-dos. Then shop our guides to the best party dresses and the best evening tops for jeans. Don't forget to sign up for our e-mail list for exclusive SHEFinds updates.
Week In Review: A Coveted Jacket, Golden Globe Favorites, The Best Office Style, And More
Must-Reads: We found the surplus jacket that everyone is dying for--and know where to get it. Check it out before the coveted jacket is sold out (again) and you have to wait until fall for its new release. For those still on the new year's resolution wagon, stay motivated with these top 5 innovative gadgets to make diet and exercise a little bit easier. Don't miss our celebrity style scoop; we found the perfect Golden Globe lookalikes, Kate Beckinsale's chic travel look for less and an elegant, but inexpensive way to copy Kim Kardashian's evening style. Who knew that this beauty brand would solve all of our skin woes? Check out these new (and beautiful) charitable ways to help Haiti and fulfill your fashion cravings in one fell swoop. Sales And Deals: Save 50% on chain necklaces at Martin + Osa. Take up to 50% off ruffle blouses from Bloomingdales. Get 50% off sweater dresses at Urban Outfitters. Taste Tests: Which illusion dress won't have you seeing double? Which cage heels won't slash your budget? Fashion Math: Is a clutch worth $180? Would you spend nearly $400 for this DVF wrap dress? Guides To Check Out: We have lots of advice on looking great at work, from how to wear prints at the office, beautiful watches to stay punctual and polished, and an essential guide to staying warm while looking chic.
Top 5: Best Dressed at the Golden Globes
Despite the rain and having to carry umbrellas down the red carpet, the stars came out last night for the 67th Annual Golden Globes Awards. We were pleasantly surprised by all the good fashion choices, but these five celebrities really wowed us with their stunning red carpet ensembles. Some were simple, others were modern, and a few were downright sexy. Overall, it was a night of inspiring fashion, so if you have a black-tie event to attend in the coming months, take note. We always find it refreshing when celebrities wearing something other than strapless. That's why actress January Jones tops our best dressed list in Lanvin. Plus, we love how she paired it with a black satin headband and bold red lips. Follow Jones' silhouette lead with this silk dress from J. Crew. Normally, we're not huge fans of thigh-high slits, but actress Marion Cotillard actually pulled one off in her  Christian Dior gown. The peekaboo lace slip was sexy, but also offered a little leg coverage. The gorgeous green color was also a pretty departure from the sea of black dresses. Take a color cue from Cotillard with this jade dress by Marc Bouwer. Kate Hudson went modern and architectural in a white Marchesa gown with a crumb-catcher neckline and a peplum skirt. This white silk gown has a similar feel to Hudson's, without being so hard to pull off. Penelope Cruz was the night's knockout in a curve-hugging black Giorgio Armani Prive gown. If you take all the good things about Cruz's dress-the lace neckline and the tiers-you get this gorgeous (and affordable!) BCBGMAXAZRIA frock. Avatar actress Zoe Saldana wore a pretty strapless maroon Louis Vuitton gown with a textural tiered skirt. Our pick by Lela Rose is almost identical, except that it's made of light silk tiers. Check out more celebrity dresses, plus party dresses and evening bags in our buying guides.
News: Burberry Show & Golden Globes Hit The Web, Shopping Burns Fat, More
1. Christopher Bailey, the creative director of Burberry has fought against Milan Fashion Week to be able to livestream their fashion show tomorrow at 12am EST, on live.burberry.com. Dolce & Gabbana, also, will present in alternative ways: see their slideshow on swide.com and Youtube January 16 at 8am EST. Put on your party shoes. [Daily Mail] 2. The Golden Globes are going digital, at the age of 67. Red carpet coverage from the show that will air Sunday has been expanded to the web, and a free iPhone application where users can track every detail--from backstage to the after party. It's mid-January--get yourself a party dress as a pick-me-up. [WWD] 3. A new study shows the average woman shops until she literally drops (pounds, that is). Apparently, we burn 48,000 calories a  year from shopping. Awesome. We think online shopping counts, too. Check out the cheap workout gear in our buying guide to keep that Resolution.[Daily Mail] 4 Sweet Gisele Bundchen wrote a check for 1.5 million to go towards Haiti relief. Donate on your own to Unicef, or get one of our gifts that give back.  [Vogue UK] Treat yourself to a little cashmere, or get some instant gratification with a pair of fingerless gloves.
Week In Review: Stars Fancy Up For The Globes, Our Jewelry Won't Calm Down, And More…
Must-Reads: The 2009 Golden Globes came and went with plenty of fashion and beauty to discuss - isn't that what these awards are about anyway? Our accessories have gone a bit wild, with the tribal jewelry trend sure to be on the rise come spring. We've extended our giveaway of the Lisa Drayer's book, The Beauty Diet, until Tuesday, so hurry up and enter to win your copy today! Sales and Deals: Up to 70% off staple black pants at Shopbop 40% off red patent flats at shoes.com 60% off waist-defining belted dresses at Pink Mascara Taste Tests: Which white boots cost a little less green? Which ruffled cardigan's price tag won't make you flustered?
Some Good Bling But Mostly Bland At The 2009 Golden Globes
Well, we're exhausted from staying up watching the Golden Globes and what can we say? Honestly, the clothes were rather uninspiring for the most part. Besides wondering if Drew Barrymore's hair and makeup people got drunk with Marisa Tomei's stylist or the economy had some effect on red carpet fashion, we're not exactly sure what happened but here are the best-dressed gals and the big trends they represent: Biggest Trend on the Red Carpet: Statement Necklaces. This is a trend with some serious staying power since it comes around every few years. Eva Mendes, Beyonce, and Christina Applegate all wowed in their gorgeous gowns (Dior, Elie Saab, and Roberto Cavalli, respectively) but everyone's eyes were on the Lorraine Schwartz necklaces about their throats. Prettiest Color Trend: Pinks and Plums. In a sea of white and black, these pink and plum stunners were honestly the most eye-catching. We're backing Rumer Willis in Reem Acra, Cameron Diaz in Chanel, and Penelope Cruz in Armani Prive. Boldest Color Choice: Blues and Reds. Blue and red dresses came out in every hue and just popped in very patriotic fashion on the red carpet. The best of the best in this trend category were Anne Hathaway in Armani Prive, Eva Longoria in Reem Acra, and Kyra Sedgwick in Oscar De La Renta. How to steal these looks for your own style? Add this Badgley Mischka Glass Pearl & Crystal Statement Necklace ($259, was $655.) over this gorgeous Mint One-Shoulder Gown ($443 down from $737). Or if you care to go the cocktail route, this Trina Turk Strapless Dress ($238) should do the trick. Just stay away from Drew Barrymore's glam squad. That is a perfect example of how choosing the right people can make or break a look, people.
Beachy Updos, Liquid Eyes, And Serious Mad Men Lips At The Globes
Wispy twists, structured buns, and nape-of-the-neck ponytails were all choice 'dos last night, probably because everyone had some serious earring bling to showcase (boy, that Lorraine Schwartz sure was busy this year, huh?) Young Hollywood embraced the updo-and-chandelier trend, with perky blondes Amanda Seyfried and Evan Rachel Wood showing off their sparkle, and Miss Golden Globes herself, Rumer Willis, rocking some serious rocks with her tendril-laced red twist. Debra Messing's messy pony helped her show off her emerald-and-diamond drops, while Eva Longoria displayed leafy diamond clusters framed by a tight bun. Get the Look: Just because you're putting your hair up doesn't mean you can neglect volume. Get some fluff at your roots with Jonathan Create Root Volume Brushable Lifting Spray ($28), then create beachy texture or flyaway-free smoothness with Jonathan Dirt Texturizing Paste ($26). Hold everything together with clear elastics that won't rip your hair to shreds ($3.50). Mid-century-set nominees Mad Men and Revolutionary Road had a big impact on Red Carpet makeup at the Golden Globes, with a return to classic black liner and matte lips. Many starlets eschewed the glittery and the glossy in favor of a return to a look that's worked for decades. Small screen sirens Jennifer Morrison (who was also right on target with the breakout hair trend) and Jenna Fischer perfected top-lid-only liner with just a hint of a cat-eyed wing, while Anne Hathaway and Christina Applegate took a turn for the traditional with creamy red lips. Get the Look: Sparkle and shine are out, while good old fashioned lipstick in deep matte reds, like Rouge Dior Replenishing Lipcolor in Red Premiere ($27) and Lorac Cream Lipstick in Crush ($18.50), are in. As far as liner goes, the thinner the brush the better. Get the most control over your liquid liner with Make Up For Ever's Waterproof Eyeliner with a wisp-thin brush ($21).
Good Question: Glam Enough for the Golden Globes
From a Reader: I have been in love with this (I believe) red Valentino dress that Scarlett Johansson wore to the 2006 Golden Globes ever since the day I saw it. I am hoping that some one can tell me where to get a similiar, but shorter in length version of that dress to wear for my upcoming birthday. The only stipulation is that the dress be red or some other bright color, I really dont want to wear black. Answer: We hear you. Black is far from festive. In an attempt to score something you would like, we've come up with a slew of options below in the ShopStyle widget, but if you really want to nail the style with a low, bust-enhancing, tank upper and sheath style fit, check out our favorite of the bunch: the Nicole Miller Square Neck Stretch Silk Dress. It's sexy, sleek and red hot in a silk Spandex blend! Best of all, it's on sale reduced from $365 to $200 (at Bloomingdales in a size 6, 8 or 10 or at Nordstrom in sizes 0, 4, 6, 8, 10, 12 for $220). P.S. Happy birthday! Looking for something? Please post your request on the SheFinds Message Boards under "What are you looking for?" Our editors and readers scour those boards daily to help you find your item.
SheFinds Solutions: Don't Follow Barrymore's Braless Blunder
Drew Barrymore presented an award at the 2006 Golden Globes in a lovely green dress with a modest cut. But the prestigious gold award statues weren't the only, uh, globes that were distracting viewers. Barrymore, who is not exactly light in the chest area, chose to go braless that evening. Even if you missed the awards, chances are you've heard about this faux pas, she's been ripped in every tabloid, gossip rag and blog out there. What is this no bra trend? Young alternative fashion divas like Maggie Gyllenhaal and Kirsten Dunst have been spotted countless times without underwire. Their distracting flappy fronts are usually offset by a carefully cultivated slouch to compliment their vintage gear. Is this a trend that you should be following? Not unless you work in the adult entertainment industry. Even if your A-cup is perky, there's the nipple factor to consider. Going braless is rarelyphotogenic - remember Gwyneth at the Oscars in 2002? Keep the braless moments private and throw on some support when you leave the house. I love Cosabella's Soire ultra-smooth bra available in basic nude or black. Wear a bra but feel bare with the Soire soft triangle bra. Find them both at figleaves.com. VOTE! Is no bra a fashion faux pas? Check out SheFinds' reader picks for the best bras and their favorite underwear in sexy, comfortable styles.