8 Cute Flats You'll Actually Want To Wear
The grueling process of choosing an outfit every morning always presents one very important question: heels or flats? The shoes you pick out can make or break your outfit, and even your day if you don't choose wisely. We've all had our fair share of blisters from not wearing comfortable shoes. But, whether it's in the workplace or on a night out with friends, many women turn to heels over flats, despite their obnoxious levels of discomfort and the increased risk of falling over. Heels put the "beauty is pain" mantra to work, but it's hard to find flats that actually look cute and not like something your mom would pick out (sorry, Mom). However, they do exist! To help save your feet from further blisters and sporadic muscle spasms brought on by high heels, we rounded up eight stylish, comfortable flats that you can actually see yourself wearing. Do yourself a favor and save the heels for a special occasion. Steve Madden: This shoe brand is a powerhouse for trendy, affordable, and comfortable shoes all-in-one. For the workplace, the loafer/ballet flat hybrid shoe has taken over, and your feet will look more professional than ever—but in a cute way. The pointed style gives this shoe a more sophisticated feel and creates a slimming effect. The style is also called "Feather" for a reason—they're extremely light and comfortable, so no more blisters on your radar. Choose between suede, leather, and velvet in an assortment of colors. [caption id="attachment_611174" align="aligncenter" width="196"] Steve Madden Feather ($69.95)[/caption] We're also loving this Steve Madden edgy/feminine flat combo. The pink exudes strong girly vibes, but the studded embellishments on the straps keep the shoes in check. Not to mention, the crossover straps alone are absolutely to die for! Normal ballet flats can get really boring really quickly, so any shoe lover will be able to get behind the unique touches on this pair. If the pink still isn't your style, you can also get this shoe in black. [caption id="attachment_611173" align="aligncenter" width="196"] Steve Madden Mollie ($69.95)[/caption] J. Crew: J. Crew has a wide assortment of trendy kicks with preppy, classic roots, so it's no surprise they made the list. Even though their shoes tend to run on the pricier side, you know that you're investing in a comfortable, durable pair. These flats are made in Italy, so you have even more of a guarantee that they won't conk out on you after just a few wears. Plus, splurging on shoes is totally acceptable as long as you get a lot of use out of them, which you definitely can with this vibrant pair of flats. Even with such a simple style, the metallic pattern makes a huge statement and adds instant pizazz to even the most drab outfits. You'll be getting compliments left and right whenever you wear these. [caption id="attachment_611171" align="aligncenter" width="196"] J. Crew Lea Ballet Flats In Metallic Leather ($118)[/caption] Banana Republic: BR is another great hotspot for shoes, and we're obsessing over the chic variations on this pair of flats. You get a sleek pointed toe, straps with three bows, and they're made from an ever-popular material—suede. Sound too good to be true? Just wait, there's even more. These flats have an exclusive Padding System that uses memory foam and a cushioned insole. Breaking in new shoes has never sounded more comfortable. [caption id="attachment_611172" align="aligncenter" width="196"] Banana Republic Triple-Bow Flat ($108)[/caption] DSW: Something as simple as a scalloped border can easily elevate any shoe. With six colors to choose from, you can't go wrong with this staple ballet flat. Put your best foot forward while wearing these to the office, date night, and everywhere in between. And, at a price like this, it might be in your best interest to stock up on multiple colors for different seasons. Just saying! [caption id="attachment_611168" align="aligncenter" width="196"] DSW Audrey Brooke Winny Ballet Flat ($49.95)[/caption] Old Navy: Check out another gold take on plain old ballet flats. Based off looks alone, you would never be able to tell these shoes cost less than $20! This pair also comes in black, but gold is just so much more fun. You can dress up your look even more by wearing matching gold accessories. [caption id="attachment_611169" align="aligncenter" width="196"] Old Navy Pointy Ballet Flats For Women ($19.97)[/caption] Target: These shoes also look like something from a designer or high-end retailer. But, even better, they're actually from Target! The side cut-outs and structured front and back pieces give these slipper-like shoes a fashion-forward appeal.  Pair these with jeans or a dress for the ultimate polished look. [caption id="attachment_611167" align="aligncenter" width="196"] Women's Kelsey d'Orsay Pointed Toe Ballet Flats ($16.08)[/caption] [Photo: Shutterstock]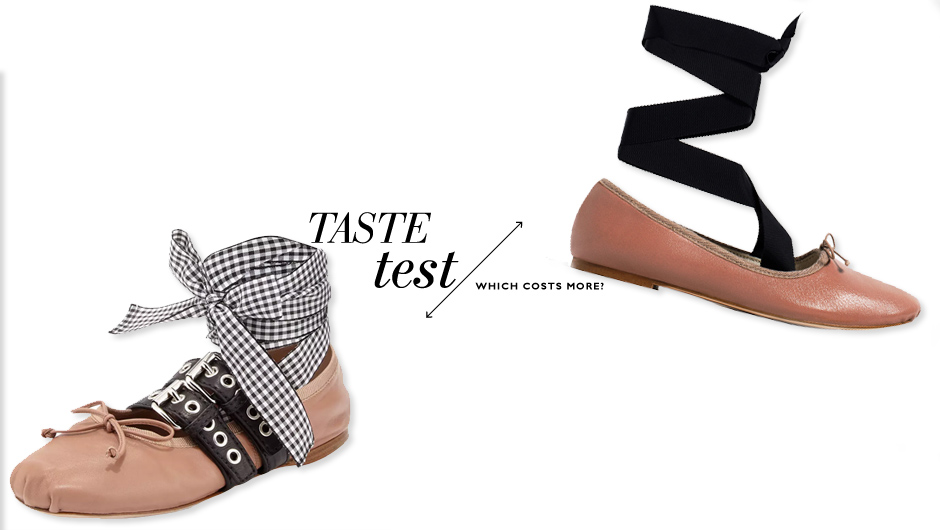 Can You Tell Which Lace-Up Ballet Flats Cost $560 More Than The Other?
These Miu Miu Belted Leather Ankle-Wrap Ballerina Flats ($620) are about to be everywhere. The shoes are already huge in the street style star crowd and are slowly making their way onto the feet of editors and bloggers. Whenever an item reaches this type of status, knockoffs come soon after. Hence, Zara's take on the edgy designer ballet flats. While there are slight differences in the design (like the gingham laces and leather buckle strap), they're pretty much the same idea. Can you tell which lace-up ballet flats cost $560 more than the other? Click below to find out! Did you guess correctly? Which pair do you like better? Let us know in the comments below! Test your fashion savvy some more with crop flare jeans and ghillie sandals
J.Crew Changed The Cece Ballet Flat & Customers Are Not Happy About It
J.Crew made a huge mistake and customers aren't taking it lightly. Before 2014, the preppy retailer was at the top of its game, producing women's clothing in bright colors with flattering silhouettes, and focusing on keeping the shoppers happy. Fast forward a year or so later, and J.Crew seems to have lost its magic touch. Gone are the timeless designs and, most importantly, the must-have ballet flat: Cece. J.Crew not only muddled with its classic women's clothing, but also the acclaimed, customer favorite Cece ballet flat. Cece flats were made in Italy with buttery soft leather, and customers absolutely swore by them. However, after being discontinued in 2014 and then brought back, the ballet flats are now made in America and aren't as good of quality. One customer review noted, "These aren't the same as the old (pre-2014) Cece flats. The leather is lower quality: not as buttery soft as before and stretches out too easily." J.Crew's CEO Mickey Drexler acknowledged the company's "missteps" in women's fashion. He says, "An iPhone looks like an iPhone. And I don't think J.Crew women's looked like J.Crew women's as much as it could have, nor do I think that we marketed it and messaged it as well as we could have." J.Crew noted the style problems and its design team is already hard at work "bringing back more color and refocusing on cool, classic clothes." Hopefully they bring back the old Cece, too! Don't miss 11 celebs in great shape on the cover of fitness magazines and order this Beyoncé-designed shirt to support kids in Haiti! [Photo: Flickr]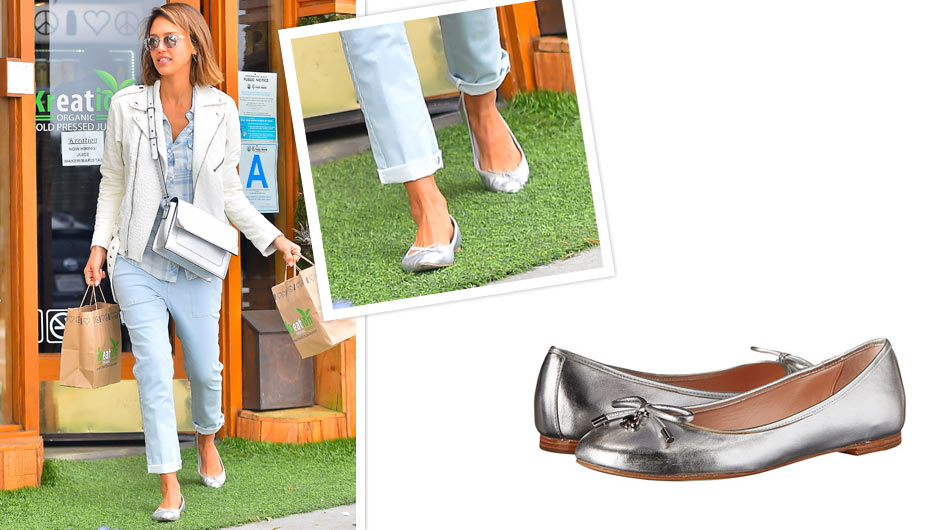 Jessica Alba's Wear-With-Anything Metallic Ballet Flats Are Super Affordable
Spring is in the air which means flowers and ballet flats are popping up everywhere. But how to pick among the onslaught of great flats? Let Jessica Alba show you the way. The Honest businesswoman wore Kate Spade's Willa Silver Metallic Flats ($198) while stocking up on juices in L.A. Did we mention her versatile Kate Spade flats are under $200 which means you could splurge and get them in a  few colors (the preppy pink is gorge).  Shop below and let those boot-stifled feet breathe! Kate Spade New York Willa Silver Metallic Flats ($198) Check out Blake Lively's market tote, Alessandra Ambrosio's overall shorts, and Kendall Jenner's army jumpsuit. [Photo: Splash News]
43 Ways To Dress Like A Ballerina This Spring: Tulle Skirts, Wrap Tops, More
Good news for anyone that's been feeling nostalgic about their childhood dance classes—spring is giving you an excuse to dress like a ballerina. That means you can wear pale pinks and grey tones, ballet flats, gauzy tulle, parachute silks and even leotards again. Back in September, designer Tomas Maier of Bottega Veneta sent models down the runway in tap shorts, cropped knit wrap tops, and one very incredible pale pink cashmere wrap coat—but it doesn't end there. Stella McCartney's spring collection is chock full of parachute silks and fluid ruffles, and the designers at Tome used a ton of blushy taffeta and pink sateen. The bottom line here is that it's now completely acceptable to leave the house looking like your headed to a ballet barre class even though you're really just going to Trader Joe's. In fact, it's encouraged. So take advantage while it lasts, and enjoy wearing slouchy grey cardigans with pale silk camis, or flowy tulle skirts with bodysuits—there's no better time to do it. For more trends, check out: open toe & heel booties, fur hats and wide leg pants [Photos: Imaxtree]
Printed Flats Are Your Best Bet For This Crappy In-Between Weather
Spring is such a tease. It gives you short bursts of idyllic summer weather, then reverts to rainy coldness just as quickly. And don't get me started on the footwear issues; you don't want to wear your suede booties anymore, but open-toes just seem inappropriate. This is where ballet flats come in. They're closed-toe, yet appropriate for warm-weather; they're lightweight, yet work for chillier days, too; and they're classic so it's a guilt-free purchase (aka, you can wear them for seasons to come). And since we already know that prints are having quite the moment this season, why not opt for printed ballet flats? We have some super fly choices -- tribal, colorblock, textured and more. Wear them (as always) with your favorite skinny jeans (ballet flats and skinny jeans go together like peanut butter and jelly - fashion rule #14). Flat out awesome. Don't forget to shop our guides to big shirts (vogue approved), absolute worst things fashion wise, and our killer sales and deals!
Thanks To Dior, We Can All Pretend To Be Ballerinas Again
We're fairly obsessed with Karlie Kloss (but you knew that already). And when she closed out Dior's ballet-themed F/W 2012 show this week in a floor-length tutu dress, we gasped, swooned, and immediately got to clicking to find some similar styles to wear this spring. The result was a total ballet class flashback — after all, is there any girl who didn't have a ballet phase, however brief? There are tutus, tights, and ballet flats galore in our slideshow up above; snatch some up to channel Kloss's signature grace for the upcoming season. Shop our guides to the best patterned stockings and tights, A-line skirts, and flats.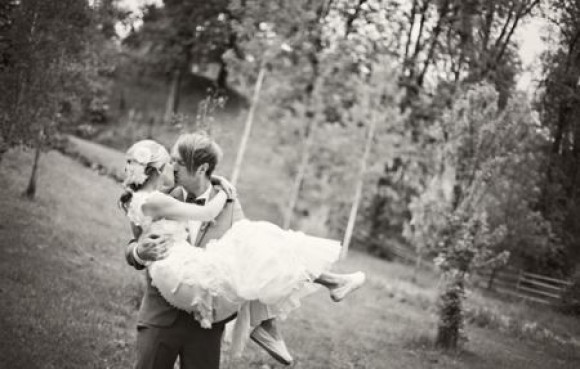 Even More Bride-Friendly TOMS Styles Just Hit: Ballet Flats, Crochet In More Colors, Etc.
Last month, we gave you the skinny on these totally adorable crochet TOMS (which are now available in aqua and coral, btw). If you balk at the idea of wearing traditional TOMS to a wedding, you might be interested to know that TOMS is now offering a dressier new option: ballet flats! (more…)
TOMS Ballet Flats Are Here! Shop The Leopard, Tribal & Burlap Slip-Ons Now
TOMS ballet flats are here! We just stayed up way past our bedtime to grab you these images of the latest TOMS styles, which just launched at the stroke of midnight (bunny bunny, by the way). Yep, that's right, we deprived ourselves of sleep so that you could see the these pretty printed, leopard, tribal and cotton-canvas slip-ons. You're welcome! (more…)

Can You Tell Which Crystal-Bow Flats Are Tory Burch And Cost $150 More?
(more…)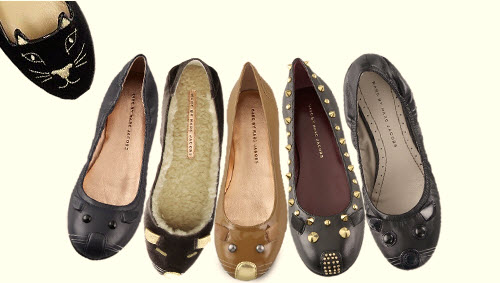 Marc Jacobs And Charlotte Olympia Play A Game Of Cat & Mouse With These Cheeky Ballet Flats
When the cat is away, the mice will play... Ballet flats just got a whole lot more fun, and it's all because of Marc Jacobs and his sense of humor. We're been seeing these cat and mouse ballet flats everywhere lately. Yep, on the streets: they're not just relegated to the living room. Why not get a pair for yourself? Every time you look down, they're guaranteed to put a smile on your face. If you are a cat lady yourself, though, you might not want to leave these around your feline friends. Don't say we didn't warn you. (more…)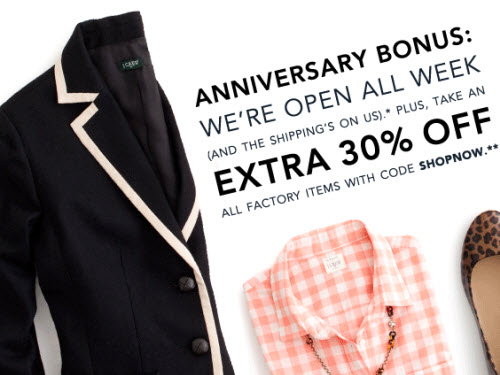 Happy Birthday, J.Crew Factory Online! Celebrate By Shopping The Crazy-Good Sale All Week
Last year, we discovered the J.Crew Factory online store, which was a game-changer. Going live every Friday-Sunday, we've spent a year getting really amazing deals without having to travel to an annoying Outlet complex. But it gets MUCH better... (more…)
TOMS To Launch Ballet Flats Because Of Customer Demand For "Less Casual Looks"
TOMS forthcoming collection of ballet flats TOMS has come a long way since their first espadrille style came on the scene almost six years ago. Since then, the Santa Monica-based brand has unveiled wedge and bootie styles, as has collaborated with Mary Kate and Ashley Olsen's brand, The Row, on a higher-end line for Fall (featured below). Now, TOMS is designing a classic ballet flat for Spring 2012, incorporating many of the motifs that already exist in TOMS slip-ons. (more…)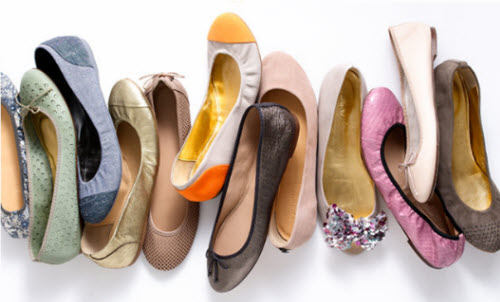 Cap Toe Ballet Flats: The Perfect Fall Shoes For Commitment Phobes
Summer's coming to a close...and so are your shoes. Yay, no more pedicures for awhile! Good for you, bad news for your lonely Ped-Egg. Cover up your gnarly toes with a chic pair of ballet flats. The flavor of the month is cap toe ballet flats. Want to know why? (more…)
Take A Cue From Kate Moss: Your Bridal Party Can Look Like A Bunch Of Child Models, Too
Kate Moss' adorable entourage of flower girls almost stole her wedding day thunder (though technically, female attendants to the bride are considered "bridesmaids" at any age in the UK...but we say pish posh). We SO prefer these chic little maids to Kate Middleton's. You can emulate their ethereal wedding look by keeping it sleek n' simple. Here's how to keep your flower girls looking more couture than creampuff... (more…)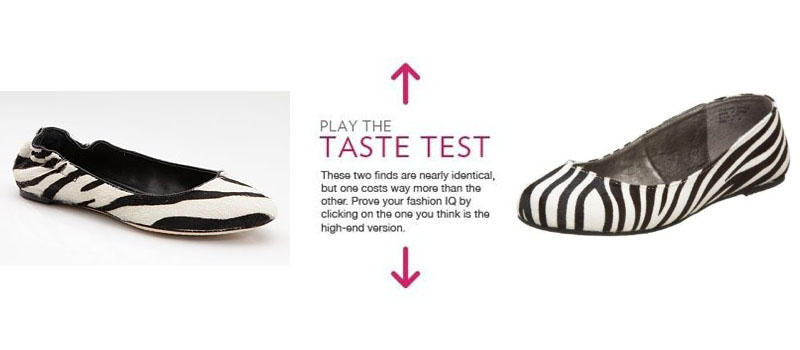 Can You Find Which Zebra Flats Cost $140 More Than The Others?
Test your fashion IQ with more of our favorite Taste Tests. Sign up for our fashion e-newsletter.
Channel Nicole Richie In Her Line Of House of Harlow 1960 Sunglasses
Cat eye sunglasses are sure to be everywhere this spring, but we have to admit we've already picked a favorite: the oversized House of Harlow 1960 Chelsea Cat Eye Sunglasses that their designer, Nicole Richie, wears everywhere. She's a pretty good advertisement for them, no? (more…)
Get Natalie Portman's Black Swan Style Without Creepily Turning Into One
Natalie Portman's standout role in Black Swan left us swooning for all things ballerina-inspired. From body suits to ballet flats, this is one trend we hope takes off as much as the movie has. Here are our picks for wearable ballet styles that won't make you look like the understudy: Haute Hippie's Tulle Ballerina Skirt ($395) is one part sugary sweet, one part rocker tough. It features unfinished edges in each asymmetrical, ruffled tier. Marc Jacobs gives the classic leather ballet flat a funky edge. These patent leather Logo Plaque Ballet Flats ($195) are ornamented sweetly with the MJ signature logo. Keep those legs limber and in style, with these Qi's Willow Cashmere Leg Warmers ($77). You can even pair Donna Karan's Black Draped Jersey Bodysuit ($750) with jeans for a long torsoed-ballerina look. For a night out? Opt for a jersey skirt and classic black or beige pumps to accentuate that long silhouette. For a more delicate look, we love Thayer's Dance Skirt ($136.50, down from $195). This satin mauve mini is enrobed in a pleated tulle overlay. Don't forget to layer an American Apparel Cotton Spandex Jersey Bodysuit ($24) under sheer tops and bottoms. This form-fitting spaghetti strap tank is as versatile as it is functional. Do ballerina chic right with a BCBG Cropped Wrap Sweater ($52.80, down from $88). This bodycon V-neck cardigan creates a relaxed yet graceful effect. Live your ballerina dream every day. Check out more leggings, ballet flats and A-line skirts in our shopping guides.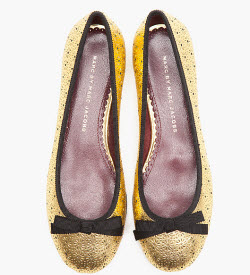 Pretty Shiny Things On Sale: Marc by Marc Jacobs Gold Flats Are 40% Off
New Years is over, but 2011 is still paved in gold: that is, metallics are more on-trend than ever. Pair these Marc by Marc Jacobs Love Gold flats ($165, from $275 with code ACTNOW) with black tights and a cute skirt, or a pair of black pants and you've got yourself two instantly cute looks. Wear 'em with skinny jeans come spring, too--they're seriously versatile, and 40% off. Here's to a new year filled with lots of sales and deals. Follow the author of this post on [email protected] Check out all of this week's online sample sales, leopard print shoes, pumps and little black dresses.
Sexy Alaia Party Shoes Are A Whopping 60% Off At The Outnet
Dubbed "The King of Cling," Azzedine Alaia became famous in the '80s for his revolutionary body con dresses and is the last word on sexy party shoes. (Remember when Cher from Clueless got mugged and shrieked, "But I'm wearing Alaia?!") Even Michelle Obama and Victoria Beckham have donned his designs. Get yourself a pair of his shoes for 60% off today: Alaia suede peep-toe pumps ($364.50, from $810) are easy to slip on, and have a sexy ruching near the toe. How sexy are these fun black Alaia fringed suede sandals ($319.50, from $710)? Shoes just want to have fun--let these Alaia cross-over patent leather sandals (with straps galore) be the life of the party ($295, from $590). Not so into the heels? Try these Alaia satin ballet flats ($282.50, from $565). Check out all of our sales and deals, more party shoes, plus kitten heels, oxfords and clogs. Don't forget to peruse our calendar of online sample sales, and all of our best find of the day picks, too.
Fall 2010 Report: How To Pull Off Leopard (All The Cool Kids Are Doing It)
Leopard is huge this fall (trust your animal instincts on this one) from leopard print shoes to leopard jackets. Everyone from celebs Rachel Bilson and Whitney Port, to designers like Rebecca Taylor have embraced the trend, and so should you. But before you go digging up the leopard stoles and boldly-printed bags, take a breather and give the trend some thought. You don't want to look like a cougar, afterall. With these 5, fail-safe 2010 leopard pieces you won't: Leopard scarf: A scarf is the easiest way to incorporate a pattern into your wardrobe. Pair this Gap leopard Scarf ($29.50) with a black top or blazer for an understated way to wear the trend. Leopard ballet flats: A leopard flat is an eternally chic basic. These French Sole Leopard Suede flats ($100) are well-priced; pair them with dark skinny jeans and a crisp white Oxford button down. Thin leopard belt: For another touch of leopard, go with a skinny waist belt like this J.Crew Leopard patent belt ($39.50). Wrap it around your neutral cardigans to instantly make any outfit chic. Leopard shift dress: Not only is this Lauren by Ralph Lauren Leopard Print Sleeveless dress ($107, down from $134) perfect for work, happy hour, first dates and beyond - but its also marked down. Leopard cuff: If you're still hesitant about leopard clothing - get a dose of the hot pattern in jewelry form. This Kenneth Jay Lane Leopard Head Bracelet ($198) is so one of a kind - you will get lots of compliments. Trust us. Follow the author of this post on Twitter @bridefinds.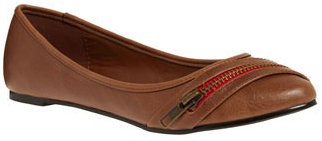 Zipper Flats: Why Limit Zipping To Hoodies And Jeans?
It's no question that ballet flats are the ultimate season-transition shoe. And we all know earthy tones, suede, and leather are perfect for fall. But right now, we are obsessing over zippers. They're edgy yet sexy, so why not have them on your shoes? We rounded up the web for the 5 best pairs of zipper flats - the hardest part is deciding which to buy. Honestly, I can't type my credit card number in fast enough for these ModCloth Time Zone Flats ($29.99). The exposed red zipper coordinates with the brown, looking perfect poking out of bootcut jeans. These Marc by Marc Jacob Zipper Flats ($230) scream go-to shoe. Whether you're crushing leaves in the fall or wearing them with black tights in the winter, they need to be a part of your wardrobe. A great way to ease into this rocker-like zipper trend is with these J. Crew Back-Zip Ballet Flats ($128). Available in 6 colors, these delicate shoes compliment any type of skinny jeans. With a more noticeable zipper the Steve Madden Pipperr Flats ($69.95) can substitute a pair of heels for a night out. Plus, this purple color is so popular, you'll want to wear them everyday. A broken zipper up the middle shows that these ruched shoes mean business. So turn a few heads with every step you take in Wanted's Unzip Ballet Flat ($59.99). Make sure you know all of this fall's hottest trends. Shop our guides to the best flats and the best shoes to walk in. Join our e-mail list for exclusive fashion updates.
Forget The Costly Pedicure: These Ballet Flats Are All Under $100
Pedicure season is drawing to an end...so use that money wisely, and invest in a pair of ballet flats you'll wear throughout fall. All of these flats from the Bloomingdale's sale are under $100. What are you waiting for? Take your pick before they're gone: Calvin Klein "Pixie" pointed toe flats ($65.40, from $109); Boutique 9 "Anne" ballet flats ($44.99, from $59.99) Kors Michael Kors Olympia ballet flats ($91.87, from $175); Elie Tahari Regina flats ($71.28, from $198) More sales and deals: Get $200 worth of Joe's Jeans for $100 at Bloomspot Take advantage of The Outnet's 85% off clearance sale on designer items See all of the best sales and deals from around the web, and check out the best fitting jeans, little black dresses and clogs to add to your fall wardrobe.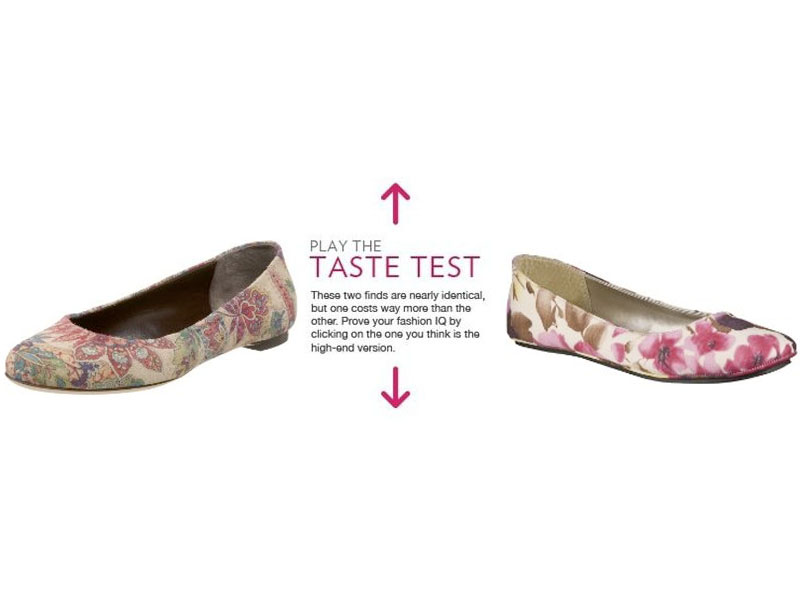 Can You Spot Which Printed Ballet Flats Cost $50 Less Than The Other?
Keep guessing with all of our Taste Tests. Shop our guides to the best flats and the best cheap shoes. Subscribe now for exclusive SHEFinds e-mails.
Sandal Season Is Almost Over: Swap Your Favorite Pair For Some New Fall Flats
As summer comes to an end, it's almost time to toss those flip flops back into the closet and don something more, well, shoe-like. But it's tough to know what to wear when sandals don't seem right, and boots don't either. That's where flats come in. Here are the best ways to ween yourself off your favorite flip flops and, trust us, your feet will thank you. What you're wearing now: Havaianas flip flops No need to explain why Havaianas ($19.95) remain popular year-after-year: these flip flops mold to your feet and make it feel like you're walking on air. This ultra thin strap style is a favorite. What to buy for fall instead: Gold ballet flats These cushiony Marc Jacobs ballet flats ($208) will ease you into fall. Like Havaianas, these babies slip on easily and the gold color will look great on (what's left of) tanned feet. And-bonus!- they'll barely take up spacee when you throw them in your bag. What you're wearing now: Black studded sandals Rock-star studded sandals were all over city streets this season, like this Steve Madden Destinee pair ($50). What to buy for fall instead: Black rhinestone studded flats You won't miss your blinged-out sandals this fall with a pair of metallic suede Juicy Couture Alex Metallic Suede flats ($225) that are covered with rhinestone studs. They're sure to be a big hit with the fashion (and celeb) set. What you're wearing now: A classic leather sandal If your leather sandal of choice is the preppy Jack Rogers sandals ($96) you know how these classic slip-ons go with everything from a cocktail dress to cropped white jeans. What to buy for fall instead: A preppy boat shoe For fall, go for these equally preppy and equally classic Sperry Top-Siders ($75). Though they never really go out of style, these boating shoes have made a big comeback (you can thank J.Crew for that). Pair them with a plaid shirt for the weekend, or dark skinnies for the office. Looking for even more shoe options? Check out our guides the best booties, flat boots, and oxfords.
Molly Sims Wants To Make Over Britney Spears — We Jump At The Chance
Molly Sims told Health magazine this month that her celebrity-makeover wish would be cut-off queen Britney Spears (and we couldn't agree more). "I would take away the boots, the tank tops," the ex-model told the mag. "She's so pretty-she just needs help with dressing. She gets too many trends going at once." We're not one to shy away from a red carpet re-do opportunity, so we've taken the liberty of applying Molly's tips to the pop star's troubled wardrobe: Ditch: The Uggs Buy: Ballet Flats Britney needs to ditch the furry footwear and opt for an equally comfortable, but infinitely more chic pair of flats like these Corso Como "Farran" Studded Suede Ballet flats ($69.30, down from $99). The studding detail makes the sweet pair edgy. Ditch: The Cut-Offs Buy: Tailored Shorts We know Britney love Juicy's sweat suits, but how about their tailored Waist Tie shorts ($98)? We would love to see her swap the 1/2 long cut-offs for this polished pair. Ditch: The Tanks (And Visible Bras) Buy: Feminine Tops Poor Brit needs to ditch the too-tight tank tops and opt for a more feminine, refined top like this Quotation Johnny Was Eyelet-Trimmed Floral Silk top ($168) which is highly rated by customers on Bloomingdales. For more tips on how not to have a red carpet re-do moment, check out our guides to the best tees for your shape, shorts for your shape and celebrity sunglasses.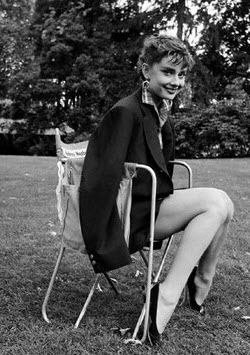 Best Find Of The Day: Audrey Hepburn Would Approve Of Her Namesake Mia Flats
Always ahead of the fashion game, Audrey Hepburn made flats chic. Check out the boyfriend blazer she was rocking way before it became trendy. No wonder these perfect black flats, below, were named for the famous fashion icon: These Mia Hepburn flats ($71) are made of soft leather and elongate your foot, making your legs look slimmer. It's hard to find the right black flats. These are comfortable and sleek. And if black isn't your thing they come in tons of other colors, too, from creme and grey to purple and blue. Check out our favorite comfortable heels, plus find out why Jackie O's favorite flats are worth the splurge and get more inspiration from our celebrity style watch and best find of the day posts.
Taste Test: Which Black Floral Flats Will Help Your Savings Account Bloom?
Are you a master at spotting a bargain? Test your skills more in our Taste Test games, then go see other chic flat shoes, and the best skinny jeans you can wear with them.
Best Find Of The Day: Tory Burch Jellies
We're flat-out obsessed with these Tory Burch Jelly Reva flats--a mixture of our favorite classic ballets and our beloved childhood jellies. In magenta, turquoise and black,  for under $100, they're more affordable than the leather version of these classic shoes, and a whole lot more fun. They're waterproof, too, so stock up for a rainy day or two. We love these shoes to commute in, or just to mix up your wardrobe. See more fabulous flats, our guide to ultra chic rain boots is saturated in style--plus, see our roundup of the best rain gear so cute you'll be happy to see the storms coming.
Best Find Of The Day: The Comfiest Flannel Shirt
The '90s are back in a big way--and what better to icon to channel than legendary rocker Kurt Cobain? His laid-back tunes and uniform inspired an entire generation to embrace flannel. But as every fashion reinvention goes, there's gotta be a twist this time around. This one's more feminine than the '90s boxy styles, super soft, and under $40. It'll fit over a larger bust without making you appear boxy, and the extra inch or two of length creates a super-slimming effect. Snap up a whole bunch of them--they come in 12 colors. Pair it with denim and some killer high booties for a night out, or swap the heels for oxfords on the weekend. Add a girly touch with a simple gold chain. Check out our guide to plaid tops, plus skinny jeans, and booties to create a look.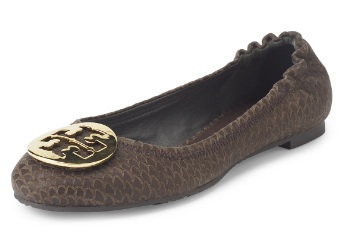 Deal Of The Day: 40% Off Tory Burch's Signature Reva Flats
Tory Burch's iconic Reva flats don't go on sale too often, so we're super excited about the selection and breadth of available sizes right now on ToryBurch.com. The python print on these suede flats ($141, from $235) adds a richness we love for both winter and fall. These solid suede flats ($117, from $195) are gorgeous in purple, but also come in navy, hunter, and basic black. A classic, no-nonsense leather flat ($117, from $195), with Tory's signature hardware and elasticized heel. More sales and deals: Ann Taylor LOFT: Save 25% with coupon code SAVE25 Express: Up to 70% off apparel Baghaus: 10% off your order with coupon code Newbag See more sales and deals, plus check our our calendar of online sample sales, and sign up for our newsletter so you don't miss a thing.
Fashion Math: Is $195 for a Pair of Flats Just Flat Out Crazy?
Tory Burch's Reva flats epitomize what we're looking for in the perfect pair of flat shoes-they're comfortable, yet super chic and you can wear them with just about everything. Sadly, the price tag isn't as perfect. At $195, you could buy  four dresses from the new Rodarte for Target collection for the price of one pair of these shoes. How can you possibly justify that? Let's do the Fashion Math: Wear these classic, seasonless flats every day on your commute to work, they will have only cost you 78 cents each time you wore them--less than a cup of coffee at McDonalds. Check out more great flats, and heels just for kicks, in our buying guides.
Fashion Week Editor's Pick: The Fashion-Biz Suit
Wandering around Bryant Park this week – and actually, anywhere fashion-related as fall approaches – one notices the distinct absence of women in suits. Fashion women don't wear suits. That doesn't mean, however, that they don't have a work uniform. Basically, the formula for looking professional-yet-fashion-y is skinny pants, a blousy tank or tee, and a blazer. I watched the Charlotte Ronson and Monarchy shows from the American Express skybox, where both Kate Nobelius, co-founder of Billion Dollar Babes, and AmEx rep Ashley Chapman were both sporting the look. Kate, who was outfitted by Bergdorf Goodman all week, is wearing a fabulous outfit with an equally fabulous price tag (albeit in different colors, but we like both combinations): Her beaded top ($975) is by 3.1 Phillip Lim, and those Helmut Lang pants ($875) are made of leather. The jacket ($625) is also Phillip Lim. The pieces are gorgeous, but I think I'd be afraid to wear them all at once. To get the look for under $300, pair a Banana Republic blazer ($198 – and wearable with everything in your closet) with a pair of Gap's new Always Skinny jeans in charcoal ($50), and a sweet ruffled tank ($32) underneath for that signature soft-under-structured look. And for further options, be sure to peruse our guides to the best blazers, skinny jeans, and evening tops for jeans.