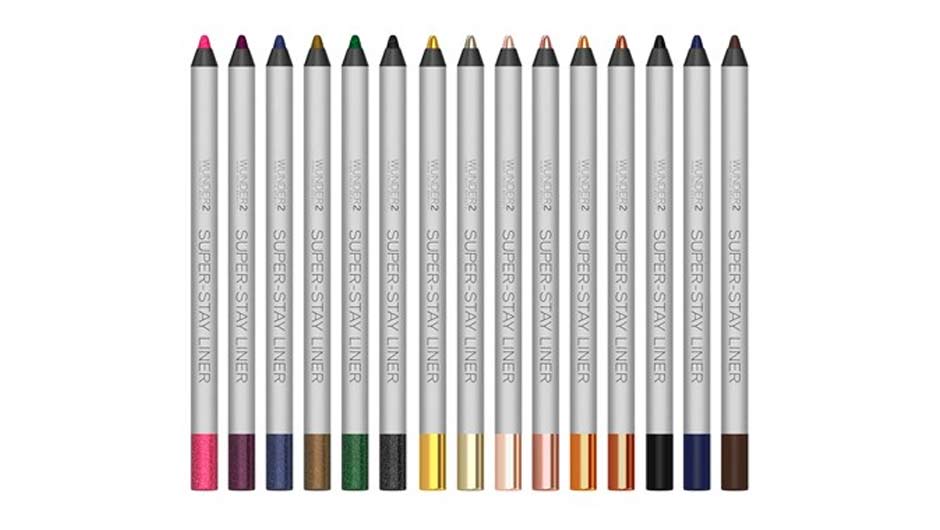 Beauty Products Our Editors Are Obsessed With–And You Will Be, Too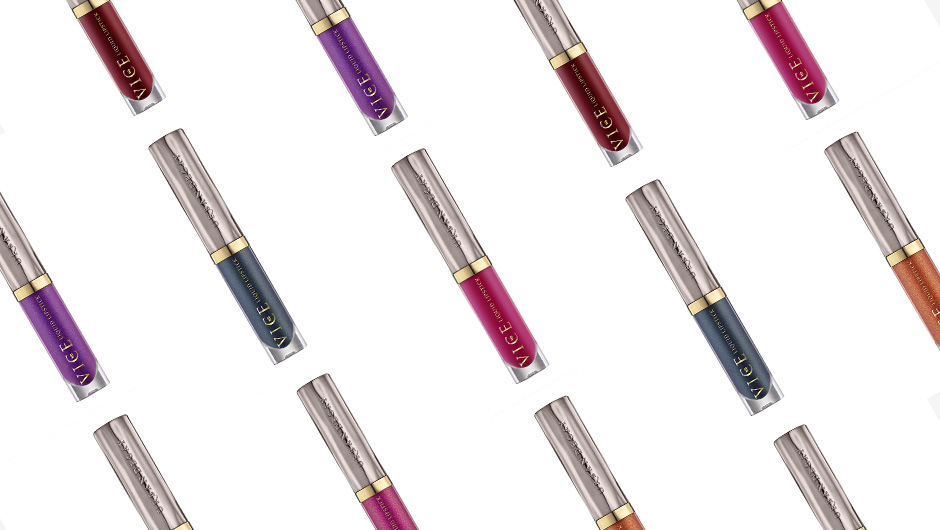 Urban Decay Just Dropped Vice Liquid Lipstick In 30 Shades (Everybody Freak Out!)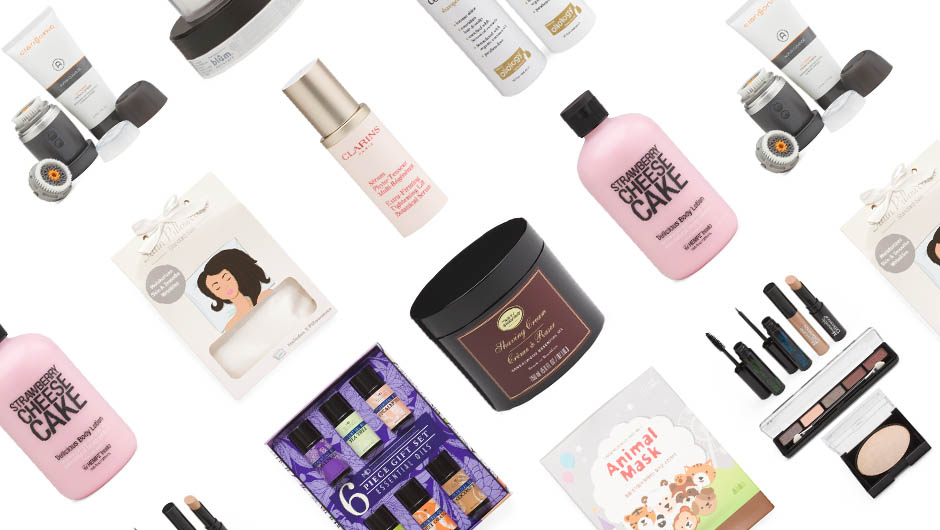 Everybody Freak Out: TJMaxx Now Sells Beauty Online!
11 Bestselling Beauty Products You Can Buy At Anthropologie
9 Products Every Diehard Urban Decay Fan Should Own
This Foundation Has Over 1,800 5-Star Reviews On QVC
We're obsessed with all things cult-beauty at SHEfinds, and our friends at QVC just tipped us off to another really good one: a foundation they can barely keep in stock! The IT Cosmetics Anti-Aging Celebration Foundation with Brush ($43) has sold more than 2.3M units and received over 1,800 five star reviews on QVC.com. Yes, seriously! IT Cosmetics Anti-Aging Celebration Foundation with Brush ($43) The full-coverage, antiaging foundation is also really well priced and comes in five different shades. Comments on the site range from "The Brush is Fabulous!!" to "This foundation offers great coverage with a nice smooth finish" and "The finish is very natural, yet covers pores, and fine lines." We can't imagine that 2.3M women could be *wrong* about something. TRY IT FOR YOURSELF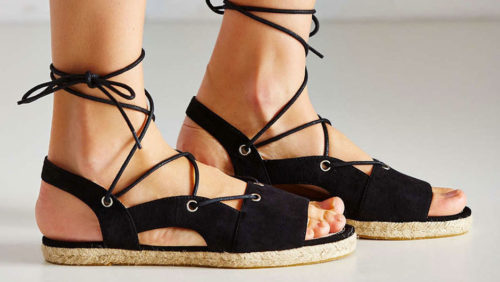 Sorry To Your Wallet: All Urban Outfitters Sandals Are On Sale For $25
Amazon Reviewers Are Obsessing Over This Gorgeous $10 Holographic Nail Polish
When it comes to our manis, we're all about "go big or go home." While we can't exactly sport glittery eyeliner for our 9-to-5, experimenting with crazy nail colors and finishes is a lot more acceptable. Glitters? Metallics? Nail art? Bring it on - so when we found this holographic nail polish on Amazon, we were instantly obsessed. ILNP's holographic shade Mega ($10) is pretty much everything we've ever hoped for in a statement nail shade. The polish contains the highest quality of holographic pigment available, resulting in a super cool rainbow effect when light hits your nails. We weren't sure it could live up to the hype, but according to 60 Amazon reviewers, it totally does. The polish has an average of 4.7 out of 5 stars and 46 5-star reviews. According to one reviewer, she found the formula to be even higher quality than brands like Dior or Estee Lauder. Another described the nail polish's effect as, "A little bit of light and this stuff will blind you!" Bottom line? This is not your average cheap sparkly nail polish. With such a great formula, we'll definitely be looking into ILNP's other polish offerings - this one is seriously game-changing. ILNP MEGA 100% PURE HOLOGRAPHIC NAIL POLISH ($10) Don't miss: The Kylie Lip Kit You Should Buy, Based On Your Sign and How To Get Lipstick Stains Off Clothing [Photo: Amazon]
This $5 Quick-Drying Top Coat Has Over 3,000 5-Star Reviews On Amazon
I basically can't live without polished nails, but I'm also probably the most impatient person you'll ever meet. As you'd imagine, those two traits don't exactly work well together. Sitting still and waiting for a full hour or so for my nails to dry? It's just not going to happen - and I've definitely ruined a fresh mani (or 10) because of my impatience. However, this quick-drying top coat just might be the solution to my DIY manicure woes. The Seche Vite Dry Fast Top Coat ($4.74) is a proven Amazon cult-favorite - as in, it's the website's #1 best seller in the nail category, and it has over 3,000 five-star reviews. As far as top-rated products go, it really doesn't get any better than that. The top coat is specially formulated to make polish stay chip-free, even on oily nails. Not only that, but it's quick-drying too - and according to reviewers, it's not just the kind of "dry" where you're still at risk for nicks and chips like with many other "quick-drying" top coats. (One former OPI devotee even said that this polish won her over after using an OPI top coat for years - it's that good.) With so many rave reviews, it looks like this is something I'll need to add to my Amazon cart very soon - and for only $5, seriously, why wouldn't I? SECHE VITE DRY FAST TOP COAT ($4.74) For more beauty finds, check out: 6 Ways To Waterproof Makeup That's Not Waterproof and 8 Cult-Favorite Eyebrow Products You Need To Try At Least Once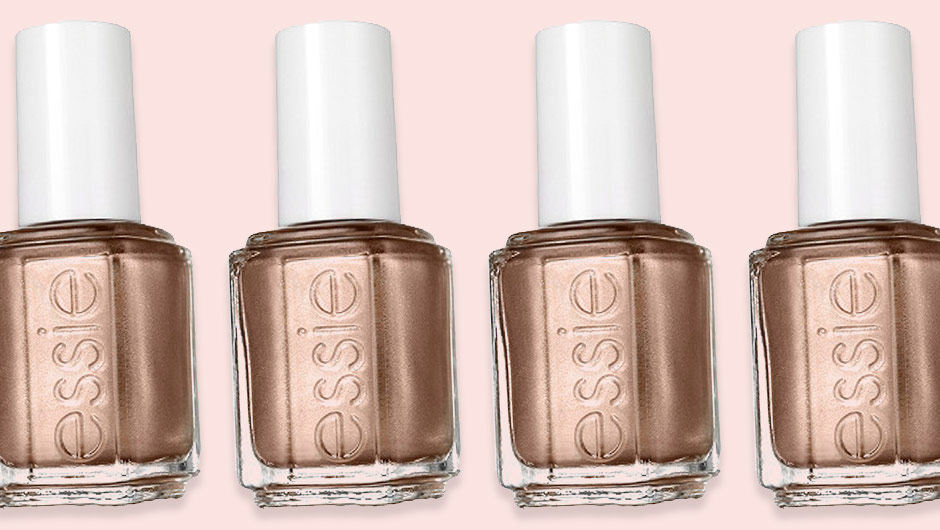 Essie's Rose Gold Nail Polish Is The Best One Out There, Hands Down
If you're anything like me, you're loving the major moment rose gold is having right now. As someone with a closet full of neutrals, it's unusual for me to fall in love with color in any way, shape or form (unless it's some variation of black, white, nude or gray), but rose gold is the exception. I won't lie: I even own a pair of sneakers in the rose-y bronze hue to add a bit of shine to my all-black outfits. The obsession is real. So basically, it was no wonder that when I found out Essie created a true rose gold nail polish shade, called "Penny Talk," I knew instantly that I had to have it. While I don't wear tons of jewelry, Penny Talk is basically tiny little pieces of rose gold jewelry for your fingertips. Unlike other brands that have attempted rose gold, the shade doesn't lean too copper-y or bronze-y, and is metallic while being completely glitter-free - resulting in just the right amount of shimmer and sparkle. Not to mention it's probably gotten me more compliments than all of my other nail colors combined! You can pick a bottle of Penny Talk ($9) up at Amazon and become equally obsessed - trust me, if you add one nail polish to your collection, it should be this. ESSIE NAIL COLOR IN PENNY TALK ($9) Don't miss: The Internet Is Freaking Out Over This $10 Mirror Nail Polish and How To Get A Better Body While You Sleep [Photo: Ulta]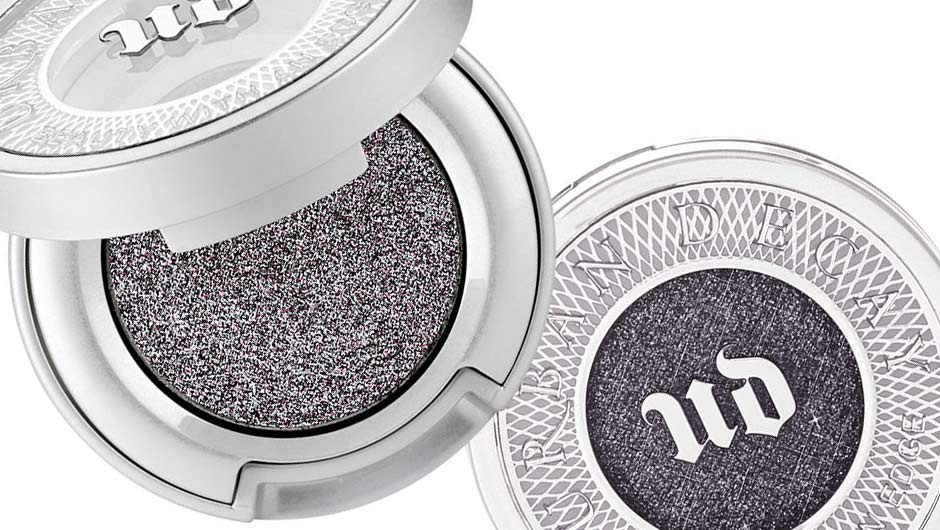 Urban Decay's Moondust Eyeshadow Has Over 621 5-Star Reviews Online
In terms of having the most blockbusters, Urban Decay just might hold the record--at least in the beauty category. They've sold out countless products (like this and this and this) and continue to make makeup that excites and thrills beauty junkies who've arguably "seen it all." Not to mention that their eyeliners sell every 10 seconds. If you don't know about their cult Moondust glitter eyeshadows--you need to get with the program. They have over 200 5-star ratings on the Urban Decay site and 421 5-star ratings on Sephora, for a total of 621 perfect reviews between just those two sites: Urban Decay Moondust Eyeshadow ($21) in Moonspoon. Also available at Sephora. "The best glitter eyeshadow ever!!!" one commenter writes. "They are beautiful, creamy, pigmented and wear long as well," says another. "The amount of glitter that is in them is phenomenal." The shadows are also described as "super pigmented," "long lasting" and "the only eyeshadow I will use." Well, there you have it folks! And now, they've just launched a palette or Moondust eyeshadows that is sure to sell out like all the other Urban Decay palettes before it: Moondust Eyeshadow Palette ($49) How do they make products that literally *everyone* wants and enjoys using, I'm not exactly sure. But you'd better snag one of these palettes so you don't miss out! [Photo: Urban Decay]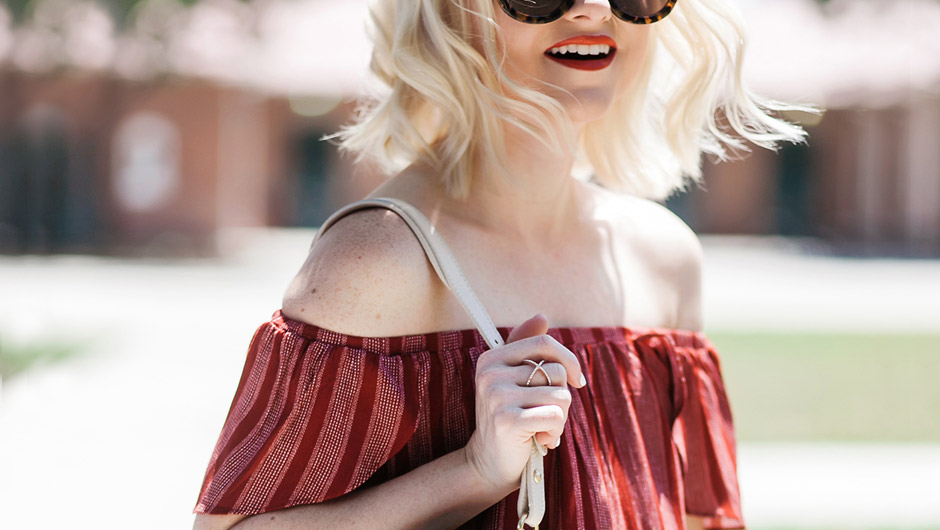 This Bra Wasn't Made For Off-The-Shoulder Tops–But It Might As Well Have Been
I just discovered what might be the *world's best strapless bra* (with this and this tied for second). The contest's pretty close--but here's why the Peyton bra from Yummie just pulled ahead: it is the best bra for off-the-shoulder tops (which is, of course, the top you want to wear most right now but have the hardest time finding a bra sitch for). I just discovered Peyton, and we became BFFs real quick. The style wasn't just designed for off-the-shoulder tops, but it's so, so good for them. It's bottom wire free, so it's incredibly comfy, and has no back or front closure so it's completely smooth and seamless under clothes. According to Yummie it is one of their bestselling bras: Yummie by Heather Thomson 'Peyton' Convertible Wireless Bra ($38) Also, it has "360 degrees of flexible all day support" designed to keep it from rolling, tugging or falling out of place throughout the day. Nice. The customer ratings on Nordstrom and Bloomingdale's websites are both good--most women talk about how comfortable it is in relation to other strapless bras. So, that's the low down on the Peyton--will you try it? [Photo: Poor Little It Girl]
The One Thing Millennial Moms Are Buying
I was on Pinterest late night (as I do) when I spotted these cool AF moms wearing matching leather backpacks while prancing around in the woods with their adorable AF babies: https://www.instagram.com/p/BCQTkhxQ4gR/?taken-by=fawndesign OMG #GOALS! I immediately decided I needed to move to Hawaii, make my daughter a floral crown--and buy one of those leather bags. It turns out they are actually diaper bags from a company called Fawn Design--and they are totally selling out like crazy with the "cool moms." https://www.instagram.com/p/BCPFsQ5h3kn/?taken-by=breehawaiii We spoke with Makenzie, half of the husband and wife team behind Fawn, about the success of the bag--which is currently only available in black and navy (the brown and gray are sold out). Black Fawn Design bag ($145.99) "Our bag is a best seller because there is nothing else like it out there! We wanted to create a stylish and functional diaper bag that didn't actually look like one. We feel we've done just that and people can't get enough!" Mission accomplished! https://www.instagram.com/p/BCRFa1BQ4jS/ So cool! So this is what millennial moms want--diaper bags that don't look like diaper bags that are totally Insta-worthy. That makes perfect sense. https://www.instagram.com/p/BDQkWmOQ4pP/ So--will you get one? https://www.instagram.com/p/BE6FGPpw4kc/ https://www.instagram.com/p/BEvyBNxQ4op/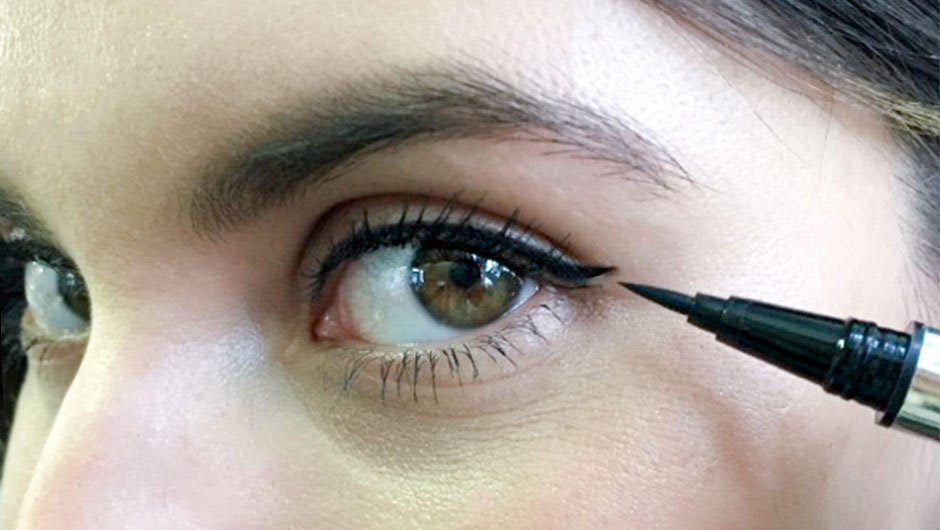 I Usually Prefer Gel Liners, But This Bare Minerals One Just Made Me A Liquid Convert
I've tried *many* liquid eyeliners over the years of working at SHEfinds (what good is a beauty closet if you can't raid it?). Usually I prefer gel liners over liquid ones because it's just easier to get a thin line with them--BUT Bare Mineral's Ink Liner just changed everything. I am now officially a card-carrying member of the liquid liner club. Why? The Bare Minerals one is easier to apply than any other liquid eyeliner that I've tried. It doesn't peel off and you are able to draw a very fine line with it. That's me (above) with an actual cat eye I created. BOOM! Get one: Bare Mineral Lash Domination Ink Liner ($19) https://www.instagram.com/p/BFC5vFSQLNr/?taken-by=bareminerals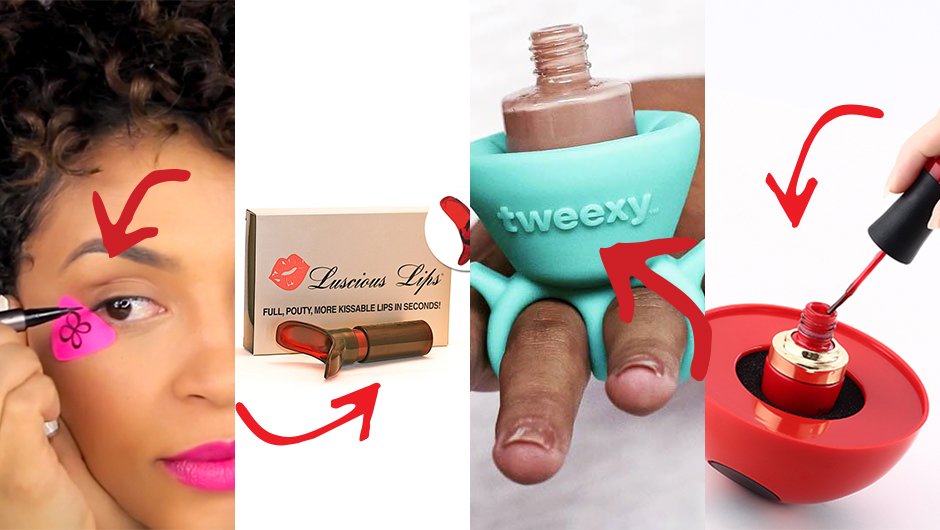 Beauty Tools You Didn't Know You Needed–But Totally Do!
Why Is This Lip Gloss In So Many Nail Selfies On Instagram?
Smith & Cult's nail lacquer has been featured in Vogue--but why is it their lip gloss that all the nail artists, MUAs and beauty bloggers are freaking out about? https://www.instagram.com/p/BEzGzHNFi0C/ I kept seeing their Smith & Cult The Shining Lip Lacquer ($22) on countless nail selfies, aka #naiflies, on Instagram from manicurists like Sarah Bland and Jessica Tong in NYC. Were they using it for their nails somehow?? Why is this lip gloss a go-to for the nail obsessed? https://www.instagram.com/p/BERoyY0Fi6q/ Upon digging a little deeper (and picking myself up one of said glosses at Birchbox in Her Name Bubbles), I realized that nail artists found the brand through their cult nail lacquer (it is seriously so good), and then became obsessed with the lip stuff after. https://www.instagram.com/p/BDoNl0Rliwl/ Why does everybody care about it? Well, the colors are punchy but still incredibly neutral and great for anytime of day. They are not sticky AT ALL--it's the smoothest lip gloss I have ever tried (I usually prefer lip balm, that's how anti-sticky lip gloss I am). https://www.instagram.com/p/BA5WULvli7C/ What's more is that Smith & Cult was started by the same chick (Dineh Mohajer) who started Hard Candy, so you know it's good. No wonder hardcore beauty junkies not to mention Vogue editors) love the stuff: https://www.instagram.com/p/BFAV6ihli53/?taken-by=smithandcult Smith & Cult The Shining Lip Lacquer ($22)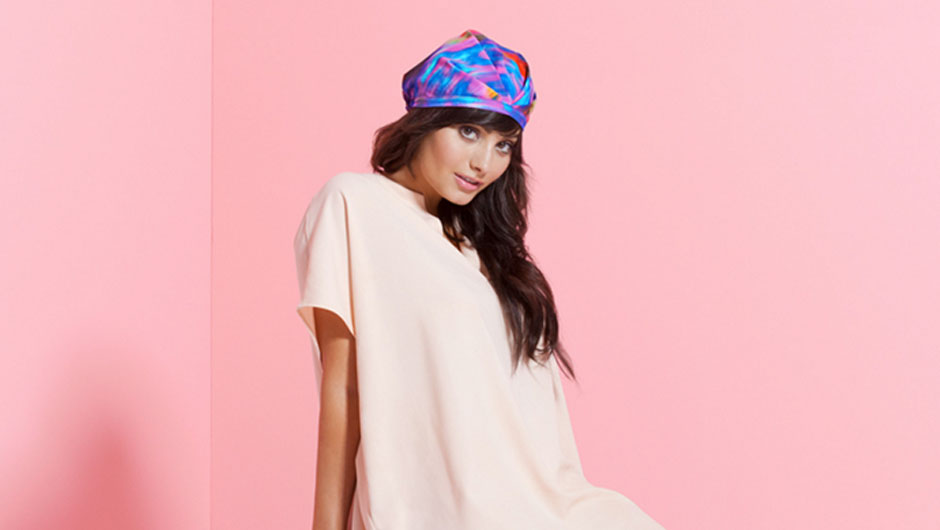 Everyone Is Flipping Out About This Shower Cap That's Actually Cute
Now that it's widely accepted/totally fine not to wash your hair every day, shower caps are kind of becoming a thing. But for those of us that don't prefer to look like a total granny (I mean no disrespect to the actual grannies out there!), even in the privacy of our own bathrooms, a cuter shower cap option was entirely necessary. That's why everyone is flipping out about the SHHHOWERCAP, which just looks like a pretty turban and comes in styles like the "The Yoncé" and "The Not Basic." Bethany Watson of Elvis Duran put it in her #WhatsTrending report this morning: https://twitter.com/RadioBethany/status/727130513987739649 Who would have thought there could be a shower cap cute enough that actresses like Abigail Spencer would even post selfies in it on Insta? https://www.instagram.com/p/BDLi7jVSDdl/?taken-by=shhhowercap Instead of looking like a regular plastic shower cap, aka something you wouldn't even want your boyfriend to see, the Shhhower Cap looks like a colorful turban you might even wear outside on a bad hair day. https://www.instagram.com/p/BEbpyOJSDaK/?taken-by=shhhowercap It's also a really cute idea for spa parties, bridal party getting ready photos, or any situation where you want to look *really cute* while getting pampered. https://www.instagram.com/p/BAFpcx-SDYe/?taken-by=shhhowercap Shop now: The Yonce ($43) The Posey ($43) The Laguna ($43) https://www.instagram.com/p/8vfXt7SDXB/?taken-by=shhhowercap https://www.instagram.com/p/BEOagoPSDTI/?taken-by=shhhowercap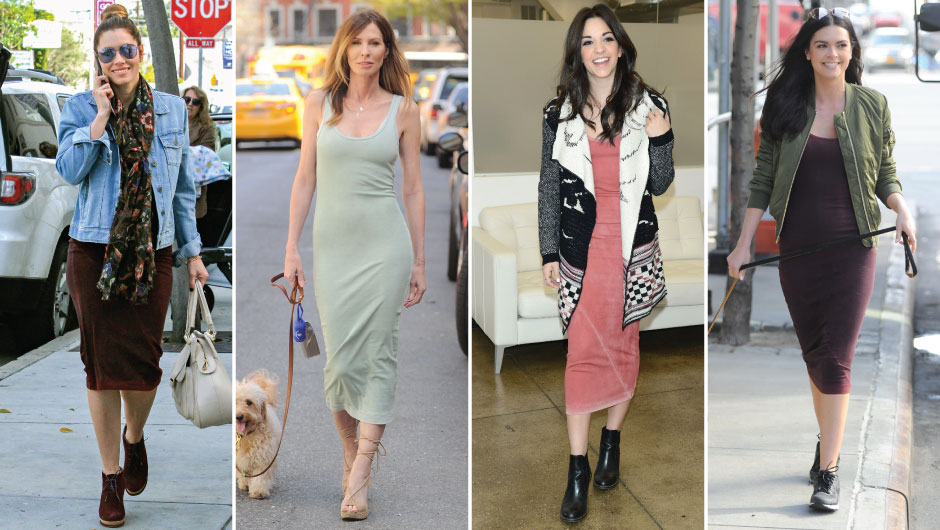 5 Celebs Have Already Worn This Tank Dress And It's Not Even Summer Yet
Last week we told you about the sandals that over 60 celebs have worn, and now we have a super simple tank dress that is almost as popular. This George Loves Ribbed Tank Dress ($155) has been worn by at least 5 celebs (by our count)--Jessica Biel, Jenna Dewan-Tatum (not pictured), Katie Lee Joel, Carole Radziwill and Ana Villafane. It's so basic yet so amazingly perfect--no wonder the celebs are obsessed. Style it with a jean jacket and scarf like Jessica Biel or just wear it alone on a hot summer day like Radzi: George Loves Ribbed Tank Dress in Dusty Rose ($155) George Loves Ribbed Tank Dress in Indigo ($127) George Loves Ribbed Tank Dress in Soft Black ($155) George Loves Ribbed Tank Dress in Blue Stripe ($185) [Photo: SplashNews and StarTracks]
There's A Reason Chinese Laundry Keeps Making These Booties
There's a reason why Chinese Laundry keeps making the Kelso: the "surprisingly versatile" shoe keeps selling like crazy! And the fact that bloggers like Erin Elizabeth of Style By The People' (pictured) are obsessed doesn't hurt either. It's just a great shoe! I just recently ordered a pair; I'm the queen of skinny jeans and I like how the shoe flashes just a little bit of ankle skin. I also have #goals of wearing them with a dress (like Erin Elizabeth). How would you wear them? Grab a pair, then check out some outfit inspo: Kelso Suede Ankle Bootie ($100)  https://www.instagram.com/p/BC8NqGJFTT_/ https://www.instagram.com/p/BCiig27FTRi/ https://www.instagram.com/p/BB3a2aeFTQD/ https://www.instagram.com/p/915RXvFTTv/ https://www.instagram.com/p/9d-3HmlTZq/ https://www.instagram.com/p/88b6OuFTcR/
This Hair Tie Looks Weird–But Does The Best Thing Ever
SHEfinds receives commissions for purchases made through the links in this post. The author of this post also received a sample of the product, but was not compensated to write this post. I'm all about cheap beauty products that make life easier--a $7 tool for nailing at-home manis, a funny U-shaped metal stick that works better than tweezers. It's the kind of stuff that baffles your boyfriend but makes perfect sense to you. ("Babe, what IS that?!"). I've got a new one for you--the Invisibobble hair ring. It has a silly name and an even sillier look--but I'm telling you it is amazing. The Invisibobble Traceless Hair Ring It's for not getting a crease in your hair or headaches from pony tails! Genius. A girlfriend of mine mentioned that she loved hers, so I scoped them out on Sephora. According to the reviews I read, it works for all hair types (curly, thick, thin) and delivers on its promise not to leave a crease in hair. It's also water repellent, anti-allergic and anti-bacterial, and some customers even reported that it caused less breakage and split ends. https://www.instagram.com/p/BARnXApR-Fn/ I got my hands on one and am a total convert. It is unlikely that I'll go back to a regular elastic anytime soon. I didn't use to wear my hair up a lot and if I did I would use a banana clip but this works so much better. You can also use them for half buns--which usually cause me the worst headaches. Genius! https://www.instagram.com/p/BBFBJsXR-BZ/ https://www.instagram.com/p/8BMpRBR-Gd/ https://www.instagram.com/p/_mOY0kR-Ow/ GET IT NOW
This Mermaid Blanket Is The Perfect Complement To Your Next Netflix Binge
Snuggies are totally out. Say hello to your newest obsession: the mermaid blanket. Basically, it's a crochet blanket that looks like a mermaid's tail. If you're a couch potato, this is a must-have item. All your dreams of becoming a mermaid are coming true! Right now you can buy a mermaid blanket from Dress Lily for $29.43, down from $59.48. Get yours below before your next Netflix binge! Mermaid Blanket ($29.43, down from $59.48) Don't miss up to 50% off Elizabeth and James and shop ban.do's outdoor collection! [Photo: Dress Lily]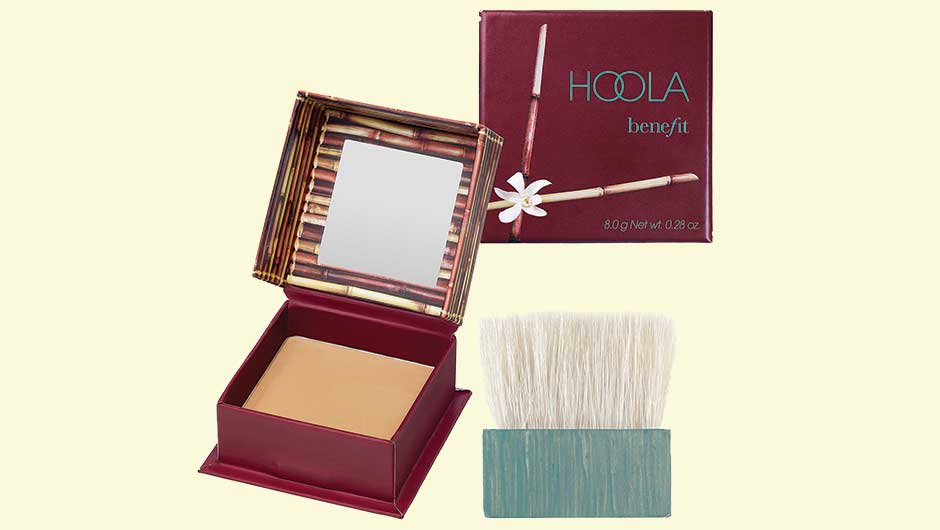 Benefit Hoola Is Still My Favorite Bronzer After All These Years
SHEfinds receives commissions for purchases made through the links in this post. I started wearing Benefit Hoola bronzer in highschool. I'm not going to say how many years ago that was, but it was when the product first launched (okay, it was 15 years!). I am one of those girls that's obsessed with looking tan year-round--it's my biggest priority beauty-wise. If I only have a few minutes to apply makeup in the morning, you better believe it's going to be bronzer (sorry concealer and mascara, you're second fiddle). Over the years I've tried different ones--but I always come back to Hoola. To start, the packaging is awesome. I know that shouldn't matter, but it does. The brush that comes with it is totally soft and works perfectly for application (you don't need to buy another brush--cha ching). The bronzer color itself is perfect--I have medium skin tone and it makes me look like I just had a weekend in Miami, not like Tan Mom. I apply it to my forehead, cheekbones and nose. It also serves to set my foundation if I'm wearing any. Also, for a product that I use every day, it actually lasts a really long time (I don't feel like I'm always buying a new one). Get it now: Benefit Cosmetics Hoola Matte Bronzer ($29) Ariana Grande, Julianne Hough and Kylie Jenner are also fans of Hoola, which has been a bestseller for Benefit pretty much since it launched. This is cool: for a limited time starting in March, customers can customize their box and brush with engraving for only $5 more!
What You Should Wear With Flats (It's Not No-Show Socks!)
Flats season is the best. The weather isn't too hot for boots or too cold for sandals, it's just right. The only downside is the whole socks issue. Should you wear socks that show, even slightly, or go barefoot and risk stinking them up? I mean, the struggle is real, guys. But I just found the most amazing product that actually changes everything. Are you ready for it? They're called Gekks and they are specifically designed for wearing with boat shoes and loafers with leather material on the inside (like Sperry Authentic Original top siders or Tod driving shoes). They look like this: You insert them in to the shoe and they are absolutely no-show (unlike no-show socks that sometimes totally show). Here's them in action: They're $25 each or $48 for a 2-pack. Grab them here. [Top Photo: Pink Peonies]
Bring A Little Love To Your Look With Andra Day's Retro Cardigan
Andra Day, crooner extraordinaire, flaunted her retro style and support of the arts via Instagram. She showed her love for VH1's Save The Music Foundation and the music-loving children while wearing this ModCloth Kiev Cafe Cardigan ($49) with her gold hoop earrings and megawatt smile. This cardigan is adorable without being too cutesy, which means you can spread the love without the corny comments. Pair with jeans for a weekend look or any of your work pants/skirts. We think you will just feel better wearing hearts. Check it out below! ModCloth Kiev Cafe Cardigan ($49) Looking for more great A-list style? Check out Halle Berry's sandals and Katie Holmes' cute boots. [Photo: Instagram]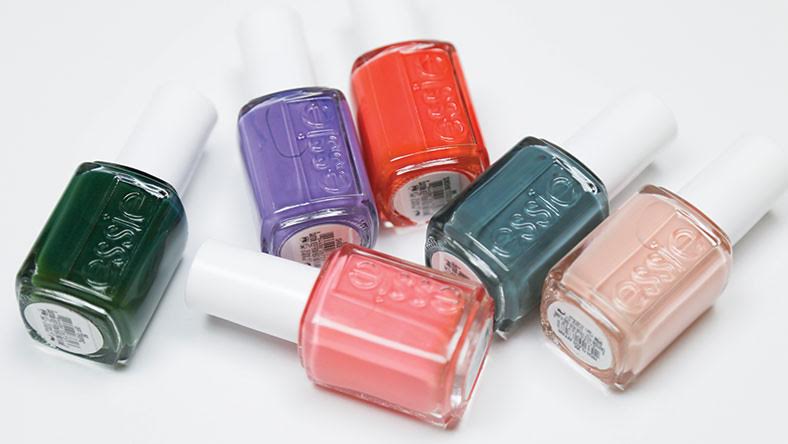 Which Color From Essie's New Spring Collection Is Your Favorite?
Hilary Duff's Striped Bikini Has Spring Break Written All Over It
With spring break right around the corner, it's time to find the perfect itty, bitty bikini. Hilary Duff flaunted her single and ready to mingle look in Hawaii wearing a Solid And Striped The Morgan Striped Triangle Bikini ($175). If you haven't discovered the awesome-ness that is Solid and Striped, get on board. With affordable prices and simple yet flattering designs, this is a swimsuit brand worth owning. No spring break plans? No worries! This little number is a year round investment. Shop it below! Solid And Striped The Morgan Striped Triangle Bikini ($175) Don't miss out on Jessica Alba's espadrilles and shop Kate Middleton's entire workout outfit! [Photo Credit: Splash News]
Victoria Beckham Put Her Seal Of Approval On The Adidas Superstar Sneaker #YAS
If you haven't invested in a solid pair of white sneakers a la off-duty models everywhere, then take note. The white sneaker is no longer reserved for lawn parties and tennis courts. Just ask fashion icon Victoria Beckham who kicked it around New York City in her adidas Superstar Sneaker ($79.95). Loving the shoe AND the price. Beware of muddy anything because these classic adidas are nothing if not brand new looking all the time. Try 'em below! adidas Superstar Sneaker ($79.95) Check out more A-list finds such as Kourtney Kardashian's striped tee and Karlie Kloss's "It" boot. [Photo: Splash News]
I Just Made The Cutest Outfit At Old Navy For Under $100
I am a little excited for spring if you can tell, because I just went to Old Navy looking for an outfit that I could wear on the first warm day of the season. I found the cutest one: a swing-y peplum top, flare jeans in the perfect blue and tan clogs to complete the 70s vibe look. The best part is that the entire outfit is totally affordable (par the course for Old Navy!)--just $91 for the entire look. Get it: Top: Peplum Cami ($24.94) Jeans: High-Rise Vintage Flare Jeans ($30, down from $36.94) Shoes: T-Strap Basket Weave Clogs ($36.94)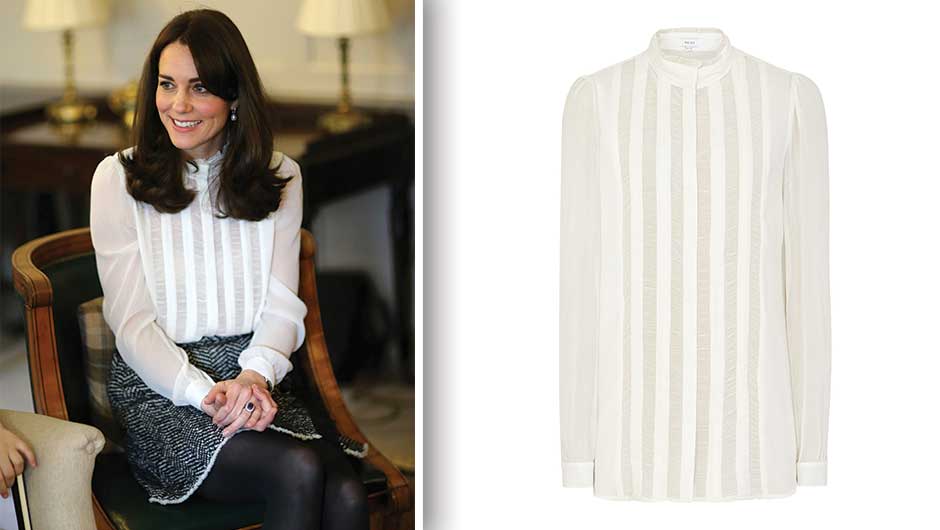 Kate Middleton's Top Is Back In Stock–But Not For Long
Kate Middleton took a day job at the Huffington Post (legit, just a day) where she guest edited the infamous site. And what does royalty wear to the office? A beautiful, elegant, and simple white blouse of course. Lucky for you, her REISS Vinnie Off White High Neck Shirt ($230) can become a part of your work wardrobe too. The conservative touches like the high neck and long sleeves are woven nicely next to the subtle sexy details of the see-through front stripe. Woman of power, this one is for you. Shop it below! REISS Vinnie Off White High Neck Shirt ($230) Don't miss out on more great A-list finds such as Katie Holmes' booties and Gigi Hadid's bondage bra. [Photo: Splash News]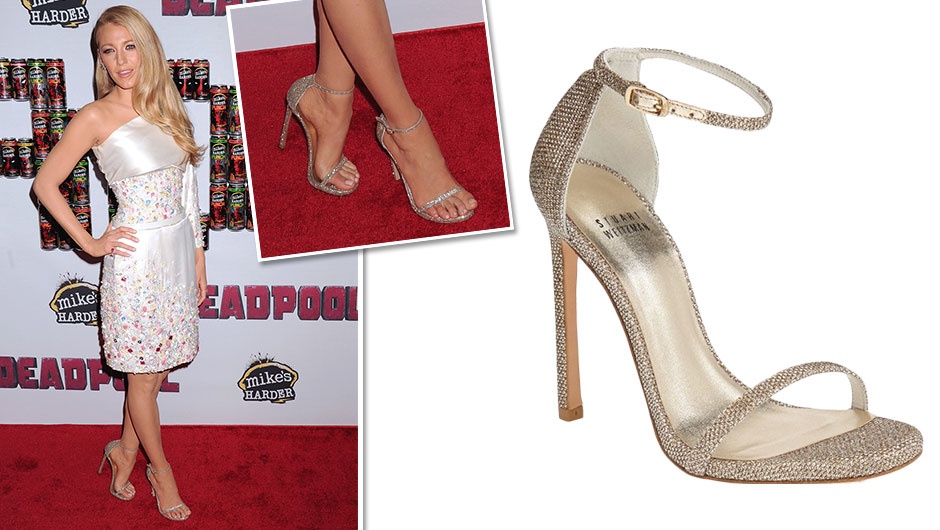 Make A Statement In Blake Lively's Subtle, Yet Sexy Metallic Sandals
For all your cocktail events, there is only one strappy sandal you need will ever need - weather aside. And Blake Lively modeled them beautifully. She wore the Stuart Weitzman Ankle Strap Sandals Nudist High Heel in Metallic ($398) with her off-the-shoulder cream-colored embellished dress at the Deadpool premiere. Slip it on under your black tie gowns, teeter around in your cocktail dresses with some bling, or hey, pair with jeans for a little oomph on date night. The Nudist is everything we ever dreamed of in a dressy sandal. Shop it below! Stuart Weitzman Ankle Strap Sandals Nudist High Heel in Metallic ($398) Don't miss out on Kendall Jenner's sweatshirt or Bella Hadid's chic leggings. [Photo Credit: Splash News]
Opinions Aside, Kylie Jenner Rocks This All-Black Look In Her New Label
Despite how you feel about the Kardashian empire, the label Kendall and Kylie Jenner designed is rather, well, unbelievable. First, the clothes are interesting without being too wild, stylish without begin too trendy, and most importantly, ridiculously affordable, for a Kardashian of course. Kylie debuted an all-black ensemble in KENDALL + KYLIE  Alisha Pumps ($140) with the KENDALL + KYLIE Tuxedo Sleeveless Jumpsuit ($188). This is a look anyone can pull off and look fabulously chic. Trust us. Shop below! KENDALL + KYLIE  Alisha Pumps ($140) KENDALL + KYLIE Tuxedo Sleeveless Jumpsuit ($188) Don't miss the chance to shop Reese Witherspoon's classic peacoat or Bella Hadid's chic leggings. [Photo: Splash News]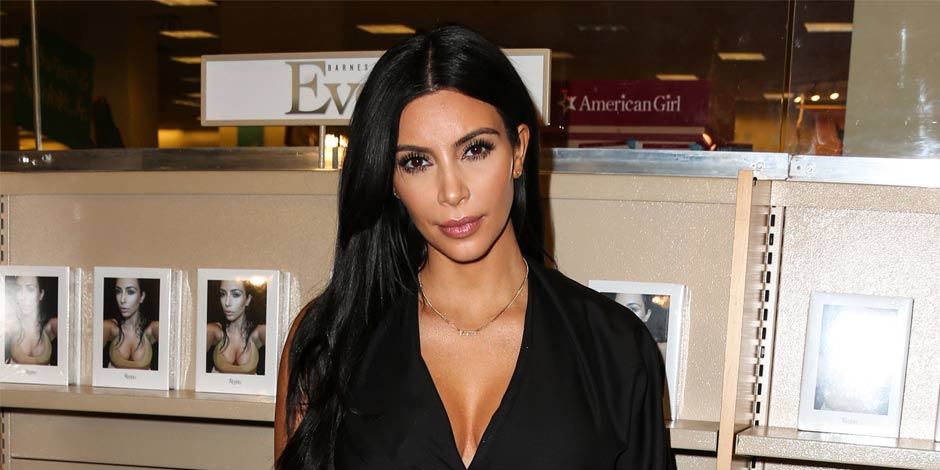 Found: The $7 Mask Kim Kardashian Uses To Get Over 'Cry Face'
Kim Kardashian West just used her app to let the world know her latest beauty "obsession"--and shockingly, it's totally affordable! "Everyone knows I'm the queen of the ugly cry," her post said. "Here's my ugly cry fix," with a link to MaskerAide's All Nighter Sheet Mask's, which is just $7: Get it: MaskerAide's All Nighter Sheet Mask ($7) I wish being a Kardashian was always this easy!
Your Valentine's Day Plans Just Got Kicked Up A Notch With Gigi Hadid's Bondage Bra
Gigi Hadid is taking sexy to a new level in her bra she wore for boyfriend's Zayn Malik music video. The It model wore a Bordelle Bondage Wrap Bra ($405) and let us make this perfectly clear - your boyfriend/fiancee/husband will go gaga over you wrapped in black bondage. So yes, it is worth every penny. Surprise him with it on V-day or any day and we can pretty much guarantee things will get steamy. His Valentine's Day plans just got real thanks to Gigi's amazing find. Shop below! Bordelle Bondage Wrap Bra ($405) Don't forget to shop Rihanna's cozy UGGs and sister Bella Hadid's chic leggings. [Photo: YouTube]
The Most Stylish Sweatshirt Around Is Obviously A Kendall Jenner Favorite
Kendall Jenner stepped out with BFF Hailey Baldwin last weekend in West Hollywood looking grunge-y chic in her Pam & Gela Side Slit Sweatshirt ($165), cut-off denim shorts, and knee-high leather boots. Seriously, could she get any cooler? Sure, this sweatshirt is fabulously cozy which means your weekend wear will embrace it but it's trendy rips allow it to be bar material also (for some). Whatever your fancy, this is THE coolest sweatshirt on the block. Just ask Kendall. Shop it below before everyone else does. Pam & Gela Side Slit Sweatshirt ($165) Don't miss the chance to shop Reese Witherspoon's classic peacoat or Bella Hadid's chic leggings. [Photo: Splash News]
Your February Splurge Item Has Arrived–Treat Yourself To Hilary Duff's Leather Leggings
When Hilary Duffheads to the gym, she does it in style. She flashed big smiles as she walked in her J Brand Edita Lambskin Leather Leggings ($948) and all black ensemble to get her workout in. While we don't recommend using this splurge-y item on your pre-gym look, we definitely recommend them for your more stylish outings. Plus, leather leggings (or leather anything) is not going anywhere so start saving. Shop this fabulous pair below! J Brand Edita Lambskin Leather Leggings ($948) Don't miss fabulous celeb style finds such as Gigi Hadid's black skinny jeans and Karlie Kloss's "It" boot. [Photo: Splash News]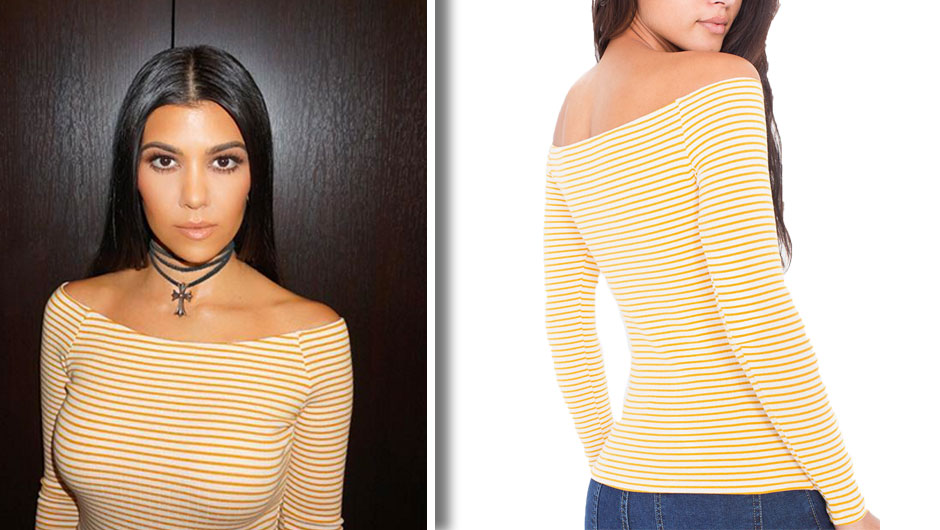 Love Kourtney Kardashian's Recent Selfies? Steal Her Look With Her $24 American Apparel Tee
Kourtney Kardashian is taking her sexy single status to new selfie levels this winter. The mother of three is killing it on Instagram with her well-styled selfies, like the recent one she posted in this American Apparel Knitted Carmen Top ($24, down from $34). Oh yes, even Kardashians know how to shop affordable pieces (surprise). Kourt chose a natural ochre color in the off-shoulder piece, but there are plenty of colors to choose from. Show a little skin and get a lot of likes in this top. Snag it below! American Apparel Knitted Carmen Top ($24, down from $34) Don't forget to shop Emily Ratajkowski's Jeans and Karlie Kloss's "It" boot. [Photo: Instagram]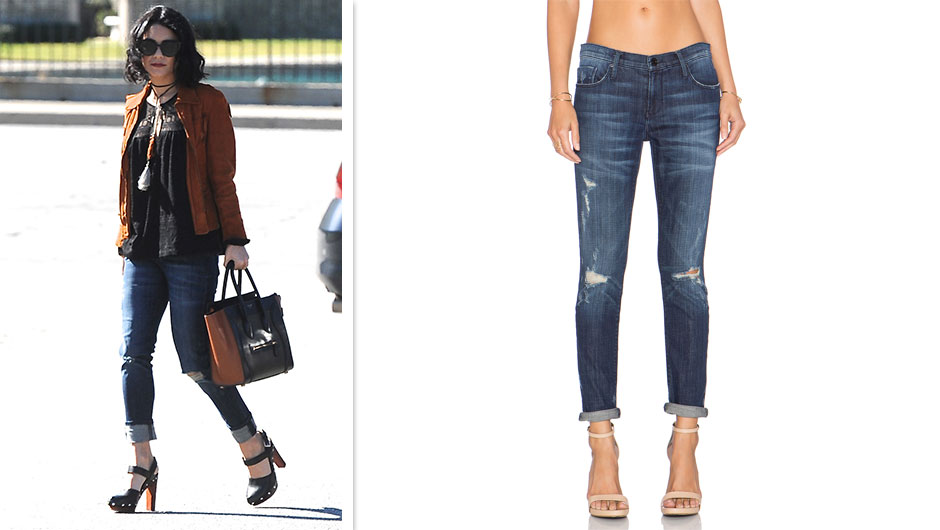 Vanessa Hudgens' Boyfriend Jeans Are A Weekend Essential–Hurry! Only 2 Sizes Left
You can't fully get into your weekend mode without the perfect jean for a Saturday errand stroll. Vanessa Hudgens spent some quality family time with sister, Stella, in her go-to denim. Her Black Orchid Harper Skinny Boyfriend in Reckless ($145, down from $206) are everything we need in our weekend jean - relaxed, slightly ripped, faded, and oh yes, affordable. Snag these comfy jeans while they are still available. Black Orchid Harper Skinny Boyfriend in Reckless ($145, down from $206)  Don't miss out on Rihanna's UGGs or Emily Ratajkowski Jeans. [Photo: Splash News]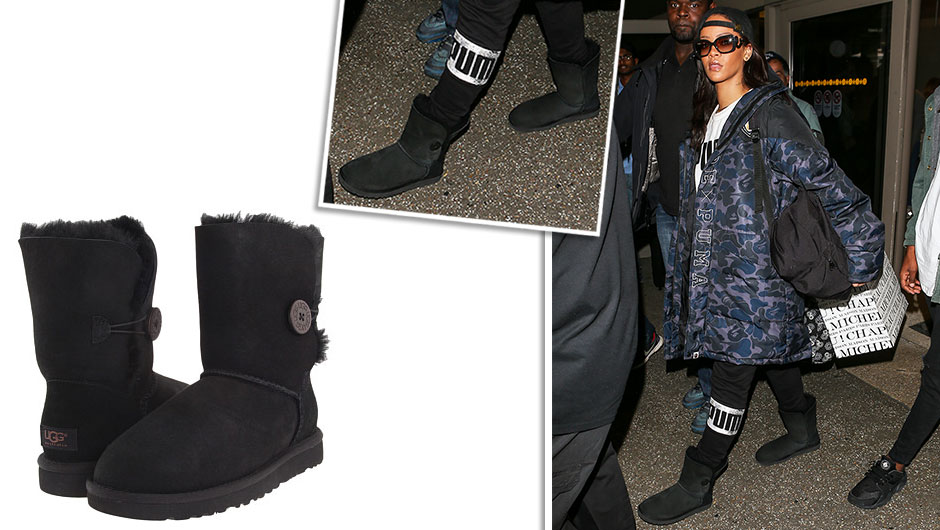 Rihanna Is The Latest Celeb Jumping On The UGG Bandwagon–Now, It's Your Turn
Many people might not be fans of UGG boots, but there is no denying how soft, cozy and warm they are. We won't lie - we look for any excuse to wear the plush boots so when Rihanna was spotted at LAX wearing her UGG Bailey Button Boot ($129), we thought SCORE! There is no easier on-the-go winter boot around and with all the recent celebrity endorsements, now including RiRi, you need to get a pair for yourself. Shop them below and savor every warm moment! UGG Bailey Button Boot ($129) Don't miss the chance to shop Reese Witherspoon's classic peacoat or Bella Hadid's chic leggings. [Photo: Splash News]
Olivia Palermo Is Showing You Exactly How To Wear Platform Sneakers–Permission To Copy
Olivia Palermo dressed nothing less of chic while visiting the city of lights. Her prints on prints on platforms had us ooh-ing and ahh-ing from the sidelines. She avoided high heels and chose these Sol Sana Tabby Wedge Shoe ($165), which give her height and look super comfortable. Considering flatgate has passed, we embrace any and all sneaker-esque shoes at A-list events. The hybrid oxford slash slip-on sneaker may seem a little out there at first, but when Olivia wears them, they become instantly wearable. Try 'em and shop 'em below! Sol Sana Tabby Wedge Shoe ($165) Shop more great finds such as Gigi Hadid's black jeans and Reese Witherspoon's classy peacoat. [Photo Credit: Splash News]
If Jessica Alba Isn't Ashamed To Flaunt Her Spanx In Public, You Shouldn't Be Either
Let's be honest with each other. Most women wear some kind of body-forming shaper these days and there is no shame in it. Not everyone is expected to have a gleaming six pack 365 days of the year, not even Jessica Alba! The mom of two passed through LAX, where an endless swarm of paparazzi cameras await every starlets move and captured her SPANX Every Wear Hem Slit Leggings ($110). The super-slimming (duh) leggings are everything a woman needs and wants. Don't be shy, shop below. SPANX Every Wear Hem Slit Leggings ($110) Check out Bella Hadid's chic leggings and Kendall Jenner's cool sunglasses. [Photo: Splash News]
Taylor Swift Loves These Booties So Much She Even Convinced Her BFF Kelsea Ballerini To Get A Pair
You might not be able to join Taylor Swift's girl squad but you can totally take a walk in her shoes like bestie Kelsea Ballerini did this week on Insta. Taylor flashed her bootie love with Blake Lively and now she is passing on her Bed Stu Isla Boots in Red Luxe ($245) love to her childhood BFF.  The two adorable gals posted their love of their Bed Stu booties and we think we would like to take a walk in their shoes - literally. Shop the country crooner's favorites below! Bed Stu Isla Boots in Red Luxe ($245) Shop more celeb style finds such as Kate Hudson's flare jeans  and Emma Stone's crossbody bag. [Photo: Instagram]
Emily Ratajkowski's Must-Have Skinny Jeans Are Only Available In Two More Sizes–Don't Wait!
On her way to a meeting, Emily Ratajkowski was spotted by flashing cameras, capturing her classic boots over jeans look. Her MOTHER The Stunner Fray in Smoke 'Em ($205) are anything but basic and play well with all types of looks. And what a surprise - she wore her skinny jeans with over-the-knee boots that are really similar to fellow model Karlie Kloss' "it" boots! Forget stylists, these models know what's up when it comes to street style. They definitely sit around backstage discussing the best jeans, boots, etc. (right?) and we find that MOTHER denim always makes the cut. Why? Just try them on. Denim has never felt so comfortable. Shop them below before they sell out! MOTHER The Stunner Fray in Smoke 'Em ($205) Don't miss fabulous celeb style finds such as Gigi Hadid's black skinny jeans and Karlie Kloss's "It" boot. [Photo: Splash News]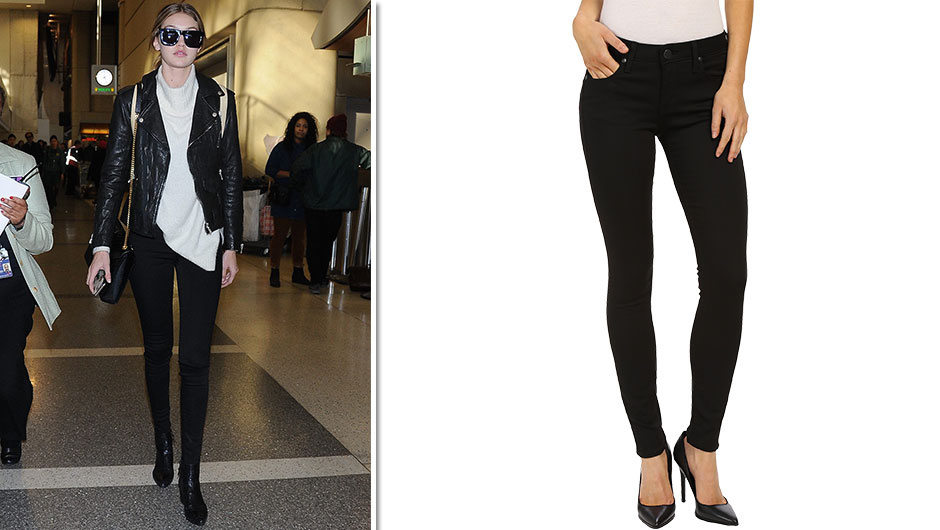 Gigi Hadid Is Reminding Us Why We All Need To Own A Pair Of Black Skinny Jeans
Ever hear of Parker Smith? No? Well, ever hear of Gigi Hadid? Let the savviest model on the block introduce you to a new denim brand AND a jean that will steal the spotlight from all your others. Her Parker Smith Ava Skinny Jeans in Eternal Black ($155) were paired with a leather moto jacket, sleek black boots, and an asymmetrical turtleneck sweater. LAX chic? Totally a thing and Gigi, as per usual, nailed it. Want model legs? Shop them below! Parker Smith Ava Skinny Jeans in Eternal Black ($155)   Check out Karlie Kloss's "It" boot and Kendall Jenner's cool sunglasses. [Photo Credit: Splash News]
Don't Go Snow Blind! Julianne Hough's Cat Eye Sunnies Are The Perfect Solution
She almost fell off our radar for a bit, but then Julianne Hough sauntered out of a meeting looking fresh and chic. Her sleek Elizabeth and James Suffolk Cat-Eye Sunglasses ($185) gave us a very good reason to invest in some sunnies - in January. Hey, that snow glare is bright! Plus, we love anything the Olsen twins create under their label. The cat eye frame is slightly retro and a bit Parisian, two of our favorite styles. As if you needed an excuse to buy sunglasses... Shop Julianne's pick below! Elizabeth & James Suffolk Cat-Eye Sunglasses ($185) Check out Bella Hadid's chic leggings and Kendall Jenner's cool sunglasses. [Photo: Splash News]
Brighten Up Your Winter Wardrobe With A Dose Of Alessandra Ambrosio's Look
This time of year, all of us are drowning in blacks and grays so it was rather refreshing to see Alessandra Ambrosio rocking a colorful jacket and neutral toned booties in Venice, CA. Not all of us can enjoy sunny California but we can certainly indulge in her look (thank you Instagram). The Tularosa Santa Fe Jacket ($178) is a perfect dose of patterned color with your denim and her always-in-style rag & bone Classic Newbury Boot ($495) are good year-round. Your hump day could use a little color pick-me-up! Shop both items below. Tularosa Santa Fe Jacket ($178) rag & bone Classic Newbury Boot ($495) Be sure to check out Jessica Biel's plaid shirt and Kourtney Kardashian's workout gear. [Photo: Instagram]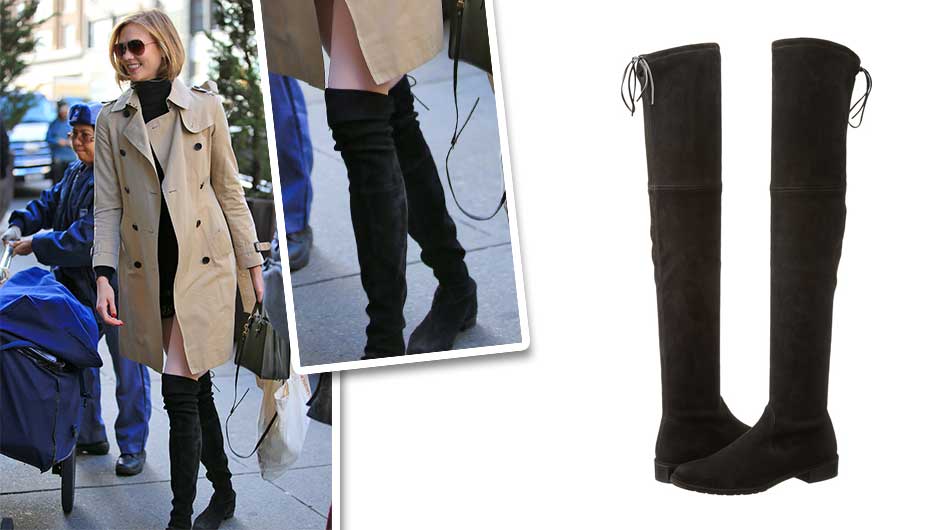 You Don't Have To Be Karlie Kloss To Pull Off The "It" Boot Of The Season
We are always a fan of Karlie Kloss' street style which is why it was no surprise that she showed off her new bob haircut in the "It" boots of the season. The Stuart Weitzman Lowland Boots ($798) have decorated the long, lean legs of everyone from Gigi Hadid (she chose them in nude) to Lily Aldridge. But you don't have to be a model to rock the over-the-knee style, we promise. Even short girls can rock 'em! The Lowland boots make everyone appear statuesque. Don't believe us? Give them a try and shop them below! Stuart Weitzman Lowland Boots ($798) Check out Jessica Biel's plaid shirt and Kendall Jenner's cool sunglasses. [Photo Credit: Splash News]
Emma Roberts Is Bringing Back Penny Loafers–And For Under $50, So Can You
Emma Roberts was looking rather dapper in her schoolgirl ensemble of a plaid jumper and penny loafers. We know you're thinking penny loafers equals old men and offices but listen, these Vince Camuto Mitchell Patent Penny Loafer ($49.99, down from $119) are anything but stuffy. Their sleek patent finish and simple design are perfect for the office or a casual dinner date, giving your boots a rest for a night. Plus, at under $50, why not try the classic look? You'll feel preppy and academic! Shop them below. Vince Camuto Mitchell Patent Penny Loafer ($49.99, down from $119) Don't miss out on Kourtney Kardashian's workout gear and Kendall Jenner's cool sunglasses. [Photo: Splash News]
Inspired By Kourtney Kardashian's 'Breakup' Bod? Steal Her Entire Workout Look
Kourtney Kardashian is definitely getting the last laugh in this breakup series. The reality star has been wowing everyone with her breakup bod and street style looks, making her the "It" Kardashian sister this season (sorry Kim). How does she stay so lean? Lots of gym time in lots of cute outfits. Recently, she wore an Adidas Helsinki Authentic Half Zip Pullover Hoodie ($80) with her APL Ascend Training Shoe ($184) when the paps spotted her. What sweaty hair? Get inspired and shop her workout gear below! Adidas Helsinki Authentic Half Zip Pullover Hoodie ($80) APL Ascend Training Shoe ($184) Check out Bella Hadid's chic leggings and Kendall Jenner's cool sunglasses. [Photo: Splash News]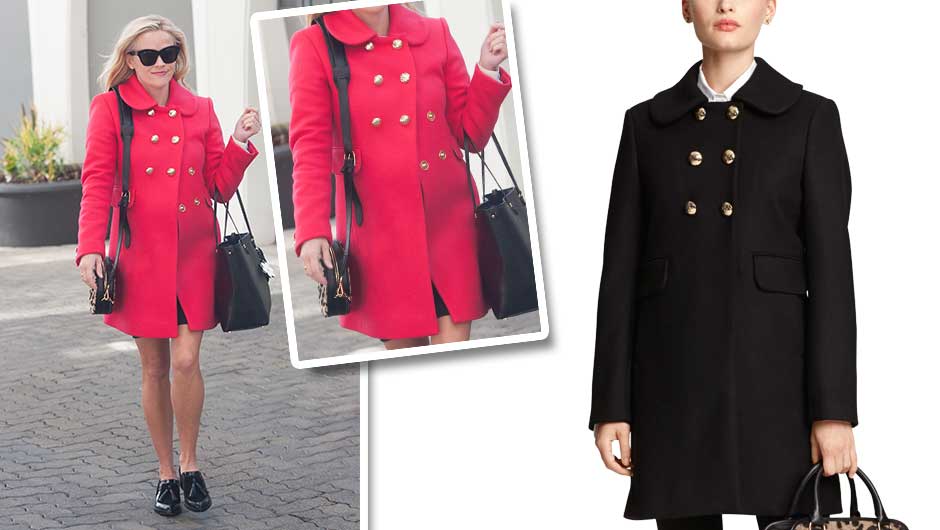 Reese Witherspoon Reminds (And Shows!) Us How Classy A Peacoat Can Be #YesPlease
While we can't put you in Reese Witherspoon's red peacoat, we can definitely hook you up with the more subtle, yet just as classy, Draper James Lucinda Long Peacoat ($450) in black. This little designer is taking preppy looks to a whole new level and we are loving the classics Draper James is churning out. With gold buttons and a sharp collar, this coat will have you looking like a very put together gal - even if you're having a rough day. Trust us, it's a classic for a reason. Shop it below! Draper James Lucinda Long Peacoat ($450) Don't miss out on Jessica Biel's plaid shirt and Bella Hadid's chic leggings. [Photo: Splash News]
Kendall Jenner Is Bringing Back White Sneakers In A Big Way–And We Love It
In case you missed the memo, models love sneakers. We will attribute their love of comfy kicks to the endless hours they spend in heels. The latest kicks on the town are Kendall Jenner's Kenneth Cole New York Kam Sneakers ($120), which have a price point we just adore and a simplicity that allows them to be paired with anything - including body con dresses and adorable nieces. Don't be afraid of the white sneaker during winter months! Winter white is always acceptable. Shop the sneakers below! Kenneth Cole New York Kam Sneakers ($120) Don't forget to check out Jessica Alba's cool sneakers and Kendall Jenner's cool sunglasses. [Photo Credit: Splash News]