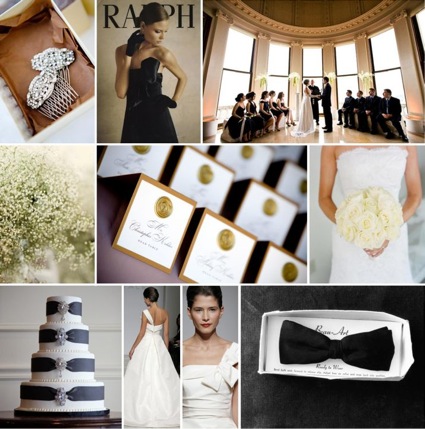 Theme Thursdays: Keep It Classy With These Black-Tie Favors From Etsy
Are you ready to get luxurious on us? We've teamed up with Etsy this week to find some pretty fancy jewels, decor and favors that will take your wedding a step up in class. (more…)
Solution: IsABelt Keeps Your Pants Up Without Adding A Spare Tire
What: IsABelt, $16.95Why: I'm no fan of the so low you may as well not even be wearing pants scale of jeans fitting. But on the flip side, I don't want to be caught dead in the dreaded mom jeans. The fact that there's no happy medium means I usually spend tons of time wriggling to make sure the jeans I wear aren't showing off my underwear (or worse).That's why I'm so thankful for IsABelt, a paper-thin, clear elastic belt that holds up gaping jeans without causing an unsightly buckle bulge in the front. Simply size the belt, hook it in front, and secure the hook under your pants button. It's amazing how something so delicate can hold everything together so seamlessly, and ensure that my Victoria's Secrets stay, well, secret.Get Yours: isabelt.comAnd check out our Belts Guide for the essential belts everyone should own.
Wrinkle-Addled Spokesmodels Or Real Women We Can Finally Relate To?
As we reported earlier, Brooke Shields is the new face of Coppertone's Nutrashield, which is supposed to protect you from the sun as well as combat premature aging. This has some all in a tizzy over the fact that, well, she has wrinkles and is hawking a sunscreen to prevent them. But here at SheFinds we're elated that not another teenybopper model is trying to sell us an age-reversing elixir, sunscreen, or other type of beauty product. She follows in the not-quite-nubile steps of other over-40 beauties, such as Courtney Cox for Kinerase, Sharon Stone for Dior, Andie Macdowell for L'Oreal and Diane Lane for Neutrogena. And while their laugh lines are probably a bit photoshopped in the ads (let's be honest), they're at least believable as women on a quest to fend off age. Below are three of our favorite products to keep your skin looking forever fabulous: Since we can't photoshop our wrinkles in real life (though we really wish we could), La Roche-Posay Active C Anti-Wrinkle Dermatological Treatment ($35) steps in to blur the lines. That trusty antioxidant I've grown to love, Vitamin C, promises to prevent further havoc to the delicate skin around the eye. And, those pesky fine lines? Intense hydrating ingredients make them nearly invisible. If you're serious about reversing age, then Prevage Anti-aging Treatment ($155) is your ticket to looking forever young. Don't let the steep price deter you; the star ingredient, Idebenone, actually prevents and corrects cellular damage, working to repair skin to the point where you almost forget about all of those days you spent tanning in your teens. Delivering on rejuvenation as you count sheep, Olay Regenerist Night Recovery Moisturizing Treatment ($20) contains a time-release amino-peptide complex that hydrates skin all night long. Three more bonuses: It feels so silky smooth, you won't believe it; it smells out-of-this-world; and it's affordable.
News: The Dr. Biden Debuts For Fall 09, Calvin Gets Seriously Frisky, And More…
1. Fashon designer Milly plans to re-introduce Jill Biden's Inauguration Day dress into her Fall 2009 collection. The Dr. Biden dress is currently available at saksfifthavenue.com. [WSJ] 2. Calvin Klein's new commercial for jeans has been banned from televison due to its racy content. The same thing happened to poor Eva Mendes last summer. [ShoppingBlog]3. British women are dyeing their hair blonde to cope with the recession. We suggest wearing yellow first before taking a more permanent step. [TelegraphUK]4. Matthew Williamson will star in his own ads for the line he is designing for H&M. His collection is due to hit stores this May. [WWD]
I Refuse To Give Up My Giorgio Armani Face Fabric
What: Giorgio Armani Beauty Face Fabric with SPF 12 ($45) Why: I never understood matte foundation. I used it during my first foundation forays, looked terrible, realized and then just dusted on bronzer or blush for a number of years. Then the charming Tim Quinn sat us down in the Armani offices and swore up and down that it wasn't like other foundations, so I obliged and smoothed it on (it's meant for super easy, fingers-only application), and he was correct. Face Fabric has something called 3D Micro-Fil technology (I don't know either) that makes it melt right into skin, but you can still sort of see the skin through it, so by the end of the day I look fresh-faced, not cakey or oily or any other negative adjective. And now I'm back to wearing foundation…but this time nobody else knows (well, knew).Get Yours: Giorgio Armani Beauty
Tamsen And Matt Know Why He Hasn't Proposed (Wrong Lipstick Perhaps).. 5 Of You Will Win Their Book
This is not a topic SheFinds would normally feature (as you know, we're pretty focused on fashion and beauty), but authors Tamsen Fadal and Matt Titus recently came out with a book, Why Hasn't He Proposed?: Go from the First Date to Setting the Date, that actually brings up a lot of relevant tips for those frustrated, well-dressed fashionistas out there wondering why he hasn't popped that question. We asked the authors to share with SheFinds some insider tips on becoming the girl that can stop men cold with her uncanny ability to apply makeup. (We wish it were that simple.) Nevertheless, below are some great product picks from Tamsen and Matt for making you look and feel your best. Oh, and along with sharing their insight, we are giving away copies of the book to five lucky readers. Just write to us in the comments section and let us know which beauty product makes you feel the most confident and sexy before walking out the door. First, it's all in the eyes. Guys know that the eyes tell a lot if not everything about a woman. Make sure you are wearing concealer and make sure it's not caked on. Concealer will eliminate any dark under-eye circles and adds instant brightness to your face. Try Smashbox camera ready concealer ($18). Next up hair. Hair color and highlights should complement your look, not overpower you. If you have any grays peeking out, get thee to a salon. And make sure to trim your hair regularly, there's no excuse for looking shaggy. If you need a quick cover up, CoverMark ($22) is right on the mark. Skin is in when it comes to attracting men. Invest in high quality makeup and keep it as natural as possible. And, make sure you use moisturizer and use sunscreen even in the winter. Trish McEvoy Protective Shield ($40) is light and can be worn alone or under your makeup. Lips. Neutral lip gloss over your favorite color will give your pucker that kissabilty factor. They cost less than 15 dollars and can be invaluable when it comes to attracting a man. Urban Decay XXX Shine ($16) will leave your lips luscious. White, beautiful teeth are a must. This means if you are a coffee drinker, a smoker, or just haven't paid a lot of attention to your pearly whites, there is no better time than the present to whiten up your teeth. The good news, there's no need to spend a ton on expensive bleaching treatments. Head to the drugstore for a teeth whitening kit that will be a fraction of the cost. Crest White Strips ($31) are inexpensive, but work like a charm. To win a copy of Why Hasn't He Proposed?, share with us in the comments section the beauty product that makes you feel the most confident. And if you can't wait to win, buy a the book now at amazon.com.
It's A New Year, Get A New Makeup Bag Already
January is the perfect time to ditch the old stuff and revamp with some fresh new goodies. In addition to the thrill that comes with pre-spring cleaning (and the eye infection you'll save yourself from tossing that ancient mascara), it's a great way to glam up your look, no gym membership, diet or new wardrobe necessary. Get the Smashbox Best of Smashbox Rapture Kit ( $19) and get three must-have basics and a screaming good deal. You'll get a mini Fusion Soft Lights shimmering powder in Dusk (neutrals), a mini Lip Enhancing Gloss in Aura (pink-ish) and a Travel Size Bionic Mascara in Jet Black. To add some drama, try MAC's Slimshine Lipstick ($14.50). It's moisturizing and sheer, but with beautiful, lasting color. I'm partial to the shade Urgent!, a pinky-red with excellent day-to-night potential. Get glowing lids and cheeks with The Balm Hot Mama ($18), a pinky-peach multi-use powder that is paraben, sulfate, and phthalate-free. Moisture, SPF 20, and skin-evening color in one simple step, Cosmedicine Honest Face Skin Tint and Treatment ($35) is one of the best tinted moisturizers I've tried. Serious bonus points for having a high SPF and still going on smooth and sheer. For a touch of glam on the go, I stash everything away in a new Tory Burch Medium Cosmetics Case ($57). Looks amazing, and it's cheaper than a new purse!
Taste Test: Which Canary Yellow Skirt is Cheap-Cheap?
Look ahead to warmer weather by planning the first outfit you'll wear when the sun comes out. May we suggest a sunny yellow skirt with crisp pleats and a pretty-preppy vibe? One of the spring-ready skirts above costs way less than the other — like 700 percent less. Think you know which one is the better deal? Click on it above and see if you're right (if you are, you may want to further show off your skills in our Taste Test archives ).
Five Eyeshadows More Fun Than the Ones You're Using
In my opinion, makeup should not be a tedious process of "putting on your face." It should be fun and playful, the way it was when you were 11 years old, wearing hot pink lipstick and dousing yourself in glitter. Not that I'm suggesting you recreate that look. Only that plastic staid compacts are, well, bo-o-oring. You can do better. Here's how: One end is a light-reflecting cream, the other is similar powder shade with a rollerball applicator. Whether you wear them alone or layer for dimension, the Tarte Lock and Roll Creaseless Eyeshadow Duo ($17) is like a magic (makeup) wand.I've always had a soft spot for Jelly Pong Pong (even the name is fun), and their Dynamic Duo ($18) eyeshadow compacts are oh-so-satisfying. The packaging is adorable and perfectly purse-sized, and the complimentary shades give excellent sheer washes of color. I am seldom excited about a product launch, but when I heard about the Smurfette collection from Too Faced, I was positively giddy. The So Smurfy Eyeshadow Collection ($32.50) is super-feminine, totally wearable and so dang cute that you'll be the envy of all your friends. Shimmery, blendable and in a cool lip-gloss style tube, Girlactick Beauty Eye Glaze ($17) lets you go intergalactic planetary without donning a silver space suit. It comes in five look-great-on-everyone colors and best of all, they're easy to apply flawlessly.Feeling adventurous? Bust into the Faces Sparkledust Rainbow Tower ($30). Eight sparkly, highly pigmented shades come stacked tower-style for your playing pleasure. A little intense for day, but definitely doable for evening, and the perfect way to add low-cost drama to your look.
News: Whitney's Line Graces Us With Its Presence, Could Detox Be A Hoax?, And More…
1. After much anticipation, Whitney Port's clothing line (yep, she has one too) is now available for purchase online at SeenON!. [Racked]2. Some doctors claim that detox programs don't work, and may actually do more harm than good. Until we get further info on the subject, we're standing behind our Detox Guide and its great results for our stress levels and our skin. [NYTimes]3. Serena Williams is set to be the new face of Mission Skincare, which focuses on the beauty needs of active women. If you're aiming to enter that category, check out our Guide to Cheap Workout Gear. [People] 4. Rumors are circulating that Obama may have worn a bullet-resistant suit to Tuesday's inauguration. Unfortunately, Michelle's Toledo lacked the ability to stop critics' bullets. [NYMag]
What To Wear With: Yellow (Or Mimosa, Or Lemongrass, Or…)
At Tuesday's inauguration, Michelle Obama wowed the fashion world - and the whole world - with a yellow Isabel Toledo dress and jacket ensemble. While the color was officially lemongrass (such a bipartisan color name!) it looked yellow on most of our television screens and has prompted many of our readers to ask how one could pull off the citrusy hue if you don't have the First Lady's stature, complexion, or personal access to Ikram's designer roster. Below are three ways to ease into the color of the year. A sunny yellow blouse ($60) would be a welcome change from the cubicle-matching clothes everyone else wears. Pair it with a pale grey skirt ($55.30) and tights ($12). Grey is the perfect color to wear with yellow, because it contrasts the brightness without causing the bumble bee effect, as black would. Add some hip booties ($133) and an embellished cuff ($375), preferably with a green colored stone. M-Obama knew what she was doing wearing green with yellow - the two complement each other perfectly. For a more casual vibe, accent a crisp yellow shift dress ($695) with some masculine riding boots ($652) and a soft cream cardigan ($27). The two muted colors will tone down the severity of the yellow. Accessorize with a masculine watch ($226), and add a sharp patterned scarf ($98) for warmth and attitude. For Casual Friday, try out a pair of yellow ballet flats ($98) with your favorite skinny jeans ($159) and a green fitted cardigan sweater ($285). For that finishing touch, belt with a vintage-esque brown belt ($59).
Blog Round-Up: Heard On The Web This Week
The Beauty Brains prove that Living Proof No Frizz products are good for frizzy hair. From lemongrass to one-shoulder dresses, StyleBakery.com takes an in depth look at Michelle Obama's style. Smarter Fashion shows us how to get the style of the beautiful and talented Norah Jones. SheZoom reveals fabulous bling and shock-me prints as the secret behind Crystal Audigier's line of hats and sets. FocusOnStyle.com shares Michelle Obama Style Tips: Today's power dressing muse has the everyday style for clean, corporate chic. SheFinds wants you to rock Aretha Franklin's crazy bow hat .... or maybe a more conservative version. At home beauty treatments are keeping girlawhirl's good looks in tip top shape, while allowing her to cut back on expenses. At Real Simple's Simply Stated, we introduce makeup palettes to match your beauty personality.
Win Tamsen And Matt's New Book And Figure Out Why He Hasn't Proposed (Visible Roots, Maybe?)
If you (or someone you know) is one of those many confused women wondering why her longtime partner hasn't popped the question, enter to win one of five copies of Why Hasn't He Proposed?: Go From First Date To Setting The Date. Enter to win here by posting about a beauty product that always makes you feel sexy and confident. And while you're at it, read Tamsen's top five beauty must-haves – products that will help to make men do a double take, and probably couldn't hurt on the road to that little blue box. Wow, I really need to start wearing more makeup.
Deal Of The Day: 50% Or More Off Chic And Cozy Scarves At Martin + Osa
To stave off those last-six-weeks-of-winter chills, try one of these comfy scarves under your coat, or over a cami in chilly restaurants.This patterned scarf ($20, was $54.50) is an easy shot of color over any neutral top or dress. A chunky cable shawl ($45, was $89.50) is always exactly what we want in an under-heated room. You can even wear this light washed wool scarf ($20, was $39.50) into spring, over a cotton tank and featherweight cashmere cardigan. More sales and deals on the web:Take an extra 15% off sale items and 20% off clearance items at Lord & Taylor with coupon code FINALTAKE. 10% off any order at Lina Pelle with coupon code CJLP10. At Express, scarves, leggings, pants, tees and tanks are currently buy one, get one half off. The sample sale scoop – shop these sales today for huge savings:Final sale on women's accessories at Gilt Groupe Dior at Rue La La Line and Acrobat at Hautelook
Solution: Get A Ten-Second Boob Job (Pain And Padding Not Included)
What: Bralief bra clip, $10 each or $23 for threeWhy: It's the season for snug sweaters, and padded push-ups, while providing that proverbial lift-and-separate, can add weight and feel too darn bulky. Make your favorite sleek, unpadded bras sweater-ready by slipping a Bralief band around the straps. The bracelet-like band with a single easy-to-fasten clasp loops around straps in the back and slides up and down, providing instant perkiness without all the padding.Bralief has more bonuses than an instant, surgery-free, super inexpensive breast lift. It banishes slippy straps, which just aren't an option, especially in the winter when you have to shimmy your shoulders through layers of shirts to get things back in place. And because the Bralief is adjustable, you can use it to change the configuration of your bra straps for wear under halter necks and tanks.Get Yours: TheBraClip.com
I Refuse To Give Up My Philosophy Microdelivery Exfoliating Wash
What: Philosophy Microdelivery Exfoliating Wash, $25Why: I am willing to try anything once, but when it comes to my face, it's usually just once. However, that wasn't the case when I road-tested Philosophy's Microdelivery Exfoliating Wash. I had no idea what microdelivery meant - still don't - but I don't particularly care. This face wash is amazing. It feels like very fine sand gently rubbing against your skin. It's the perfect balance between gentle and grainy. I can't stand those cleansers that claim they exfoliate when all they consist of are puny bubbles. So I am now hooked on this stuff and will not be going back to my drugstore brand anytime soon. Great for my face, not so fantastic for my wallet. Ah well, small price to pay for noticeably improved skin. Get Yours: sephora.com
First Lady Dress Watch Continues: Michelle Obama In Tracy Feith On Day One
Ok, so everyone's a little obsessed with Michelle Obama's clothes. But at least they're interesting and good, and actually deserving of attention. Like this Tracy Feith number she wore yesterday to a post-inauguration prayer service. It's a particularly timely choice, since Feith will design Target's next capsule collection.To pull off a similar look, pay attention to a few key details that make this dress work so well: the lively print, defined waist, and modest neckline. We love the crazy, statement-making print on this satin dress ($1,135) – and that the simple cut keeps it wearable. We could see the First Lady in this more spring-y version ($25) come April. For a relaxed take, pair this floral silk dress ($158) with opaque footless tights and black patent flats. As far as footwear, you can copy Michelle's clean-lined look with any number of black patent pairs. These from Tommy Hilfiger ($75) are simple and classic, while this DV by Dolce Vita pair ($36.55) adds a tiny ¾" heel. Hollywould's Hetty flats ($206.36) could even take you from day to night, thanks to the pointy toe and D'Orsay styling.
Moving On To Her Brows: How Michelle Obama Ditched The Arch
Inauguration Day finally came in all its glory, and most pundits are just ramping up for the long haul. However, there are a few Michelle Obama critics (now First Lady Michelle Obama critics) who'll have one fewer thing to harp on: her over-arching brows. Looking at the photos, Michelle on the campaign trail (left) has a higher arch, but yesterday, in her lovely Toledo ensemble, Michelle appeared with a softer brow. According to an article in Monday's Chicago Tribune, Obama's makeup artist, Ingrid Grimes-Myles, started to gradually train Michelle's brows to grow lower. And while Grimes-Myles does admit to using Tweezerman tweezers, she's keeping mum on the types of powders and pencils she uses. Alas, we figured that since she slipped up and revealed using a MAC lip pencil on Obama, the MAC brow shader ($16) was a safe bet. Even if she doesn't use it, I do, and find it perfect for filling and shaping. If you're in the same boat as Michelle, a good place to start would be with a brow stencil. Brow maven Anastasia makes an excellent All About Brows Kit ($75) that includes four different stencils, brow powder, and gel (among other essential goodies). The stencils are key, though, in getting your brows into shape. There may be a few difficult months in there, but that's what the highlighter pencil's for (camouflage), and if the First Lady can do it...
Rock A Crazy Bow Hat Like The Queen of Soul..Or Try A Slightly More Conservative Version
Yesterday's inauguration was awe-inspiring and the fashion had us all abuzz here at SheFinds. One of the hot topics was the Queen of Soul, Aretha Franklin, and that fabulous hat she wore when singing during the Inauguration ceremony. The $179 hat, customized with Swarovski crystals, came from Mr. Song Millinery in Detroit where Luke Song has been making dress hats for 25 years. While the hat isn't available online, we have some alternatives for those of you who think you might want to bring a fabulous chapeaux into your own look. Aretha's hat is basically what some of us from the South call a 'Sunday-go-to-meetin' hat. Should you have need for such an item during this season, this pretty Victor Osborne Cloche Hat in Slate ($165, was $275) is a way to steal the spirit of Aretha's style as something you can actually wear around town. If you're looking for something a little more cozy, this chic S Loves C by Spring & Clifton Beret ($38) is ideal for colder weather. Need something cute for evening without blocking the view of others? A black angora beret from Marc Jacobs ($78) may surprise you with its versatility. Plus, no worrying about the hair before you leave the house.
Only 1 Day Left To Win A 34-Product Lip Care Collection From Softlips
To make sure you're in the running to win this extensive collection of balms – 34 assorted Softlips sticks in all, plus a white makeup case to store them – leave a comment on this post about which Softlips product you'd be most excited to try. But make sure to do it before 11:59 AM tomorrow, or you might be left with chapped lips the rest of the winter.Seems like you're particularly enthused about the pomegranate-flavored Softlips PURE, and we can see why: this 100% natural, USDA-certified organic lip treat even comes in recyclable packaging.Hurry up and tell us which balm you most want to try, and we'll enter you for a chance to win the whole lot
Deal Of The Day: Up To 75% Off Clean-Cut Coats At J. Crew
Then again, there's not much at J. Crew that isn't clean cut.Wear this wool/cashmere coat ($100, was $325) with the collar open, or tie it up in lieu of a scarf. A waistband with button-tab detail gives this double-cloth coat ($130, was $298) a feminine shape; it would look perfect over a full-skirt or dress for evening. We like this shorter Marie coat ($80, was $330) in fresh winter white. The standup collar makes it feel even more modern. More sales and deals on the web:30% off select work wear at Banana Republic through 1/28. Up to 60% off all Kenneth Cole Reaction footwear at 6pm. At Baghaus an extra 20% on any order over $30 with coupon code HOPE. The sample sale scoop – shop these sales today for huge savings:Anthony Nak and multi-designer final sale at Gilt Groupe. Cynthia Vincent and Emily & Ashley at Hautelook Hale Bob at Rue La La Michou at Editors' Closet
News: Barneys Hails Toledo, Free Makeup Has No Takers, And More…
1. In celebration of the First Lady's sartorial decision, Barney's abruptly changed its window display to showcase a congratulatory shout out to Isabel Toledo. [Racked]2. Tuesday's giveaway of cosmetics at major department stores proved less popular than expected. (Perhaps the inauguration had something to do with it.) Find out what beauty products the SF writers can't live without. [NYTimes]3. Yesterday, Michelle Obama showed up at a church service wearing Tracy Feith, who is next in line to design for Target. [WWD]4. Many women in the UK have admitted to injecting themselves with Melanotan, which is supposed to give them a glowing tan. We suggest a nice, safe fake tan instead. [DailyMailUK]
Latest Blog Posts From MomFinds
No Excuse Needed To Buy Soul Of Africa ShoesThere's no guilt at all involved in adding to your shoe collection when you pick up a pair from The Soul of Africa. This sustainable development initiative was started by family members of Clarks and Froggie Shoes.Sophisticated Sweater Wrap For Busy MomsThis sophisticated sweater wrap has an added benefit that makes it the perfect travel (and everyday) accessory for busy moms - sleeves.Win It Wednesday: Bring The Spa Home With Chloe & Jane's Body Essentials Who couldn't use a little pampering in the middle of winter? Chloe & Jane bath and body products are made with 98% natural ingredients and will make your skin feel amazing.
News: First Lady In White Wu, Another Celeb Denim Line, And More…
1. Michelle Obama silenced the buzz last night by showing up in a winter white Jason Wu gown, preceded yesterday morning by a lemongrass Isabel Toledo dress and coat combo. [CNN]2. Audrina Patridge of The Hills fame has debuted her own denim line for Arden B. The line is named Divine Rights of Denim and is available on the store's website. [NYMag] 3. Bally is set to launch an e-commerce site this February featuring shoes, bags, and leather goods. For now, you can score some chic Bally pumps at Zappos.com. [FWD] 4. It looks as if Outnet, the new discount site being launched by Net-a-Porter, will in fact feature current items that don't make it to department stores, and not just unwanted goods from the main site. [Fashionista]
Taste Test: Which Beret Is A Better Bargain?
One of these cozy cable-knit caps above will keep your noggin warm for almost $200, while the other does the same duty for less than $20. Think you can spot the one you wouldn't mind getting soggy with snow (and probably losing sometime during the season)? Click on the bargain beret, then test your steal-spotting skills in our Taste Test archives.
Deal Of Inauguration Day: Up To 60% Off Ruffle Detail Tops At Nordstrom
All work-appropriate but not boring, these tops can be paired with slacks, skirts of trouser jeans for a professional but feminine look. And of course, in honor of inauguration, today's Deal comes in patriotic colors.Rory Beca's sleeveless top ($83, was $208) has night-out potential, but also works under a simple blazer or cardigan. Tuck this ruffled button-down ($94, was $158) into a high waisted skirt for a serious look, or leave it loose with jeans for Sunday brunch. This ruffle placket tee ($35, was $58) combines the comfort of a cotton tee with the slightly fancier feel of a work top. More sales and deals on the web:Save an extra 15% on everything at Bluefly, today only. Up to 60% off at Saks's sale. 25% off select designers at Couture Candy with coupon code 25DAY. The sample sale scoop – shop these sales today for huge savings: Lauren Conrad and OmniPeace at Hautelook Juicy Couture and Badgley Mischka at Rue La La Rogan, ToyWatch and Lutz & Patmos at Gilt Groupe
Latest Blog Posts From MomFinds
Fashion Find: Target Jeans Flatter The Figure And The WalletIs it possible to get fashionable and reasonably-priced jeans? Absolutely! Target's own Mossimo brand has a wide variety of denim to choose from — bootcut, flared, or straight leg. Deal Of The Day: Stylish Winter Coats On Sale Just In Time For The Inauguration (And After) Here are our picks for mom-savvy winter coats that will last well after the festivities of the inauguration are over. Win it Wednesday: Win a Deluxe Natural Gift Basket for Baby from BumkinsYou're probably already familiar with Bumkins for their colorful waterproof bibs, but did you know they now offer a line of organic and natural baby products? Now you can win one of your very own.
Michelle Obama Wears Jason Wu To The Inaugural Balls… We Can All Breathe Now
Finally, we see it. First Lady Michelle Obama has appeared at the first of ten inaugural balls, The Neighborhood Ball, dressed in an eye-catching one-shouldered, white gown by Jason Wu. We were expecting something a bit more colorful, but she seems to be on trend with the single-shouldered look. If you're a fan, you can copy her style with some options below: And be sure to check out our Style Guide to Michelle Obama as well as our earlier post on her yellow day dress by Isabel Toledo.
Deal Of The Day: Up To 67% Off Underwear (And Lots Of Other Stuff) At Victoria's Secret
Victoria's Secret is currently having their Semi-Annual Sale (wishing I could convey that foreign model voice in type), which means you can pay half price or less for your favorite bras and panties. The black lace and bow detail make the Brazilian Panty ($7, was $19.50) a flirty option. The Starlet Panty ($5, was $15.50) has a supremely sexy retro, pinup vibe. In four neutral colors, this lace thong ($10.50, was $14) can be your feel-good everyday panty. More sales and deals on the web:Up to 65% off Asics athletics clothes and shoes at 6pm. 10% off almost everything at Kmart with coupon code JAN3DAY now through Saturday. Take an extra 15% off all sale items at Queen Bee Girls with coupon code qbextra20. The sample sale scoop – shop these sales today for huge savings: Rebecca Beeson and Proportion of Blu at Hautelook Botkier at Rue La La Cole Haan shoes, Donna Karan Handbags and Shaesby jewelry at Gilt Groupe
Happy MLK Day; Stay Warm And Enjoy The Sales
Save up to 70% at Ralph Lauren's sale. We especially like this down vest ($99, was $298), perfect for chilly fall and end-of-winter days. Today at Bluefly, get an extra 25% off all cashmere items, like this crewneck sweater ($66.75, was $240), which comes in 12 colors. Get 20% off all full-priced items at Charlotte Russe, including this sophisticated-looking tweed dress ($23, was $28.99). Spend over $125 at Banana Republic, and get a discount on your order when you enter SAVEMORE at checkout. You'll get 15% off this large foldover clutch ($110.50, was $130). Shop Gap's denim sale today and save 25% or more. These low rise boot cut jeans ($35, were $88) have a classic, slimming cut and just a bit of stretch. The sample sale scoop – shop these sales today for huge savings:Chaiken at Hautelook Paige Premium Denim and Cynthia Rowley at Rue La La Kenneth Jay Lane and Derek Lam at Gilt Groupe
Michelle Shows Off Her New Narciso At The We Are One Concert…This Time In Less Controversial Camel
Well, she's done it again. Michelle Obama stepped out yesterday in Washington at the We Are One Concert looking even chicer than usual (is that possible?) in a stunning Narciso Rodriguez black and camel ensemble. This was a much more conservative choice than the controversial 'black widow' dress she donned on election night. Personally, we believe she could wear a paper bag and get away with it, but some of our readers thought otherwise. Regardless, it's hard to argue that this recent coat and skirt creation was not befitting of a soon-to-be First Lady. And if you'd like to copy the look - we sure would - below are some equally classic options. Pair this Camelhair Swing Coat ($250) with a camel pencil skirt like this one from Ralph Lauren ($225, was $450) or wear each on its own. Either way, you're sure to get mileage out of the timeless color and cuts.
Week In Review: Stars Fancy Up For The Globes, Our Jewelry Won't Calm Down, And More…
Must-Reads: The 2009 Golden Globes came and went with plenty of fashion and beauty to discuss - isn't that what these awards are about anyway? Our accessories have gone a bit wild, with the tribal jewelry trend sure to be on the rise come spring. We've extended our giveaway of the Lisa Drayer's book, The Beauty Diet, until Tuesday, so hurry up and enter to win your copy today! Sales and Deals: Up to 70% off staple black pants at Shopbop 40% off red patent flats at shoes.com 60% off waist-defining belted dresses at Pink Mascara Taste Tests: Which white boots cost a little less green? Which ruffled cardigan's price tag won't make you flustered?