These Are The Boots Every Editor Wants This Year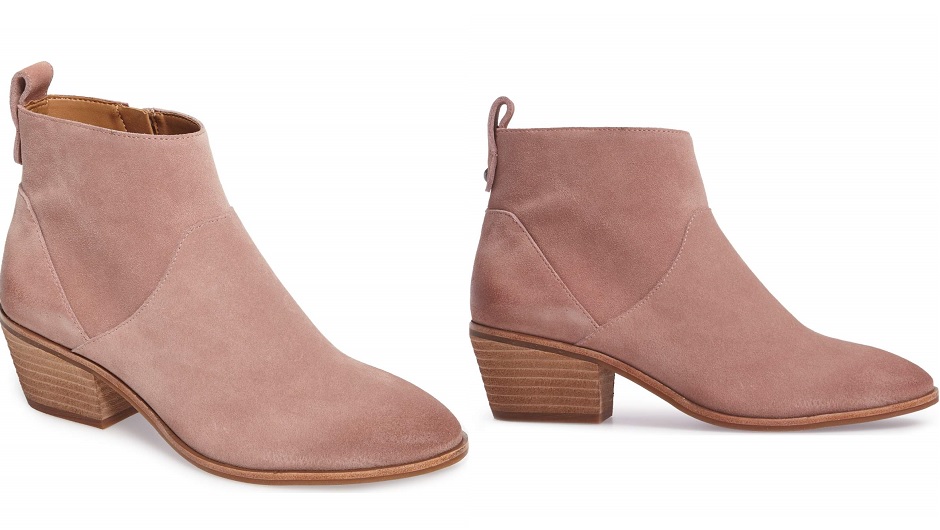 Drop Everything And Get Yourself A Pair Of These Amazing Millennial Pink Booties On Sale At Nordstrom Right Now
If you're in the market for some amazing booties now that it finally feels like fall, we found the perfect pair. Feast your eyes on these perfect millennial pink booties by Sole Society: Sole Society Vixen Bootie  Gorgeous, right? The classic silhouette and modest heel height definitely balance out the on-trend color, making these a no-brainer cold-weather investment. And speaking of, did I mention these boots are actually super affordable? They're currently on sale for just $59.90, down from $99.95 at Nordstrom. Yes, please! If millennial pink is a little too sweet for you, but you love the look (and price!) of these booties, here's good news: they come in six other colors! Shop them all below: Sole Society Vixen Bootie ($59.90, down from $99.95) Sole Society Vixen Bootie ($59.90, down from $99.95) Sole Society Vixen Bootie ($59.90, down from $99.95) Sole Society Vixen Bootie ($59.90, down from $99.95) Sole Society Vixen Bootie ($59.90, down from $99.95) Sole Society Vixen Bootie ($59.90, down from $99.95) Get your hands on this super popular scalloped sweater before it sells out again! [Photo: Nordstrom]
We Found The Perfect Black Leather Booties Under $60–At Nordstrom!
Every woman needs a good pair of boots. Now, if they just so happen to be super stylish and crazy comfy to walk in, all the better! On the hunt for an everyday pair or just need to upgrade your boot collection for the season? Nordstrom just put the perfect black booties on sale. We promise you won't get tired of these BP. Quinn Flared Heel Chelsea Booties. The understated design means they'll literally go with everything in your closet from skinny jeans to sweater dresses. They're also uber comfortable to walk in thanks to that chunky, block heel.  It's no wonder Nordstrom shoppers cannot get enough of them! Our advice? Do not wait to grab up these booties; they won't stay in stock for much longer at this price! BP. Quinn Flared Heel Chelsea Booties ($59.96, down from $99) PS: The BP. Quinn Flared Heel Chelsea Booties also come in other colors. Check them out below: BP. Quinn Flared Heel Chelsea Booties ($59.96, down from $99) BP. Quinn Flared Heel Chelsea Booties ($59.96, down from $99) BP. Quinn Flared Heel Chelsea Booties ($59.96, down from $99) SHOP MORE NORDSTROM DEALS NOW Be sure to check out this $29 maxi cardigan from Nordstrom and these super comfy weekend pants! [Photo: Nordstrom]
The Best 2017 Nordstrom Black Friday Deals You Need To Know About
Nordstrom has been known to offer some unbeatable discounts, and this season is no exception! On the heels of its annual fall blowout, the store just announced its Black Friday deals for 2017. Of course, they can't be missed! The mega retailer will be offering 20 percent off select sale items on nordstrom.com starting Thursday, Nov. 23 at 12:01 a.m., and in store and online through Sunday, Nov.26 at 11:59 p.m. For Cyber Monday, customers will also be able to get an additional 20 percent off sale items, so the savings are sure to rack up! Even more good news? Between Dec. 16 and Dec 24, Nordstrom will host a 24-hour curb-side pickup service, seven days a week, to provide customers with even more flexible shopping hours. So whether you're a last minute buyer or simply want to skip the retail rush, consider your mind put at ease. And to make your shopping even easier, you'll able to take advantage of the store's ongoing services, including Buy Online & Pick Up In-Store, Reserve Online & Try In Store, Express Alterations (including complimentary 1-hour basic hems) and Same Day Delivery. Needless to say, we simply can't wait for the day! In the meantime, check out our favorite Nordstrom items that are on sale right now (yes, they'll be even cheaper on Black Friday). Kenneth Cole New York Faux Fur Coat ($99.90, originally $150) Every fashion girl is currently coveting a teddy coat, and it's not hard to see why. The faux fur exterior makes the coat ultra chic and warm, while the soft taupe hue is a welcome change to a slew of winter blacks. Vince Camuto Britsy Bootie ($89.97, originally $148.95) Tis the season for sparkle and shine! We're totally obsessed with this gold bootie from Vince Camuto. Not only is its luminescent finish quite unique, but its pointed toe and and sock boot construction are totally on trend. The pair is currently 40 percent off and will be reduced another 20 percent come Black Friday, so how can you say no? Tory Burch Parker Leather Tote ($199.66, originally $298) Whether you keep this one for yourself or end up gifting it to a friend, one thing is for sure: It belongs in your shopping cart ASAP. This stunning Tory Burch tote is great for lugging around all your essentials. Plus, the classic finish makes the purse extremely versatile, so you'll be able to wear it with practically anything!  Panacea Drusy Tassel Earrings ($26.40, originally $44) If you truly aspire to be a street style star, you'll want to get a head start on 2018's hottest trends. One look we love? Oversized earrings! These tassle versions from Panace totally nail the style, complete with large rhinestones and some flirty fringe. Similar versions from the brand have already sold out on the Nordstrom website, so you'll want to act fast and get your pair while you can! For even more amazing Black Friday finds, make sure to check out this year's Hunter Boots Black Friday Deals and Amazon Black Friday Deals. Let the countdown begin to the big day (BRB, marking our calendars)!
It's Not Boot Season Without These Fashion Girl-Approved Boots
HACK: Here's How To Eastland Knot Your L.L. Bean Duck Boots
You already know that you always go to grab your L.L. Bean Duck Boots whether your town has finally reached those colder temperatures, it's raining, or there's even an unexpected snow day (yikes). However, luckily, you know that your feet will stay toasty warm and protected thanks to L.L. Bean's amazing quality of their boots. If they're not already, duck boots should definitely become your go-to boots for the fall and winter seasons-- you'll thank yourself later. And you should be sure that you're not fooled by any duck boot knock-offs or lookalikes, because while they may have the appeal and style of L.L. Bean boots, they're no where close to the same quality. You can be sure you're getting the best of the best thanks to L.L. Bean, but you should also be sure to take a second glance at your boots' laces when you slip them on for the day. Although you technically could tie your boots in a simple bow and head out the door, you should Eastland knot the laces instead to make your duck boots much easier to slip on and off. Without further ado, let's dive into the few simple steps you'll need to follow to learn how to Eastland knot duck boots before braving the weather.. 1. If you're tired of straggling laces falling at your feet then all you need to do is take one of your duck boot laces and make about a 1" loop. Then bring the end point of your lace around the loop you just made. 2. Next, just continue to take the end point of your lace and keep on twisting it around the loop you made. This will create a coil effect, which is the main part of the steps you need to follow to make the Eastland knot for your L.L. Bean Duck Boots. 3. Lastly, you can stop twisting the lace around the loop once you realize that you can't wrap the end of the lace around the loop you made anymore. Once you get to that point, take the end of your lace and push it through the loop rather than wrapping it around it again.  And all that's left to do is to evenly distribute the coil you made after wrapping the lace around the knot. This will easily create an Eastland knot for your duck boots. Make sure to pull the end of your lace tight so that your Eastland knot doesn't come undone! With an Eastland knot, you'll get the ultimate comfort and quality out of your L.L. Bean Duck Boots. According to the L.L. Bean website, the boots are made with full-grain leather for the rain and snow, are triple-stitched, have a supportive steel shank and original rubber chain-tread bottom, and are treated with water-resistant protection. And of course now they have an Eastland knot too! In fact, there are plenty of ways to tie your laces and care for your different types of shoes. For more styling tricks and hacks, make sure to check out how to bar lace sneakers, how to clean Stan Smiths, and easy ways to clean converse sneakers. [Photo: instagram.com/___kimber___]
These Boots Will Look Good With Every Outfit This Fall And Winter
With temperatures steadily dropping, it's time to face facts: it's boot season! Whether you love the idea of putting away sandals or dread having to hide your perfect pedi in booties, there's no denying that you need a few go-to pairs in your closet. Luckily, now is the time to upgrade your collection and River Island is the place to score. Not only do they have loads of options that are sure to delight, but the prices are totally reasonable! Because there are so many super cute styles to pick from, we're helping you out by narrowing down the four styles your shoe arsenal isn't complete without. These boots will look amazing with any outfit in your wardrobe, we promise. Dark Red Block Heel Ankle Chelsea Boots 1. Chelsea Boot. This stylish bootie will be your best friend from now until February, as it is the perfect option to pair with everything from jeans, leggings, skirts and dresses. The traditional Chelsea look never goes out of fashion, so grab a basic black pair or switch it up with a fun color like these Dark Red Block Heel Ankle Chelsea Boots to wear on repeat. Green Pointed Block Heel Boots 2. Block Heel Boot. You cannot make it through the season without a good block heel option for your wardrobe. Not only are block heels easier on your feet, but there are options at just about every heel height these days. We recommend being a bit adventurous and choosing a pair of block heels in a rich color that's reminiscent of the season like these Green Pointed Block Heel Boots. The gold accents give them the perfect touch of glam. Faux Suede Over The Knee Boots 3. Over-the-Knee Boot. For those days when you need some extra coverage (or just want to flaunt a sweater dress or midi skirt), an over-the-knee boot is the way to go. Invest in a pair like these Faux Suede Over The Knee Boots to go from casual to chic in a flash. Bonus: over-the-knee boots will make your legs look supermodel long! Navy Corduroy Block Heel Pointed Ankle Boots 4. Pointy-Toe Boots. A good pointy-toe is a must for this time of year because they have a slightly more polished look to them. Our advice? Take this already popular trend to the next level by adding some texture with a pair of booties like these Navy Corduroy Block Heel Pointed Ankle Boots. [Photo: River Island]
We Did The Shopping For You: The Best Tall Boots For Short Women, Wide Calves, And More
As amazing as boot season is, it can be difficult for some women to find a pair of tall boots that fit perfectly, or any pairs of boots for that matter. And finding tall boots can be a never ending battle for both women with wide calves and women who are petite. Luckily, there are certain brands that offer exclusive boot lines that are tailored for women who have these body types. We did some digging to find the best boots for wide calves and the best boots for short women, and are here to serve some options. In addition to that, we also found an additional boot style that is super flattering for petite women and that also gives them a bit of extra height. Best Tall Wide Calf Boots:  DSW carries a variety of tall boots that fit comfortably around wide calves. These two-toned boots are trendy, go with literally any outfit that you pair them with, and are even offered in two different wide calf sizes. You can select either a medium or wide calf fit, and also choose from an all-black or all-brown color boot too if you don't want a two-toned style. And not to mention, they're so stylish and comfortable that they've received nearly a 5-star rating from DSW customers online. DSW Unisa Trinee Wide Calf Riding Boot ($69.99) The suede boot fall trend is also definitely one here to stay. And you can join in on the popular style even if you have wide calves thanks to these Unisa Subrina boots. Not only do you get amazing comfort, you also score a major deal on these $60 boots compared to their original retail price of $100. They also feature a partial inside zipper closure so they're super easy to slide on and off when getting ready in the morning. DSW Unisa Subrina Wide Calf Boot ($59.99) Best Tall Boots For Short Women, & More:   Of course short women can wear tall boots too! Personally, I'm all too familiar with tight boots hitting my 5'1 frame in all the wrong places. I've found that boots with a wider upper are more comfortable for me when they hit around my knee cap. That's why these Target Journee Collection Slouchy Round Toe Boots are great for short women. Target Women's Journee Collection Slouchy Round Toe Boots ($49.99) Apart from slouchy tall boots for my petite frame, I'm also a big fan of ankle boots since they don't swallow up my entire leg. Plus, heeled booties also give me extra height. These Lara Chelsea boots from Target are great for petite women since they hit just above the ankle and have a short block heel, which makes them super easy to walk around in all day. They're also offered in a wide range of sizes from 5.5-11 and 5.5 wide-9.5 wide. Target Women's Lara Chelsea Booties - A New Day™ Black ($34.99) Luckily, we've already done most of your shopping for you in many cases! For more shopping tips and sales you need to know about make sure to check out how to shop Nordstrom's best-selling leggings for $19, the best coats under $100 this season, and the Rebecca Minkoff sale you need to shop right now. [Photo: galmeetsglam.com]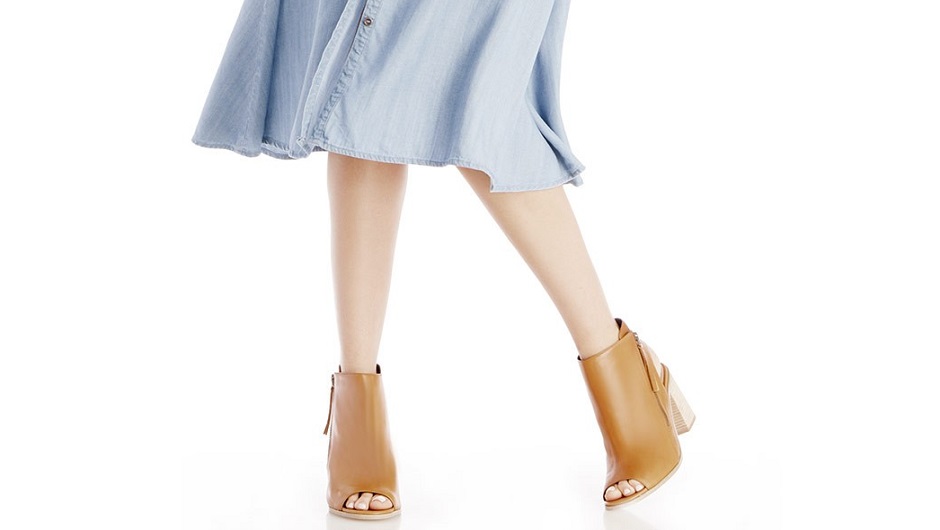 These $39 Leather Booties Are Perfect For This Hot/Cold In-Between Weather
While you may have put your sandals away as soon as the pumpkin spice lattes started selling, the changing weather hasn't quite gotten the memo that it's fall. And if you're racking your brain (and tearing up your closet!) for the right shoes to wear from one warm afternoon to the next chilly morning, we've got you covered. Sole Society just put the perfect transitional bootie on sale, and you need to grab it ASAP! The Arizona Cut Out Bootie is a must-have in your shoe rotation, as these trendy booties aren't just super cute. These peep toes are so functional with their stylish cut outs making them the prime choice to wear in this cool one day, hot the next temps we'll be having well into November. Plus, these fall shoes come in three amazing colors--camel, black, and night taupe--that match well with any fall outfit. Did I also mention that you can scoop them up for crazy cheap, as these boots are on sale right now for just $39 (down from $99)?! Hurry up and get a pair quick because these shoes will sell out fast! Arizona Cut Out Bootie ($39.98, down from $99.95) Arizona Cut Out Bootie ($39.98, down from $99.95) Arizona Cut Out Bootie ($39.98, down from $99.95) And if you're looking to stock you closet with more great peep toe booties, here are few more options (all on sale!). Beechwood Peep Toe Bootie ($49.95, down from $99.95) Albany Block Heel Shootie ($49.98, down from $99.95) Bobbie Lace Up Wedge ($35.98, down from $89.95) Hyperion Peep Toe Booties ($49.98, down from $99.95) SHOP MORE SOLE SOCIETY BOOTS NOW Be sure to check out these black jeans Nordstrom shoppers love and this gorgeous camel peacoat! [Photo: Sole Society]
Hands Down, These Are The Best White Boots Under $100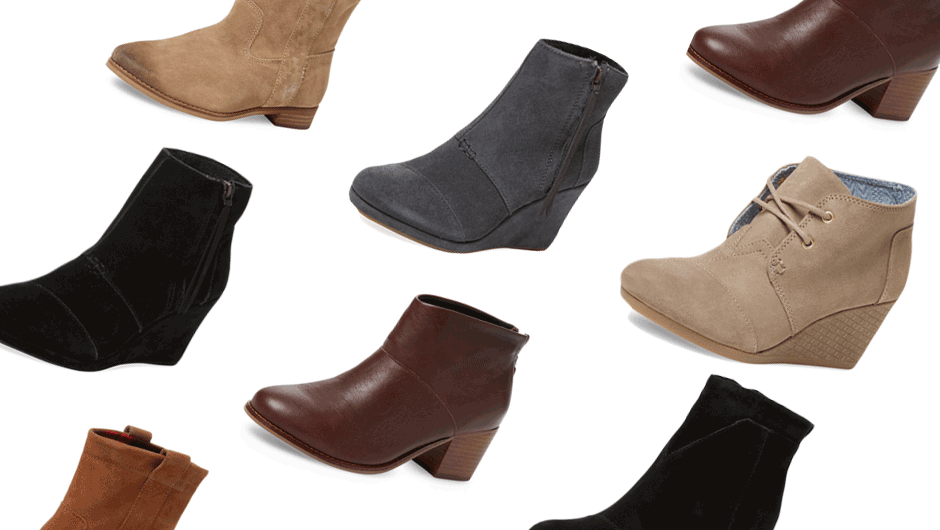 Psst! Gilt Has Tons Of Cute TOMS Boots On Sale Right Now
Shoe addicts, drop everything! Gilt has an amazing selection of TOMS booties on sale right now! From wedges to low-heeled booties, there's something for everyone. The best part? The prices, of course! This is your chance to score a pair of comfortable suede or leather boots for just $65! Given that the original prices are over $100 and fall is well underway, this is a no brainer. There are lots of sizes now, but they won't last. Get a pair for yourself ASAP! TOMS Low Heel Laurel Bootie ($65, down from $119) TOMS Desert Suede Wedge Bootie  ($65, down from $98) TOMS Desert Wedge Bootie ($65, down from $98) TOMS Desert Suede Wedge Bootie ($65, down from $98) TOMS Leila Suede & Herringbone Bootie ($65, down from $98) TOMS Mid Heel Leila Bootie ($65, down from $98) SHOP MORE GILT STEALS NOW Be sure to check out these amazing Nordstrom Jeans under $30 and these crazy popular HUE leggings! [Photo: Gilt]
Tons Of Super Cute Boots, Booties And Fall Shoes Are An Extra 20% Off At Gilt This Weekend
We all know and love Gilt for their amazing selection of designer clothes and accessories. And the prices? So amazing! But those super sweet prices are even better this weekend. Why? For a limited time only, Gilt marked down tons of crazy cute shoes, boots and booties. Yup, just in time for your fall closet refresh! Whether you need a new pair of suede ankle booties, loafers or a tall leather boots, this is the sale to score. There are so many good designers included; I'm talking Sam Edelman, Seychelles, Frye, Vince Camuto, Sigerson Morrison and more! The catch? The prices are so low that styles are selling out fast. Drop whatever you're doing and get over to Gilt ASAP to get a great pair of shoes for fall! The sale ends tomorrow at 4:00pm. Sam Edelman Lance Ankle Bootie ($52, down from $150) Joie Huxley Low-Top Sneaker ($79.20, down from $188) Seychelles Nominated Leather Bootie ($79.97, down from $179) Sam Edelman Pamina Perforated Leather Bootie ($63.20, down from $130) SHOP GILT'S 20% OFF SHOE SALE NOW [Photo: Gilt]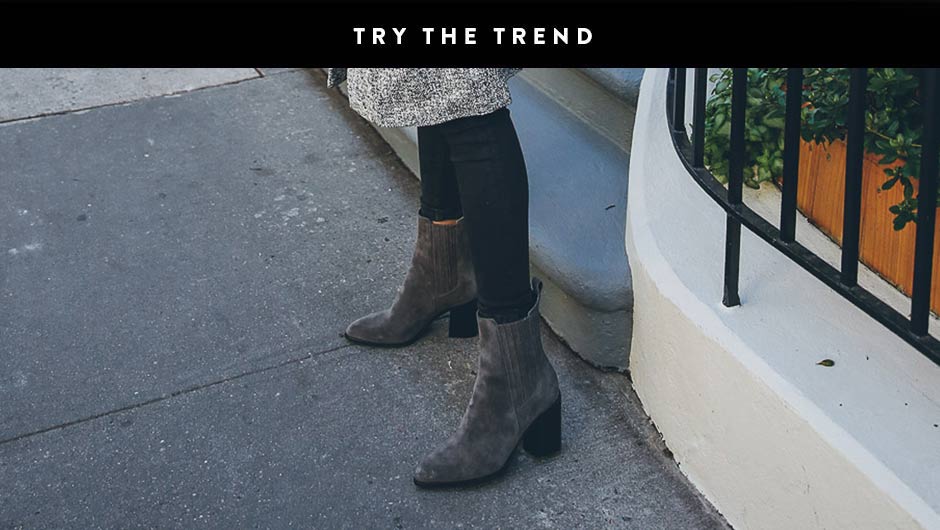 Grey Booties Are Trending Big Time For Fall–Get A Pair ASAP
We're Giving Away 10 Pairs Of Chooka Rain Boots–Enter Now For Your Chance To Win!
With the official start of fall just one day away, we're here to prep you for the new season. Together with our friends at Chooka, we're giving 10 lucky SHEfinds readers a pair of Chooka City Solid Waterproof Boots! If you're not already familiar with Chooka, boy have you been missing out. When it comes to cute rain boots, few brands do it better than Chooka. Not only are their boots completely waterproof, but they come in the best colors and designs. Instead of dreading rainy days, you'll actually look forward to wearing these super stylish boots. Not only are Chooka's boots cute, though; they are also super comfortable. Each boot comes with removable memory foam for ultra-comfortable cushioning on your feet. Braving harsh weather? There's a moisture absorbent lining, so you never have to worry about cold, wet feet. Need a pair of these amazing boots in your closet for fall and winter? Yeah, you do! Enter below for your chance to win. Good luck! (function(){ function loadScript(url, scriptId, callback) { if(document.getElementById(scriptId) != null) { return; } var script = document.createElement('script'); script.type = 'text/javascript'; if (script.readyState) { script.onreadystatechange = function() { if (script.readyState === 'loaded' || script.readyState === 'complete') { script.onreadystatechange = null; callback(); } }; } else { script.onload = function() { callback(); }; } var scriptIdAttr = document.createAttribute('id'); scriptIdAttr.value = scriptId; script.setAttributeNode(scriptIdAttr); script.src = url; document.getElementsByTagName('head')[0].appendChild(script); } function loadEmbed(){ var iframes = document.getElementsByClassName('campaign_embed'); for(var i = 0; i < iframes.length; i++) { iFrameResize({ enablePublicMethods: true }, iframes[i]); } } loadScript( '//d2xcq4qphg1ge9.cloudfront.net/javascript/responsive_embed/20150624/iframeResizer.min.js', 'campaignEmbedder', loadEmbed ); })();
FYI, Sole Society Has Tons Of Super Cute Booties On Sale For Under $50 Right Now
While the temps may be dropping day to day, it isn't fall just yet, which means there's still time to stock up on all of your cold weather essentials before prices go up. Shoe lovers, pay attention! Sole Society is having a killer boot sale right now; there are tons of quality pairs on sale for less than $50 like the Everleigh Double Zipper Bootie. This super stylish, suede ankle boot is not only comfortable--and great to wear with any outfit--it's also a steal at only $49. Everleigh Double Zipper Bootie ($49.98, down from $99.95) Need more options? Take a look at some of these other gorgeous boot options, all under $50 too! Flynn Wrap Around Bootie ($43.98, down from $109.95) Zada Woven Ankle Bootie ($49.98, down from $99.95) Pippa Suede Bootie ($39.98, down from $99.95) Verona Shearling Ankle Boot ($49.98, down from $99.95) SHOP MORE SOLE SOCIETY DEALS NOW Be sure to check out this bestselling Nordstrom dress and this super flattering tunic top. [Photo: Sole Society]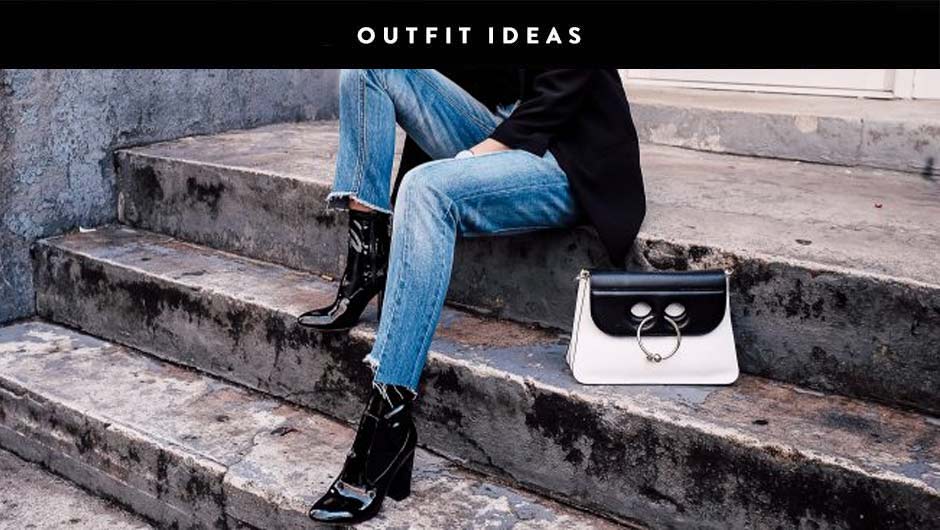 Copy These Cute Ankle Boot Outfit Ideas All Season Long
Shop Our Favorite Ankle Boots For Fall Under $75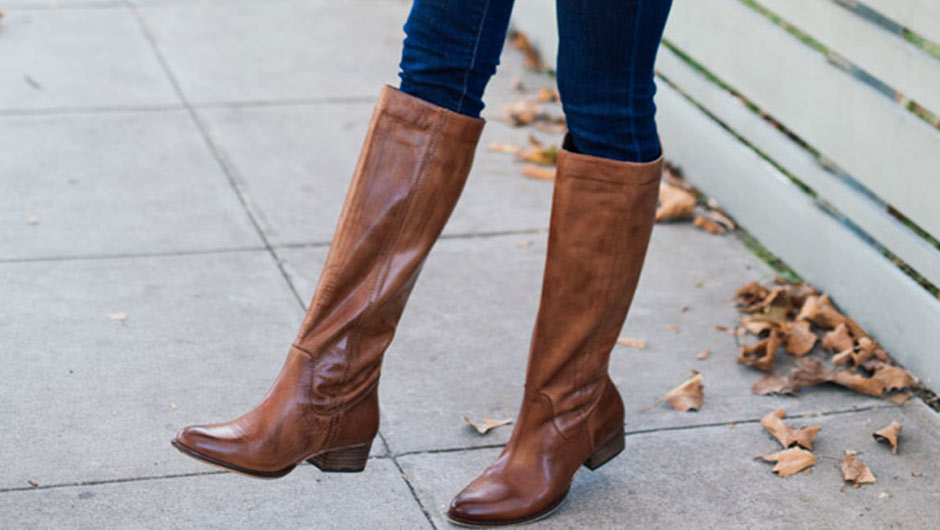 The 2-Second Trick For Breaking In Your New Boots
Are you ready for boot season? The most stylish time for rocking footwear is upon us and no one will blame you for running out and purchasing the first five pairs of amazing knee-high, ankle, and scrunchy boots you can find. There's just something about boots that makes them the perfect foot choice to pair with everything from dresses and skirts to skinny jeans and trousers. They're the perfect shoe choice — almost. Unlike most sneakers and flats, boots and high heels share a little something in common: they can be painful until you break them in. In a pure and perfect shoe-wearing world, you'd wear your boots for a few days or even weeks before hitting the pavement in them. With a little wear, the material will generally stretch to accommodate your feet — almost as if they were tailor-made for you. But most of us lack the time and patience to break in our boots the traditional way. For us, this 2-second trick for breaking in new boots is pure gold. 1) Fill A Spray Bottle With Water And Alcohol There's an intriguing tip floating around the internet that suggests filling your boots with water or straight-up submerging them in a (gasp!) bathtub is one of the quickest ways to break in your boots. That's actually one of the fastest ways to destroy your boots — but there is some logic to using a spritz or two of water to loosen up leather. Fill a spray bottle with 30-40 percent rubbing alcohol and about 60 percent water. Spray the insides of each boot a few times, but be careful to never spray this solution onto the outside of your boots. Now leave your boots to dry for a few hours or overnight. Once they're dry you'll find them to be a looser, more comfortable fit for your feet. 2) Stuff Boots With Towels Stuffing your boots with a sturdy cloth like a towel will help stretch them just enough to feel comfy and roomy when you're wearing them. If possible, begin this process a few days before you plan on debuting your new boots. Stuff clean hand towels inside of each boot, taking to fill every space. Leave the towels in your boots for as long as possible. 3) Walk Around In Your Boots As Much As Possible It remains the number one way to break in your boots: actually wearing them. Taking your boots for a spin around your house a few hours a day gradually expands the insides and helps them fit better. Wear thick wool socks under your boots and if you have an extra few minutes try this hack: point a hot blow dryer at all of the tight spots in your boots to help loosen them up. 4) Take Them To A Shoe Cobbler Let a shoe cobbler take your new, uncomfortable boots and transform them into a pair that feels cozy and perfect. It may take a little research to find a cobbler near your home, but these professional shoe magicians have expander tools that automatically loosen your boots. And, if all else fails, never underestimate the power of blister dressers. Apply them to your feet before your first time wearing new boots, cover feet with comfortable socks, and try to focus on how gorgeous you look. After receiving a million compliments on your slick new boots you'll forget all about the pain of breaking them in.
These Are The 5 Boots Every Woman Needs In Her Closet This Fall
Whether you're dreading the cooling temps or gleefully reaching for that signature pumpkin spice latte (grande, please), fall is almost upon us. And that only means one thing for shoe-obsessed shoppers everywhere: boot season is finally here! Yes, it's time to start breaking out your favorite boot styles to mix and match with your fall wardrobe. But if you're like me, then your closet could probably use a serious boot refresher. After all, there are so many new trends to try Not sure which styles you should be rocking this season? No problem. We're giving you the complete guide to what styles you must have this fall and how to wear them. Make sure you stock your shoe arsenal with these keepers ASAP, as you'll be strutting in these boot staples all season long. 1. Statement Ankle Booties.  If there's one pair that you need above all else, it's these! Ankle booties are the perfect height to wear with just about everything in your closet, be it a dress or skinny jeans. This season, choose a statement making pair (leopard print, anyone?!) that will easily jazz up a classic black dress or work trousers. 2. Wedge Booties. When looking for a combination of comfort and style, wedge booties hit the mark. Grab a black or tan pair to put into your shoe rotation, as they are the perfect accessory when looking to dress up a skirt or sweater dress. 3. Slouchy Boot. Don't be fooled by the name. The slouch boot is anything but lazy fashion. Take advantage of these stunners by putting them together with an oversized sweater and leggings for a super stylish look. 4. Over-The-Knee Boot. If you're looking to add some flare to your wardrobe, consider a leg-lengthening over-the-knee boot. Perfect for fall weather, try matching a pair with a midi dress for a perfect fall ensemble. 5. Riding Boots. Talk about a classic! When the weather gets cooler, riding boots are a must. But they are best paired with jeans for an effortless, everyday look. Also great to wear with leggings, you can dress them up or down depending on your mood. Return to fall footwear essentials guide >> [Photo: Sole Society]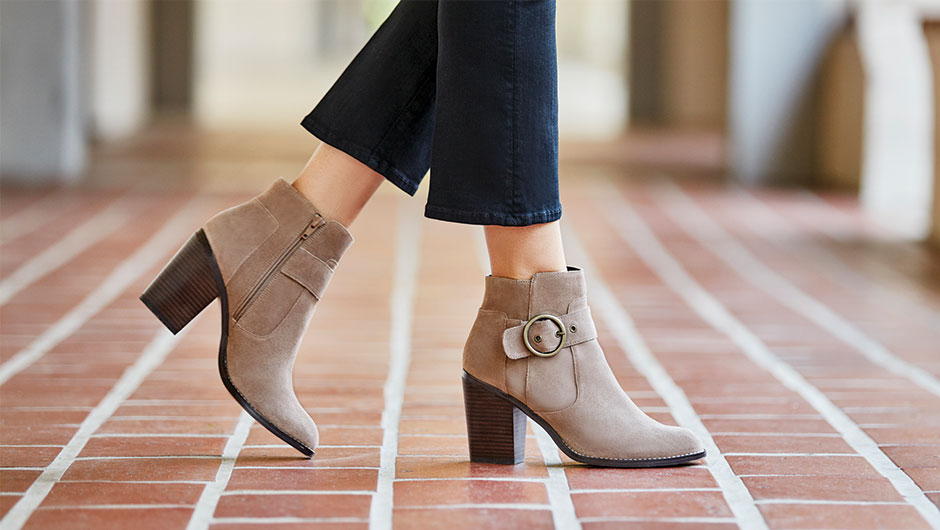 Once And For All, Here Are The Perfect Summer-To-Fall Transition Shoes
Some things are just universal; you should always have a go-to red lipstick in your makeup bag and you absolutely need a flattering LBD that can be worn for any occasion. The same can be said when it comes to shoes--there are rules. We all have our favorite pairs and styles, but not all shoes are created equal--especially when it comes to those chillier months. Fortunately, there are a few footwear styles that have major crossover appeal and can be worn in between seasons. If you don't already own these must-haves, you need to invest in them ASAP, as these are the perfect summer-to-fall transition shoes to strut in as the temperatures start dropping. Ballet Flats. Every woman needs a good, sturdy pair of ballet flats. This go-to shoe is one that you can rock every day--pairing them with your favorite jeans or adding them as a work staple to accompany your arsenal of dresses and skirts. Plus, who doesn't need a comfortable pair of flats?! Open Toe Booties. Whether it's the tail-end of summer or the beginning of fall, open toe booties are a must. This cut still allows you to show off your summer pedi, but offers some much-needed coverage on chillier fall days. Mules. Don't sleep on this fun-yet-functional shoe! Mules are a lifesaver when dealing with cooler temps, as they're a super stylish option to rock from season to season. They're so versatile--you can literally wear them with anything from summer dresses and skirts to jeans and pants on those cooler fall nights. Light Color Bootie. Before winter officially strikes and you're reaching for black booties days after day, mix things up with a versatile pair of light color booties. Because the color is close to nude, these beauties can be worn sans tights at the end of summer and beginning of fall. Even better, they look good with so many different clothing items. Dresses, midi skirts, cut off shorts--your options are endless. Return to fall footwear essentials guide >> [Photo: Sole Society]
Every Woman Should Own These Boots–They Never Go Out Of Style
Dressing in fall is the best. Between cute jackets, cozy sweaters and boots and booties, what's not to love?! If you like the idea of stocking your closet with essentials that look good season after season, we're here to help. Believe it or not, you can invest in boots that don't need to be replaced every year. The key is splurging on timeless styles and taking impeccable care of them. Ready to revamp your boot wardrobe so you're covered on the classics? Here are the 4 styles every woman should have in her shoe collection. Leather Ankle Boots Whether walking through fallen leaves or trekking city streets, there's no denying that leather ankle boots always look good. Black is a great, versatile option, but don't forget about other wear-with-anything colors like deep browns. When it comes to styling your leather ankle boots, anything goes. Short dresses, slim jeans, maxi skirts--they all work! Neutral Suede Boots Think of these as your all-season booties. You can wear them in the fall and winter with corduroys and black work pants and then in spring and summer with skirts, shorts and dresses. Caring for light colored suede is definitely important, so invest in protective spray to keep your boots in tip top condition for years to come. Knee High Boots Knee high boots never go out of style and make the perfect transitional shoe when going from summer to fall and then fall to winter. Knee high boots look super cute with skinny jeans or leggings and an oversized tee or sweater. Another fun way to wear these? Boho style with a printed dress. Dressy Booties Last but not least, your boot collection isn't complete without a dressy pair that you can wear on special occasions. Choose a classic color like black or navy in a luxe fabric like suede or velvet. Opt for a skinny heel rather than a chunky one to keep your look sleek and refined. Return to fall footwear essentials guide >> [Photo: Sole Society]
You're Not Ready For Fall If You Don't Have A Pair Of Metallic Boots In Your Closet
Don't Wait Until Fall–Buy These Cute Rain Boots While They're On Sale For Just $39 Right Now
If you are looking for cute rain boots, now is the time to invest in a pair. Imagine my surprise when I was shopping the Nordstrom sale department and came across these Jack Rogers Sallie Chelsea Rain Bootie on sale for just $39.90, down from $53.95! Not only are they waterproof making them perfect for rain, snow and sleet, but they're actually ridiculously cute, too. They kind of resemble classic leather Chelsea boots, only they're fully weatherproof. Bonus! Jack Rogers Sallie Chelsea Rain Bootie ($39.90, down from $53.95) The boots are available in a bunch of great colors, so treat yourself to a pair while they're on sale. We're betting these are going to sell fast at this price! Jack Rogers Sallie Chelsea Rain Bootie ($39.90, down from $53.95) Jack Rogers Sallie Chelsea Rain Bootie ($39.90, down from $53.95) Jack Rogers Sallie Chelsea Rain Bootie ($39.90, down from $53.95) SHOP MORE SHOES AT NORDSTROM Be sure to check out these super comfortable suede booties and these bestselling Moto leggings! [Photo: Nordstrom]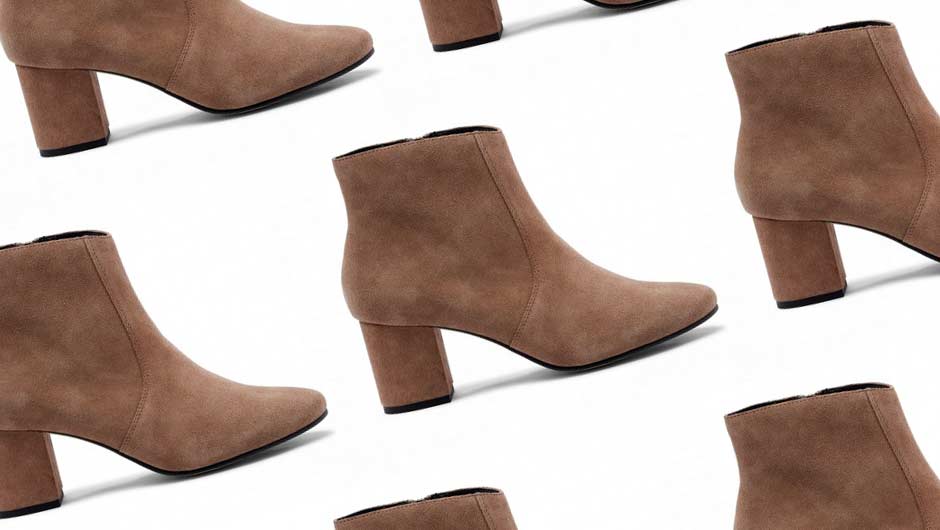 Psst! These $39 Suede Booties Look Good With Everything And Are Super Comfortable
It's that time of year again, time to stock your wardrobe with the perfect fall necessities. Every woman needs a pair of neutral booties, but no need to search high and low. We already found these super cute suede booties that will look great with any fall outfit. The bonus? They're on sale for $39, which means there's no excuse not to buy a pair. P.S. Shoppers say they're amazing quality, so comfortable and stylish. Treat yourself to a pair now! Sole Society Pippa Suede Bootie ($39.98 down from $99.95) SHOP MORE SHOES ON SALE AT SOLE SOCIETY NOW  Be sure to check out the best black work pants and the best summer sandals for just $19. [Photo: Sole Society]
Hunter Just Did Additional Markdowns On Cute Rain Boots And The Prices Are Unbelievably Good
If new Hunter boots are on your wish list, drop everything now! Hunter just did additional markdowns at their seasonal sale and we rarely ever see Hunter boots at prices like these. For a limited time only, you can snag a pair of Hunter's iconic and must-have rain boots for up to 40% off; rain boots are as low as $85, people! As someone who's been caught unprepared by quite a few thunderstorms lately, you can take my word for it: it's always Hunter rain boot season. If you don't have a pair of these boots in your closet, you seriously need some. They're great all year round because they keep your feet warm and dry. Even better, they actually look cute and stylish. And if you already own a pair, don't let that stop you from taking advantages of these prices. It won't hurt to have a new pair or two (hint, hint). To give you a head start, we rounded up some of the best boots from the sale: Women's Green Short Gloss Rain Boots in Succulent Green ($84.95 down from $140) Women's Original Tour Short Rain Boots in Mosse Pink ($84.95 down from $140) Women's Original Short Gloss Boots in Pale Mint ($84.95 down from $140) Original Refined Chelsea Gloss Boots in Pale Air Force ($87.95 down from $145) Norris Field Rain Boots in Burgundy ($80.95 down from $150) Tall Refined Rain Boots in Pale Air Force ($99.95 down from $165) Original Refined Chelsea Gloss Boots in Damson ($101.95 down from $145) There are a ton more boots on sale, so you'll have to see it for yourself! SHOP THE HUNTER SALE NOW Be sure to check out the perfect black leggings for $23 and the one color every fashion girl will be wearing this season. [Photo: Hunter]
6 Shoes Every Woman Should Own This Spring
For The Win: Rain Boots That Don't Look Like Rain Boots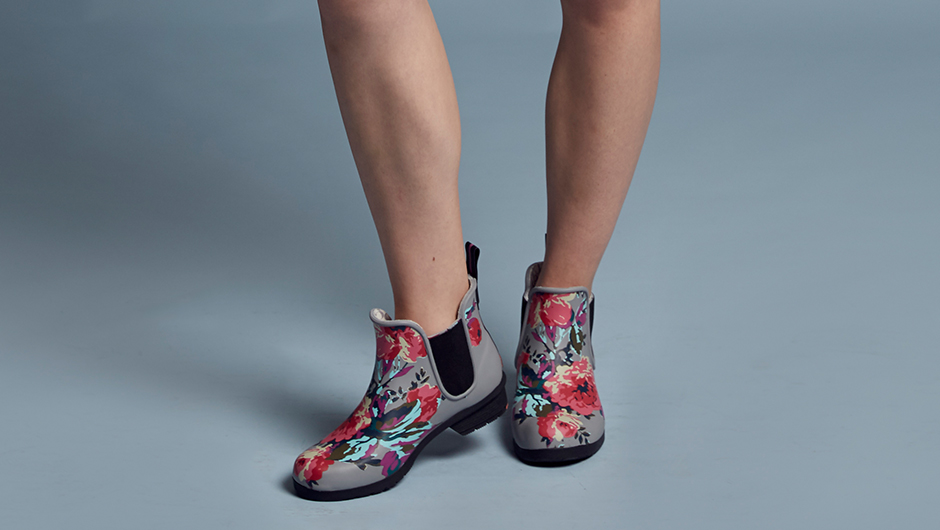 We're Giving Away Free Chooka Rain Boots Just In Time For Spring Showers
April showers bring May... you know the rest! And with April just a few days away, it's probably time you start dusting off your rain boots for the wet weather ahead. Oh you don't own rain boots? Well, you're luck! In honor of the start of spring, we teamed up with Chooka to give 10 SHEfinds readers a free pair of rain boots. Yes, you read that right. Cute rain boots for free! And the timing really couldn't be better. Chooka just released their new spring collection and there are so many stylish options. Why settle for clunky boots in boring colors when Chooka has so many sleek options in fun colors and patterns? From knee-high boots in matte black to pretty pink mid-calf boots, you will have a hard time choosing just one pair. Don't miss this incredible chance to win a great pair of waterproof boots from Chooka by entering below. Good luck!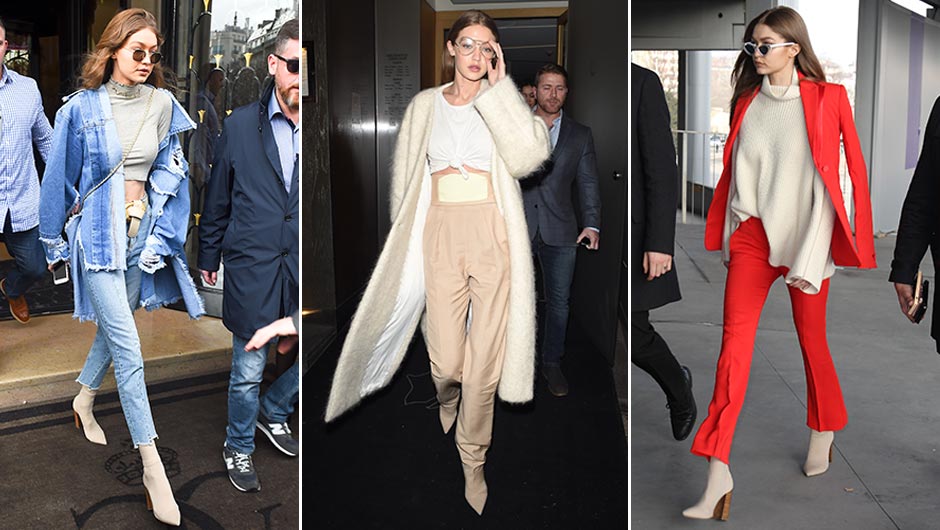 In Case You Hadn't Noticed, Gigi Hadid Is Kind Of Obsessed With These Booties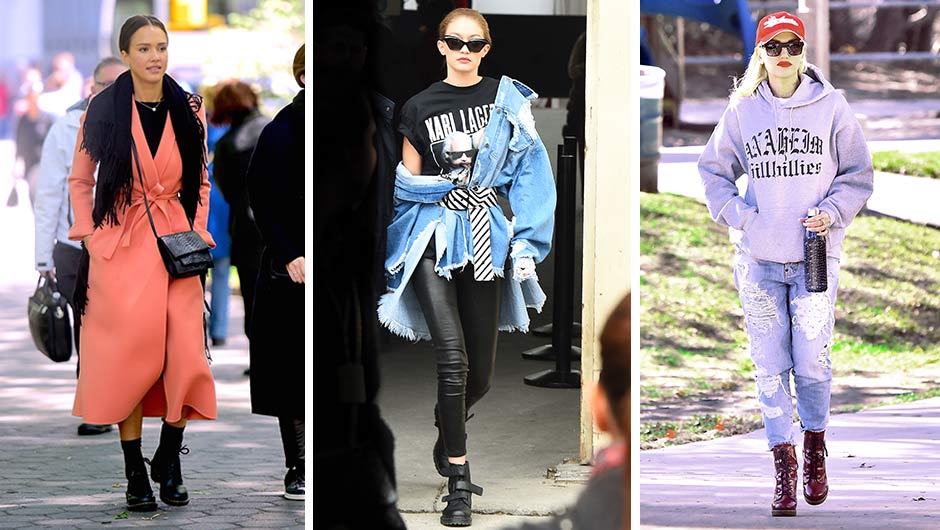 We're Calling It Now: Every Celebrity Will Be Wearing These Boots This Spring
Use Our Exclusive Promo Code To Save 10% On Sutro's Gorgeous Sharon Boots
When it comes to shoes, I have one weakness: ankle boots! They're just so versatile and timeless, I feel like I can never have too many. The latest pair I'm obsessing over? Sutro's Sharon boots. I mean, just look at them. How could you not want a pair in your closet? Good looks aside, these boots are probably way better than most of what you currently have in your closet. Why? They're hand cut and hand stitched, meaning the quality is seriously top notch! For a limited time, we've partnered with Sutro to give SHEfinds readers the chance to snag these amazing booties for 10% off. Just use code her10 at checkout to get your discount. Be quick, though; these babies are selling fast! SHARON HI CHELSEA BLACK ($164) SHARON HI CHELSEA CHEDRON ($164) SHARON HI CHELSEA REDBROWN ($98.40, down from $164) SHOP SUTRO'S SHARON BOOTS NOW [Photo: Sutro]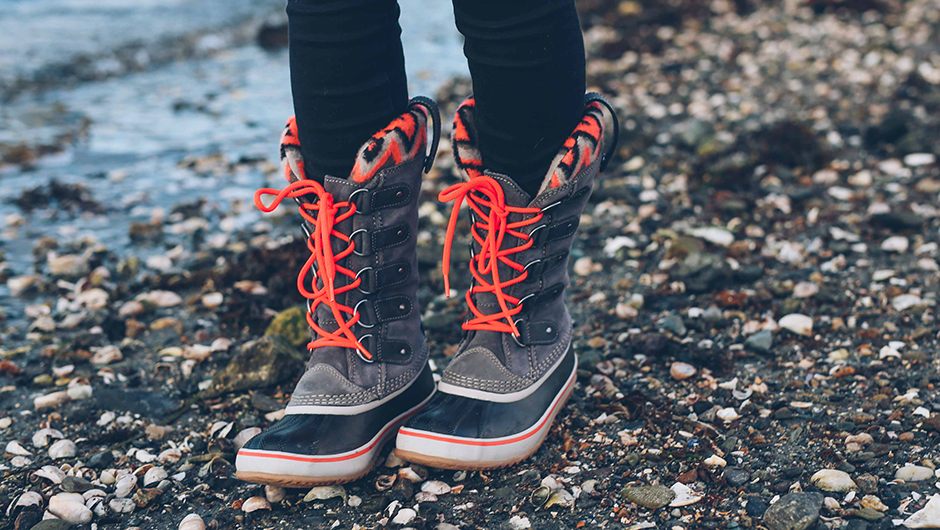 4 Amazing Sorel Boot Outfit Ideas You NEED To Try This Winter
Nordstrom Rack Has Sperry Boots For $23… Plus, Tons More Amazing Boots Under $50!
If you're ready to start snatching up deals, get over to Nordstrom Rack ASAP. They have so many amazing boots on sale for under $50! One of the highlights? These Sperry rain boots on sale for just $23... down from $90! Sperry Walker Mist Waterproof Rain Boot ($23.90, down from $90) But wait, there's more! Check out these incredible under $50 boots from Steve Madden, Aldo and more. Hurry, these deals won't last! Steve Madden Hunniie Boot ($50, down from $100) Steve Madden Hunniie Boot ($50, down from $100) Steve Madden Hunniie Boot ($50, down from $100) Carlos By Carlos Santana Hyde Bootie ($35.70, down from $119) Sam Edelman 'Rudie' Studded Fringe Bootie ($44.90, down from $169.95) Sam Edelman Louie Bootie ($45, down from $150) Aldo Crates Boot ($40.50, down from $90) SHOP NORDSTROM RACK'S HUGE SALE NOW Don't miss Coach's 30% off sale and Nordstrom's huge jewelry sale.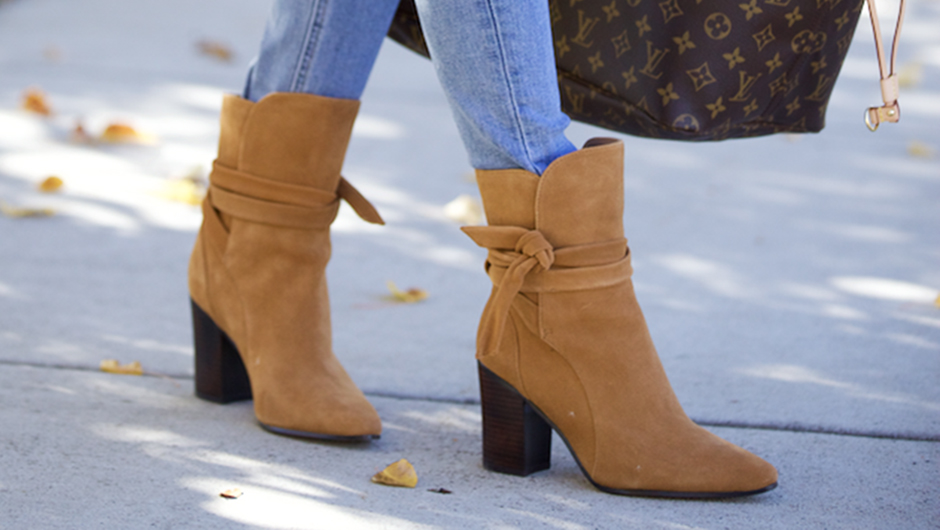 What You Should Wear With Boots (It's Not Tall Socks!)
No matter how much I love (and need) them together, socks and boots are not the best combo. Especially if you found a boot that has that perfect, snug fit with no room for error, you can't afford to make the fatal mistake of putting on socks. Adding socks can make your feet feel like they are suffocating, just dying for some air. Of course, we still need our boots to be somewhat fitted to prevent us from slipping and sliding around in them which, ultimately, can make walking difficult while giving us blisters at the same time. We can't necessarily go without socks either because nobody wants to smell any, ahem, bodily odors coming from your shoes, and you also don't want to deal with unwanted sweat. Luckily, I've found a solution. These OSABASA Women's Casual No-Show socks are perfect to wear inside boots because they are thin and don't slip off easily (because of the silicone strip along the back heel). They are made of cotton and polyester, come in multiple colors and a few different sizes. You can get them in 1-pack, 3-pack or 5-pack with it each pair rounding out at $5.65 with free shipping! Get yours below: OSABASA Women's Casual No-Show socks Don't forget to check out: what to wear with Converse and flats [Photo: Pink Peonies]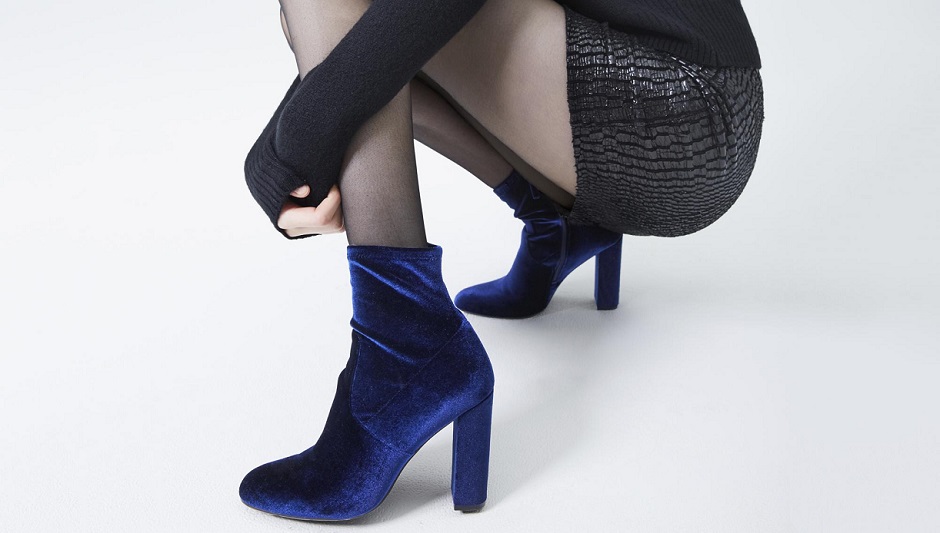 Consider Yourself Warned: These Velvet Steve Madden Booties Are Selling Like Crazy
Remember when we told you back in September that velvet footwear would be a huge trend this fall? Well we weren't kidding! I was recently chatting up my friends over at Steve Madden and they revealed that their Edit boots in velvet were selling like crazy this season. Made from stunning blue velvet, is it really any surprise shoppers are snatching up these amazing booties? My advice? Don't get left behind on this trend! These velvet booties look good with everything from jeans to maxi dresses, so make the investment now. I promise, you won't regret it! SHOP THE STEVE MADDEN EDIT BOOTS NOW Don't miss your chance to win a free lipstick and how to wear over the knee boots. [Photo: Steve Madden]
Psst! There Are So Many Good Booties On Sale Right Now
If you're anything like me, you're probably itching to shop. I know Black Friday is just a few weeks away, but I can't fight the urge to add some new goodness to my closet. And with all the incredible sales happening?! I shouldn't have to! Need proof? Check out all the amazing booties I found on sale for under $100. Heck, most of them are even less than $70! I'm talking Sam Edelman's cult Petty boots for cheap and super affordable styles from Sole Society and Steve Madden. You can really never have too many booties, so treat yourself ASAP! SOLE SOCIETY RENZO ($69.97, down from $97) COCONUTS BY MATISSE 'Trina' Bootie ($59.96, down from $99.95) Sbicca 'Lorenza' Buckle Strap Zip Bootie ($53.96, down from $89.95) Steve Madden 'Nylie' Chelsea Boot ($65.96, down from $109.95) SOLE SOCIETY RENZO ($69.97, down from $97) Sam Edelman Petty Booties ($99, down from $150) SOLE SOCIETY RENZO ($69.97, down from $97) Be sure to check out Nordstrom's fall clearance and this amazing coat sale. [Photo: Sole Society]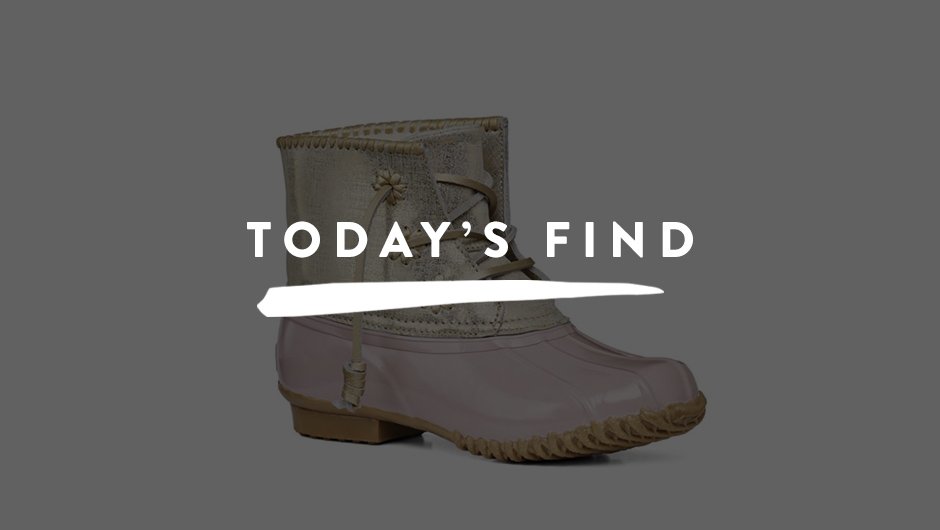 These Pink Duck Boots Have A Waitlist
There's always a massive waitlist for LL Bean's classic Bean Boots, and it appears that the fervor exists for other duck boots as well, because Jack Rogers just reported that their Chloe Boot is now back ordered. The popular boot is now sold out in all sizes of the blush (it also features a gold metallic upper--definitely girlier than the Bean Boot) on Nordstrom, Lord & Taylor and Jack Rogers' own site. Jack Rogers' sold-out Chloe boot ($118) But fear not--the company says they plan to have more in-stock by mid-November. Simply email [email protected] to get on the waitlist. Save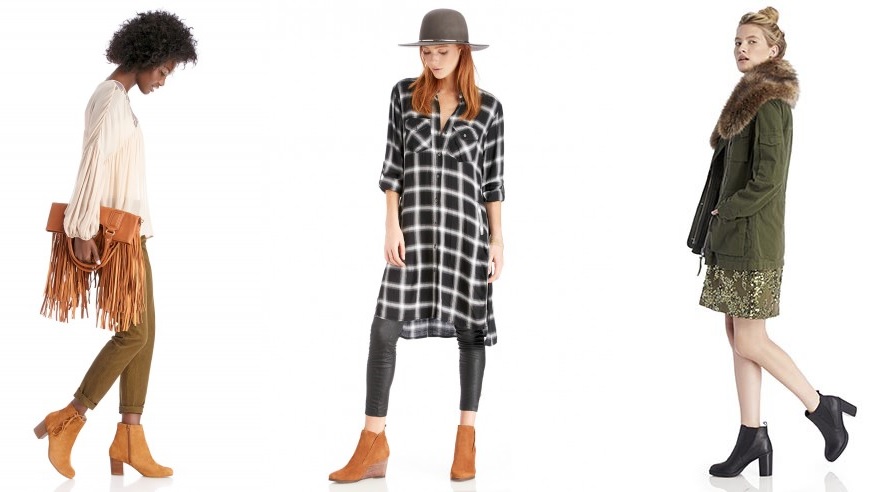 If You're Not Shopping Sole Society's Booties, You're Seriously Missing Out
With fall well underway, you're probably starting to pull out your boots from last season. If they're not looking so good, I've got two words for you: Sole Society. They're booties are not only seriously stylish and comfortable, but they're super affordable, too! I found three killer pairs all on sale for less than $70. And yes, they're real leather! Treat yourself ASAP before they sell out! SOLE SOCIETY BRIGITTE ($69.97, down from $99.95) SOLE SOCIETY FOXX ($54.98, down from $109.95) SOLE SOCIETY RENZO ($69.97, down from $99.95) SHOP MORE SOLE SOCIETY BOOTIES NOW Be sure to check out these super popular tops at Nordstrom and Pixi's amazing MultiBalm. [Photo: Sole Society] Save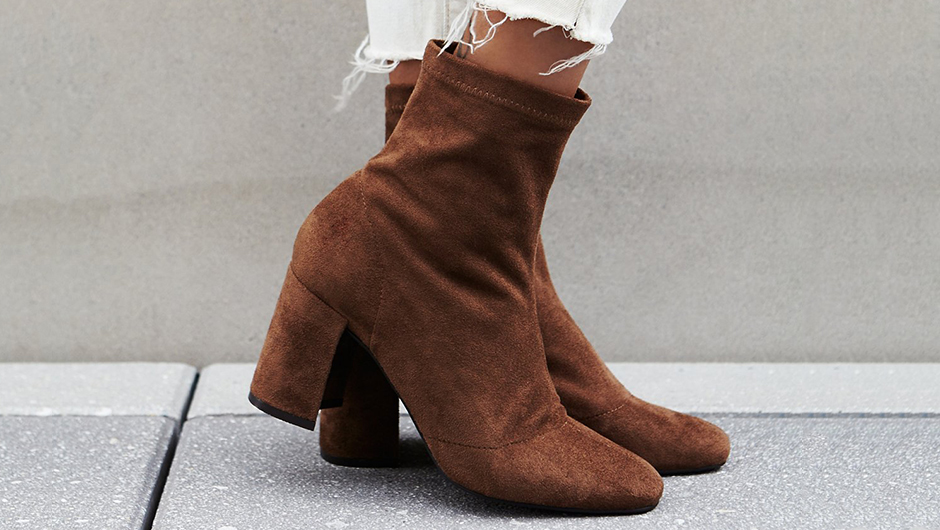 The Most Popular Ankle Boots This Season Are…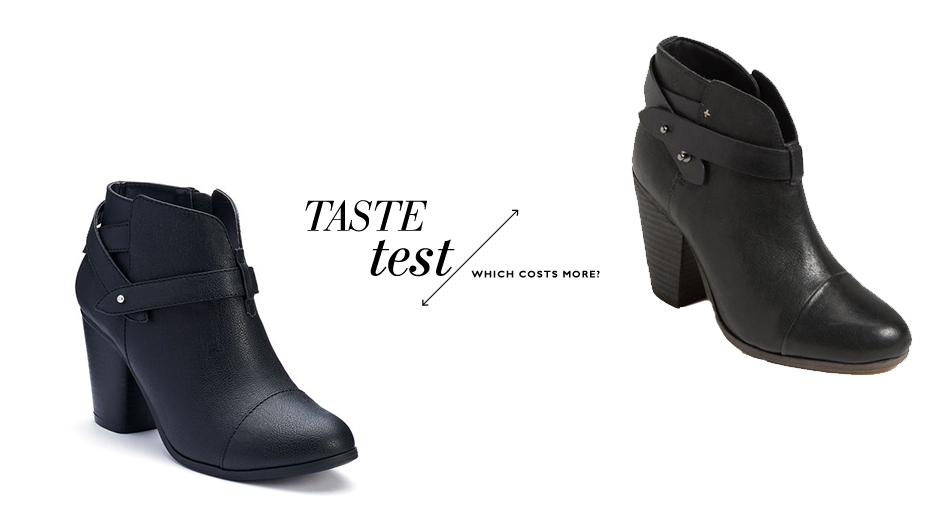 Can You Tell Which Black Booties Cost $435 More Than The Other?
rag & bone bootie knockoffs are nothing new. In fact, they are probably the shoe that's copied the most by other designers, which is totally a compliment. Who doesn't want a pair of rag & bone booties? The only problem is the price. If you're feeling like almost $500 is too much to spend on booties (fair!), that's when it might be time to look at less expensive options. I just came across this really, really good lookalike of the cult Harrow Leather Boot ($495). LC Lauren Conrad makes the Women's Slit Ankle Boot ($39.99, down from $69.99) that has the same wrap around strap design, as well we a stacked heel. Looking at these two side-by-side, it's hard to tell which is the real deal. Click below to find out which booties cost more than the other! Test your fashion savvy some more with velvet chokers and crop flare jeans Save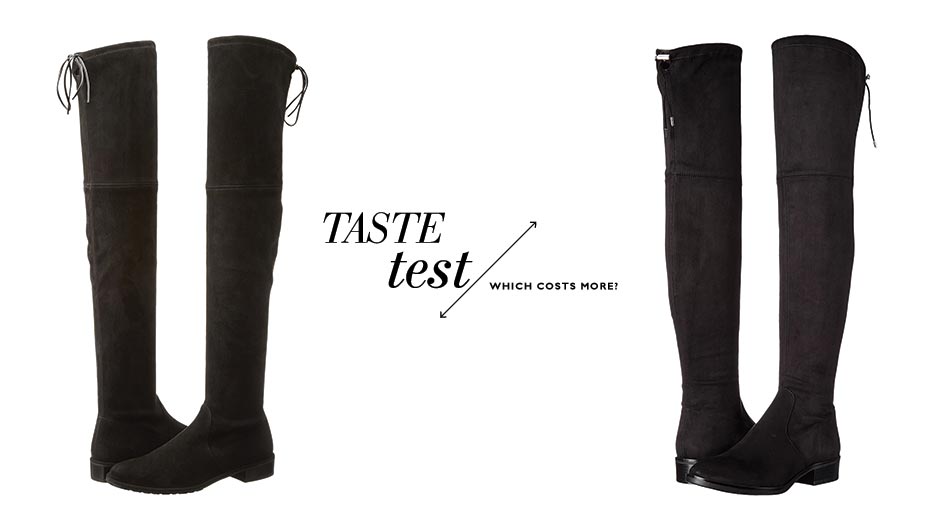 Can You Tell Which Over-The-Knee Boots Cost $623 More Than The Other?
It's no surprise that Stuart Weitzman Lowland Boot ($798) knockoffs are rampant. The "it" shoe is a favorite of Gigi Hadid, Lily Aldridge, and Karlie Kloss, after all. However, I have never come across such a good lookalike of, well, anything in my life. Sam Edelman's Paloma Boots ($175) have the same exact shape and design, down to the ties on the top of the shoes. I seriously have to keep double checking which boot is which as I'm writing this post. Can you tell which over-the-knee boots cost $623 more than the other? Click below to find out! Test your fashion savvy some more with saddle bags and crop flare jeans Save Save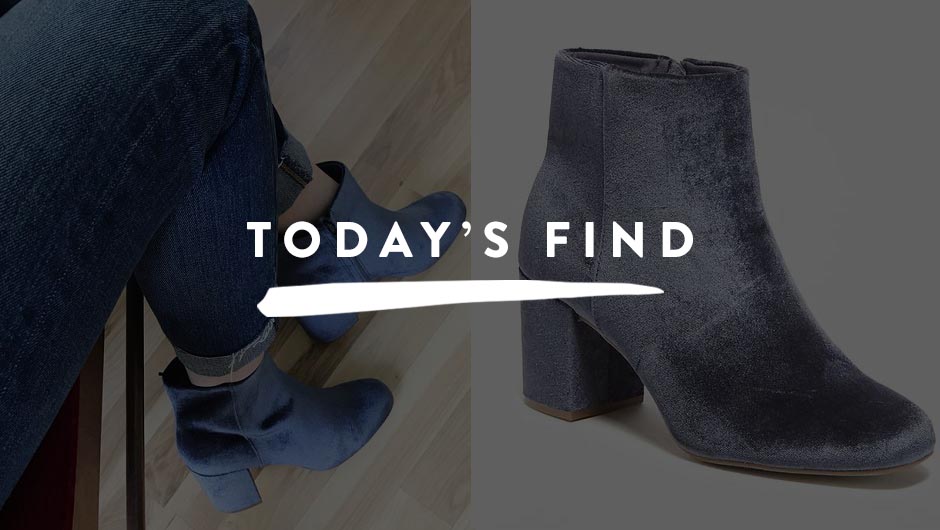 Consider Yourself Warned: These $31 Old Navy Velvet Booties Are Going To Sell Out
I've been coveting a pair of velvet booties since this summer. I've always loved velvet and I am so stoked it's back in fashion this season. Velvet booties are at the top of my fall shopping list and I was ecstatic when I came across these gorgeous blue beauties at, wait for it, Old Navy! Pretty color, great price... what's not to love? Velvet Ankle Boots ($31.46, down from $44.94) I immediately added them to my cart, but started second-guessing myself once I started the checkout process. Would they be comfortable? Is the velvet going to look cheap? There were just many unknowns for me to close the deal. But then I checked back on the boots today and what do you know?! A fellow shopper posted a pic that was just the nudge I needed to order these booties ASAP. Look how cute they are: Amazing, right? Even better, they're 30% off today with code THANKYOU at checkout. Word to the wise: one size is already sold out, so my advice is to order yourself a pair of these velvet boots ASAP. It's only a matter of time before more people realize Old Navy has these amazing boots and start snatching them up. While you're there, might as well stock up on more fall goodness, right? Almost everything is 30% off, after all. Check out more of our top picks. Velvet Blazer ($34.97, down from $49.95) Plaid Midi Shirt Dress ($25.86, down from $36.94) Oversized Flannel Scarf ($16.06, down from $22.94) Brushed Stand-Collar Coat ($41.96, down from $59.94) Lace-Up Neck Swing Dress ($25.86, down from $36.94) Don't miss Nordstrom's huge UGG sale and this super cute lace-up top. [Photo: Old Navy] Save Save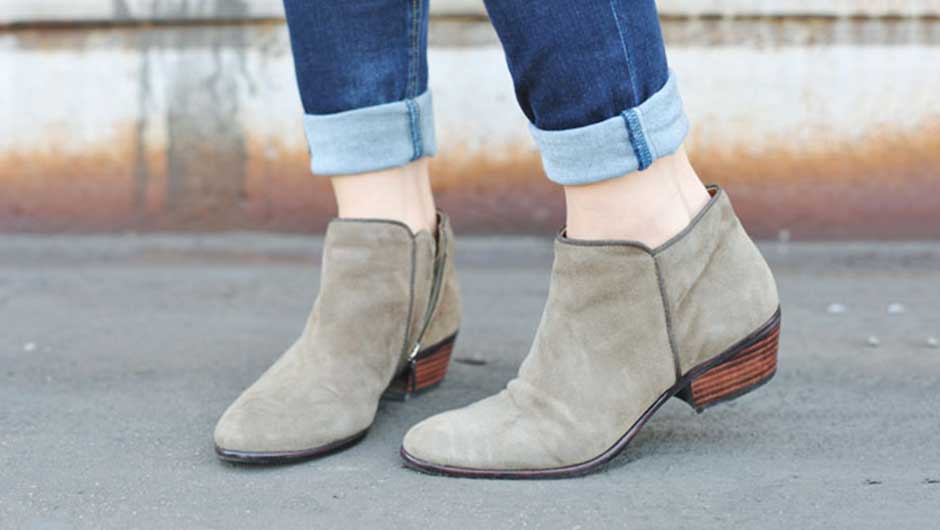 Sam Edelman's Petty Booties Are So Popular, They Literally Make Them Every Single Fall
When it comes to iconic ankle booties, I immediately think of Sam Edelman's Petty boots. Year after year I see them on style bloggers and real women alike and year after year, they always look good. They're so cult that Sam Edelman actually considers them a "signature" seasonless style that they always sell. A quick search around the Web and you'll soon understand how deep the love for these boots is. They have almost 1,000 reviews on nordstrom.com and yes, almost all of them are positive. "Perfect," "Love," "Comfortable," "Favorite" -- those are just a few words women have used to describe these iconic booties. To get at just why the Petty boots are so cult, we went straight to the source. Here's what Sam Edelman had to say about these bestsellers: The perfect combination of comfort, style and versatility has made the Petty a must-have bootie season after season and a "cult favorite" of celebrities and street style stars. So there you have it! With fall officially underway, the only question you should be asking yourself at this point is what color Petty boots you should buy! SHOP SAM EDELMAN'S PETTY BOOTS NOW Be sure to check out Joie's friends and family sale and how to make boots comfortable right out of the box. [Photo: Neon Blush]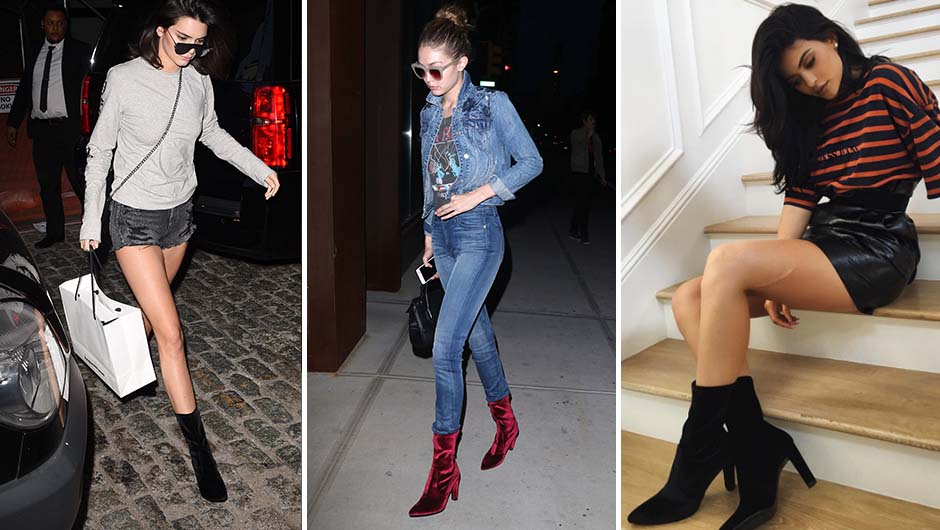 All The Cool Girl Celebs Are Obsessed With These Velvet Booties
We already told you that velvet shoes are gonna be huge for fall, but it looks like all the cool girl celebs are into one pair in particular: Stuart Weitzman's Clinger Bootie ($725). Gigi Hadid, Kendall Jenner, Bella Hadid and Kylie Jenner have all been spotted in the black colorway. They prove you can wear the booties with pretty much anything, from cutoffs and mini skirts to midi dresses and pants. https://www.instagram.com/p/BG5N0YngN-A/ https://www.instagram.com/p/BJlMKeBhEUo/ The booties also come in red (obvi King Kylie owns both) and if you're not feeling the velvet trend (I am with you!), they are also available in black leather. https://www.instagram.com/p/BJlL9VBB8Jk/ Stuart Weitzman Clinger Bootie ($725) Don't forget to check out: the off-the- shoulder top and one-piece bathing suit celebs love
How To Make A New Pair Of Boots Comfortable Right Out Of The Box
While new boots are a fall essential, they can seriously hurt your feet. It seems like new boots almost never fit perfectly right out of the box. There's always some sort of problem: either the calf area is too tight or the toe area is uncomfortable. And how are your supposed to achieve the perfect Pinterest-worthy fall outfit if your boots don't fit right? No one wants to walk around in boots that are too tight waiting from them to stretch out. Thankfully, there are few ways to make your new boots comfortable right away. One of the easiest and quickest ways to stretch out new boots is to use a hair dryer to apply heat to the boots. First, put on on the thickest pair of socks that you own. You can layer multiple pairs of socks if needed. Then put on the pair of boots you want to stretch out. Once the boots are on, heat the areas that need stretching with a hair dryer. Make sure you apply heat to each area for at least 30 seconds using the highest heat setting. Flex and stretch your feet inside the boots as you heat them up in order to stretch the leather out further (wikiHow). READ MORE: Should You Keep Your Shoes In The Box With The Stuffing Or Not It might sound crazy, but you can also use ice to stretch out your boots. First, fill a resealable plastic bag with water. You want to fill the bag one-third to one-half of the way up. Try to remove as much air from the bag as possible. To be safe, wrap the baggie in another plastic bag to prevent it from leaking inside of the shoe. Next, place the bag full of water inside of the shoe. You can position the baggie so that it only stretches out a certain area of the boot. For example, if you only need to stretch out the calf area, stuff the foot of the boot with balls of crumbled newspaper and place the bag of water inside the calf portion (wikiHow). Place the boots in the freezer. As the water freezes, it will expand, stretching the out the boot in the process. READ MORE: How To Clean Adidas Stan Smith Sneakers So They Look Brand New You can also try a spray that is made specifically for stretching shoes. Most of these sprays are safe to use on leather, but you should always test a small area before spraying the whole boot. Simply spray the boots completely with the solution and let it absorb for at least 30 seconds. Then wear the boots around the house to help stretch them out. This process might need to be repeated a few times to effectively stretch out the boots. READ MORE: The Best Way To Clean The Rubber Soles Of Your Sneakers If these DIY solutions don't work, you can also take your boots to a professional cobbler. A cobbler has special tools and machines that they use to stretch out boots. Usually this process is pretty inexpensive. Cobblers also have the ability to adjust the fit of your boots by adding elastic bands or leather panels. So if you're boots are too tight, don't stress. There's plenty of easy ways to stretch them out with out killing your feet. [Image: Walk In Wonderland]
Celebrities Who LOVE Steve Madden Shoes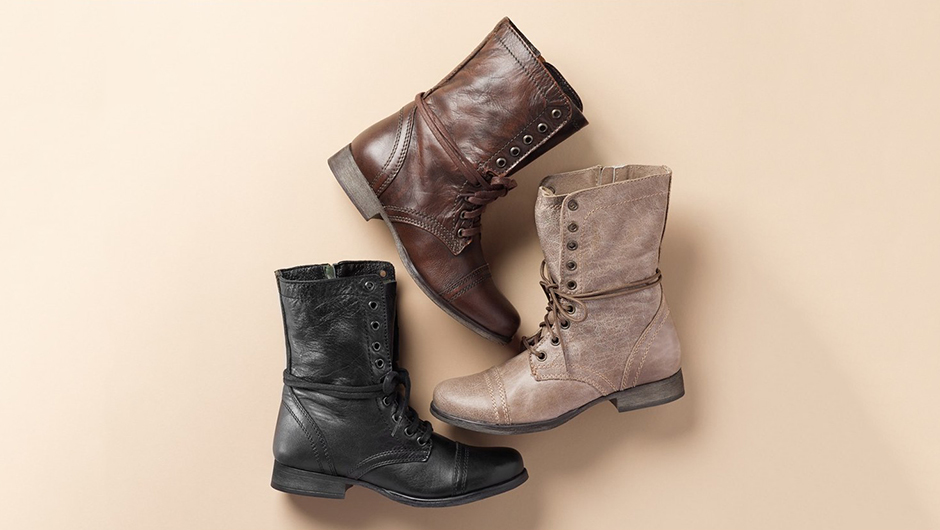 These Under-$100 Steve Madden Boots Are So Cult, The Brand Never Stops Making Them
Believe it or not, the first time we wrote about Steve Madden's 'Troopa' boots was back in 2014. And at that point one of our editors had been wearing hers for almost 3 years! To say these boots are popular would be an understatement--they are nothing short of cult! Steve Madden brings them back year after year and without fail, they continue to rake in rave reviews across the Web. Case in point: the Troopa's have over 2,000 five star reviews over at nordstrom.com. Some of our faves: "I just ordered my second pair of these boots- I work on my feet and my first pair lasted 3 years!" "I have these in black but I had to have the brown. Such a great, comfy boot you can wear with many different outfits and the brown color is perfectly rich for fall." "I was amazed when I put these on. I wore them several hours the first day and they were SO comfortable." The positive comments go on and on, so we just had to reach out to the team at Steve Madden directly to find out how they created such boot gold. Steve Madden's response? "It's so cool and sexy to wear man-tailored shoes." So there you have it, directly from the shoe gawd himself! If you're looking to treat yourself to a new super comfortable, yet versatile pair of boots this fall, the Troopa should definitely be at the top of your list. SHOP THE STEVE MADDEN TROOPA BOOTS NOW Be sure to check out the Old Navy dress women love for fall and how to dry your nails in half the time. [Photo: Nordstrom]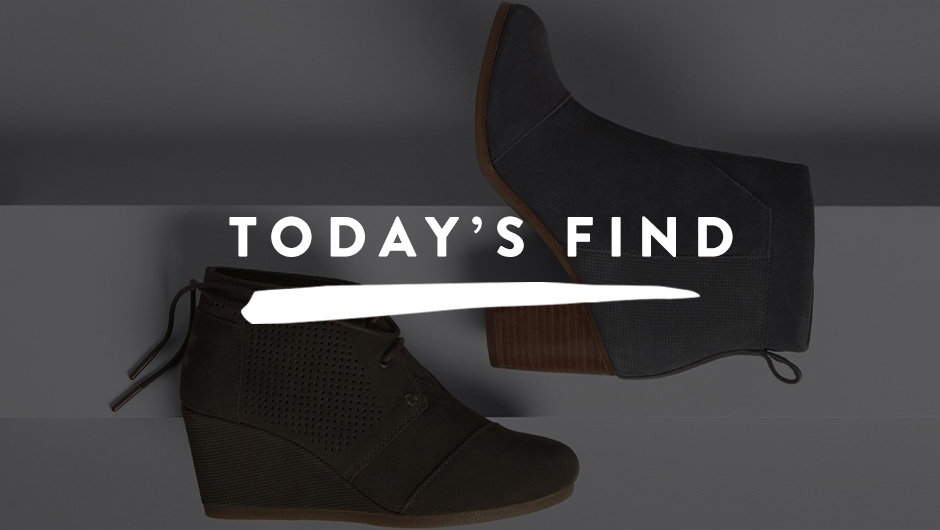 Psst! There Are So Many Good TOMS Boots On Sale At Nordstrom Right Now
Now that it's finally September, chances are you're finally ready to buy a new pair boots for fall. My recommendation? Get to Nordstrom ASAP because they have a bunch of super cute TOMS boots on sale for 40% off. That's pretty much cheaper than you'll find them anywhere else online! Whether you're looking for classic neutral ankle boots that will match with anything or comfy wedge boots you can live in all season long, act fast! Almost all of the sale styles are still available in every size, so get to it! TOMS Perforated Desert Wedge Bootie ($71.37, down from $118.95) TOMS 'Lunata' Suede Bootie ($64.99, down from $128.95) TOMS 'Leila' Embossed Tassel Bootie ($71.37, down from $118.95) TOMS 'Majorca' Peep Toe Bootie ($71.37, down from $118.95) TOMS 'Desert' Wedge Bootie ($73.29, down from $88.95) SHOP MORE BOOTS ON SALE AT NORDSTROM NOW Don't miss these super cute, super cheap beanies and Bensimon sneakers for just $19. [Photo: Nordstrom]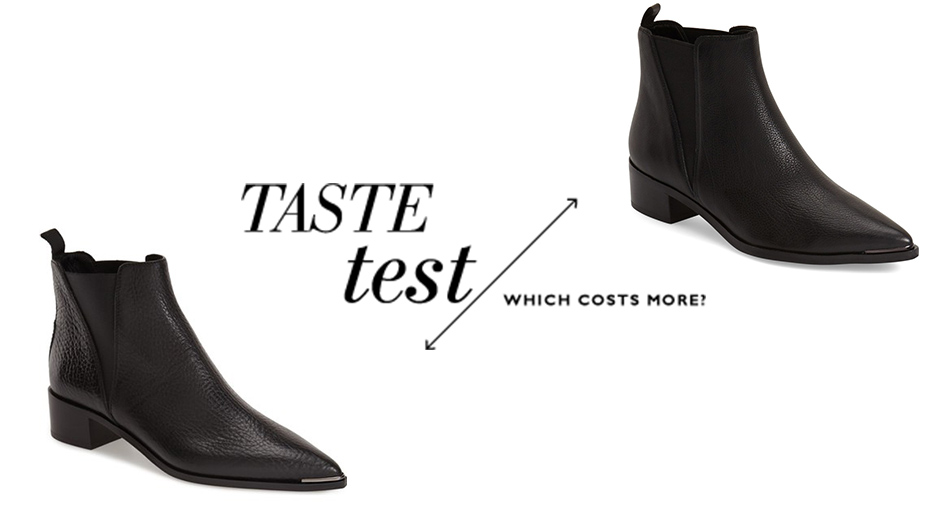 Can You Tell Which Chelsea Boots Cost $390 More Than The Other?
One of my goals in life is to own a pair of Acne boots. "Goals" being the key word because those shoes are expensive! Luckily, I found an almost identical version of the $570 Jensen Pointy-Toe Booties to hold me over until I can live out my dream. Seriously, this pair of Chelsea boots by Marc Fisher (which are under $200--score!) is such a good lookalike down to the metal edge at the toe. I'm about to fool so many people into thinking I'm wearing Acne... Click below to find out which boots cost more than the other! Test your fashion savvy some more with lace-up ballet flats and velvet chokers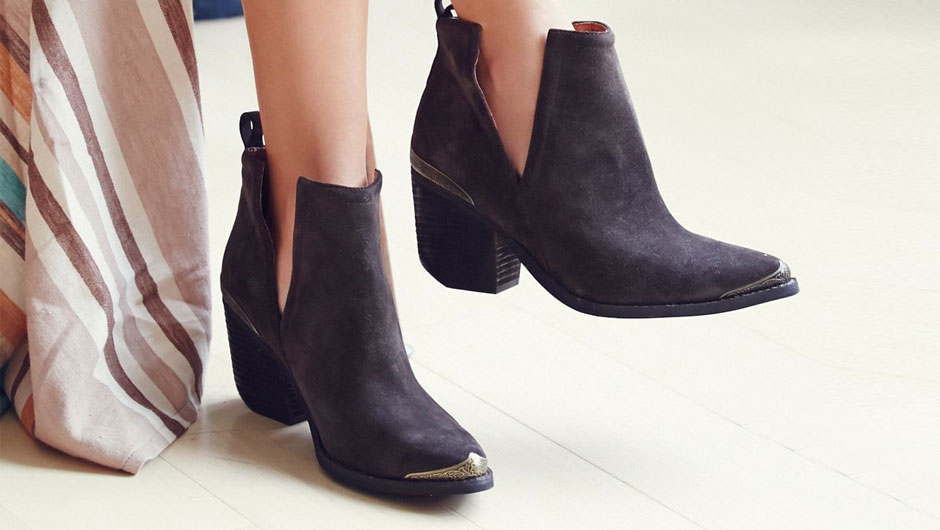 Side-Cut Booties, The Shoes You Can Wear When It's Hot Or Cold